Joanna Jedrzejczyk: 'Please Don't Compare Me To Ronda Rousey' After UFC 217
Joanna Jedrzejczyk: 'Please Don't Compare Me To Ronda Rousey' After UFC 217
UFC strawweight champion Joanna Jedrzejczyk addresses the media after UFC 217, saying she doesn't want to be compared to Ronda Rousey in the process.
Nov 6, 2017
by Hunter Homistek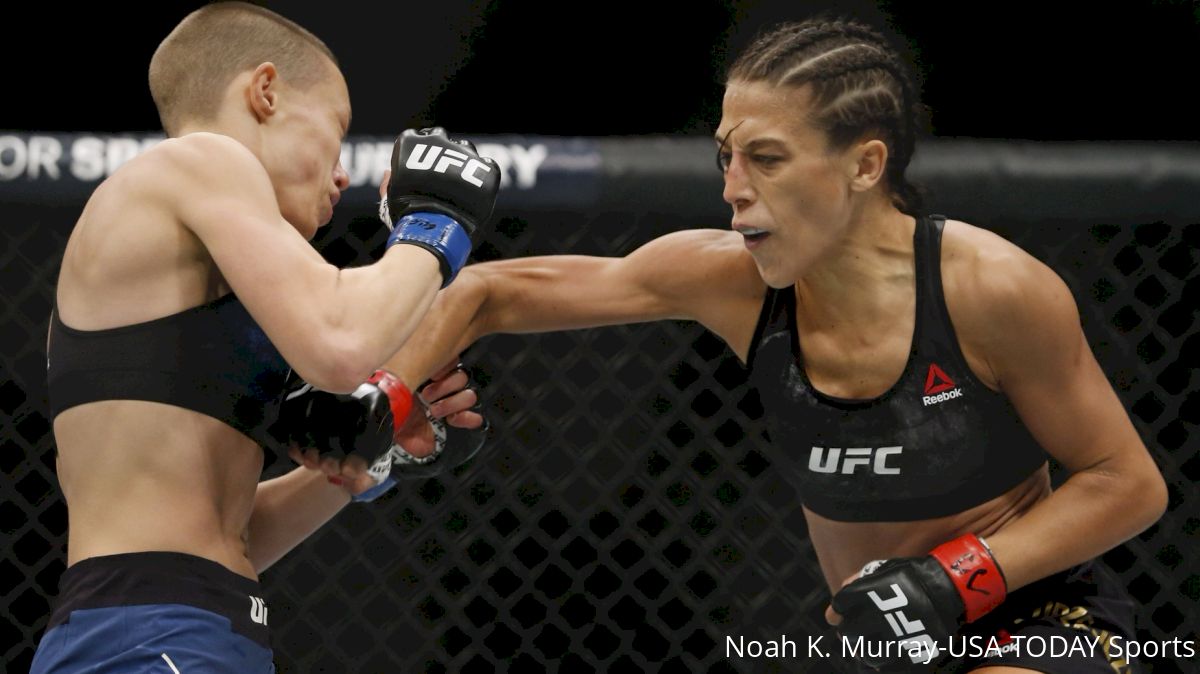 Joanna Jedrzejczyk suffered a stunning defeat at the hands of Rose Namajunas at UFC 217 on Saturday night in New York, snapping both her streak of five consecutive title defenses and her 14-fight undefeated record as a pro.
With a win, Jedrzejczyk would have tied Ronda Rousey's UFC record of six title defenses for a female competitor.
Instead, Jedrzejczyk's reign was brought to a shocking end via knockout, marking yet another parallel to Rousey, who lost her own title at UFC 193 in a massive upset against Holly Holm. Following the defeat, Rousey never returned to form inside the cage.
She took a year off, doing little media and making few public appearances before returning at UFC 207 to face Amanda Nunes. Rousey was knocked out in 48 seconds in that fight.
Following the defeat against Nunes, many were quick to criticize Rousey for getting overly emotional and for failing to work on holes in her game. So while the comparison is easy to draw to the ultra-confident, mind-game-playing Jedrzejcyzk, the now-former champ wants the discussion to end. Now.
"Please, don't compare me to Ronda Rousey," Jedrzejczyk said at the UFC 217 post-fight press conference. "I love her so much, and we have a very good relationship. But please: let's leave this bullshit away.
"I never take fights personal[ly] and I'm not emotional when I'm fighting. Everything went so smooth[ly] during this camp. It was a very long camp — 13 weeks I was training with American Top Team. [It was] just [a] big surprise. Big surprise."
Jedrzejczyk then doubled down on her comments, giving props to Namajunas.
"This is what happens," Jedrzejczyk said. "Big congrats to Rose. Rose, I'm happy for her. But I will be back stronger. It was not personal. The things which happened before the fight have nothing to do with this fight. It was a good punch. She cut me off. I really don't know what happened, but that's the fight. We take this risk."
While Jedrzejczyk's comeback remains to be seen, her post-fight comments and her attitude following the defeat are already contrary to Rousey's. After losing to Holm, Rousey was transported to the hospital and thus didn't address the media. At UFC 207, she skipped the post-fight press conference altogether.
By showing up, facing the music, and ensuring she'll be just fine, Jedrzejczyk is already showing signs of composure.