Carlos Condit Sheds Light On Darkness Ahead Of UFC 219
Carlos Condit Sheds Light On Darkness Ahead Of UFC 219
Former WEC and UFC interim welterweight champion Carlos Condit shares insight into the internal battles waged ahead of return at UFC 219.
Nov 1, 2017
by Duane Finley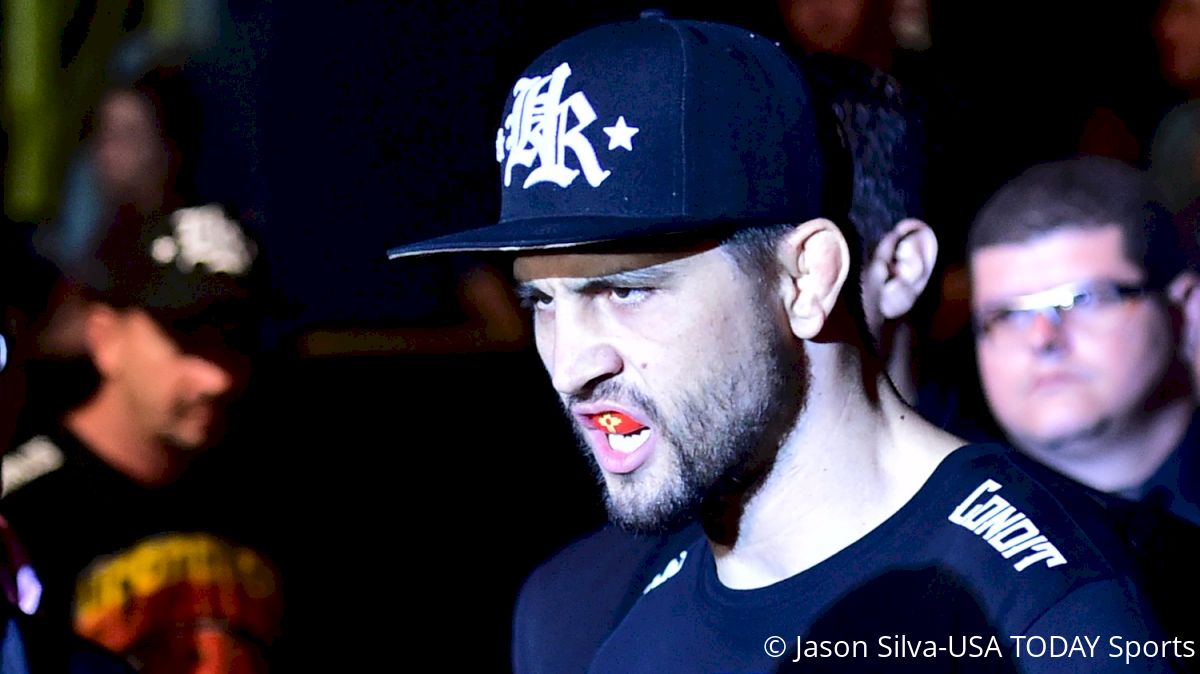 Carlos Condit is a study in contrasts.
The journey traveled thus far has provided an education that has cemented his ability to embrace his primal instinct as a fighter, but proved validating enough to know what exists in the light is what matters most.
Condit will also be the first to admit to the chaos created in his search for balance--a search that continues still as he prepares to make his return to the spotlight. The hard-charging New Mexico native will strap on the gloves once more to face Neil Magny Dec. 30 at UFC 219 in Las Vegas, and it has brought conflict--in all forms--back, front and center.
Yet, and perhaps one of most definitive things about Condit as a man and fighter, is his willingness to embrace the madness as it comes.
"That's just life if you want to be real about it," Condit told FloCombat. "There are going to be ups and downs in your professional life. Obviously the last two fights for me were not ideal to say the least.
"From a personal standpoint, you try to f*cking outrun those demons but they are quick, man, and sometimes they go back to the end of the line, change outfits and pop back up in a different disguise."
While most competitors in mixed martial arts hold the facade of invincibility at all times, Condit isn't one to suffer charades. The entertainment aspect of the sport for him comes in putting on a show both visceral and vulnerable, one that forges memories for fight fans to carry long after his time in the sport has come and gone.
Yet, in order to come to that place of understanding, Condit had to embrace the turmoil that comes from operating in an ever-shifting and ultimately unforgiving sport.
"There are a lot of things I love about fighting, but overall it's the process," Condit said. "I love the preparation, and even that emotional roller coaster I mentioned earlier is something I enjoy. It's unpleasant, but you find out a lot of things about yourself through it.
"Most of the lead up to a fight is not f*cking awesome," he added with a laugh. "You are going to go and do this really intense thing but you can't do it quite yet. There are times you sit and ruminate on it and your mind goes and different things snowball in your head. It really puts a magnifying glass on different things and can really highlight different insecurities that are lingering underneath.
"Am I good enough? Did I train hard enough? All of this shit bubbles up in your mind, but that's just one part of it. The other part is you feel supremely confident. You feel great and believe you could take on the world. Then you run it back through and hit different shades of all that shit. That's been my experience at least."
Condit has spent the bulk of the past year on the sidelines crafting other endeavors that will allow him to transition to a "normal" life once his time smashing faces inside the cage has come to a close. A brief stint in medical sales introduced him to individuals he would eventually team up with to form Hundred Hands Coffee, which is a homegrown brand quickly finding traction in the Southwest region he calls home.
That said, Condit is and will forever be a man who finds peace in the chaos of the fight, and that's what drew him back to the game he's spent the better part of two decades thriving in. To say his absence was felt would be an understatement. The game at large simply missed "The Natural Born Killer."
"The fan response has been awesome since I made it clear I want to do this thing again," Condit said. "It's flattering and humbling people enjoy watching me fight. It's something I love to do and have been doing it forever. I've grown up in this game and it's grown alongside me. For one thing, when I started fighting it really wasn't what it is now. It was emerging, but MMA and the UFC weren't what they are now.
"It was the dark ages and people didn't give a damn. Now, it's a big thing and it is cool to see. Getting the accolades and the love from the fans it's cool, man, but ultimately I like the idea I can inspire someone to do different things. Hopefully it's more of a macro-story of someone going out, doing what they love and pursuing their dreams. Someone going out and applying that inspiration toward whatever they do in their life.
"I wouldn't necessarily recommend everyone trying to go out and become a f*cking savage MMA fighter," he added.
In his return to action, Condit will face a fellow game fighter in Magny. The Ultimate Fighter alum turned divisional upstart has carved out his place in the welterweight elite by stepping against opponents many weren't quick to face. Furthermore, Magny made his bones by going directly at them, and the result has yielded success at a steady clip.
Yet, where Condit has faced a laundry list of outwardly dangerous opposition inside the cage, Magny doesn't check many of those familiar boxes. But that doesn't mean Condit is overlooking Magny in the slightest. In fact, not at all.
"The truth is Neil Magny is a damn good fighter and the sum of his parts make up a very formidable opponent," Condit said. "He's super rangy and has solid clinch work. His wrestling is good, jiu-jitsu is strong and his cardio is phenomenal. Magny brings all of those things to the table and it makes a pretty impressive package. Granted, there are flaws in his game like any fighter has, but when he's on, he's a tough, tough opponent."
As Condit draws closer to his return at UFC 219 there will be plenty of questions thrown out in the interim. Will a fighter who has always chased championship gold be embarking on another quest to get to the top, or is the upcoming dance with Magny just a unique chapter to prove something to himself?
The beautiful part in Condit's eyes is that those answers aren't carved in stone because nothing ever truly is. He will simply do his best to sharpen his weapons heading into Las Vegas and make damn sure he's ready to lay it all on the line once the cage door closes and the referee gets out of the way.
"I'm a fighter. That's who I am," Condit said. "Do I have 'Woulda, coulda, shoulda' in my head sometimes and have regrets? I do, but at the end of the day, I've been able to do what I've always wanted to do and make a living from it. The jury is out on that, but I'm not sure what the future holds. Is this the start of a potential title run or a one-shot deal? I'm not sure, but no matter what, I've been able to live a dream.
"I've been able to do what I love for a living and be involved with a great bunch of people and have a f*ckload of great experiences. That in itself is a lot more than some people can say."