Michael Bisping: 'Beating Georges St-Pierre Cements My Legacy'
Michael Bisping: 'Beating Georges St-Pierre Cements My Legacy'
UFC middleweight champion Michael Bisping says a victory over Georges St-Pierre at UFC 217 will solidify his place as one of the greatest of all time.
Nov 1, 2017
by Duane Finley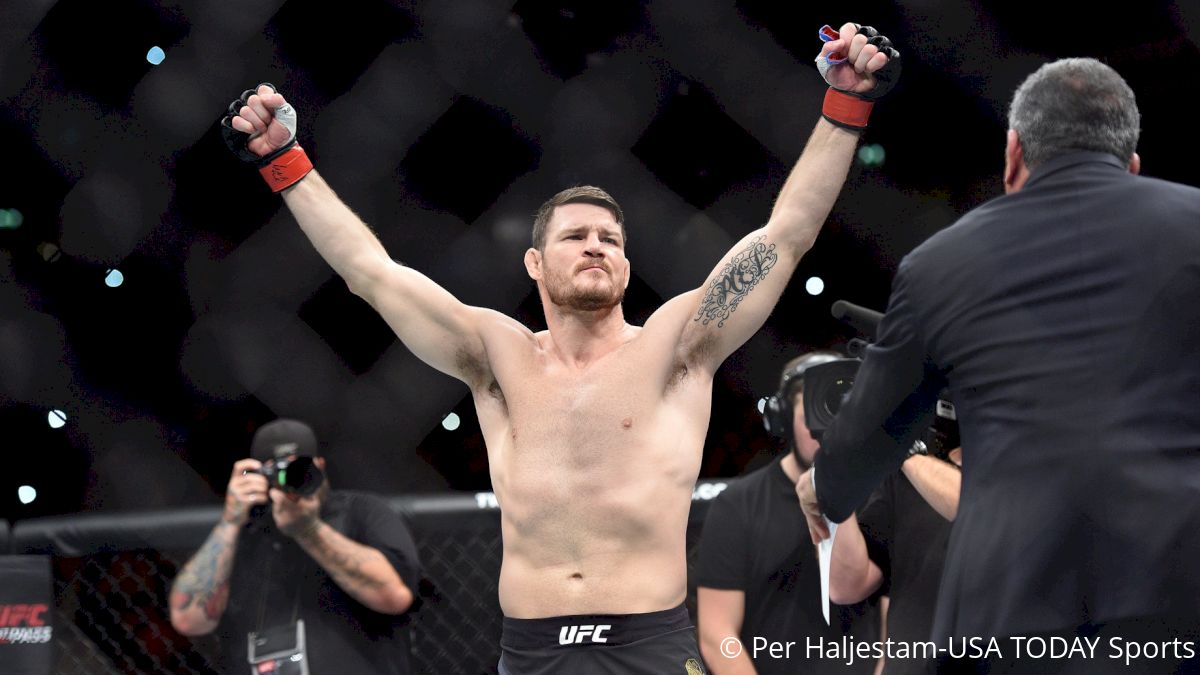 By Damon Martin
You don't have to like Michael Bisping, but it's impossible to deny the resume he's built in the UFC.
The 38-year-old Brit began his UFC career as a winner of the third installment of "The Ultimate Fighter" and over the years has faced eight former champions from the UFC, Strikeforce, PRIDE FC, and the WEC. He also holds the most wins in the history of the promotion with 20, and his 16 victories at middleweight are the most for any one fighter in that division as well.
Last year, Bisping finally put a title around his waist, too. He knocked out Luke Rockhold in the first round at UFC 199 to become middleweight champion, capping a decade-long climb to earn a shot at gold in the UFC.
"Winning the belt, that was great. That was validation for a lifetime's work pretty much," Bisping told FloCombat. "It makes all that sacrifice worth it, I guess. Maybe it did, maybe it didn't, but I guess that is the answer. It made everything worth it. It was redemption to myself, to my family, and it was also a big f*ck you to the rest of the division and to a lot of journalists and the MMA media that wrote me off throughout the years."
If winning the UFC belt was validation to the sacrifices made, then Bisping knows adding a win over Georges St-Pierre at UFC 217 in New York City on Saturday night will only further cement his place among the best to ever step inside the Octagon.
When he walked away from the sport in 2013, St-Pierre was the longest-reigning welterweight champion in history with nine consecutive defenses. St-Pierre also avenged the only two losses he's suffered in his career, doing so in devastating fashion with TKO victories against both Matt Serra and Matt Hughes.
Whenever there's an argument regarding the greatest mixed martial artist of all time, St-Pierre's name is inevitably mentioned alongside fellow icons such as Anderson Silva, Fedor Emelianenko, and Jon Jones.
Bisping, meanwhile, already owns a win over Silva and now has the chance to add St-Pierre's name to his resume as well. Considering the career Bisping has already put together, holding wins over both St-Pierre and Silva would put him in a category by himself.
"Georges [is] a big legend of the sport. I'm not underestimating him one bit," Bisping said. "I'm expecting a tough fight. Of course for all the talk that you give… but I respect Georges, I know he's got a hell of a skill set. He's a fantastic athlete, and he brings a lot to the table.
"Beating him where so many people couldn't and if they did he obviously avenged them — Matt Serra and Matt Hughes — beating him is huge. It's huge. It further cements my legacy, in my opinion, as one of the greatest MMA fighters that's ever lived."
Bisping may never be the biggest fan favorite, but if he can defend his title against St-Pierre at UFC 217, it's going to become increasingly difficult to deny him a spot on that mythical list of the best fighters in the history of the sport.
And he knows it.
"I've never [taken] steroids my entire life. I've never cheated. I've done it the hard way through blood, sweat, and tears," Bisping said. "As I said, a lot of people like to write me off and disparage me and say that my skill set isn't there, but all of a sudden we have USADA testing and lo and behold, I'm the champion.
"I think that speaks volumes, and beating Georges St-Pierre will further add to that."