Jorge Masvidal On Colby Covington: 'That Dude Is Not Easy To Control'
Jorge Masvidal On Colby Covington: 'That Dude Is Not Easy To Control'
UFC welterweight Jorge Masvidal discusses his teammate Colby Covington's latest comments following his win at UFC Sao Paulo.
Oct 30, 2017
by Hunter Homistek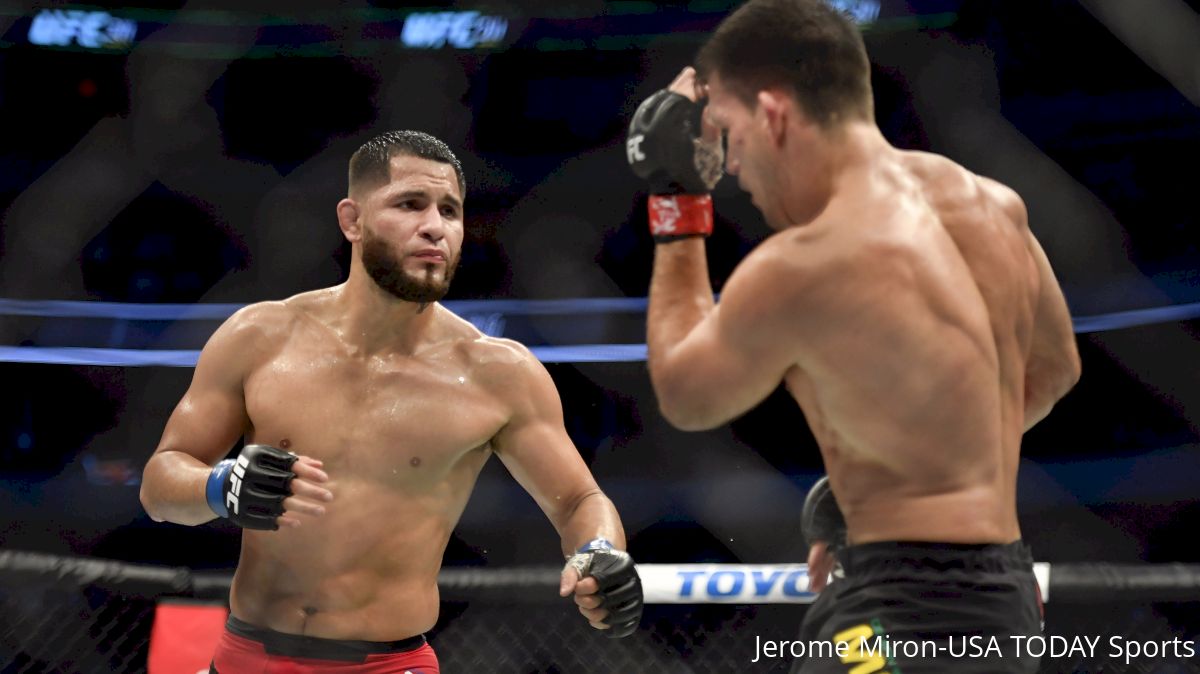 UFC welterweight Colby Covington lit the MMA world on fire this past Saturday at UFC Fight Night 119.
Following his win over Demian Maia at the event, Covington took the mic and unleashed a post-fight speech that sent the MMA universe into a frenzy.
That's not nice #UFCSP pic.twitter.com/VoN0AQ1Nz9

— Zombie Prophet (@ZPGIFs) October 29, 2017
Covington made no Brazilian fans that evening, and the reactions continue to roll strong Monday in the wake of his spicy words.
Speaking with MMA Fighting's Ariel Helwani during a recent episode of The MMA Hour, American Top Team teammate Jorge Masvidal sounded off on Covington's comments, saying they haven't divided the team or caused any drama at home.
"Who gives a f*ck what happens, man?" Masvidal said. "That's my partner, man. I got his back. He's got mine. And don't nobody want problems, either, at the end of the day. I'll tell you that right now."
Asked if Covington has always been that "crazy," Masvidal dropped an anecdote to summarize.
"Well I'll tell you, Colby, since I've known him, he has a real problem with authority," Masvidal said. "If we get pulled over by the police, I'm like, 'Yes, sir. No, sir. Sir, I'm going to reach into the glove compartment for my license and registration — please don't shoot me.'
"And Colby's like a fu*king asshole, bro. If they give him even just a little bit of attitude, that dude goes haywire. So with like authority and stuff, he has a real big problem, you know? That dude is not easy to control."
.@GamebredFighter weighs in on @ColbyCovMMA's controversial post-fight comments in Sao Paulo. #TheMMAHour https://t.co/HbjZRlHFNs pic.twitter.com/FG71pLHaXw

— MMAFighting.com (@MMAFighting) October 30, 2017
Having fought Maia in May and dropped a close split decision, Masvidal also discussed Covington's performance against the former title contender. While many were surprised by Covington's showing, Masvidal expected nothing less.
"I told everybody that interviewed me, that asked me, and I told them, 'Unless Colby trips and falls and Maia takes his back, it's going to be a bad night for Maia because Colby's a better wrestler, more athletic, and way more gas, you know?'" he said. "I've rolled with Colby for five, six years. I only spent 15 minutes with Maia, but I knew there was a huge, vast difference with the wrestling, you know?"