Jessica Andrade Calls Out Karolina Kowalkiewicz For Next Fight
Jessica Andrade Calls Out Karolina Kowalkiewicz For Next Fight
Former UFC strawweight title challenger Jessica Andrade wants to face Karolina Kowalkiewicz next.
Oct 27, 2017
by Duane Finley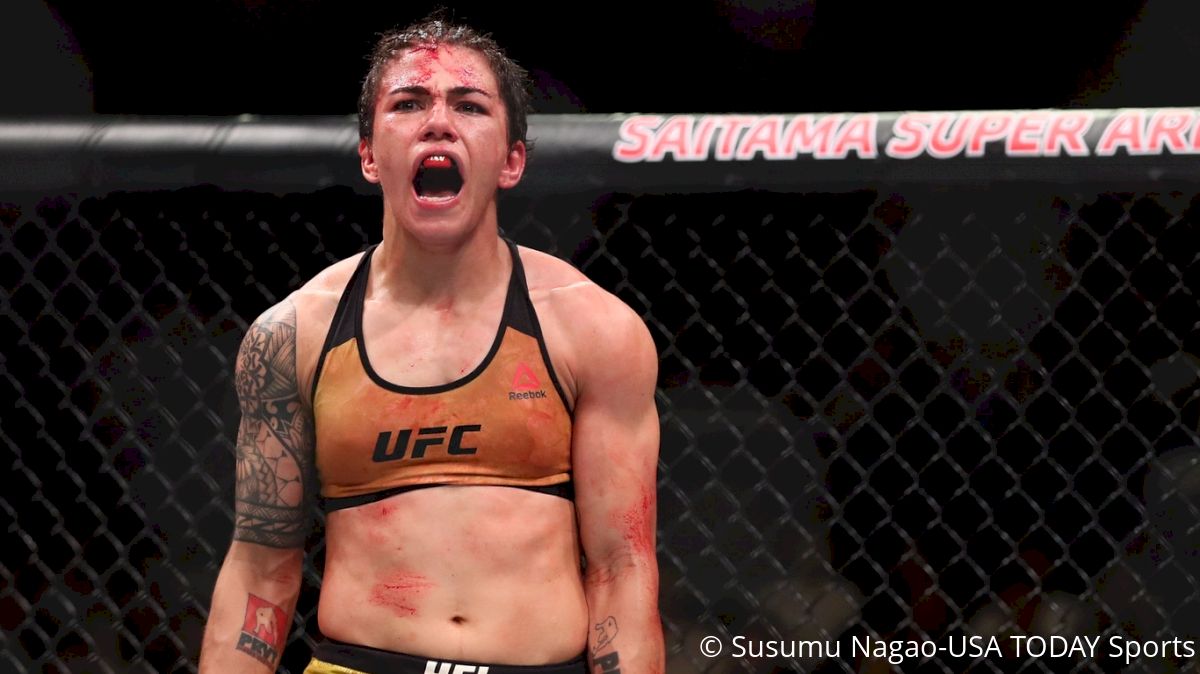 For FloCombat via A.G Fight
While champion Joanna Jedrzejczyk is still busy cleaning out the UFC's strawweight division, the rest of the weight class is scrambling for structure in the upper tier. The majority of elite fighters have already had one title shot, and now the battle for a second go with Jedrzejczyk is the main goal.
And of that collective Jessica Andrade is front and center.
The Brazilian, known for her physical power, aggression, and high-pressure fighting style, lost to Jedrzejczyk in May but rebounded with an impressive win against Claudia Gadelha last month.
Another fighter well on her way back towards the top is Karolina Kowalkiewicz. The Polish champ's compatriot, who lost to Jedrzejczyk at UFC 205, and later to Gadelha, rebounded with a decision win over Jodie Esquibel at UFC Gdansk last weekend.
Despite Kowalkiewicz having notched a win at UFC Gdansk, Andrade said she wasn't impressed by the unanimous-decision victory the former title challenger scored in front of a home crowd.
"I was expecting more of Karolina," Andrade said. "I expected her to knock [Esquibel] out... something like that. Her opponent had just gotten into the UFC and she was in the top five. She should have shown more spirit to finish the fight."
However, Andrade still believes a fight between the two of them would turn out a crowd-pleaser.
"I think it would be a really good fight," Andrade said. "That's what I'm after: tough fights. My goal is to fight those who are at the top to get a chance to fight for the belt. Karolina is a good choice. She was not hurt. She might be able to fight again soon."
While Andrade managed to impress with the bloody victory over Gadelha, she admits there was pressure to succeed after having fallen short against the champion only a few months prior.
"I trained to put on a good performance," Andrade said. "I was coming off a defeat, so I had to come back with a good showing. I hoped it would be a much harder fight. She always puts on great fights and she is very tough.
"It was always going to be a very difficult and competitive fight, but then, at the end of the first round, I saw that I could impose my game on her and that she was getting tired. I trained to frustrate her in all areas and everything went well. But I figured it would be harder, yes, that she would have more gas."
Another thing Andrade criticized Gadelha for leading up to the fight was her compatriot's decision to leave Brazil to train stateside. While Andrade, in turn, has had people advising her to do the same, the Parana native remains a proud representative of her country.
"When I lost to Joanna, a lot of people came to tell me that I was on the wrong team," Andrade said. "'Come and train in the USA.' I always trained in Brazil, for every fight, I never had to leave. I just wanted to show the world that you can train well wherever you are. It depends on your dedication and willpower. I wanted to show that being at home, close to your family and the people who love and help you, that this has a lot of influence."