Emil Meek Pumped To Face Kamaru Usman: 'What The F*ck More Can I Ask For?'
Emil Meek Pumped To Face Kamaru Usman: 'What The F*ck More Can I Ask For?'
UFC welterweight Emil Weber Meek is insanely excited to face Kamaru Usman at UFC 219. He explains in this interview.
Oct 26, 2017
by Hunter Homistek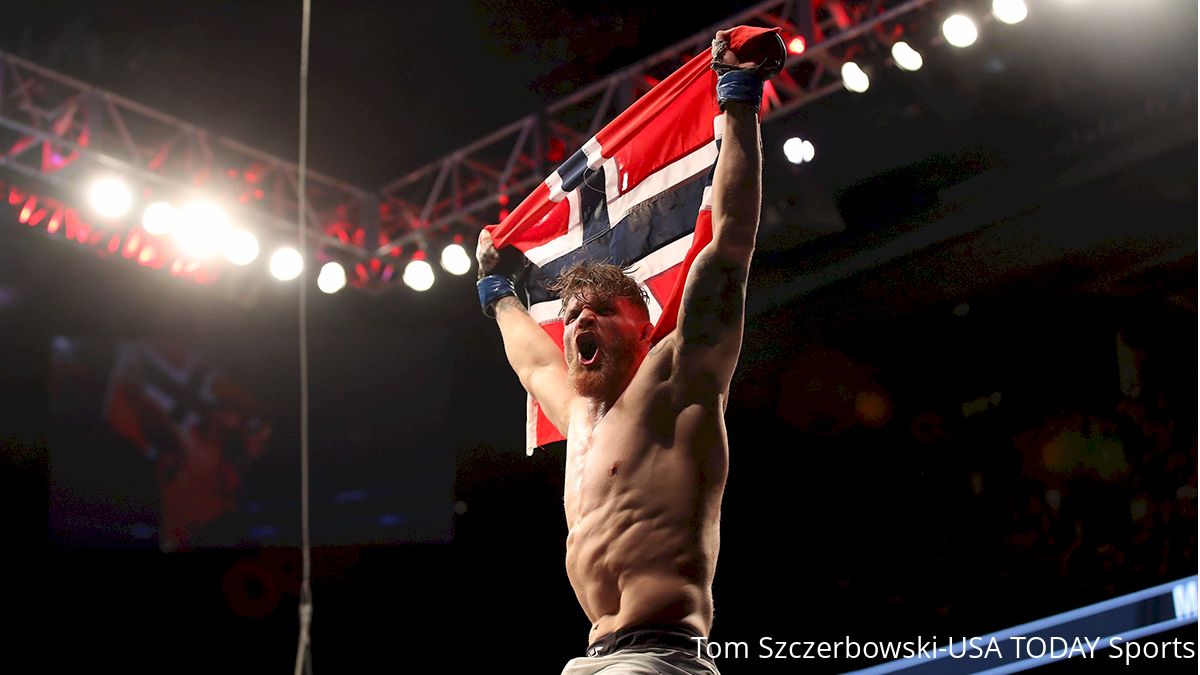 Emil Weber Meek is insanely excited to face Kamaru Usman on Dec. 30 at UFC 219, y'all.
Usman, who is coming off a massive knockout victory over Sergio Moraes at UFC Fight Night 116 in Pittsburgh, is ranked No. 12 in the UFC's official welterweight rankings. He's unquestionably one of the most hyped prospects in the division.
Following his latest victory, many fans and media members alike were quick to break down a matchup between Usman and welterweight king Tyron Woodley, but Meek is ready to put an end to all that chatter.
The Norwegian last competed at UFC 206 last December, defeating Jordan Mein via unanimous decision. A win over Usman would put him in prime position to make a run up the 170-pound ladder, and that fact has him pumped up and ready to roll.
Speaking with Norwegian outlet TV 2 Sport, Meek broke down his reaction to the fight announcement, and the results are equal parts hilarious and amazing (full credit to Reddit MMA user Ytris for the translation).
"This is the sickest, the biggest experience you can have," Meek said. "This is the champions league, and I'm up against No. [12] in the world in the same arena that [Floyd] Mayweather and [Conor] McGregor boxed. What the f*ck more can I ask for?
"When I got the call from [the] UFC and they told me, 'Emil, I got good news for you,' I screamed and ran around in my apartment. I was in fire and flames and wanted to burn down my apartment if that [is] what it takes to win. It was so big and emotional. I'm [an] emotional guy, so a lot of feelings had to go out. I have worked all my life for chances like this. My heart is pounding."
Usman, however, is no easy task for anyone on earth. He's won 12 straight fights, including a victorious stint on season 21 of "The Ultimate Fighter," and he's adding tools each and every time he steps into the cage.
This is something Meek recognizes, but it's also a point that further motivates him.
"I could have gone the easy road, but this is the type of match I love and makes me feel alive," Meek said. "I'm going to fight a monster, and it is monsters that I want.
"But I have to admit I'm a bit afraid. Not because of pain or punishment. I'm afraid that I won't perform as well as I should. One little mistake, and it will be over. There are no second chances or a rematch. It is do-or-die every time, and the consequence[s] of a defeat are disastrous."
So why take the fight? It's simple: opportunity.
"He is ranked higher than me, but I have crushed and destroyed higher-ranked opponents earlier. I'm best under pressure," Meek said. "I have big plans to get under Usman's skin at the press conference. I have to. We are so different. He is silent and moody, and I'm happy and funny."
Usman vs. Meek joins a stacked card at UFC 219.
Currently confirmed for the event:
Dominick Cruz vs. Jimmie Rivera
Cynthia Calvillo vs. Carla Esparza
Louis Smolka vs. Matheus Nicolau
Carlos Condit vs. Neil Magny
Khalil Rountree Jr. vs. Gökhan Saki
Dan Hooker vs. Marc Diakiese
Kamaru Usman vs. Emil Meek
Justin Willis vs. Allen Crowder
Myles Jury vs. Rick Glenn