Cody Garbrandt Wants Demetrious Johnson At 125 After TJ Dillashaw
Cody Garbrandt Wants Demetrious Johnson At 125 After TJ Dillashaw
UFC bantamweight champion is angling for a bout vs. flyweight king Demetrious Johnson after his UFC 217 scrap vs. TJ Dillashaw.
Oct 26, 2017
by Hunter Homistek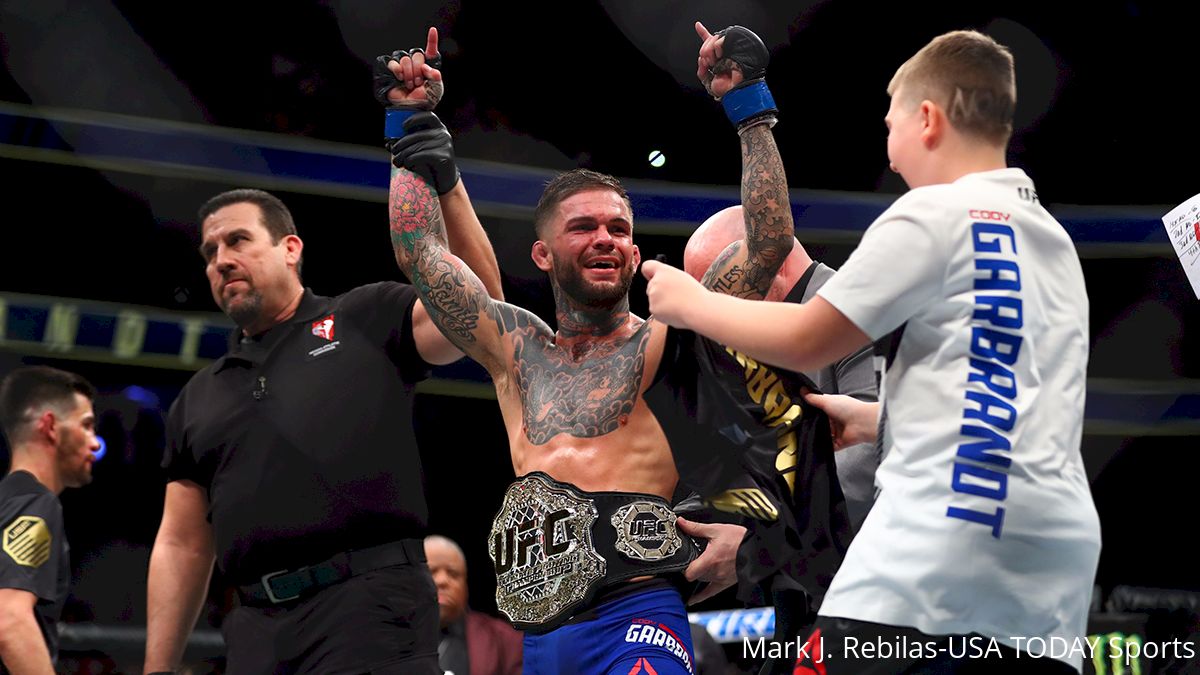 UFC bantamweight champion Cody Garbrandt has a plan, and it goes as follows: Beat TJ Dillashaw Nov. 4 at UFC 217, then drop 10 pounds to smash the pound-for-pound GOAT Demetrious Johnson.
Ambitious.
The 26-year-old Ohioan has never been short on ambition, though, a point evidenced by his rapid rise to fame and gold inside the UFC Octagon.
Speaking during a recent UFC 217 media conference call, Garbrandt dropped his latest wish, officially putting his desire to face Johnson on the record.
Garbrandt: I always like a fight ahead of me. Mighty Mouse is next at 125 pounds. I can make 125 on Nov. 4 if I wanted to. #UFC217

— MMAFighting.com (@MMAFighting) October 25, 2017
Garbrandt also doubled down on his logic behind the fight, saying there's simply nobody left at 135 after Dillashaw.
Cody: "With a knockout over TJ, I've wiped out the division" Says there's a big gap between the top 3 and the rest of the division #UFC217

— Damon Martin (@DamonMartin) October 25, 2017
Johnson, the only flyweight champion in UFC history, is perhaps the greatest fighter to ever step foot into a cage.
At 31 years old, Johnson holds the record for most consecutive UFC title defenses at 11, and he seems to get better each and every time out.
He's finished five of his last seven foes, most recently notching one of the best submissions in UFC history with a dirty toss to armbar against Ray Borg at UFC 216.
That said, if Garbrandt gets past Dillashaw, he would represent a stiff challenge for "Mighty Mouse." The bantamweight champ is a knockout artist with insane speed and technical abilities standing, plus he's honed his wrestling into a valuable asset both offensively and defensively.
Former 135-pound king Dominick Cruz went 0-for-7 on takedowns vs. Garbrandt, while "No Love" scored one of his own in the fight.
Not only that, but Garbrandt would be larger than Johnson's recent opposition. This is perhaps the most interesting angle, as Johnson has struggled against physically imposing foes in the past. His two career losses came at bantamweight, and he also fought to a draw vs. Ian McCall, a fighter who is considered big for the weight class.
While a win vs. Dillashaw is no guarantee, there's little doubt Garbrandt would pose an interesting threat to Johnson if that bout does indeed materialize next.
Who would you take in a fight between Garbrandt and Johnson? Let us know on Twitter @FloCombat. We look forward to discussing it with you.