TJ Dillashaw, Cub Swanson Look To Change Game With New Team Concept
TJ Dillashaw, Cub Swanson Look To Change Game With New Team Concept
Former UFC bantamweight champion TJ Dillashaw discusses the formation of a new fight team with Cub Swanson in Southern California.
Oct 23, 2017
by Duane Finley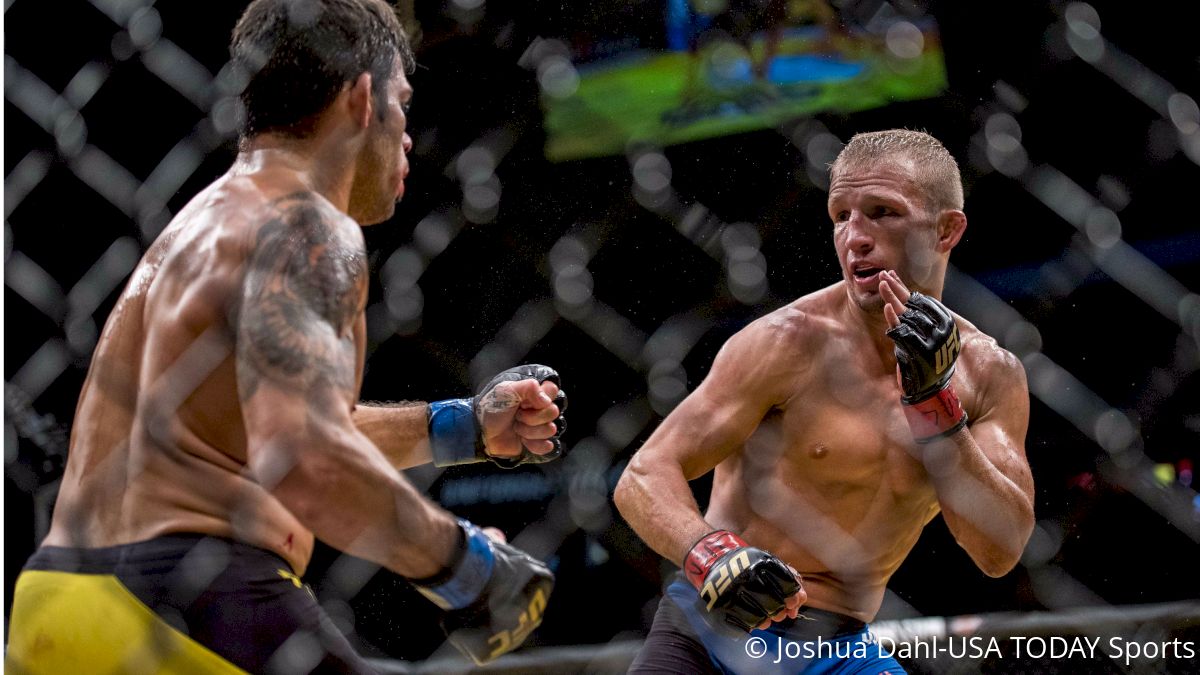 The team concept in the fight game is a tricky thing.
Mixed martial arts is an individual sport in which two combatants walk into and out of the cage on their own volition but can only do so with a team of coaches and training partners preparing them for the battle ahead.
And in that regard, TJ Dillashaw and Cub Swanson are making some changes, and it's all happening in Southern California.
The two UFC staples have joined together with a collection of fighters and coaches to form a new squad, but one that breaks from the traditional team mentality. Money — and the way coaches are paid — has historically been the trickiest part of the process, and that's one huge element this new squad is looking to shore up.
Fighters in training camp need specific attention at all times, and Dillashaw believes he and Swanson have found the formula to change the way things are done for the better, with the drama staying on the sidelines where it belongs.
"The cool thing about this new situation is it isn't even business... it's a family move," Dillashaw told FloCombat. "We are creating a gym that's a nonprofit, and we aren't going to make money off of [it]. It's a private gym and a professional fight team. It's not open to the public and [it's] invite-only. The money we are bringing in goes back to the team and pays the coaches. We are looking to start a new foundation for the way MMA teams should be [run].
"We are looking to build a real team and create a situation where coaches can come in and be put on a salary and benefits. They can be taken care of."
If past experience has taught Dillashaw anything, it's just how much the financial side of the game can wreak havoc on relationships. Therefore, with this new endeavor, the former champion and upcoming title challenger — who is fighting Cody Garbrandt for the bantamweight belt on Nov. 4 at UFC 217 — has taken certain positives and amplified those concepts to create a new way of handling business.
"We are not looking to make money off this gym or off of fighters," Dillashaw said. "That's the last thing I want to do because I've been there and done that, and that muddies relationships. We want to create something healthy and is a win-win for everyone involved.
"I'm looking to make this thing pay for itself and pay the coaches. You get the best coaches in the world in the gym and the best fighters in the world will show up, and we'll continue to push each other. Guys like Cub (Swanson), Juan (Archuleta), and Aaron Pico. Guys like [Rafael dos Anjos]. You get all of us together and we are all going to push one another to the next level."
Both Dillashaw and Swanson operate at high visibility under the UFC banner, and that's an element far from lost on the elite bantamweight. Dillashaw has been through it all during his time in MMA and truly believes the change they are making will truly make a difference that will better everyone involved.
"This sport is growing like crazy and we are at the forefront of it," Dillashaw said. "I want to change the way things are done. Instead of coaches working off these percentages and trading money and relationships because of it... I just believe things can be handled in a much better way.
"Someone who had really opened my eyes to it has been Ryan Drexler with MusclePharm. Moving out to Colorado and joining that team showed me how professional fight teams should be [run]. It is something that benefited me a lot and I'm pumped to continue work with those guys and learn from them."