Joanna Jedrzejczyk Dismisses Challenges: 'They Don't Have What I Have'
Joanna Jedrzejczyk Dismisses Challenges: 'They Don't Have What I Have'
UFC strawweight champion Joanna Jedrzjczyk believes she will clear out her division with a UFC 217 win over Rose Namajunas.
Oct 18, 2017
by Duane Finley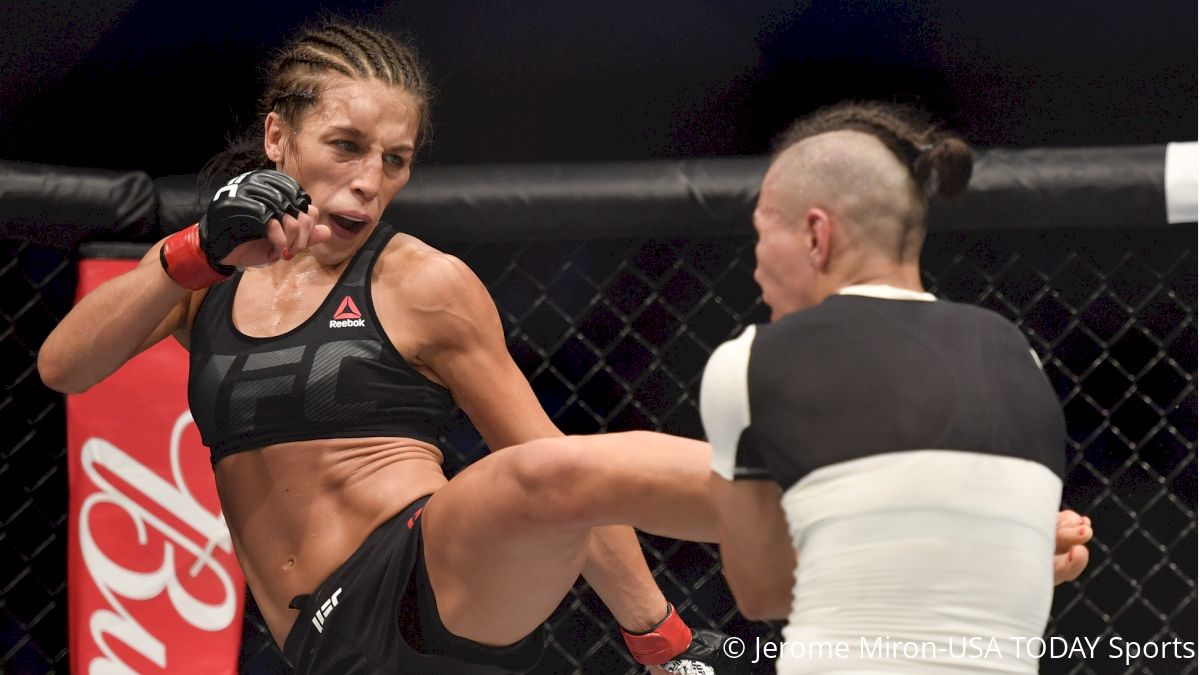 Joanna Jedrzejczyk has heard it a million times.
With every new opponent the UFC's strawweight queen faces, there's a loud chorus of people telling her this is the one who will take her belt away.
The latest is former "Ultimate Fighter" competitor Rose Namajunas, who has shown flashes of brilliance during her career, notching several highlight-reel finishes — the most prominent of which came in April via a head kick transitioned into a rear-naked choke submission to finish Michelle Waterson.
Of course, Jedrzejczyk (14-0) respects the skills her latest challenger brings to the table heading into their Nov. 4 title fight at UFC 217 in New York City, but ultimately she feels Namajunas (7-3) is just another name that's going to end up on her resume. Jedrzejczyk's goal is to go down in history as one of the greatest mixed martial artists of all time, and she's well on her way to doing just that.
"Everyone before the fight — you know how many comments and messages I receive saying, 'Hey Rose is going to submit you. Rose is going to beat you up'? I'm like, text me or send me a message or comment on my victory picture after my fight, and we will see who is right," Jedrzejczyk told FloCombat in an exclusive interview.
"Anything can happen in the fight, I'll always say that. One punch, one submission, one blink can finish the fight, but I always make sure I'm ready and I don't watch so many fights. I focus on what I can do better. How can I escape from them because I know they are coming for my belt, my goals, my dreams.
"This is my life, so I must make sure that I surprise them," she continued. "I don't worry about how they're going to surprise me — I always surprise them. Believe me, I will surprise her in this fight."
While Jedrzejczyk, 30, has been defined by her world-class striking during her strawweight title reign, the 25-year-old Namajunas has made a name for herself with a deadly arsenal of submissions throughout her career.
In fact, Namajunas first burst onto the scene in 2013 with a pair of submission victories, including a flying armbar that earned her a win in just 12 seconds while she was competing for Invicta Fighting Championships.
Since that time, Namajunas scored three submission wins to run through the competition on "The Ultimate Fighter" as well as three more submission finishes after joining the UFC roster.
It all adds up to Namajunas being a force of nature on the ground, but none of that seems to worry Jedrzejczyk.
"You don't see me fighting on the ground very often during the fight, but my game is strong," Jedrzejczyk said. "They cannot figure out a way to beat me. First of all, if she wants to submit me, she must cut the distance, she must take me down and then she's got to try to submit me on the ground."
Namajunas hasn't been too vocal in the leadup to UFC 217, choosing relative silence over any trash talking or proclamations that she's going to put Jedrzejczyk away.
That said, Jedrzejczyk feels Namajunas falls into the same category as many of her past opponents who all claimed they figured out a way to solve the puzzle to beat her. Each of them is now back in line, clawing for a chance to earn another shot at the title.
"They say this one is coming for your belt. Like Karolina [Kowalkiewicz], who the f--k is Karolina? I beat her up," Jedrzejczyk said. "She had like 10 seconds of hype in our fight and people only remember that. They don't remember how I beat her up. Jessica [Andrade] is coming for you. They don't realize that I just beat her six months ago.
"[People] say, 'Oh, you should watch the fight, why didn't you watch and be humble and watch the fight? I don't have to watch the fight. They must watch me. They want to come for my belt. They want to come for me. But they don't know how to figure it out.
"They can f--king bring the best coaches from I don't know where — Sri Lanka or Thailand — they're not going to figure out a way," she continued. "There's something about me. I'm talented and I'm a hard worker and they don't have this. They can be talented, but they're not a hard worker. They can be a hard worker but they aren't talented. They don't have the dedication that I have."
At the end of the day, Jedrzejczyk predicts the same outcome for her fight with Namajunas as the last five fighters who have attempted to take the title away from her. The only difference is when this fight is over, Jedrzejczyk is confident that she will have officially taken out every top contender currently competing at 115 pounds.
"They can say whatever they want. I've cleared this division after this fight," Jedrzejczyk said. "This is what's going to happen.
"People can say whatever they want to say, but I know I'm going to be a champion and you are going to hear 'and still.'"