Make no mistake about it...championship gold is the driving force behind TJ Dillashaw's motivation in the lead up to his showdown with Cody Garbrandt at UFC 217. Yet, while reclaiming the world title he once held is the most prominent factor, it certainly isn't the only one.
Not by a long shot.
With Dillashaw and Garbrandt holding definitive status as two of the very best bantamweight fighters in the world, the matchup alone is enough to set the fight game ablaze. The pairing between the current and former champions is a stylistic frenzy of speed, power and technique both orthodox and unconventional alike.
The reality of what this fight will deliver on the physical side is why it is the co-main event on one of the biggest cards of the year for the most successful promotion in the sport. And while the equation usually falls on the fight being what matters and everything else being exactly that, in this case it's everything else that makes the matchup a can't miss affair.
[instagram url="https://www.instagram.com/p/BZ8GMNsAquE/?hl=en&taken-by=tjdillashaw" hide_caption="0"]
Rivalries bring out the best of what combat sports has to offer, and the severed ties of a once tight-knit camp have made the bad blood between champion and challenger as real as any feud has ever been in MMA.
Dillashaw sees the entire scenario in panoramic view and assures the heated rivalry is fuel, not distraction, heading into Madison Square Garden on Nov. 4.
"I can't look past anything here," Dillashaw told FloCombat in an exclusive interview. "Cody is a great athlete and he's very fast, reactive and has some power. I also know the guy and feel that does nothing but benefit me. As the smarter fighter I'm able to break down my opponent and game plan. Working with these new coaches in Southern California and all the boxers I've brought into camp my mind is definitely focused on Cody's skill set and not any of our past whatsoever. I couldn't care less about any of that.
"It wasn't like Cody and I were ever good friends. He was coming into that gym as I was on my way out. I was coaching practices and holding mitts for him before his first fight against [Marcus] Brimage, but it's not like we were friends outside of the gym."
The backstory of the riff between Dillashaw and Team Alpha Male is well documented, but the grudge took center stage when the former champion and current titleholder were selected as coaches for the twenty fifth installment of The Ultimate Fighter. This forced the parties involved into close quarter interactions where the friction spilled over into a physical altercation during the taping.
And while there was no love lost between the two camps during the taping, Dillashaw is confident his decision to coach opposite Garbrandt was the right move.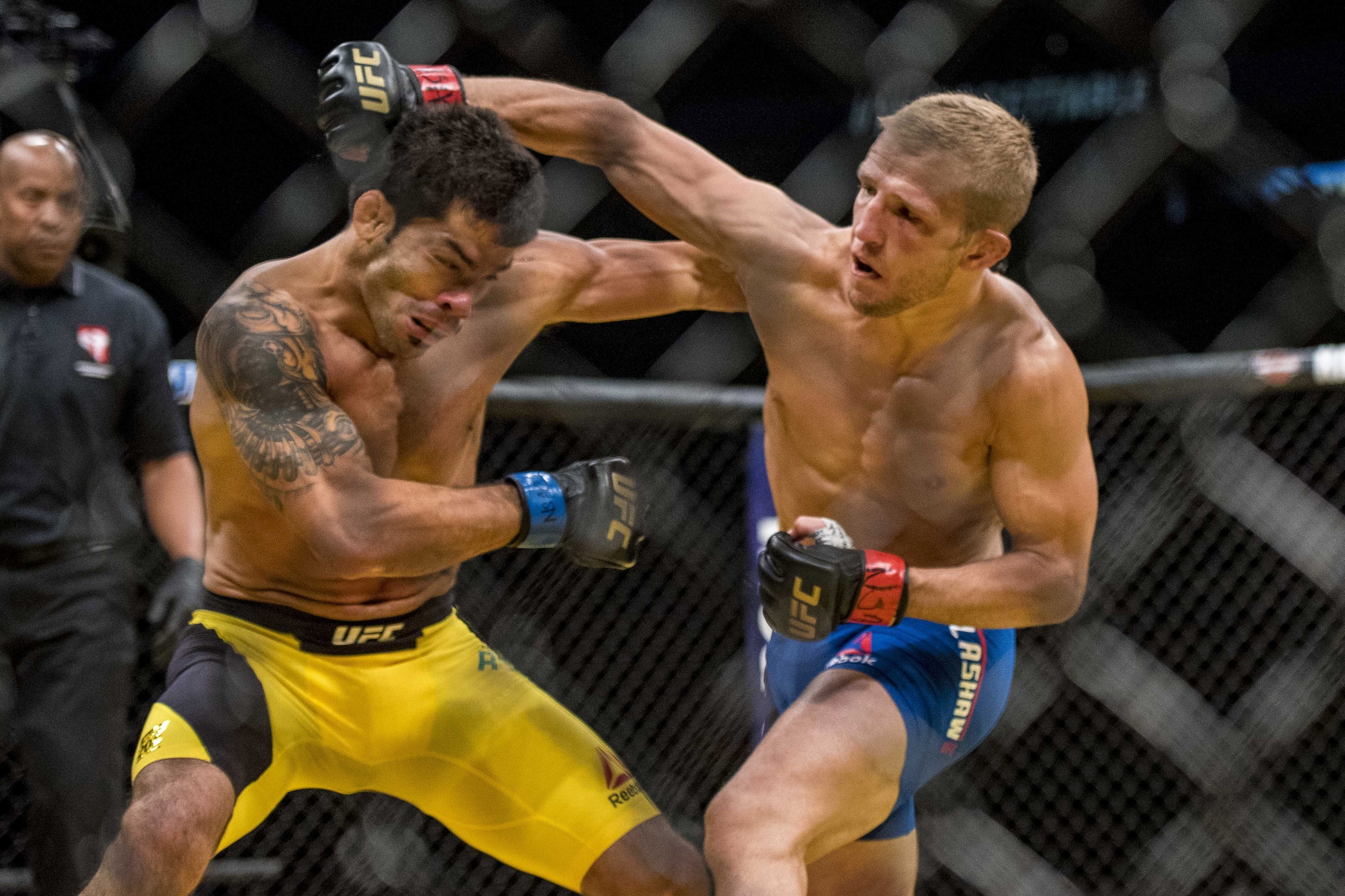 Photo Credit: © Joshua Dahl-USA TODAY Sports
"I've always wanted to coach The Ultimate Fighter," Dillashaw said. "I've always felt I would be a good coach and be able to help the fighters on my team, but when they gave the other spot to Cody I wasn't sure if I even wanted to do it. It's something I weighed out the options on because I didn't want to coach TUF against those guys and deal with all the drama that would be coming into my life. I didn't want to deal with any of it.
"All the bullsh*t that started with me leaving the team was all going to be rehashed and brought back, but there was no way I was going to turn it down. There's no way I was going to turn down a shot at the belt when I'd been fighting for it for over a year. It's obviously something I agreed to and I'm so glad I did it. I was able to show my true colors and they certainly showed theirs.
"That experience made all their bullsh*t and fake news easier to deal with," he added. "The world got to see how immature they are and it's something I definitely feel I've grown and moved on from. I'm back to having fun and I'm down here in Southern California loving life. I'm training with Cub Swanson and Juan Archuleta and Duane [Ludwig] has been coming down. I'm working with other coaches as well and I've been able to re-invent myself and re-ignite that fire."
Although Dillashaw took plenty of positives from his experience coaching TUF 25, he's also quick to acknowledge the backlash that has lingered since his split from TAM and break with former mentor Urijah Faber. The California native has been painted as an opportunist who only looks out for self, and this narrative has been stoked by UFC Hall of Famer in a myriad of interviews since Dillashaw left the squad.
The resurgent former champion believes he's been painted in a false light due to the way things have played out, but gives little credence to things beyond his control.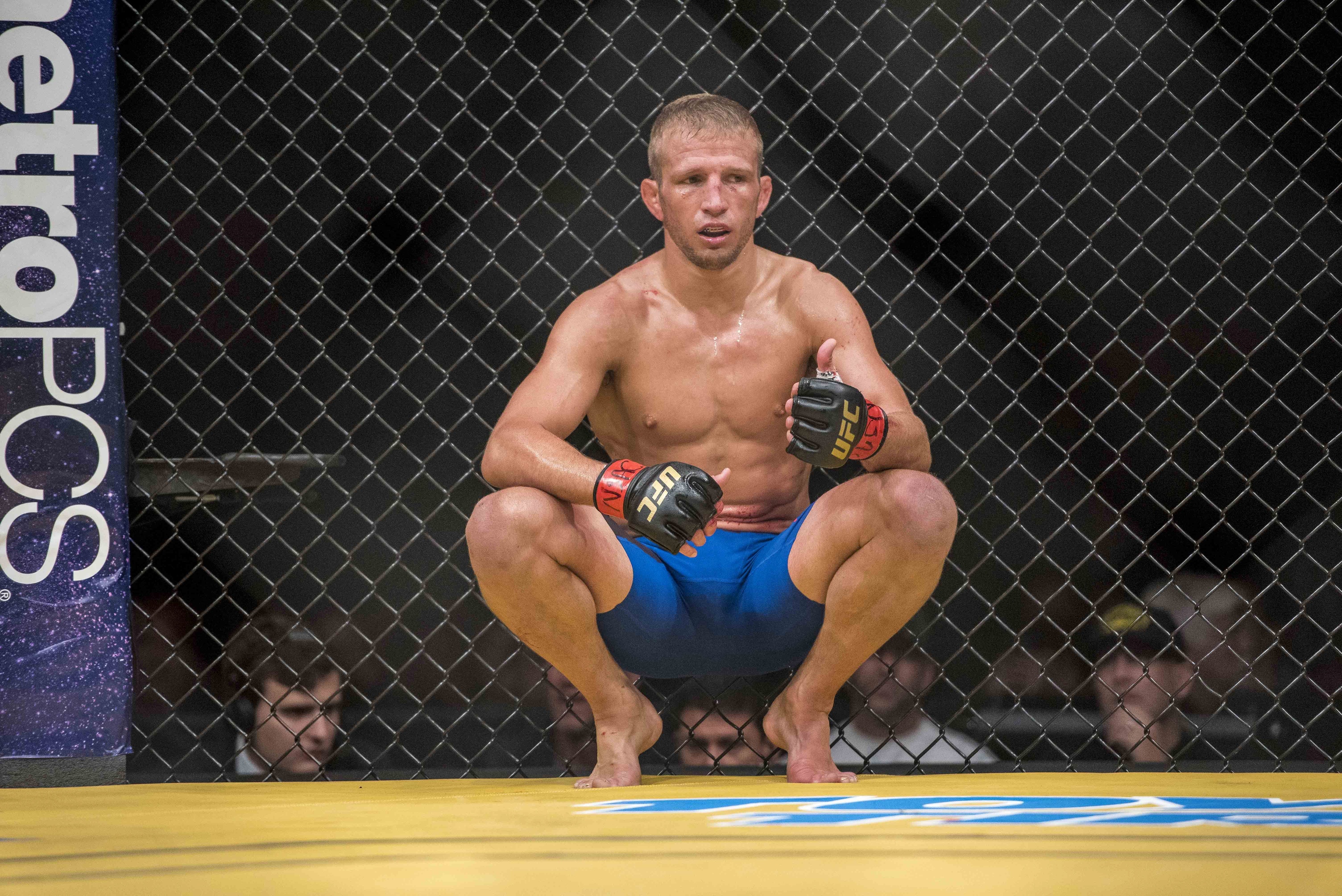 "I've always tried to carry myself the right way and I've never acted out," Dillashaw said. "I've never tried to sell a fight being something I'm not. It's always been real emotion with me and I've always been open in my interviews...probably more open than I should have been with a lot of stuff. That's just who I am and there's nothing hiding here."
Dillashaw's upcoming bout will be against Garbrandt at UFC 217, but the bulk of the tension from the situation with Alpha Male exists between the challenger and his former mentor. Faber was the driving force behind Dillashaw starting a career in mixed martial arts and helped guide the young talent to the biggest stage in the sport in quick fashion.
That said, the entire time this relationship was building, there were additional complexities taking shape as well. As the head of TAM Faber profited and continues to profit off the fighters under his wing and money has a long track record of blurring the lines between business and friendship.
In fact, looking back on the situation it's not clear which is which where Dillashaw is concerned.
"The perfect example is his relationship with me," Dillashaw said. "If [Faber] was my true friend he would have supported me in the decision to work with Duane for the Dominick Cruz camp and known that was the best decision for my career. He knew Duane and I were super close, but because I was the world champion leaving his gym to go train elsewhere it became a problem.
"But it wasn't actually leaving his gym because I was still coaching there and cross-training between Denver and Sacramento, but when I told him I was going to do my full camp for the Cruz fight in Denver and that became a problem.
"If I'm your friend, how does making that decision suddenly make me the enemy? He's the prime example to show that he was making money off of us. He is a very smart businessman and all about pumping up his gym and his team. Right now it's Team Alpha Male against everyone, which is another funny thing in my eyes, but it's the perfect example of how he does things."
[instagram url="https://www.instagram.com/p/BaF-4T2Akva/?hl=en&taken-by=tjdillashaw" hide_caption="0"]
When Dillashaw enters the Octagon at UFC 217 there will be more than just a coveted world title on the line in New York City. Across the cage will stand a familiar face in his former teammate turned rival and the tangled web of history and broken relationships just beyond in Garbrandt's corner.
Yet, in one night of chaos Dillashaw will have the opportunity to reclaim his title and slam the door on what has been one of the most hectic and trying chapters of his career. It's a story filled with bridges burned, new alliances formed, championship belts and legacies past and present. And with all of those things at stake Dillashaw plans to make his first showing at the historic New York venue a night he'll remember for the rest of his life.
"It's going to mean everything I've done since the night that belt was stolen from me has been the right move," Dillashaw said. "Keeping my composure, handling myself professionally and everything I've done has been for the right reason. You do the right things and the right things are going to happen, and I'm going to have a smile on my face doing it.
"I get to do what I love to do and even better I get to do it in an epic arena like Madison Square Garden on the biggest fight card of the year. It doesn't get any better than that. This fight got postponed and that sucked because I was ready, but ultimately it's a great thing. I get to be part of an historic event and it's going to be a great time to get my belt back. Everything happens for a reason and this has all been my path.
"It's been a blessing in disguise," he added. "Even with all the bullsh*t I've had to deal with it's done nothing but lead me to where I need to be."