Cub Swanson Talks Fighting Out Contract, Wants Better Deal From UFC
Cub Swanson Talks Fighting Out Contract, Wants Better Deal From UFC
UFC featherweight contender Cub Swanson shares insight to why he's decided to fight out his contract with UFC.
Oct 10, 2017
by Duane Finley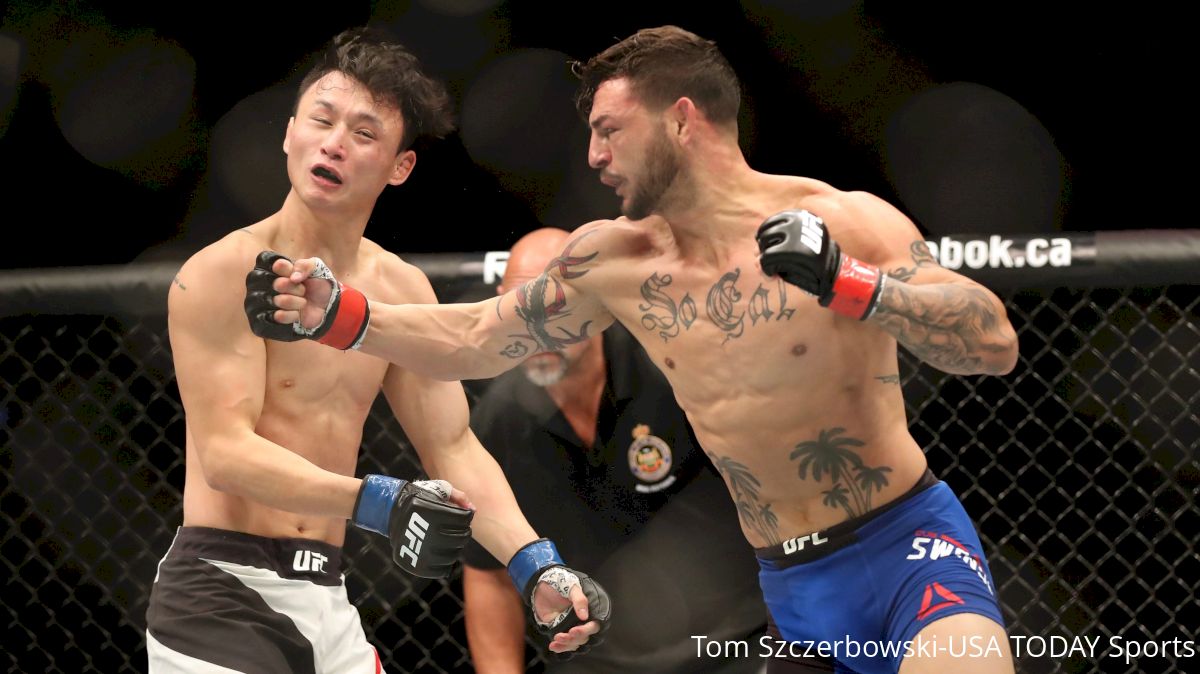 Cub Swanson is no stranger to showing and proving.
The SoCal representative has battled the turbulent waters of the fight game for more than a decade and navigated plenty of hardship in his life before MMA. Yet, Swanson has never allowed adversity to deter him from climbing back stronger than ever, and that resilience has taken him to an elite tier in the UFC's featherweight division.
Nevertheless, the savvy veteran is nearing a crossroads where change is all but certain in some shape or form. And if the UFC standout has it his way, the only thing changing will be the size of his paycheck.
"I'm speaking out about the situation because it needs to be said," Swanson told FloCombat. "Being the squeaky wheel isn't my thing but that's how things get done and that's why I'm talking about it now. I'm a father now and the future has never been more on my mind. I want to make sure I'm taken care of and I have enough money to retire when I hang up the gloves. This will be my 22nd fight with the company and to think I'm not a multi-millionaire by now is kind of crazy.
While Swanson currently sits as a viable option for the next shot at the featherweight strap, his upcoming bout with Brian Ortega in the main event at UFC Fight Night 123 on Dec. 9 in Fresno, CA, doesn't necessarily reflect that status. A matchup against a fellow contender such as Jose Aldo or Ricardo Lamas would have made much more sense for the Tru MMA leader and Jackson/Winkeljohn affiliate, yet the promotion paired Swanson against a rising talent on the last fight of his deal.
"The last thing I want to come off as is ungrateful because I'm extremely grateful for all the opportunities I've had," Swanson said. "I have a great working relationship with everyone at the UFC. My only problem comes at the top with broken promises. It sucks because those things get thrown back in my face at the negotiation table where they say, 'You haven't been a titleholder.' That's true but I've never been given the opportunity, and that could have happened several times with what I've accomplished in there.
"The promotion makes those decisions and sometimes that gets frustrating," he added. "At some point it has to reach a place where if you're never going to give me the title fight I've earned then pay me like it or just give me the damn title fight."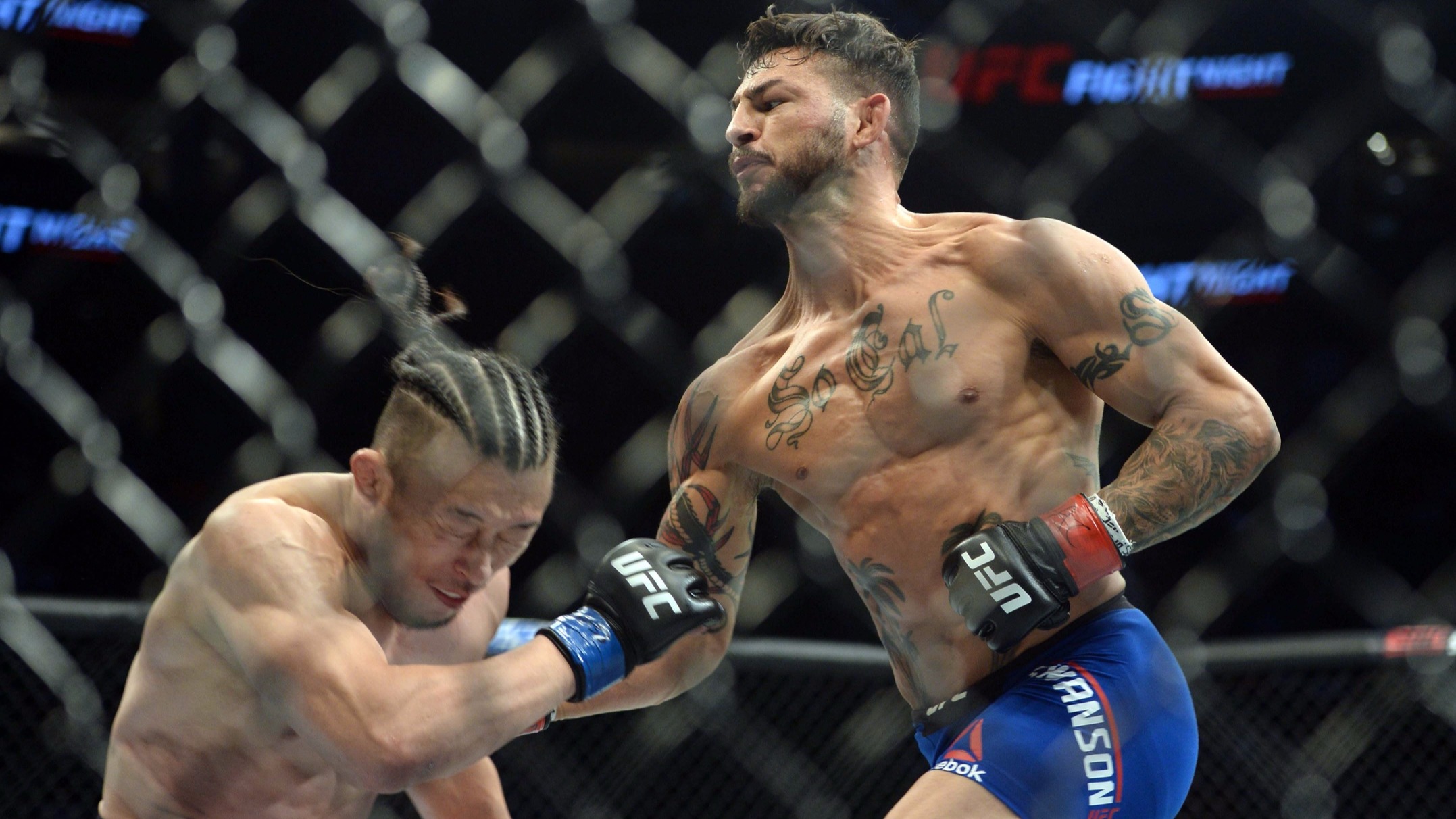 Photo Credit: © Joe Camporeale-USA TODAY Sports
Staying at the top is an amazing feat in the fight game, and Swanson's place as the longest-standing featherweight on the UFC roster is impressive. He's spent the past 10 years competing under the same promotional banner, but the road ahead is filled with uncertainty. Swanson has decided not to re-sign and test free agency following his next bout, but "Killer Cub" is holding out hope a resolution can be found to keep him competing inside the Octagon.
The 33-year-old California native has enjoyed crafting beautiful destruction on the sport's biggest stage, but a growing family and a rising profile have changed his perception of the game at large. Swanson is determined to make the type of money that will ensure a bright future for his family, and he's willing to put it all on the line to secure the value he believes he's worth.
"I'd absolutely love to finish my career with the UFC," Swanson said. "I love fighting for this company and I'm happy with almost everything about my time here. Other than the compensation and what has happened with title shots, I've really enjoyed fighting for and working with the UFC. I've done pretty well the past few years, but I'm not making retirement money. I'm preparing for my future and that has to start now.
"If the UFC comes to the table with a good offer, I'd love to re-sign with them. It's been my home for a long time and I've been proud to call it that. It's where I want to finish my career when the time comes to do so, but I have to put myself and my family first in this situation. I've missed a lot of things to make this career happen, and I've always looked at it like an investment. And it's time that investment starts paying off."
[instagram url="https://www.instagram.com/p/BZPBgLhBSar/?hl=en&taken-by=cubswanson" hide_caption="0"]
Swanson's upcoming matchup against Ortega pits a potential future star against a well-established name in the featherweight ranks on their mutual home turf in California.
Swanson sees it all as business, but isn't blind to the motivations behind the pairing.
"When you take a step back and look at how promotions work, that is the smart play," Swanson said. "I'm not going to jump out and accuse the UFC of setting that scenario, but it sure looks and feels that way. I don't really know, but it's a smart move from a promotional standpoint. If one party is in a position to have a lot of negotiating power then it's in their best interest to try to lessen that. It's just business, but it's also my life. This is my profession and how I feed my family.
"I've tried to be a company guy the entire time I've been with the organization. I've been proud to be an ambassador for this sport. When I first started, it was at a time when people saw this thing a completely different way, and I've worked hard to be a part of the effort to show what is great about this sport. It's the hardest sport in the world and requires total commitment, dedication, and a ton of sacrifice. The best fighters in the world deserve everything they want."