FloCombat Road Trip 2 (#FCRoadTrip2) - East Coast
Colby Covington Plans To Retire Demian Maia, Humiliate Tyron Woodley
Colby Covington Plans To Retire Demian Maia, Humiliate Tyron Woodley
Surging UFC welterweight Colby Covington dishes on his upcoming Demian Maia fight and Tyron Woodley beef.
Oct 3, 2017
by Duane Finley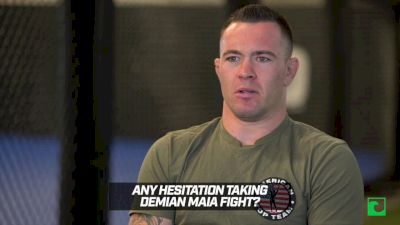 Colby Covington has taken the UFC welterweight division by storm in recent years.

The Oregon-born wrestler turned mixed martial arts standout has climbed the divisional ladder on the strength of his performances inside the cage and built his profile beyond the spotlight on his ability to stir the proverbial pot on social media platforms. Covington's approach has proven effective as each fight he's signed has been bigger than the last, and the buzz surrounding him as increased in volume.

Love him or hate him, the fact remains Covington is getting your attention, and in a ultra-competitive sport like MMA, every bit of attention counts. The latter certainly rings true in regard to the promotion he competes for as the upstart welterweight certainly has drawn one of the divisional elite for his next assignment inside the Octagon.

The 29-year-old American Top Team representative will journey south to Sao Paulo, Brazil, to face Demian Maia at UFC Fight Night 119 on Oct. 28. The grappling ace Maia will enter the fight fresh off a failed attempt to dethrone Tyron Woodley at UFC 214 back in July, and Maia's recent title challenger status creates an incredible opportunity where Covington is concerned.

After defeating Maia on his native soil, the surging welterweight Covington plans to turn his attention to Woodley and the welterweight title. There is absolutely no love lost between the current champion and the contender in waiting, and Covington is beyond motivated to settle the feud in violent fashion.

Covington sat down with FloCombat for an in-depth talk on all things MMA during #FCRoadTrip2, and the end result was absolute fire.


On Accepting Fight With Demian Maia

"Dana White even texted my manager. He was like, 'Whoa, he already sent the contract back?' Literally within five seconds of them sending the contract, I had a guy, my manager, Dan Lambert, sign it and it was already back within like a couple minutes. And they were like, 'Whoa, why did you send it back so fast?' That's just my confidence right now. I believe I am the best fighter in the world, and I'm going to go out there and show that against Demian Maia. So no one wanted to fight him and no one wanted to fight me, so it just makes sense that we go and fight for a chance to go for the title next."


On Whether He Feels A Statement Finish Against Maia Is Needed For Title Consideration

"No, that doesn't weigh on my mind at all. My sun is rising. His sun is setting. This is my time. He had his time. I'm going to lay him to rest. I'm going to knock him out in the first round in front of his home fans."


The Prime Of His Career

"Earlier in my career, I was slowed down by a lot of injuries and now I'm healthy. I feel better than ever. I'm very much evolved from my last fight against Dong Hyun Kim (at UFC Fight Night in Singapore on June 17), and you saw what I did to him. It's not very often you're putting up a 30-25 score[card] against the No. 7 guy in the world, so I'm just getting started, man. That's the thing about this. This is only the beginning of the journey for me, and guys are going to see a new Colby Covington on Oct. 28 in Sao Paulo, Brazil."


Pressure To Lead The New School Of Welterweights In UFC

"No, I don't feel pressure. I'm just worried about going out there and being a better me every day. Self-improvement every day. That's all I worry about. I don't worry about the division. I feel like I'm the best welterweight on the planet. After I dismantle Demian Maia, you know, Tyron Woodley, he's next."


Tyron Woodley Beef Runs Deeper Than Belt

"We've had a lot of scraps in here at ATT before, when [Woodley] was ATT, before he went to Duke Roufus. And I just feel I'm very confident in his style, man. He plays the safe game. He backs up, backs up, then he tries to explode with one shot. The thing is, against me, that style's not going to work. I know his style. I know what he's trying to do. And my pressure fighting, I'll break him. Inside four rounds, he will quit. He'll never come back to that Octagon after I humiliate him inside the Octagon. I've done it in the gym. I'll do it in the Octagon, man.

"It's an easy matchup for me. I'm just excited to get my hands on him. And I'm not looking past Demian Maia. I'm very focused on Demian Maia. But I want to make it clear: Tyron Woodley, he is next."


Respecting Maia's Entire Skill Set

"We're just working for the worst-case scenario, if he gets to my back. He's not going to get to my back. He has JV-level takedowns. I'm the highest level wrestling that there is. His takedown game, look at Woodley. He stuffed [23] of 23 takedowns, and Woodley can't hold my jock strap in wrestling. At the end of the day, Demian Maia, he's not going to get to my back. But we're going to prepare for the worst-case scenario in case it does happen. We're going to be prepared on all cylinders, and we're going to finish Demian Maia. Mark my words."


Avenging Teammate Jorge Masvidal's Loss To Maia


"Absolutely. We've seen everything. We know what he brings to the table. Jorge felt it firsthand (at UFC 211 in May). He's giving me pointers on little stuff where [Maia's] trying to do the half guard. He's trying to pull to half guard and then come to your back, you know? So we're very well prepared for him. We trained for him the last training camp with Jorge, and we know what he brings to the table. It's nothing new. An old dog is not going to come to this fight with new tricks. He's going to be the same dog. So at the end of the day, I'm a well-rounded fighter. He's a one-dimensional fighter, and I will expose Demian Maia on Oct. 28."


Punching A Nice Guy Like Maia In The Face

"A fight's a fight, man. He wants to come in and punch me in the face. I'm going to punch him in the face. He's a nice guy. I have tremendous respect for him. That's why I'm going to lay him to rest in his home country."


Twitter Brings The Haters Out In Force

"It's fun to me, man. I enjoy it. Just the emotional side that these fighters get out of it. They can say whatever they want back to me, but they're not. There's only a couple guys that have said anything to me. It's a game to me. This is all a game. It's funny to me. All these guys are a joke, and I'm just saying the truth. I haven't really said a lot of things that are lies. Maybe a couple little things that weren't exactly true, but most the stuff I say is the truth, and people are hurt with the truth. Like what I say with Woodley. He's always pulling the victim card. 'I'm the victim.' So I just have to laugh at all these guys. I'm not a victim. I'm just saying how it is. I'm calling a spade a spade.

"I bottle it up and I channel it and I use it for training. You see me in here this morning. I've been here since 10 o'clock sparring, sprints, back to strength and conditioning. These guys, they just fuel me. It's just, they're so stupid, I don't even listen to them. They're all Cheeto-eatin' dorks on their frickin' mom's couch. So what do I care about these losers? Look what I'm doing. I'm a boss. I'm living my dreams. I'm doing whatever I want every day. They're jobbers. So all you jobbers out there, keep talking shit. Look what I'm doing. I'm about to get the strap."





Sign Up For The FloCombat Newsletter

Don't miss breaking news, feature stories, event updates, and more. Sign up for the FloCombat mailing list today.