Max Holloway Blasts Conor McGregor: 'He's Holding Onto A Fairytale'
Max Holloway Blasts Conor McGregor: 'He's Holding Onto A Fairytale'
UFC featherweight champion Max Holloway fires back at Conor McGregor for recent comments about title.
Oct 1, 2017
by FloCombat Staff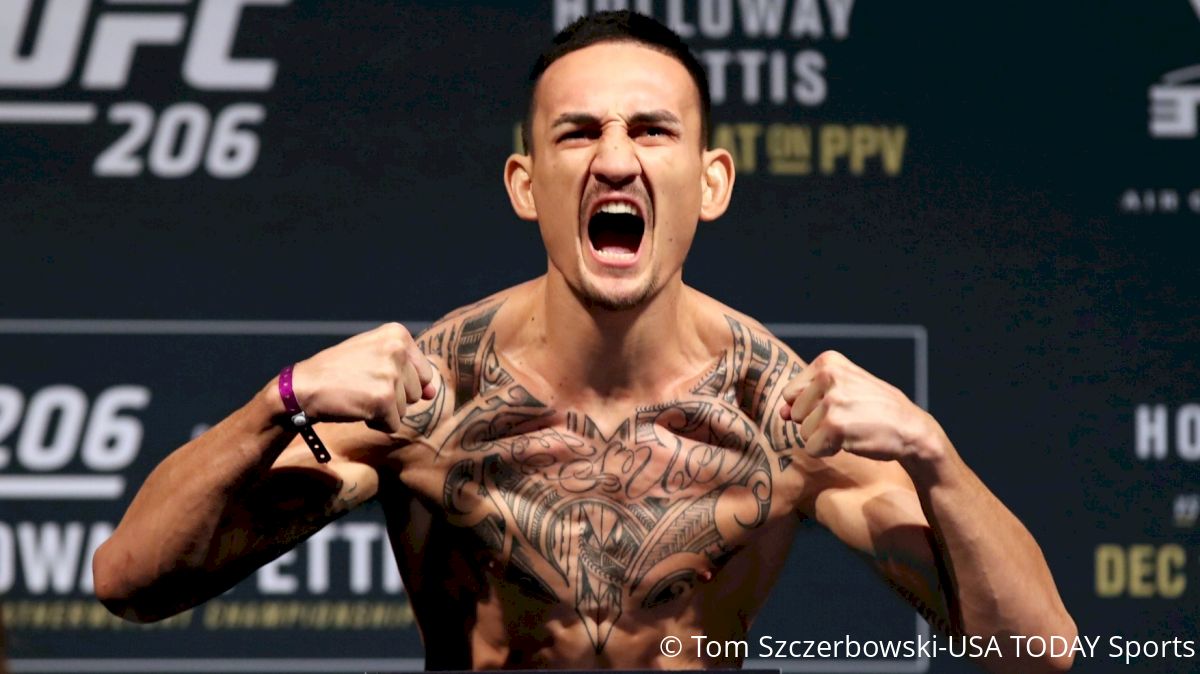 By Damon Martin

Over the course of his incredible 11-fight winning streak, Max Holloway has distinguished himself as the undisputed featherweight champion in the UFC, punctuated by his TKO victory over former divisional king Jose Aldo in June.

That being said, Holloway is no stranger to the looming presence and/or absence of former 145-pound titleholder Conor McGregor.

Holloway is enjoying the view from atop the featherweight divisional mountain, but the scrappy Hawaiian striker has heard plenty of argument regarding the validity of his title reign from the fast-moving mouth of the Irish superstar. Not only was the "Notorious" one never dethroned inside the Octagon, but the Dublin native is also the last person to defeat Holloway before "Blessed" launched his division-smashing title run.

McGregor defeated Holloway via unanimous decision back in 2013, but those were days of featherweight past for the SBG Ireland leader.

The outspoken star hasn't seen the 145-pound mark since 2015, and the addition of another title at lightweight and his crossover into boxing to face pound-for-pound king Floyd Mayweather has created plenty of distance between McGregor and the featherweight fold.

Regardless, McGregor still loves to tout himself as the true king at 145 pound despite never actually defending the title before he was stripped of the belt in 2016.

Holloway has heard McGregor proclaim himself as the true champion numerous times, but finds it odd the Irishman has shown no interest in stepping in for a rematch.

"That man needs to tell himself that to get up then so be it. At the end of the day, I'm here waiting," Holloway said about McGregor when speaking to FloCombat.

"Right now, it's this fairytale they have that they don't want to end. You talked a fairytale with that Nate (Diaz) fight but then they came up saying it was at 170 and he's three times his size and blah, blah, blah. It's a fairytale that he's holding onto, and it's a fairytale he doesn't want to end.

"They can let me know when they're ready but for now it's just talk. Everybody keeps saying 'Conor's saying this and Conor's saying that.' I can't make him not say it. In his own head, he's going to believe whatever he wants, but at the end of the day, we're going to have to see each other again and we'll find out."

As much as McGregor likes to tout his 2013 win over Holloway, the standing featherweight champion believes it's a double standard for mixed martial arts when compared to other sports.

A lot has changed in the four years since their initial clash, and Holloway would love the chance to run things back.

"He can go around and tell everyone he's the featherweight champion but he keeps forgetting numbers. It's 2017," Holloway said. "Imagine LeBron (James) going around and saying that he didn't want to play against Golden State this year because he beat them the year before. That makes no sense and Golden State ended up winning.

"People look at this sport different than other sports and it blows my mind. The whole thing is just crazy."

At this point in his career, Holloway is done chasing anybody in particular because he has bigger goals in mind that go beyond McGregor.

Holloway wants to defend his title numerous times and wipe out every possible challenge in the featherweight division while putting together a winning streak that will be untouchable by any other fighter in the sport.

"I got the undisputed belt. Now I want the undisputed career," Holloway said. "I want to leave no questions."

At some point in the future, Holloway may even venture up to the lightweight division to add a second championship to his resume. And if such things came to pass, perhaps it would finally give McGregor enough incentive to accept his challenge.

"Everybody keeps talking about 145, [McGregor is] not going to come back to 145, this and that," Holloway said. "I heard talking about us fighting at 155. It's not that far off," Holloway said. "I'm turning 26. I'm growing, so if that fight happens it's probably at 55. Don't forget your boy is Hawaiian and Samoan. I love to eat. Lightweight is not out of the question."