FloCombat Road Trip 2 (#FCRoadTrip2) - East Coast
Jorge Masvidal: King Of The Street Game Knuckle Hustle
Jorge Masvidal: King Of The Street Game Knuckle Hustle
UFC welterweight contender Jorge Masvidal lays down the real talk ahead of UFC 217.
Sep 27, 2017
by Duane Finley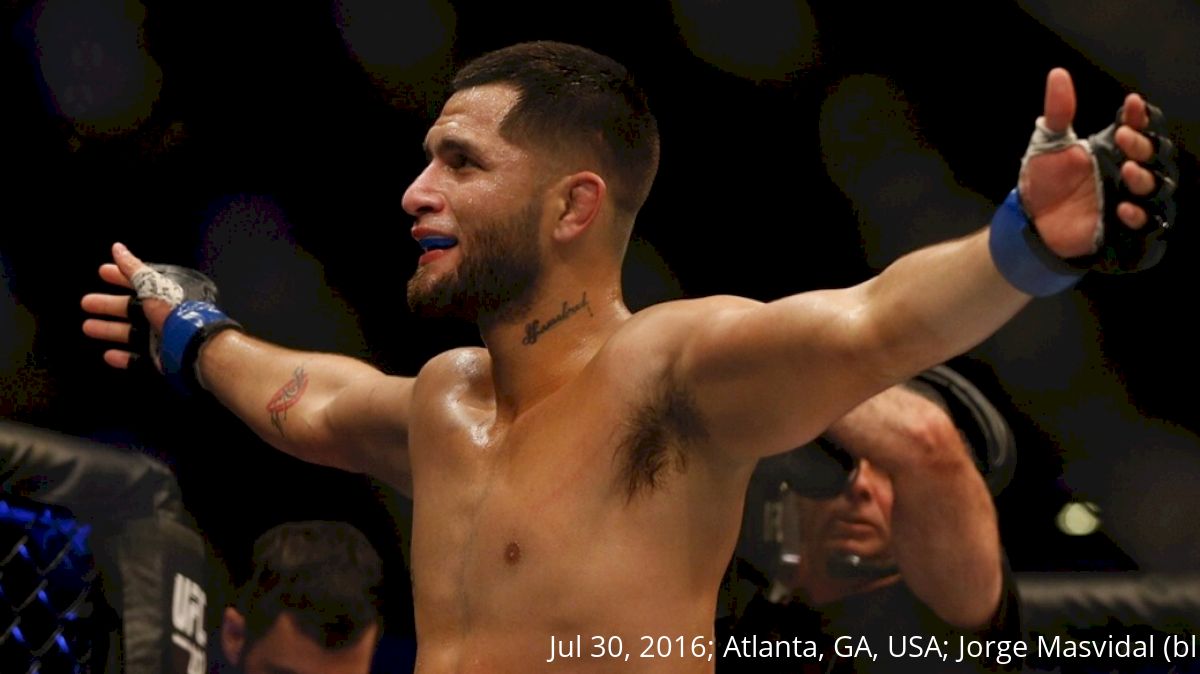 Jorge Masvidal is the walking embodiment of what it means to be a fighter.

The Dade County representative's life has been amassed in chaos since the days of his youth, and his ability to find not only comfort but also enjoyment in the fray has driven him to become one of the best fighters in the world. The man is called "Gamebred" for a reason, and on this stop on the #FCRoadTrip2 project fight fans get to see why.

FloCombat Senior Editor Duane Finley and Masvidal have spoken extensively throughout the scrappy welterweight's career, and in this interview they get down to the ruckus simple and plain, including Masvidal's upcoming fight against Stephen Thompson at UFC 217 in New York City on Nov. 4.


Coming Up In The Struggle

"I'm going to say that my background definitely enabled me to find out what I was good at, my tools. But it's something that I was just born with. I see my kid now, he doesn't want to play with the building blocks. He wants to wrestle. And he's throwing punches. It's hilarious. The daycare is always telling me, 'Hey, man, you gotta stop teaching this kid stuff because he's always fighting.' I don't teach him shit, you know? I don't want him to fight. That's the last thing I want him to do. I want him to play basketball, baseball. The last thing I want him to do is fight. So it's just something that runs in my blood, man.

"I knew since a young age, man. Shit, the first time I already knew if somebody tries to take my shit it's going to be a problem is when I was only 7 or 8 years old. I remember trying to get robbed for my bike, and it didn't happen. Then the dudes pulled out a knife, and I took off on my bike. I ran after that, you know? That same group of people caught up to me another day, and they were maybe, I want to say I was in second or third grade. These were fifth-graders and some middle school kids. And I ended up having to fight with them after I was able to get away because we all lived in the same neighborhood. And I was able to fu*k with the kid pretty convincingly, [even] being my age. My adrenaline was pumping, scared out of my mind, two dudes confronted me, and I just hit one of them with like a straight blast as fast as I could to the face. He got bloodied up and scared and that was the end of that. So I knew since then, I knew I had something different. I knew that maybe I can't shoot a three pointer or play with balls, but I can definitely take care of myself. I can fight."


A Dream Born

"You gotta control it [the adrenaline]. In a life scenario, in a street scenario, it's survival. Get out of there at all costs. Empty out your gas tank. If you gotta sprint a mile, then you're going to sprint the whole mile. If there's three, four guys behind you and they got bats and chains, you just gotta get out of there. You don't pace yourself. You just go. However you can get out, if you gotta hide or you gotta run four miles at the top of your speed, that's what you do. In fighting, you pace yourself. There's still adrenaline, but my adrenaline never bumps like that. You can see it. I'm pretty relaxed. I'm pretty chill, and that's my environment.

"If Michael Jordan was going to play ball against the greatest dude ever, it's what he loves to do. He's going to have fun. There might be nerves and pressure, but that's what that guy loves to do. That's what he was dreaming since he was a kid. [And] this is what I was dreaming since I was a kid. Money obviously was a big factor, but to me, when I was a kid I was like, 'Man, if I could have that chapter in my life, I'll be a happy person.' If I could fight at the highest of levels and then move on to whatever else I want in life, I'll be the happiest person ever because that's the chapter I want to fulfill."


A Chip On His Shoulder

"Since the first day I got into the UFC, I told Joe Silva at the time, the matchmaker, 'Hey, I want a ranked guy.' They said that wasn't happening. I didn't understand it because guys that I had beaten were coming over and fighting top five, top 10 dudes. It blew my mind at first. I was like, 'I don't get it. It's weird. Maybe they just kind of want to test the waters with me.' I fought one fight, fought two fights, fought three fights, and it wasn't what I wanted. So I'm happy now they've seen the promise, that I'm here to fight, I'm here to entertain. Maybe the whole world doesn't know me, but those who know me are either going to heavily be involved with me or they're going to hate me. But it's going to be one of the two. I come to fight.

"When I saw Ultimate Fighting and I saw a guy like Randy Couture fighting in the UFC, and he was probably like at a Mohegan Sun somewhere nobody was watching, that's why I got into it… So if nobody had ever know that I had this illustrious, amazing career, it would not do anything for me. It wouldn't bother me at all. I just wanted to do the sheer competition of me versus you, who's better?"


Fighting Stephen Thompson At UFC 217

"I don't believe he's coming to scrap. I believe he's going to do what he always does. If a guy gives him a big enough of an opportunity for him to take a small risk, he'll do it, but he's going to stay defensive and play his game. He's not going to go in there and throw down, like, 'OK, let's fight and see what happens.' He's going to be more at his distance trying to dictate a pace like how he fought Rory MacDonald or a lot of the guys that won't fully commit to him, and he'll just take a back seat and just side kick and jab there. I think that's what he's going to do. It's up to me to make it a fight."


"The Answer" Serves Inspiration

"I think Frankie Edgar's like the definition of a fighter. I love that guy. I've always been a big fan of him. He just fights, man. At first people used to criticize him because of his wrestling and he would hold guys down, but that's all he knew and he was still down there mixing it up. Now that he can do everything, he does everything. He's always in there to scrap. The guy never takes a backseat to nobody. He's going to fight. And that's what I think a fighter should be. On your good day, on your bad day, you're going to just give it your all. How many times could he have quit against Gray Maynard and just been like, 'You know what? I'm just going to survive.' That guy went for it the whole fuc*in' time."


Cutthroat For Life

"If you see me on the poker table, I'm pretty ruthless too. I can fu*k shit up on the poker table. I guess it's a switch just being in that environment… Same thing when that cage closes, it's even worse because there's so much on the line… Once I say I'm going, I left. So you can imagine for Madison Square Garden the type of pain that I'm willing to go through to get the victory."