By Damon Martin
Despite an intense rivalry with Jon Jones that has stretched back several years, Daniel Cormier isn't ready to convict the current light heavyweight champion in the court of public opinion just yet.
Late last month it was revealed that Jones tested positive for turinabol -- an anabolic steroid -- in a drug test administered by the United States Anti-Doping Agency (USADA) just a day ahead of his rematch with Cormier at UFC 214 on July 29.
Jones went on to win that fight by third-round knockout to reclaim the light heavyweight title and effectively put an end to his long-standing rivalry with Cormier after picking up a second victory over the former Olympic wrestler.
Now, Jones potentially faces as much as a four-year suspension, following his second failed drug test in two years. In July 2016, Jones tested positive for banned substances by USADA in the lead-up to his first scheduled rematch with Cormier at UFC 200. The fight was later scrapped, and Jones was suspended for a year before making his return at UFC 214.
In the aftermath of Jones' most recent test, Cormier has taken the high road when it comes to addressing Jones' situation. As much as Cormier might have the right to slam an opponent for cheating, he's just not ready to call Jones guilty without giving him the right of due process.
"I haven't been able to move past this, start to deal with it again because nothing's changed," Cormier recently told the Fight Society podcast. "Everybody is kind of in a waiting pattern, waiting to see what happens with his 'B' sample. That's it. I think we all want some sort of conclusion to the whole deal when there really is no conclusion to be had right now.
"I think people owe that to Jon, his team, and everybody else, USADA, to give them time to get all this stuff done. Get that 'B' sample in, make sure everything is tested thoroughly, and then we can all start to move forward."
All athletes under the UFC's anti-doping program are afforded an adjudication process where they are allowed to defend themselves and even request an arbitration hearing before any potential punishment is doled out.
That process could take several months to play out, and while that's not going to make it any easier on Cormier to figure out what comes next for him personally, he still can't find it within himself to toss Jones under the bus without having all the evidence yet.
"I think as an adult you have to know that this isn't done," Cormier explained. "I think people want resolution to it faster than it can be had. I'm just kind of sitting here taking it for what it is. 'Cause right now… what he has done has not been confirmed. Will it be confirmed? Maybe. But as of right now, he still is entitled to the process.
"Now is it upsetting? It's very upsetting. It's still very upsetting that we're going through this again. It's upsetting that anything like this could happen, and the more you learn about the thing that he was caught for, it makes it even more disappointing. All you can do is wait for that 'B' sample and see what happens."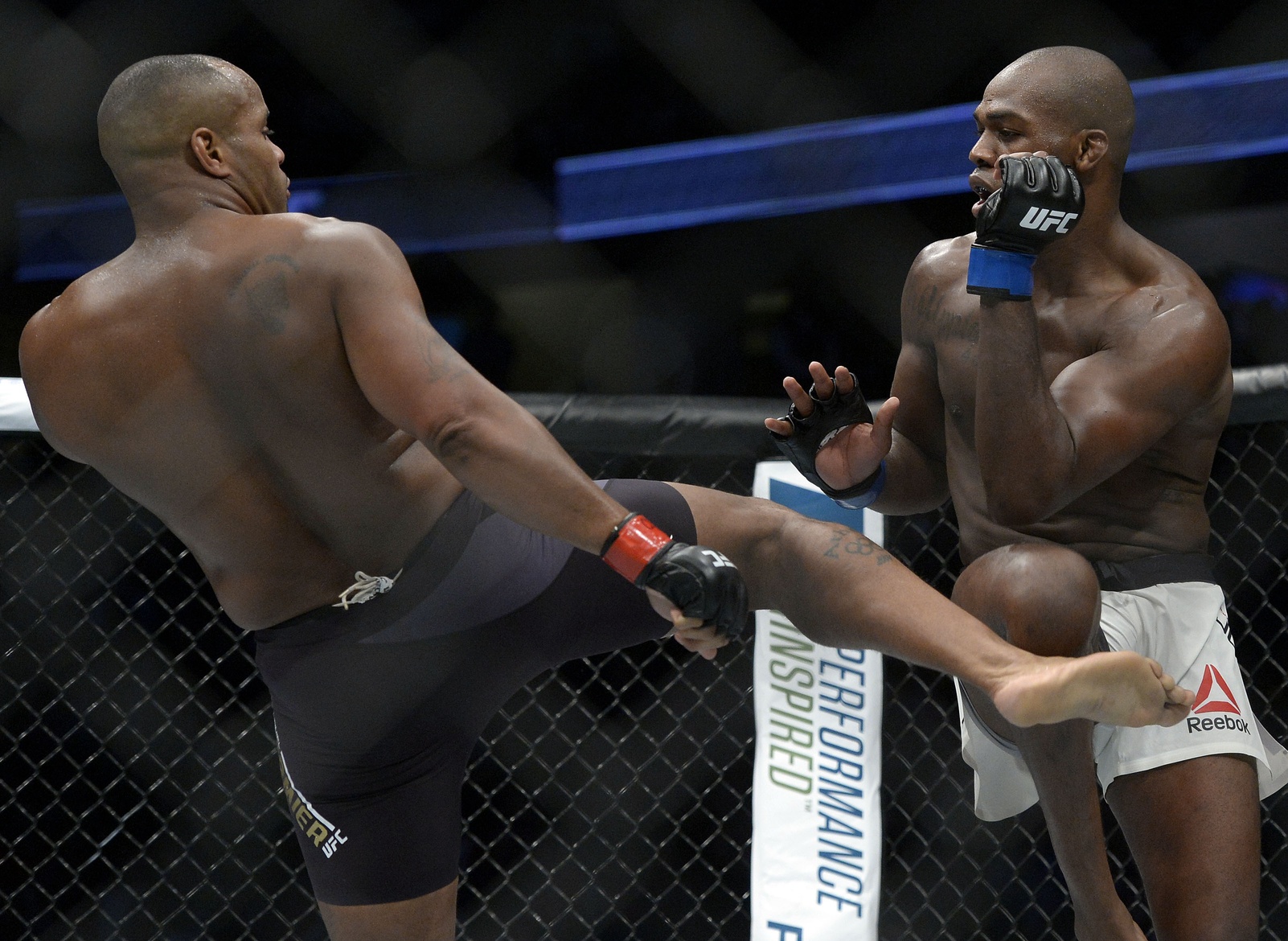 Photo Credit: © Gary A. Vasquez-USA TODAY Sports
While it's nearly impossible to remove himself from the situation to examine what's happening with Jones as an analyst rather than as a past rival, Cormier can't help but wonder if these repeated allegations are doing irreparable damage to Jones' career.
In fact, even during their most bitter exchanges over the years, Cormier has candidly stated that Jones is the greatest talent the sport of mixed martial arts has even seen, but these repeated problems are going to haunt him going forward.
For all the wins and championship defenses Jones has racked up over the years, he's gone through almost as many trials and tribulations outside the cage.
Whether it was a DUI conviction in 2012 or a hit-and-run accident that cost him the title in 2015, Jones has faced plenty of personal demons. Unfortunately, this latest string of incidents that began last year when Jones tested positive for banned substances only to be followed up by a positive steroid test in his very next fight is starting to do serious harm to what should be a Hall of Fame legacy.
"I think enough is enough now if I've got to be honest with you," Cormier said when addressing the damage done to Jones' career. "I think it's very difficult to consider someone the greatest of all time when there [are] these types of allegations tied to them. I think this is the best way I could say it right now without going too far in one direction, just because I don't know. I've said it before that he's the greatest of all time. I've been in there with him twice, and I know that he's a tremendous fighter. I believe he would have had a ton of success without doing anything wrong.
"But when you start tying those negative things to your name and your legacy, it's kind of hard to say this guy is the best fighter of all time."
Sign Up For The FloCombat Newsletter
Don't miss breaking news, feature stories, event updates, and more. Sign up for the FloCombat mailing list today.