UFC 216: 'Sexy And Fuc*ing Amazing' Tony Ferguson Ready To Wreck Kevin Lee
UFC 216: 'Sexy And Fuc*ing Amazing' Tony Ferguson Ready To Wreck Kevin Lee
UFC lightweight title challenger Tony Ferguson has stayed true to himself during his rise to title contention.
Sep 3, 2017
by FloCombat Staff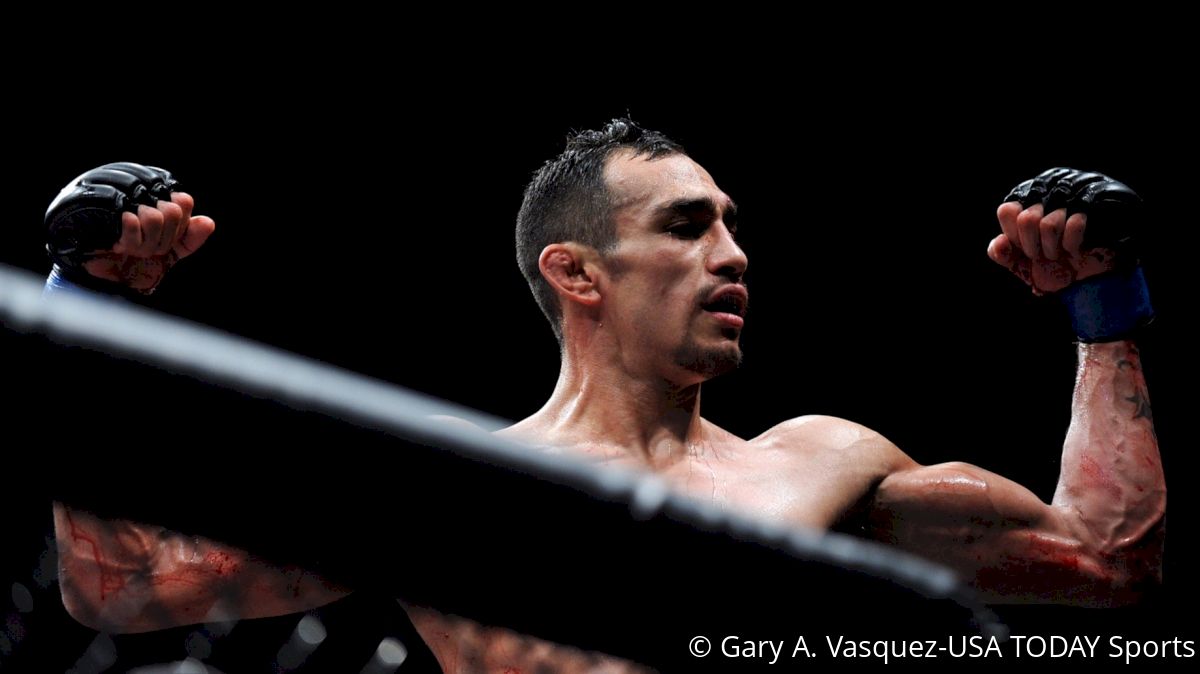 For FloCombat via A.G Fight

Tony Ferguson is on a hot streak few have ever experienced inside the UFC Octagon.

"El Cucuy" hasn't tasted defeat in more than five years, as he's notched nine straight victories over a collection of the toughest competition in the crowded lightweight ranks. But despite his success or his best efforts, Ferguson has yet to fight for a UFC title.

That is slated to change Oct. 7 when The Ultimate Fighter alum turned contender squares off against Kevin Lee in a bid for lightweight gold at UFC 216 in Las Vegas.

The catch: the belt on the line will be the division's interim title, and the opponent is ranked five spots beneath Ferguson on the divisional ladder.

Although Ferguson's work inside the cage could have earned him a championship bid much sooner, the slick veteran admits his persona may not appeal to the masses sitting in front of the television. And while that may be the case, Ferguson will never sell himself as something that he's not.

"Unfortunately, in our industry and in America, we like people that have accents, we like things that are different," Ferguson said. "Which is not a bad thing, because I love being different. But for me, I'm not going to try to sell something that's not me. I'm going to keep being me. I'm going to keep being gritty, dorky, awesome, sexy and f*cking amazing, a f*cking badass hard worker, whatever you want to call it. I'm going to keep being me."

Being true to his core has led Ferguson to nine consecutive victories since a decision loss to Michael Johnson in 2012 -- a fight in which Ferguson suffered a broken arm in the second round but still went the distance. Since then, the 33-year-old Californian has put names such as Edson Barboza, Josh Thomson, and Rafael dos Anjos on his resume.

Still, he doesn't even know if he'll be rewarded with a main event spot for his upcoming interim title fight against Lee at UFC 216.

"So am I (the) main event? I don't know, I don't understand," Ferguson said. "All I'm focused on is Kevin Lee right now. What I'm keeping tabs on is what sounds better than 12-1? F*cking 13-1. What sounds better than nine consecutive victories? Ten. What's my [winning] percentage right now? Ninety-two percent.

"I just beat Jon Jones. I just beat Conor McGregor. I beat Don Frye and all these other dudes. I'm doing something here, but nobody is talking about it. So I'll keep doing what I'm doing. I'll let these numbers add up until I f*cking earn that spot."

Earning his spot is something that Ferguson feels like his next opponent hasn't done yet.

"This guy [Lee] has got a big f*cking mouth," Ferguson said. "And all I want to do is I want him to understand that you've got to earn where you go. You have to earn your place. You're No. 7. I'm No. 2."

The trash talk between the two top lightweights has already started and will only ramp up over the next few weeks. Despite seeming to enjoy the verbal jabs, Ferguson said he was actually hoping to get around the tough talk going into his next bout.

"I hope it is fun," Ferguson said. "Straight up, I wanted to be cool, I wanted to be happy and have fun. I'm tired of that hate that's out there. We've got way too much of that (expletive) out there. Let's make this fun."

And fun is what will likely enter the equation next month when two of the best lightweights on the planet square off in Las Vegas.

"You guys are lucky: You get five rounds out of this, not three," Ferguson said. "I can take him down and let him up, take him down, and let him up and fight this guy technically. Then he'll realize that the best person is the one in front of him, and then he'll give me respect. But until then, we're probably going to have beef between us."




Sign Up For The FloCombat Newsletter

Don't miss breaking news, feature stories, event updates, and more. Sign up for the FloCombat mailing list today.