Accolades and rankings only become valuable when there is substance to support them. As one of most highly regarded, yet largely unknown talents, in the Southwest, Wesley Pierce has the chance to accomplish this task when World Fighting Federation 35 kicks off Saturday night in Chandler, AZ, on FloCombat.
How to Watch WFF 35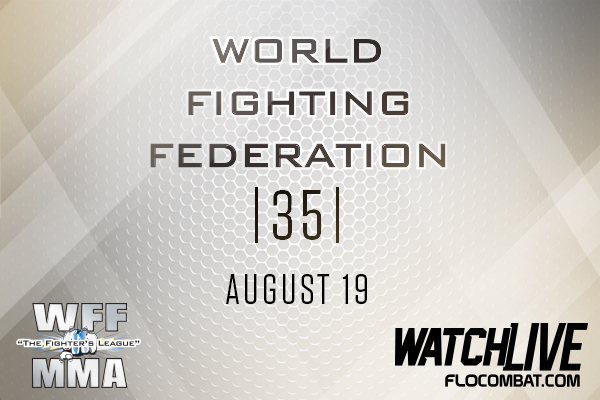 On TV:
Now Available on Roku and Apple TV 4--download the FloSports app now.
STREAMING:
Only on FloCombat with a PRO subscription. A yearly PRO subscription provides access to ALL FloSports sites.


By all measures, Pierce has earned every bit of hype that has come his way. The 31-year-old welterweight has dominated the regional scene in his neck of the woods, which has earned him a top ranking from Tapology.com in his home state of Arizona. Pierce has found success in all but one of his 10 showings inside the cage and notched some very impressive showings in the process. That said, of those nine wins, all but one have come as the result of the judges' scorecards, which has served to create a narrative that Pierce cannot put away his opposition.
And when it comes to fighters looking for a call from one of the big promotions, the major players in the sport of MMA want fighters who will bring the ruckus. The good thing for Pierce comes in the fact he's still an amateur and can work out whatever kinks exist in his game before his professional turn.
On Saturday night in Chandler, AZ, the touted welterweight will square off with Clayton Falemoe in the main event at WFF 35. And while Falemoe's record won't wow anyone on paper, simply taking the matchup against a fighter of Pierce's caliber has proven to be a game move in its own right. Yet, for Pierce to break the aforementioned stigma, he'll need to put Falemoe away in brutal fashion, and that's what he's determined to do.
The action gets underway at the Wild Pass Casino and streams
live on FloCombat
at 10:30 PM EDT. Don't miss it.
Sign Up For The FloCombat Newsletter
Don't miss breaking news, feature stories, event updates, and more. Sign up for the FloCombat mailing list today.