Prospect Watch is a weekly feature highlighting fighters on the FloCombat North American MMA Prospect List who recently competed or are set to fight this weekend. Note: the overall rankings won't update until the end of the month.


RESULTS

#5 Ranked Heavyweight - Everett Sims (Dropped to 4-1)
Sims suffered the first loss of his career on August 8th after losing by second-round TKO to Shelton Graves (7-3).
#17 Ranked Heavyweight - Mohammad Usman (Improved to 2-0)

Usman defeated late replacement Dante Harrell by first-round submission on August 3rd at Tachi PF 32. The brother of current UFC welterweight Karamu Usman kept his unblemished record intact and subsequently earned his second-straight win by submission.
#3 Ranked Light Heavyweight - Mike Rodriguez (Improved to 9-2)
Rodriguez earned a highlight reel win on August 8th when he knocked out Jamelle Jones in the first-round with a flying knee. The win took Rodriguez off our rankings as he secured a contract with the UFC. Since moving up to the light heavyweight division in 2016 Rodriguez has gone 4-1.
#12 Ranked Light Heavyweight - Jamelle Jones (Dropped to 7-5)
Jones endured his second-straight loss by knockout on August 8th as he was finished by Mike Rodriguez. The 29-year old is now just 1-3 in his last four fights.
#17 Ranked Light Heavyweight - Jesse Murray (Improved to 5-1)
Murray defeated late replacement Eddie Larrea by first-round submission at KOTC: Second Coming on August 5th. The win pushed the 24-year-old's winning streak to three-straight as he earns his second-straight stoppage victory.
#6 Ranked Featherweight - Julio Arce (Improved to 13-2)

Arce defeated Peter Petties by second-round TKO on August 8th. Unfortunately the win didn't secure at UFC contract for the Tiger Schulmann standout, however he did improve his winning streak to five-straight.
#9 Ranked Featherweight - Sam Toomer (Remained at 11-1 NC)
Toomer was slated to fight Ray Wood on August 5th at Global Knockout 10 however the matchup ended up being cancelled.
#4 Ranked Bantamweight -- Ricky Simon (Improved to 10-1)
Simon earned his third-straight win on August 8th defeating Donavon Frelow by split decision. However the 24-year-old wasn't able to secure a contract with the UFC but still remains one of the top bantamweight fighters outside the UFC.
UPCOMING FIGHTS

#13 Ranked Middleweight- Kevin Holland (9-3) vs. Matt Foster (9-11) -- August 12th
Holland looks to avoid back-to-back losses as he moves back up to middleweight to face Matt Foster at XKO 37 on August 12th. Holland had his four-fight win streak snapped in his last fight, losing by unanimous decision to Curtis Millender at LFA 13 in June. Foster is 1-6 in his last seven fights.
#5 Ranked LHW - Cameron Olson (7-3 NC) vs. #15 Ranked LHW- Karl Reed (2-0) -- August 15th
Roufusport product Olson is slated to face Upstate Karate standout Reed on August 15. For Olson it's a chance to bounce back from his TKO loss to Julian Marquez at LFA 12, while Reed looks to keep his unblemished record intact.
#11 Ranked Featherweight -- Grant Dawson (11-1) vs Adrian Diaz (11-4-1) -- August 15th
Dawson competes for the first time since October as he takes on Team Alpha Male's Diaz on August 15th. The 23-year-old has won back-to-back fights by stoppage and takes on Diaz who is coming off an impressive submission victory over UFC veteran Cody Gibson back in May.
#13 Ranked Flyweight- Jamie Alvarez (6-1) vs. #14 Ranked Flyweight Martin Day (5-1) -- August 15th
Alvarez looks for his third straight win by knockout while Day looks aims for his second-win in a row.

#5 Ranked Bantamweight Manny Bermudez (9-0) vs. Bendy Casimir (20-14-2) -- Caged Titans 35 August 15th
Bermudez looks to keep his undefeated record intact while Casimir looks to knockoff one of the hottest prospects in MMA.
#8 Ranked Lightweight - Joe Giannetti (5-0) vs. Keenan Raymond (3-3) -- Caged Titans 35 August 15th
Giannetti returns to action and looks to continue his push to the big leagues while Raymond will attempt to get things back on track.
How to Watch Cage Titans 35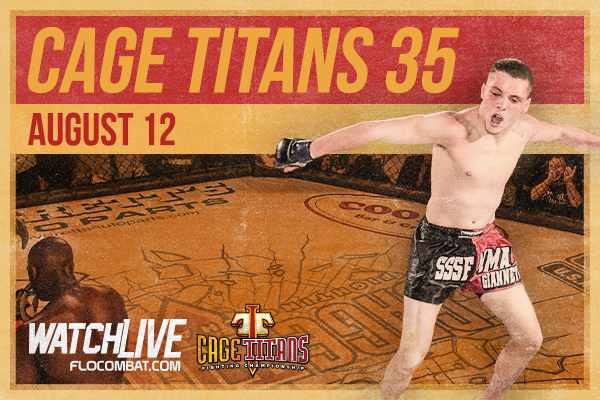 On TV:
Now Available on Roku and Apple TV 4--download the FloSports app now.
STREAMING:
Only on FloCombat with a PRO subscription. A yearly PRO subscription provides access to ALL FloSports sites.