By Mike Hammersmith

FloCombat has quickly become the destination to watch top prospects attempt to make the climb to bigger stages, and there will be rising talent aplenty center stage at Cage Titans 35. The event takes place in Plymouth, Mass., on Saturday, Aug. 12, and streams exclusively on FloCombat.

Here are the reasons this event is going to bring the ruckus.



How to Watch Cage Titans 35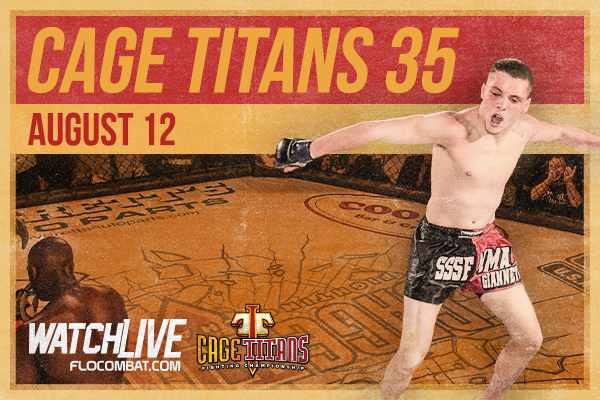 On TV:
Now Available on Roku and Apple TV 4--download the FloSports app now.
STREAMING:
Only on FloCombat with a PRO subscription. A yearly PRO subscription provides access to ALL FloSports sites.



Manny Bermudez vs Bendy Casimir
With plenty of local opposition having already been placed under six feet of soil, Manny Bermudez has patiently awaited his next victim. One of the hardest working fighters in the New England scene, Bermudez has smashed black belts since his teenage years, his reputation preceding him across amateur and professional athletics alike.
Riding on a nine-fight winning streak that includes the best in the region across two weight classes, the
No. 5 ranked FloCombat bantamweight prospect
will face his toughest challenge to date in Bendy Casimir, with the potential key to the world stage hanging in the balance.
An elite-level submission specialist who has dominated both mat and cage, Casimir will head to New England for the first time in his career. Holding rank under legendary grappler Robert Drysdale, Casimir made his career in the WEC in the days before the UFC had a 145-pound division. Known for his savage kneebar assaults and fluidity on the mat, Casimir's technical brilliance has seen him wage war in 14 countries, making him the perfect test for a young lion in Bermudez.
The 16-year veteran will square off with a young fighter who appears destined for bigger things, and what happens inside the cage on Saturday night will determine whether that rite of passage is valid.
Sean Lally vs Avery McPhatter
While his nickname is "The Unpredictable One," Sean Lally's game is anything but a mystery.
The hard-hitting Lally comes out to square up and slam knuckles into skulls until his opposition sleeps on the canvas. One of the single most devastating punchers in the New England scene across two weight classes, Lally has put a hard brake on his opposition's career aspirations time and time again. Coming in hot on a triplicate of devastating finishes, Lally is set to meet a formidable opponent in Plymouth.
An athletic wunderkind groomed for combat sports domination, Avery "The Irish Hurricane" McPhatter will make the trip to Massachusetts with blood on his mind.
A professional boxer who has put the time in on the mats to flesh out his MMA arsenal, McPhatter is a towering specimen with massive reach and limbs just as adept at snatching necks as snapping out jabs. Having tussled with the best the Florida scene has to offer, McPhatter will bring his brand of expert offensive talents to Cage Titans to test a battle-hardened finisher.
This pairing places two of the most explosive athletes on the Eastern Seaboard inside a woefully small cage, with a devastating loss a certainty for one man. With Lally pitting physicality and brutal efficiency against the polished combative wiles of McPhatter, expect a showcase fight with an abrupt end for one warrior and the roar of the crowd greeting the victor.
The Return of Joe Giannetti
A fighter who has taken the hardest road across an undefeated amateur and professional career, Giannetti capped off his first year as a professional with five victories, including four first-round submissions.
Armed with an eclectic mat game comprised of catch wrestling principle and BJJ fluidity, the
No. 8 ranked lightweight FloCombat prospect
has proven to be a great equalizer despite competing outside his own weight class. Giannetti's last battle showed a hint of maturity and veteran's poise in a three-round bout against Bang Muay Thai specialist Vince McGuinness at Cage Titans 34.
Using his albatross reach and a versatile kicking arsenal, Giannetti kept McGuinness well outside effective range, frustrating a typically confident striker in McGuinness into confused irregularity in his offense. The takedown was there for Giannetti across three rounds, and while the notoriously resolute McGuinness resisted several choke attempts, the scorecards were never in doubt, seeing Giannetti capture his fifth professional win in a calendar year.
And while Giannetti's current streak has built him a substantial amount of buzz on the regional scene, a breakout fight at Cage Titans 35 on Saturday night could serve to increase the wattage of the spotlight.
Sign up for FloCombat's newsletter today
Don't miss breaking news, feature stories, event updates, and more. Sign up for the FloCombat mailing list today.