By Damon Martin
Stipe Miocic can't be bothered too much by the fighters who don't want to face him, and that includes UFC light heavyweight champion Jon Jones.
Following his win over Daniel Cormier at UFC 214 on July 29, Jones immediately called out former UFC heavyweight champion Brock Lesnar. Jones later explained why he asked for that fight as opposed to a title shot against the current heavyweight king Miocic.
"I feel like if I was going to take a fight at heavyweight it would be against a person who me and my coaches feel would be a perfect matchup for me," Jones said at the UFC 214 post-fight press conference. "Right now, Stipe is looking extremely impressive. And I believe if you get an extremely talented big guy versus an extremely talented little guy, I mean, a lot of the cards are in his favor. At the same time, I fear no man. I strike for a reason when I strike.
"I feel like Stipe is relatively unknown to the general public. It wouldn't even be a real superfight in my opinion. I think a lot of MMA fans would be super excited about it, but the general public wouldn't care about that fight."
Jones was never really on Miocic's radar to begin with because they don't even compete in the same division. However, the Ohio native was a little shocked to hear how he's suddenly not all that relevant in the landscape of a potential superfight in the UFC.
"Listen, I'll fight anyone. If the UFC wants me to fight Jon, I'll fight him," Miocic told FloCombat on Monday. "All I care about right now is breaking that record, winning now and keeping the belt for a long time. I think I am relevant. I don't know what he's talking about. I don't have as many fans as him on social media maybe, but I'm pretty sure I'm relevant.
"I'm the baddest man on the planet for a reason. He can think what he wants, whatever. Listen, at the end of the day I am relevant."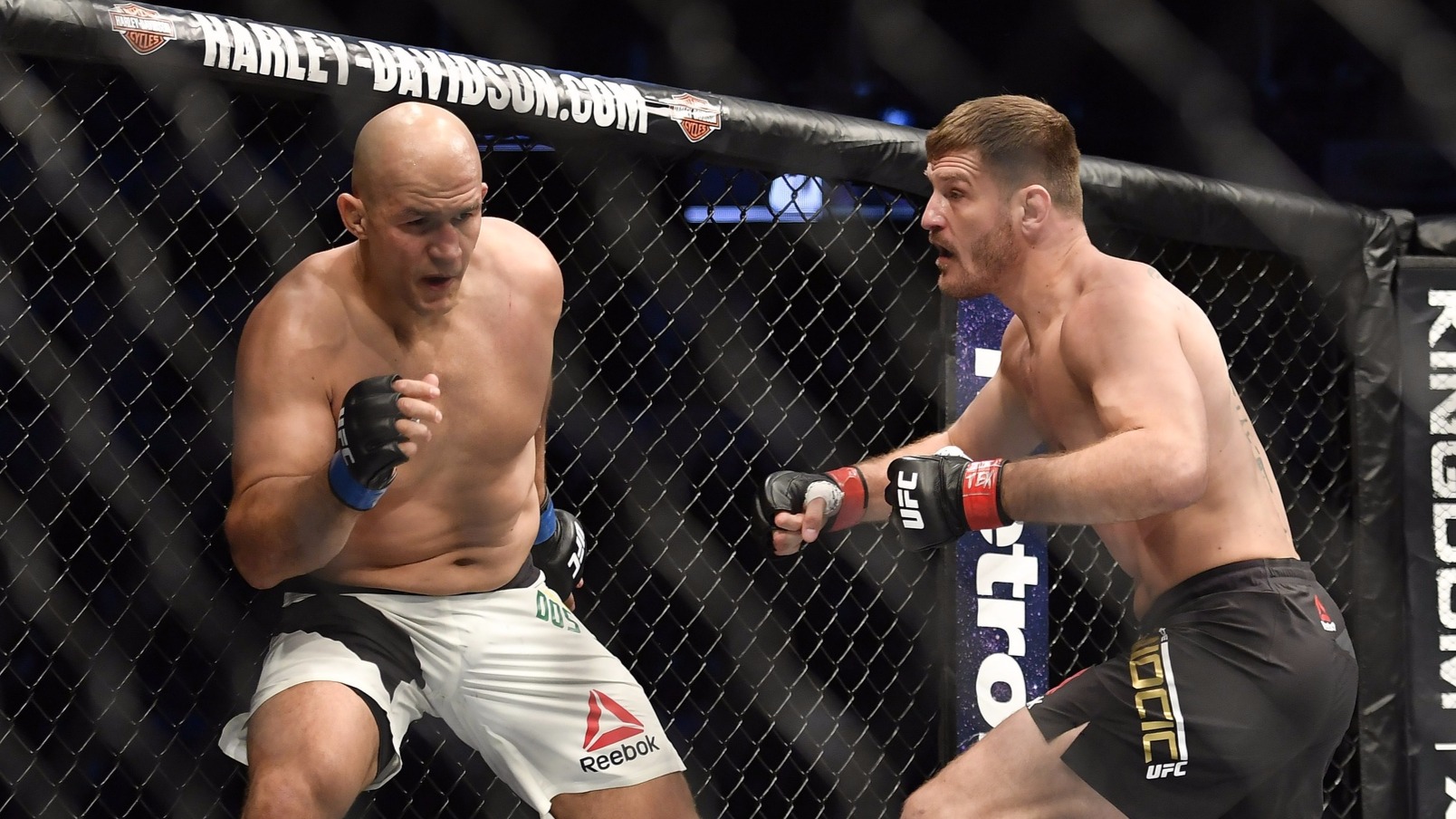 Photo Credit: Jerome Miron-USA TODAY Sports
When discussing the potential fight with Lesnar, Jones was honest about how he matched up with the hulking former heavyweight champion and how he liked his chances to get a win if they ever met.
Add to that, Lesnar is a superstar who pulled in some of the biggest pay-per-view numbers in the history of the UFC, so the financial reward would be greater for Jones versus the risk he would take by facing someone as dangerous as Miocic.
"Yeah definitely, I'm a bigger risk 100 percent than Brock Lesnar," Miocic said. "There's no question."
While Miocic may not have the same star power as Lesnar on paper, there's no denying the type of challenge he presents to anyone, much less a light heavyweight like Jon Jones.
There's also the idea of pitting champion against champion, which has only happened two other times in UFC history.
Miocic vs. Jones would surely garner a ton of interest, especially considering the long list of former champions and future Hall of Famers who decorate their respective resumes.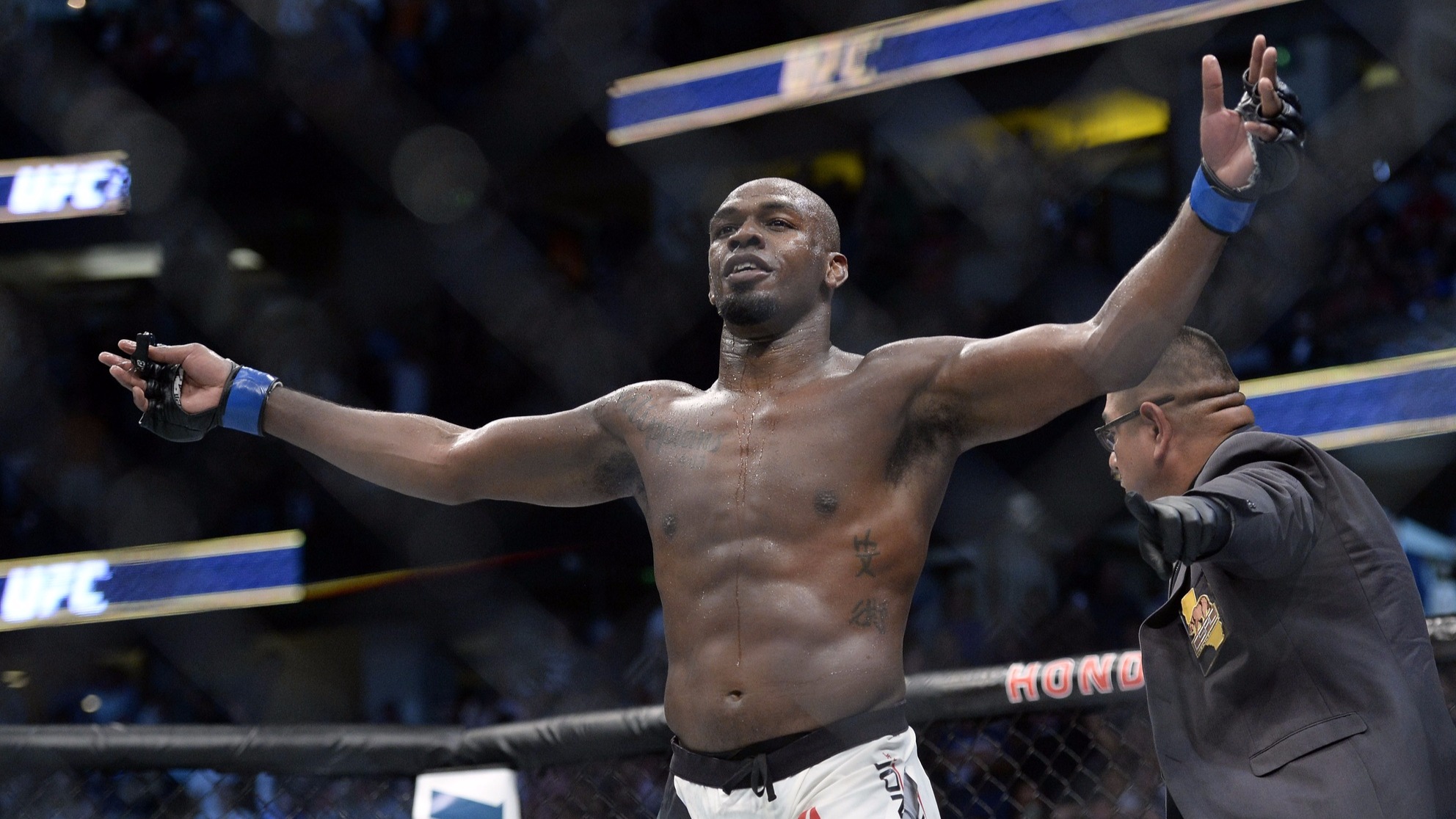 Photo Credit: © Gary A. Vasquez-USA TODAY Sports
"It would be a huge fight. I don't understand why you don't think it would be a huge fight," Miocic said. "You've got pound-for-pound best fighter in the world against No. 4 pound-for-pound. We're both champions, and it's a fight people want to see. But I'm irrelevant right now so we'll see."
Miocic would rather let his fists do the talking for him in the cage, but he does seem to like the way he matches up with Jones if that fight ever did come together.
"I feel I match up well. I think I match up well against anyone," Miocic said. "I have a terrible style [to deal with], and I always come into a fight prepared. I have the best coaches and teammates in the world. So no matter what fight it is against who, I'm walking out the winner."
As of now, Miocic doesn't have his next fight lined up, but he's excited for the opportunity to defend his title again, which would break the all-time UFC record for the heavyweight division. Miocic has also expressed interest in crossing over to boxing for a fight with world heavyweight champion Anthony Joshua.
"I'll fight anyone," Miocic said. "If the UFC wants me to fight Jon Jones, I'll fight Jon Jones. If they want me to fight Cain Velasquez, I'll fight Cain Velasquez. If they want me to fight Anthony Joshua, I'll fight Anthony Joshua. I don't really care.
"I'm a professional for a reason. I'm a fighter. I don't call out people. Whoever you want me to fight, I'm going to fight. I don't care."
FloCombat's hottest content, delivered to your inbox
Don't miss breaking news, feature stories, event updates, and more. Sign up for the FloCombat mailing list today.