Create a free account to unlock this article!
Get Started
Already a subscriber? Log In
For FloCombat via A.G Fight
Seven months into his retirement from active MMA competition, Urijah Faber is still enjoying a busy life.
After stepping away from the sport he helped shape for about 13 years, the most recent addition to the UFC's Hall of Fame has shifted his focus to out-of-the-cage work -- including his gig on Dana White's Tuesday Night Contender Series, which has received rave reviews for its pairing of Faber and rapper Snoop Dogg as commentators calling the fights.
"The commentary was, basically, the UFC came to me and they have a relation with Snoop (Dogg) and they were looking for somebody that could color (commentate) for them," Faber told FloCombat. "They kinda liked my personality and thought I'd be a good match.
"They called me and asked me, probably two weeks before, if I wanted to give this a shot for eight weeks, and it's been great. We've done three so far and everybody loves it. Hopefully, we're going to do more and it turns into something bigger."
Even though it might seem unusual for MMA fans to see the former WEC featherweight champion and longtime UFC bantamweight contender next to a famous rapper doing a commentary podcast, Faber is no stranger to working behind the microphone.
"Snoop is my guy, I've always been a big fan of Snoop Dogg," Faber said. "I've done a bunch of this before, so I've done some commentary for smaller shows throughout my career, some FOX analyst stuff here and there, so PR is pretty natural for me."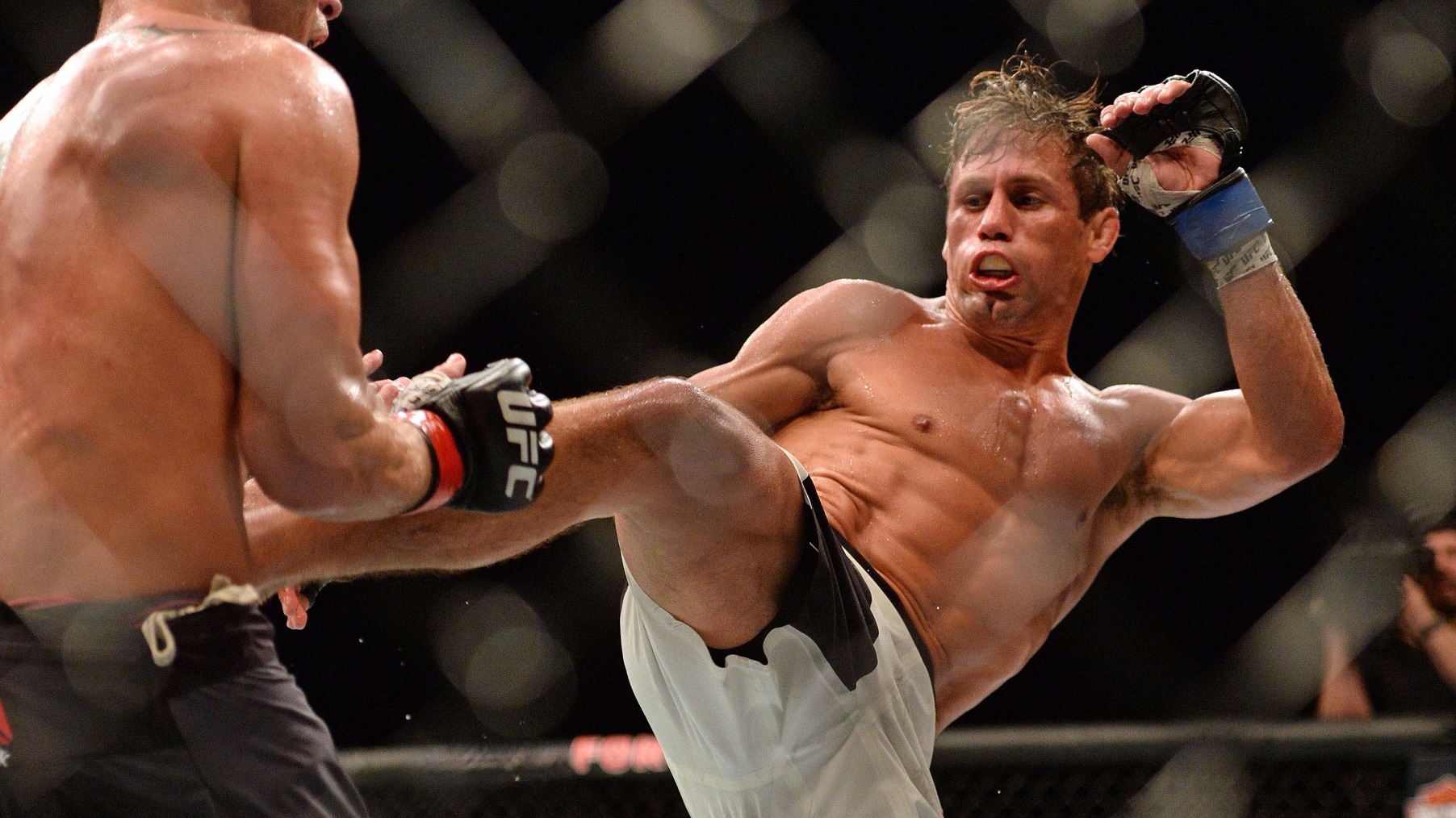 Photo Credit: Jake Roth-USA TODAY Sports
That being said, it's not surprising that Faber wouldn't mind doing more of it in the future. Not just commentary, though -- Faber has long been involved in running gyms, a real-estate business, his own clothing line, and producing TV shows and starring in movies.
"I guess that could be a possibility," Faber said of other commentary gigs. "[But] my real interest is more in entertainment stuff, like producing, being in a movie, TV shows and things like that, being a producer."
So, how does he fit all of that in 24 hours?
"For me, it's been difficult," Faber said. "But it's just what I'm used to. When I was little, I split time between my parents because they were divorced when I was in kindergarten. I was acting, like, getting paid to do commercials. I was an athlete. I was a scholar. From elementary school to junior high, high school into college, I was always juggling a lot of things. I'm used to being busy. That's just how I operate."
For almost 1 1/2 decades, fighting was a big part of that. The goal? Doing exactly what he's able to do today.
"Financial freedom, I guess," Faber said. "For me, the motivation for fighting was to be able to live a life that I get to dictate 100 percent myself. I get to set my schedule, I get to hang out with who I want to hang out with. I'm around the people I want to be around. I dictate my own life, so, for me, that's the business side."
Despite being on the sidelines since last December, Faber admitted his competitive edge is still part of him. And who knows -- one day, that side of him might place him inside a cage once more.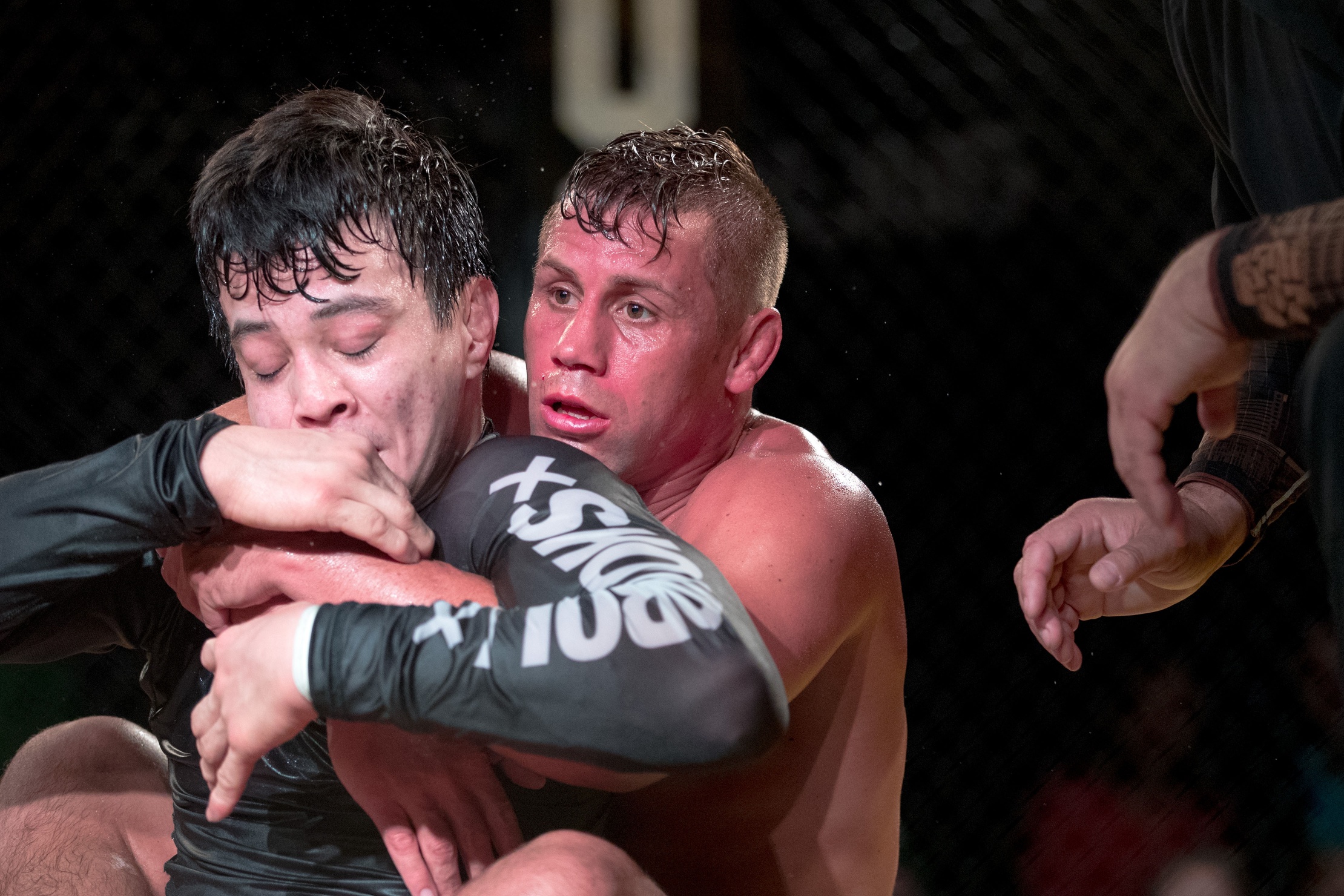 May 14, 2017; Portland, OR, USA; Paulo Miyao defeats Urijah Faber in Submission Underground 4 at Roseland Theatre. Mandatory Credit: Al Sermeno-USA TODAY Sports
"I would never count it out, coming back to the Octagon," Faber said. "Because, in all honesty, I don't feel like I miss a step. I feel like I'm in great shape. I train with these guys. I can go with current world champions and contenders right now. I feel great, especially with my ground game. I feel like it's gotten better just training once a day or once every two days. Your body recuperates -- you feel strong."
Faber even made sure the logistics are in place in case some kind of opportunity pops up that's too hard to resist.
"I can take a fight, and I wouldn't be opposed to it," Faber said. "I've never been out of shape my whole life. And I'm also having USADA testing me, still. Because I've never done any PEDs, any drugs, so I still allow them to come in and randomly test me, because it doesn't bother me.
"Just in case that big fight opportunity happens, I don't want to have to sit out [for] four months and have to talk and plan to come back. If there's an opportunity, I want to be ready."
FloCombat's hottest content, delivered to your inbox
Don't miss breaking news, feature stories, event updates, and more. Sign up for the FloCombat mailing list today.