Jon Jones: The Narrative Changes At UFC 214
Jon Jones: The Narrative Changes At UFC 214
Jon Jones opens up on his UFC 214 rematch with Daniel Cormier and what it means for his career arc moving forward.
Jul 19, 2017
by Duane Finley
It is difficult not to notice Jon Jones.
The man's physicality alone is something to behold. Yet woven into the flashing lights and constant clanging of slot machines and hustle and bustle of airport traffic in Las Vegas, his sizable frame makes him stand out from the crowd.
The youngest man to ever win the UFC light heavyweight title is sitting with his children at a terminal gate at McCarran Airport last July, but championship gold isn't taking priority in his mind. The love of family and a pair of designer sunglasses serve as the armor for the emotion that comes with the disappointment written by his body language.
Less than 12 hours ago, he watched UFC 200 come and go without ever stepping foot inside the Octagon, and it'll be a long road to travel before he can even put the world title he once coveted back into being a fixture in his mind. It's clear by watching him interact with his children just how difficult a smile is to find and how much of the blame for his removal from the rematch with Daniel Cormier he's carrying.
Jones shifts slowly in his chair as his expression slips back to solemn, yet each time one of his daughters seeks his attention he shakes off the strife to provide the best face he can muster in the moment. This repeats several times while Jones waits for the boarding to begin, as he continues to remain invisible to passersby rushing to catch flights of their own.
The man widely recognized as the greatest light heavyweight in history goes unnoticed until he doesn't, and a tiny-statured woman approaches.
Her red hair matches a red stripe just below three letters--U-F-C--on her shirt, and after a brief introduction she sets into explaining why she approached him. The woman's name is Tammy, and the entire reason she and her husband made the flight to Las Vegas was to watch her favorite fighter compete inside the cage.
Due to a USADA infraction, that wouldn't happen, so instead she's now scolding her favorite fighter at a Southwest terminal. The irony of the situation--as she would point out--is she initially envisioned both of them flying home to their respective cities having made unforgettable memories at UFC 200, but now both were about to board planes under far different circumstances than imagined.
The tiny woman would then tell Jones that while she wasn't happy with having spent money and leaving Las Vegas without watching him fight, her anger wouldn't last forever. She was certain she would come to forgive Jon for what happened, and before she parted left a few simple words for the former champion.
"Do better, Jon. You deserve it, and all of us who support you deserve it too."
The situation could have spun any number of ways in that moment, but rather than cite the presence of his children or turn headlong into his stardom, Jones was contrite and sincere.
He offered an apology and then continued to listen to what Tammy had to say. A man who had every excuse to duck his head and run from the conflict and friction pouring in from all angles held his head as high as he could muster, showing remorse in the moment.
Tammy walked away moments later but more would take her place. One by one, they filed in to voice disappointment, then support, and with each new face Jones showed both remorse and gratitude in kind.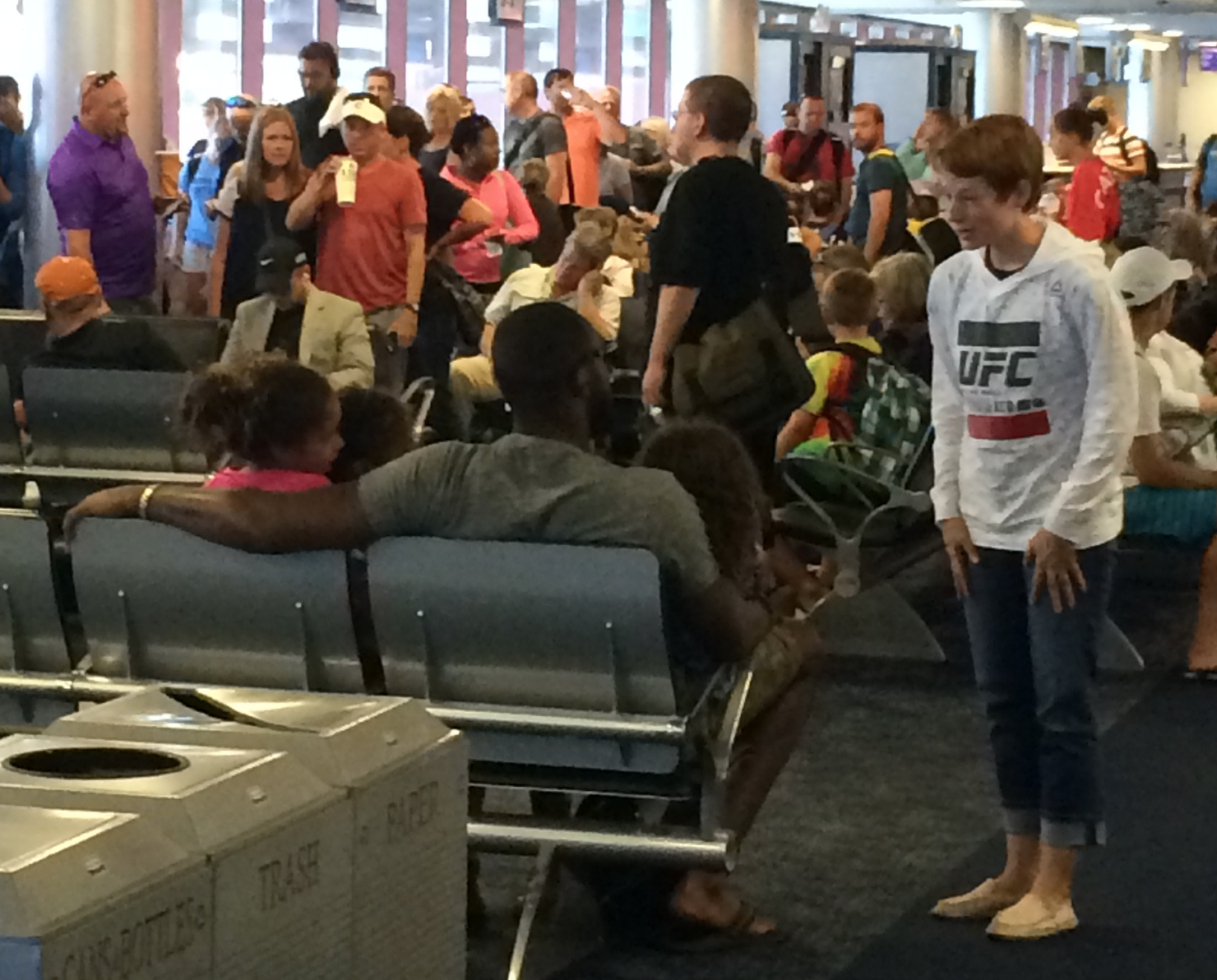 This continued until time came for Jones to board the plane, and he politely excused himself and his children to make his way to the gate. Once on board, he would take his seat, close his eyes, and do his best to put the reality of what he was facing for the foreseeable future on pause for the moment.
There was so much uncertainty ahead, so much negativity to battle, and the depth of the hole he faced would require tremendous work and resolve to escape from. Yet, none of it would matter if he couldn't find the drive within to defeat the greatest opponent he'd ever faced--and the man in the mirror was a daunting force.
Somewhere over the next year Jones would have to square up to himself, dismantle his ego, and put everything clean on the table. There was no clear-cut or easy road back, and he'd have to dig deeper than ever before if he wanted a shot at reclaiming everything he cost himself.
Words couldn't fix the damage done. The only option was to prove he had what it took to battle back.
That's exactly what he's done.
****
One year later, and Jon Jones is different type of monster.
He's physically prepared, mentally locked and ready to change the narrative attached to his fighting career. And he's prepared to do so with force.
There's no hoping and wishing for anything to fade or to pass because the 30-year-old light heavyweight has carried the weight of past transgressions in full over the past two years. What was once done can't be undone, but nothing Jones can do will change those transgressions.
Scars visible and unseen serve as reminders, and the ability to accept what cannot be changed is a tenet of his life in the here and now.
"I'm excited to move forward in my life, and this victory is going to be a huge step in that direction," Jones told FloCombat. "I'm really sick of seeing the narrative and the way promos have been done, but at the same time, I put myself in that situation and I take full responsibility for my actions. I know it's going to take some time and me earning it for the narrative to change. I'm here to put in the work.
"To inspire others to never give up on themselves--that's really the blessing in disguise in this whole thing. It shows people it's never too late. You can be down but you're never out, and there's definitely light at the end of the tunnel.
"I'm happier than ever right now, but it got real dark there for me for a while. It was real ugly. I'm actually seeing a lot of light in my personal life, but as far as my career goes, I'm seeing a little bit of light. I think on July 29 it's going to be shining, shining, shining.
"In my best DJ Khaled voice," he added with a laugh.
[instagram url="https://www.instagram.com/p/BWl5F9IDaxj/" hide_caption="0"]
Jones has done the time, put in the work, and has earned the chance to let the fighting speak for itself. A situation once jagged and complex has been made simple through maturation and focus, and Jones sees his upcoming title bout with the current champion Cormier on July 29 at UFC 214 in Anaheim, CA, as the moment that change arrives.
The former Olympian holds the title Jones once coveted, and there's nothing "Bones" wants more than to reclaim the strap. That said, there are multiple motivations involved with the more poignant being the aforementioned change of narrative regarding his career.
"In my heart that stuff is over because I did my time for all the things I've done, but in the minds of the people, I feel like getting my belt back will help people move on," Jones said. "It will be a point where people realize this guy has been through this, this and that, but he's back where he needs to be. He's back on the throne, and let's see where his future goes from here instead of the focus being the reasons he's not on the throne because of getting in trouble.
"I've done the time and I've forgiven myself for the past. I've had a tremendous amount of punishment that I've had to fight through and stay faithful to the commitments required to resolve them. I feel when this belt comes back peoples' focus will change, and I'm excited for them to start focusing on the brightness of my future rather than the darkness of my past."
With the rivalry between the two top light heavyweights in the world being the most heated in all of combat sports, the bragging rights hanging in the balance carry nearly the same value as the championship belt up for grabs at UFC 214.
Jones and Cormier have engaged in some of the most memorable exchanges in recent history, and their squabbles have carried out both physically and mentally. Simply put: Whether it's Twitter, a conference call or at a live media event, Jones and Cormier have potential to peel off into a full-throttled brawl at any given moment.
"I think people know I get the better of him in the war of words, but that's not what I pride myself in," Jones said. "I don't pride myself in the arguing. I pride myself in the preparation and studying of my opponent. The stuff they don't see--the stuff I'm not tweeting--that's what they should worry about.
"I'm studying and breaking things down, and those are the things he doesn't know anything about. I'll let him keep arguing and being concerned with my personal life. I'll let him think that consumes me when it reality there's a much deeper thing going on behind the scenes."
More than two years have passed since the two men initially clashed at UFC 182 back in January 2015, and Jones and Cormier have traveled vastly different paths in the interim. Jones' setbacks have forced him to lock in and get serious about his life and career, while Cormier has spent the time his rival has been absent dominating the light heavyweight division.
And while Jones defeated Cormier on the judges' cards in their first bout, he believes the improvements and realizations made during his time on the sidelines will only increase his hunger to reclaim greatness inside the cage.
"The first time we fought it wasn't like I was out partying every night," Jones said. "I just took everything for granted. That's where I was. I was still training hard, but I was immature and took everything from granted. That's not the case anymore.
"I also appreciate the opportunity to be known as the No. 1 fighter in the world. I miss it and I want it back. The guy he's fighting now two years later is definitely a more dangerous fighter than he faced before. I know my body more. My weight cut is going easier than it did two years ago, and I'm just a more mature man.
"I turn 30 years old tomorrow, and I feel like it's now or never," he added. "Before, I thought the success would never end. I'm at a place now where I realize it's actually a short window, and I treat it as such.
"I'm very excited to show how these past two years have made me better as an athlete. I'm also excited to show what two years can do to a 38 year old. I mean he's two years farther away from his prime, and I'm stepping into mine."
[instagram url="https://www.instagram.com/p/BWtdpq0DgvR/" hide_caption="0"]
Although mutual respect can typically be found even among the most bitter of enemies once the final bell has sounded, Jones and Cormier are the exception to the rule. That said, once the business is handled at UFC 214, Jones shared insight he's actually open to forging a friendship with Cormier.
Jones says he's willing to extend an olive branch in the heated feud because he believes Cormier needs to be honest with himself once and for all.
"This rivalry ends at UFC 214 and after [the fight] I honestly have no problem with Daniel Cormier,' Jones said. "If he wants to be friends, be a sportsman and realize I'm just the better fighter, that would be great. It would show a lot about who he is. I doubt he'll do that though based on how he acted the first time I beat him.
"I'd be willing to bet the house he's going to come up with some kind of excuse or reason why he lost this fight. I have friends who are all over social media and they tell me both Luke Rockhold and Cain Velasquez have been injured and haven't been training a lot. I really hope he really doesn't use that as an excuse.
"I'm hoping he can finally look himself in the mirror and say, 'Goddammit...maybe I should have caught Jon Jones back in 2008 when I was failing to make weight at the Olympics. Maybe when I was at that age I was the guy to beat him. Maybe I just tried this thing too late in life.
"I just want him to get honest with himself and be grateful for the time he did get to spend with the belt."
****
The story culminates at UFC 214.
On, Saturday, July 29, Jones will make the long walk to the UFC Octagon and step in to face the man who wants nothing more than to extinguish his comeback and put an official blemish on his claim to be the greatest light heavyweight champion in history.
Just getting the opportunity to once again stand under the brightest lights and compete on the biggest stage in the sport was something that nearly went away in entirety, never to return. Yet, despite being at his lowest point, Jones found the fire to start fighting his way out of the darkness, and little by little, step by step he found his way back.
Jones is determined to recapture what was lost, reclaim his life and get the next chapter of his career off to an impressive start.
Jones once took everything in his life and career for granted, but heading into UFC 214, nothing has ever meant more.
FloCombat's hottest content, delivered to your inbox
Don't miss breaking news, feature stories, event updates, and more. Sign up for the FloCombat mailing list today.