UFC 214: Aljamain Sterling Looking To Level Up, Defeat Renan Barao
UFC 214: Aljamain Sterling Looking To Level Up, Defeat Renan Barao
UFC bantamweight Aljamain Sterling plans to cement title contender status by defeating Renan Barao at UFC 214.
Jul 18, 2017
by Duane Finley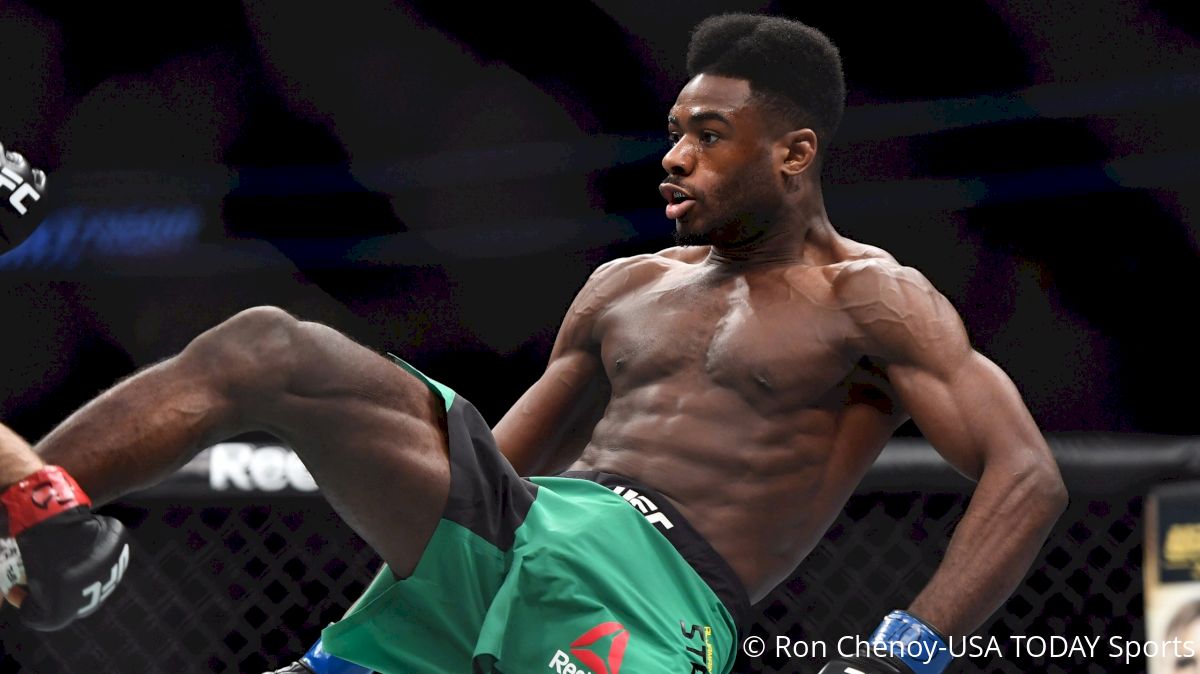 In his smash-hit single "Humble" off his latest platinum-selling offering album, hip-hop superstar Kendrick Lamar describes "levels" in the rap game. Be it intricate rhyming techniques or business sense, "Kung Fu Kenny" has been bringing his A game throughout, and doing so has brought him both critical and social acclaim for his work.
Lamar is also young and talented, and he possesses natural charisma and confidence in his abilities--attributes Aljamain Sterling has for days as well.
"Aljo" may leave the hot 16s and slick flows to his brother Troy Grindz, but the rising UFC bantamweight knows a thing or two about leveling up where his business is concerned. Having his feet in the housing market and a likely jump to fashion in the future keeps Sterling's mind sharp, but progress to be made in the hurt trade is the point of focus front and center.
The Serra-Longo representative's primary focus since arriving to the UFC back in 2014 has been establishing his name and elevating his profile on a larger scale. The 27-year-old came out the gates hot, winning his first four bouts with all but one of those victories coming by way of finish.
[tweet url="https://twitter.com/EricBandRakim/status/886985884863791104" hide_media="0" hide_thread="1"]
Sterling was getting the job done and doing so in style, but the arrival of the spotlight brought plenty of critics to his door as well. Furthermore, the volume of those criticisms increased when Sterling was edged out in back-to-back showings via split-decision inside the Octagon.
"I don't feel I ever left the elite tier of this division," Sterling told FloCombat. "I had two split-decision losses to two top-level athletes which could have easily gone the other way with a different judge in there. I don't see how anyone could really write me off. For most people the biggest chirp is I don't let my hands go enough and I'm afraid to get hit. Well this is the fight game and going out there and getting hit defeats the purpose.
"The purpose of a fight is to hit and not get hit. It's the same thing with the sweet science of boxing. That's how you win a fight. People can say whatever they want though. I still believe in my skill set and what I bring to the table. I know I'm a very dangerous opponent for anyone in this division and my stats speak for themselves.
"I had those two hiccups but those things happen," he added. "I used them as learning experiences and that's what this entire journey is about. It's about facing setbacks then coming back stronger and smarter."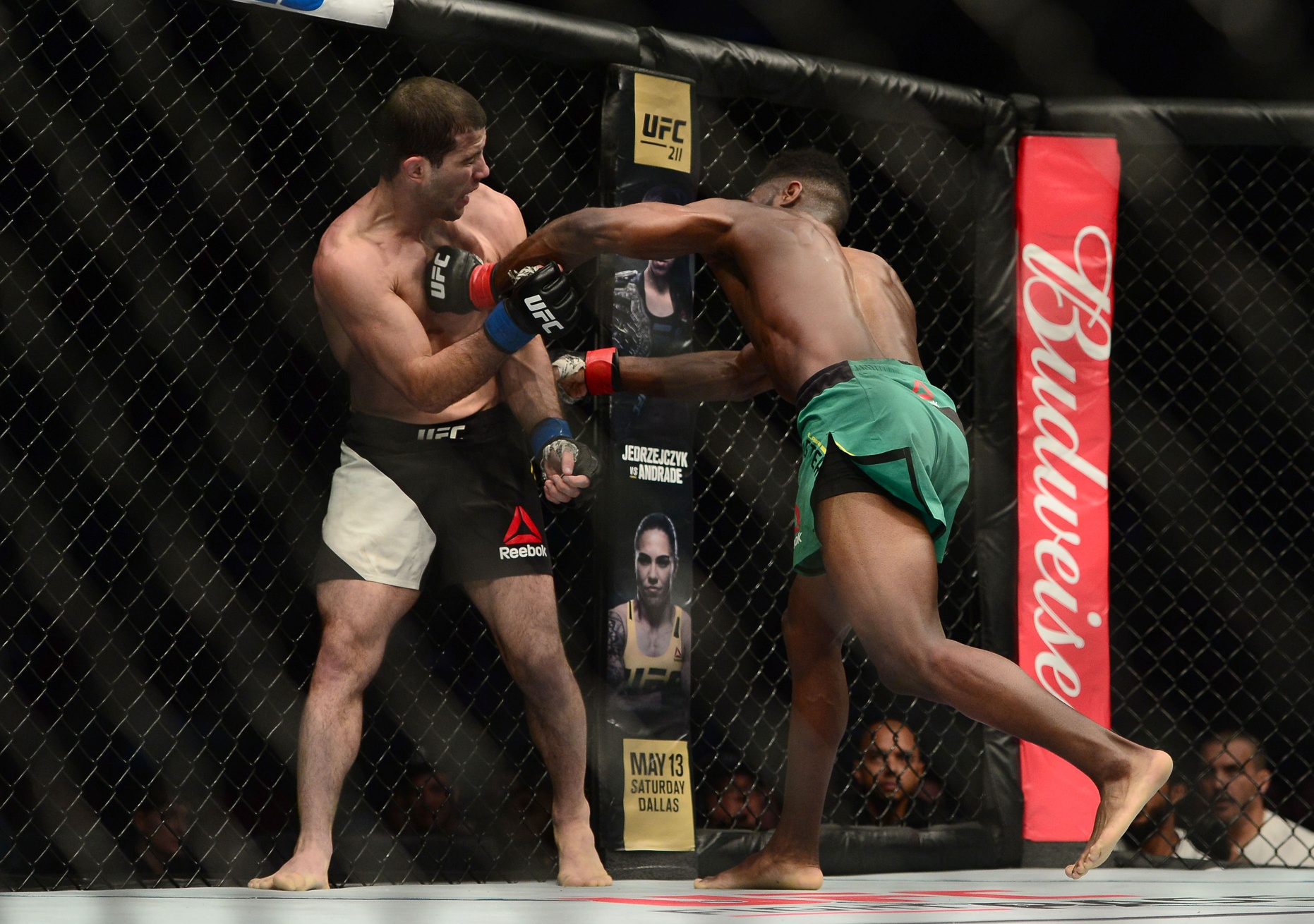 Apr 15, 2017; Kansas City, MO, USA; Aljamain Sterling (red) and Augusto Mendes (blue) fight during UFC Fight Night at the Sprint Center. Mandatory Credit: Ron Chenoy-USA TODAY Sports
Setbacks always arise on the chaotic landscape of the fight game, but Sterling rallied and bounced back strong to earn a solid victory over Augusto Mendes at UFC on Fox 24 back in April.
And if defeating "Tanquinho" put the Long Island native back in the groove, then his upcoming fight with Renan Barao at UFC 214 on July 29 has the potential to put his status on an entirely different level. The Brazilian striker is a former titleholder in the 135-pound ranks, and adding Barao's name to his resume would open a lot of doors where Sterling is concerned.
"I'm excited to get in there with [Barao] and see who has the better skill set and see who wants this more," Sterling said. "It's one thing to talk about the fight outside of fight night but it's another to actually go out there and perform. Barao has been out of this weight class for a long time and now he's going to be competing in an imaginary [weight class]. It's going to come down to who wants it more.
"He says he wants to avenge his losses against TJ [Dillashaw] and get the belt back, but I have other plans. I have a different agenda and it doesn't involve him using me as a stepping stone to get back into the bantamweight title picture.
"Barao is going to be a huge scalp for me to put in my backpack and I'm going to be looking to put the backpack on him as well on July 29. The double Jansport is the only way to go."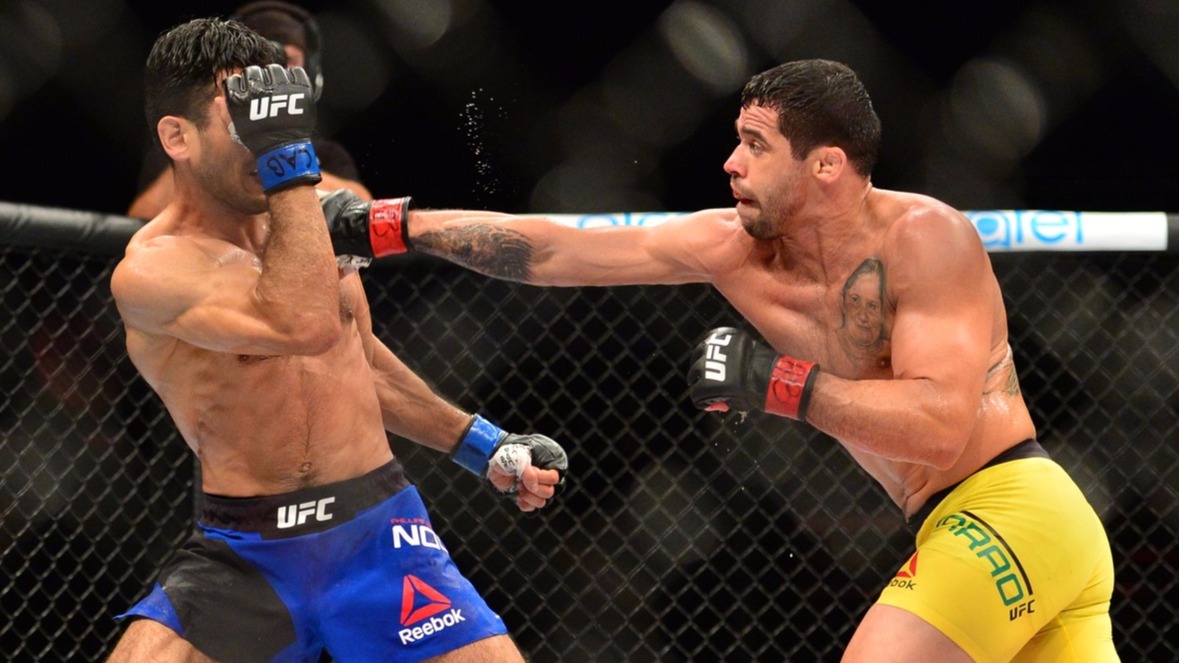 Photo Credit: © Jason Silva-USA TODAY Sports
A victory over Barao would represent a game-changing turn for Sterling, and it's a reality "The Funk Master" is well aware of. The New York native plans to stamp his arrival to the contender's tier of the bantamweight fold in Anaheim and do so in dominant fashion.
"I was right on the cusp and then kind of dropped the ball when I fought [Bryan] Caraway," Sterling said. "I was 12-0 and had finished my last three opponents. I'm a guy who goes for it and I'm in there actively looking for the finish. People can say what they want but my stats tell the story.
"Barao has only lost to one guy in this division. He lost to TJ twice, and if I beat a former champion, a guy who was considered one of the pound-for-pound best and undefeated for more than a decade; that puts me right up there for a title shot."
When it comes to facing the former bantamweight champion, Sterling is more than up to speed on the fighter he'll be facing July 29. The former wrestler turned mixed martial artist was making his way toward the UFC during the years Barao was dominating the 135-pound collective, and Sterling quickly identified Barao as the measuring stick of championship-caliber talent in his weight class.
And while Barao would eventually be dethroned and struggle for a stretch, Sterling has nothing but respect for the skills the Power MMA transplant possesses. That said, he truly believes he's surpassed the former pound-for-pound ranked fighter, and has every intention of proving it inside the cage.
"I remember watching this guy and thinking, 'This is the guy I have to be good enough to beat,'" Sterling said. "I thought then I had the skill set to beat him and would just have to pull the trigger when the opportunities arose. Here we are a couple of years later, and this is my time. Even though there is no world title at stake I definitely feel like I'm fighting for a championship against Renan Barao.
"He doesn't want any part of me on the ground, and that's why he keeps talking about this being a striking fight. Well this is MMA and I don't know what to tell him then. All the other guys he's faced, there hasn't been anyone who has gone in there looking to put him down on his ass.
"He can defend the takedown three or four times, but all I need to do is get him down once. If I get him down to the ground that's more than likely going to be game. Match. Blouses."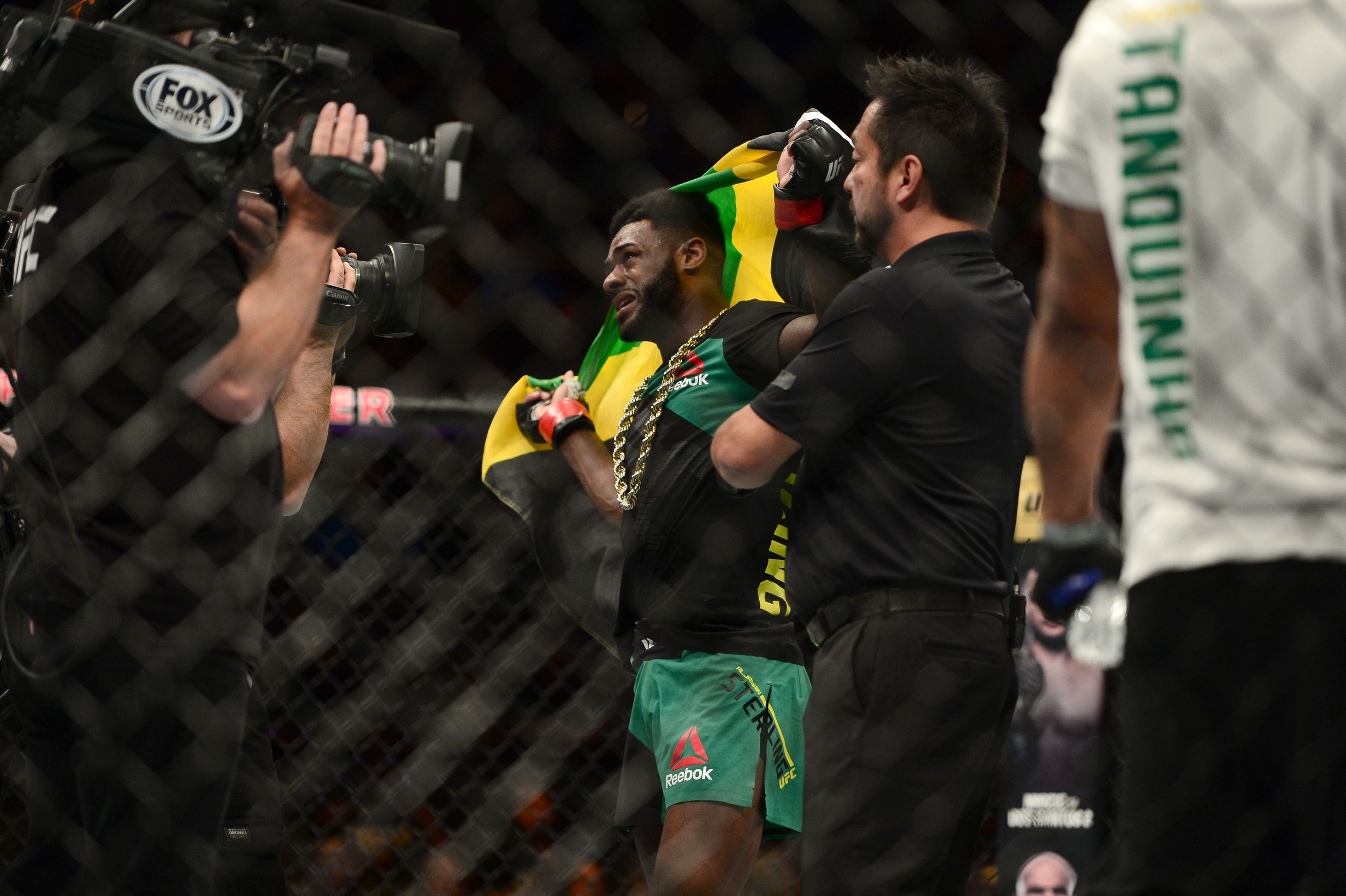 Apr 15, 2017; Kansas City, MO, USA; Aljamain Sterling (red) celebrates the win over Augusto Mendes (not pictured fight during UFC Fight Night at the Sprint Center. Mandatory Credit: Ron Chenoy-USA TODAY Sports
There is no doubt Sterling has plans to one day sit atop the UFC's bantamweight division, but in his mind and heart the overall journey far outweighs the destination. He wants to consistently compete against the best in the world to prove he's every bit of talented as he believes he is, and Sterling's willingness to back up his talk shows the amount of confidence he possesses.
And while he would have liked to be on the promotion's first stop in his native Long Island this Saturday night, having a spot on the biggest card of the year sits just fine with him as well. In Sterling's mind the more eyes the better, and every time he makes that walk it is a chance to showcase what he does best.
"How do you not have either one of the Fighting Al's on the UFC Long Island card?" Sterling asked. "It's kind of crazy, especially since I grew up right around the corner from where the fights are taking place. I could probably chuck a stone and hit The Coliseum. At the same time, I'm fighting on one of, if not the biggest card of the year at UFC 214.
"At the end of the day I'm fighting for a paycheck, glory and to move one step closer to fighting for a world title. Either way I still get to get the job done. I'm going coast to coast and bringing the funk."
FloCombat's hottest content, delivered to your inbox
Don't miss breaking news, feature stories, event updates, and more. Sign up for the FloCombat mailing list today.