UFC Long Island: Kelvin Gastelum On A Mission For Gold
UFC Long Island: Kelvin Gastelum On A Mission For Gold
UFC middleweight contender Kelvin Gastelum ready to call for title shot after fight with Chris Weidman at UFC on Fox 25.
Jul 17, 2017
by Duane Finley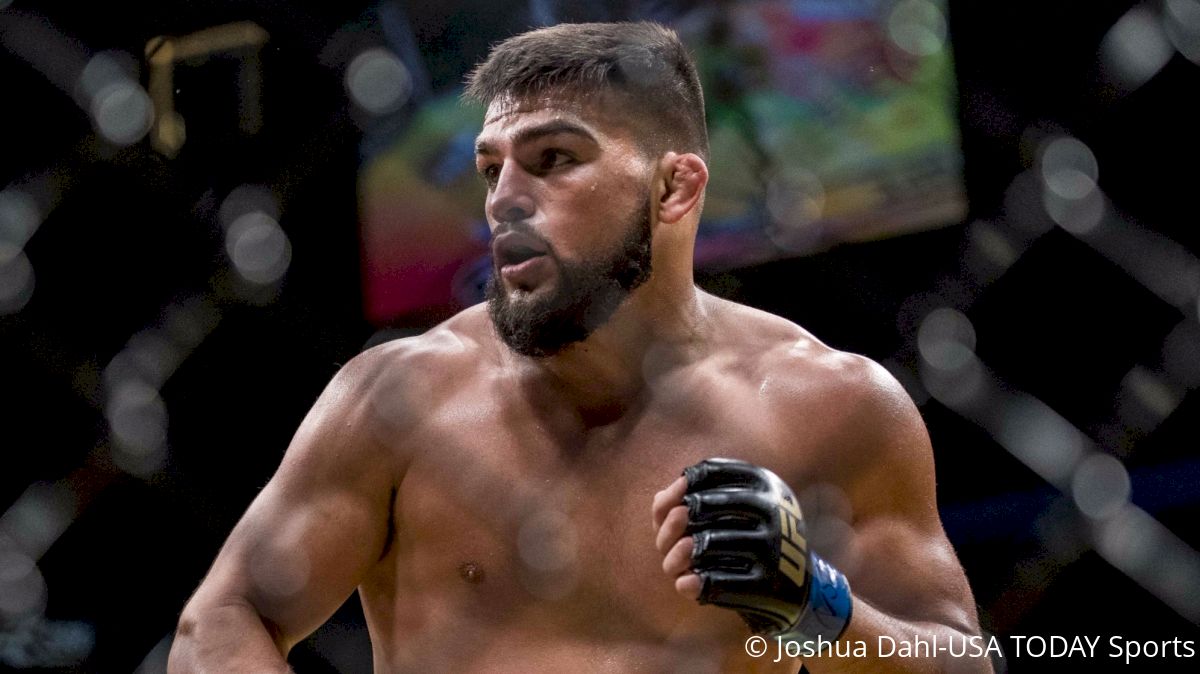 Standing face to face there's little to suggest Kelvin Gastelum works in the trade of violence. Anyone with a sharp eye or in the know will point to the tops of his ears or the battle scars laced through his eyebrows, but even those telltale signs don't stand out the way they do on most in his profession because any immediate investigation is thrown off once his laugh sets in.
California native's vibrance and natural energy pulls your attention away from those things when he speaks. His laid back easy nature provides the setup to disarm and what smiles and positivity don't conquer youthful exuberance is sure to close out.
Sitting five feet away from the promising talent on a sun-soaked afternoon provides a perfect vantage point to watch people fall in one after the next. Passers by who recognize and approach him get the same decency and charm in the moment as the middle aged waitress who brings our food and falls into a conversation with Gastelum in her native Portuguese.
He's in a good mood, always in a good mood and those around him are drawn into the same with minimal effort.
"How could you be not be happy right now?" Gastelum asks. "The sun is shining and you can hear the ocean rolling in just down the way. The fresh air and the breeze keeps it from getting too hot and everything is just perfect right now. We have good food and good conversation. It's a good day, brother."
Another element that becomes abundantly clear is just how much Gastelum simply loves people.
Watching him interact with friends and strangers alike pushes the reality of what he can physically do to another talented and capable athlete far out of mind. For a man who makes a living in conflict the absence of that very thing is what creates an aura of duality around him, but those two sides are not mutually exclusive.
Gastelum is true to all aspects of himself at all times, but strikes a far different balance than most in his line of work.
"I just love life, man," Gastelum says as he leans back in his chair at the sidewalk cafe in Huntington Beach. "The way I see it there are so many things that try to pull you down and get you caught up to the point where the frustration overwhelms you and that becomes part of everything you do. That's never going to be the case with me. Even in a negative situation I'll find the positive and keep it moving because everything is a lesson to be learned.
"But school can't be in session all the time," he laughs once more. "You have to take some time to soak in the sun and some scenery too or you'll go crazy. Especially in this business."
Once the food arrives we talk more about his upcoming fight with Vitor Belfort at UFC Fight Night 106 in Brazil, his future competing in multiple divisions and his drive to become a champion in both. We'll talk about his past troubles making weight and the way it's served to crush his momentum at stages where his profile on the sport's biggest stage should be skyrocketing.
Whatever conversational topic, whether in his favor or against, Gastelum will hit head on because backing down isn't in his nature. Neither is being combative, but the 25-year-old middleweight is always game enough to engage and humble enough to know his is a journey of twists and turns.
Nevertheless, Gastelum is absolutely certain he's going to get where he's aiming to go no matter how many obstacles he'll have to climb in the process.
"Fighting is my passion because it provides a challenge you can't duplicate in any other situation," Gastelum says. "It makes demands you can't talk or maneuver your way around and you have to face up to those results at the end of the day. If you have a setback it's on you to push forward and that's something I've always been able to do better than most. I've known since a young age my ability to do just that was different from other people and it's something I definitely inherited from my mother."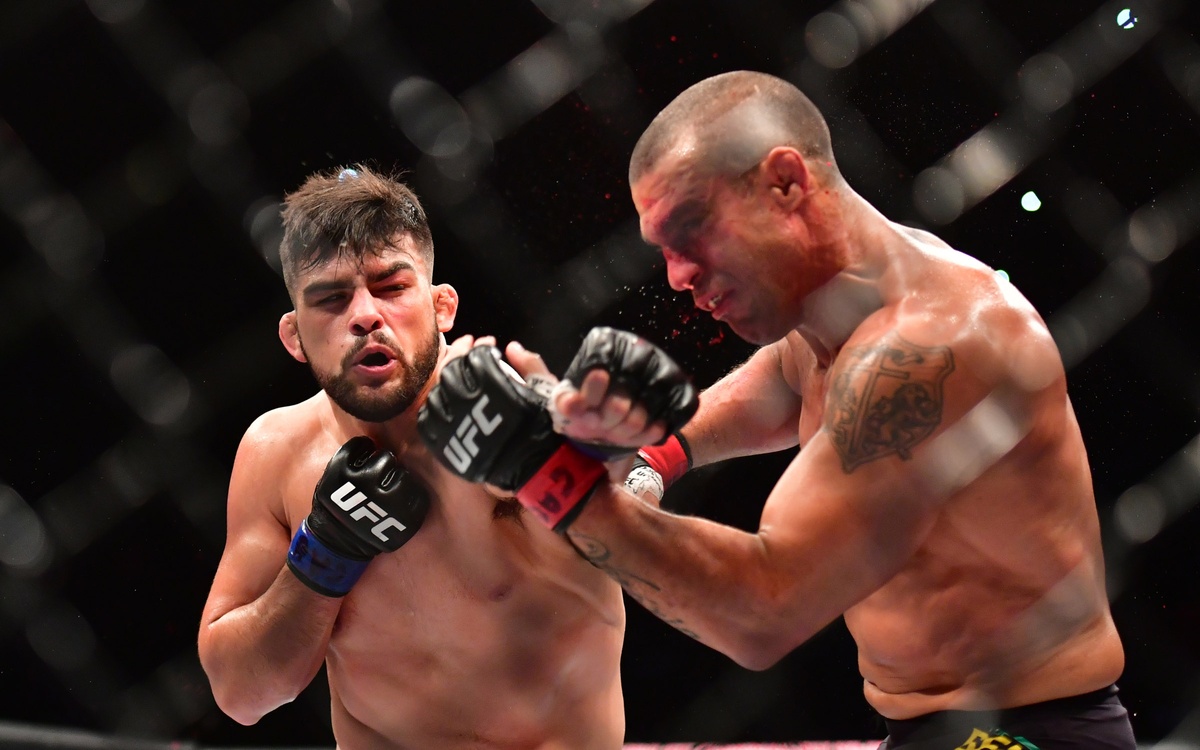 Photo Credit: Jason da Silva-USA TODAY Sports
In an almost prophetic nature Gastelum would have put those exact ideals to the test when the brakes were slammed on his career once more. A damn near flawless performance en route to a TKO victory over Belfort would be reversed to do a USADA infraction over marijuanna limits in his system.
The next biggest fight of his career against Anderson Silva at UFC 212 would also be taken away because of this trouble, and once more Gastelum sat front and center with adversity. The easy thing to do would have been to vanish or duck his head away from scrutiny, but that's not the way the Kings MMA fighter is wired.
In his mind he knew the storm would break, the next would come in and it would be his job to be ready.
"People can keep underestimating me all they want and that's just fine with me," Gastelum says. "I'll keep flying under the radar and once they realize what I can do I'll be sitting there as champion. It's funny to me because I keep piecing up these guys I face and still don't get the credit I deserve. That's fine with me though because it's been the story of my career and I'm used to it.
"It's all funny to me and I have a good time with it. People make all these comments because they think they know all this stuff about my life. They know nothing. Whether you are doing good or bad people are always going to have something negative to throw at you, but I've never let that affect me. I keep doing me and keep on keepin' on the same way I always have."
Fast forward four months and that's precisely where the resilient former underdog turned contender currently stands.
The Ultimate Fighter winner will face former champion Chris Weidman in the main event at UFC on Fox 25 this Saturday night in Long Island, New York and he's settled into "The Big Apple" a few days before the rest of the card reports for duty. He still has a training session to get in and "Game of Thrones" to watch, but there's time for a phone call.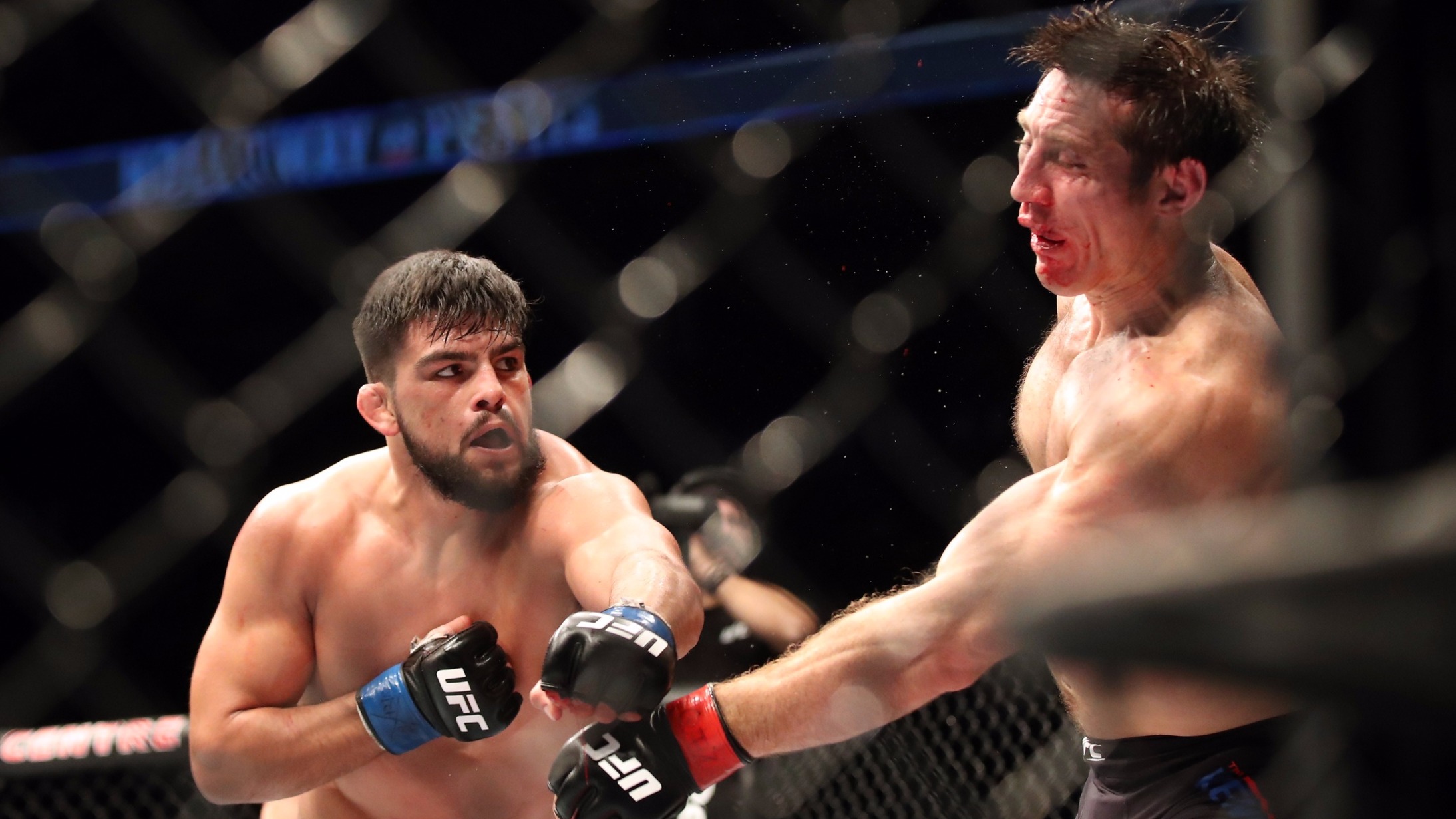 Photo Credit: © Tom Szczerbowski-USA TODAY Sports
Rather than seeing them as a bunch of individual interviews, Gastelum likes to keep the conversation going because that's how he sees his career. There aren't stopping points at the end of each chapter so breaks and shifts as the plot continues to develop. This particular conversation has been rolling since February and it's clear speaking to him in the moment on Monday night how the duality line has started to shift the closer he's become to his showdown with Weidman.
The good and easy nature is still very much present, but there's something else in his voice that shows the fighting spirit inside of him is coming to the surface. Even throughout intense and physically demanding workouts with Master Raphael Corrdeiro the full scale animal within cannot be unleashed, but that gate will open in full on Saturday night in Long Island.
Yet, the wolf inside is still standing at the front of the cage pacing, and that's what is audible on the opposite end of the phone. Gastelum is eager to get after it with Weidman, but he sees their upcoming tilt as something much larger than just a fistfight. He sees it as a moment to stake his claim in the contender's tier of the middleweight fold.
"I absolutely believe I'll be the next guy in the title race with a win in this fight and don't see why that wouldn't be the case," Gastelum says. "[Gegard] Mousasi is gone. [Luke] Rockhold is MIA and hasn't fought for over a year. [Yoel] Romero and [Ronaldo] Jacare are both coming off losses. I'm ready to be next in line and ready for my shot and I'm calling for it as soon as they hand me the mic.
"I'm ready to get this ball rolling and continue my push up to get that shot."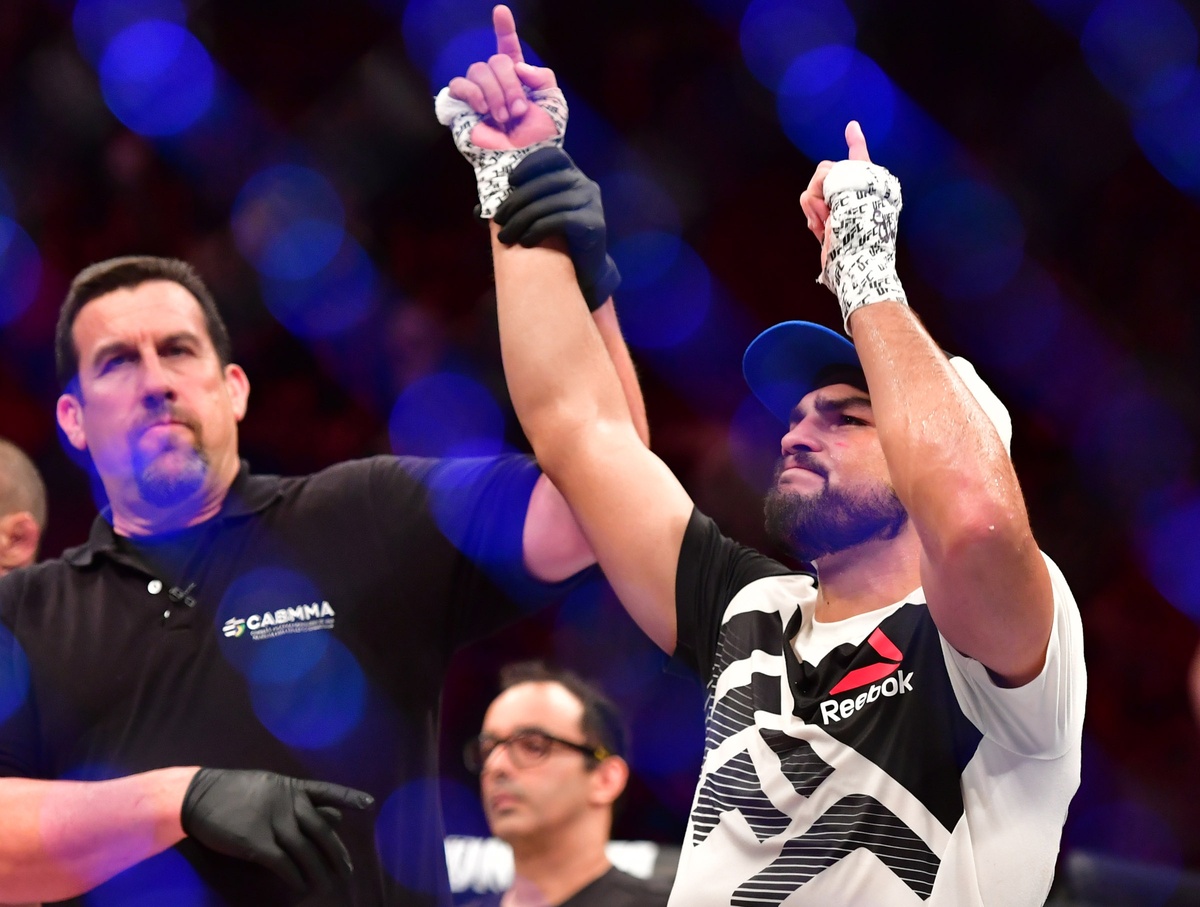 Photo Credit: © Jason Silva-USA TODAY Sports
While it wasn't long ago when Weidman reigned atop the division with an undefeated record and a collection of battered legends on his resume, the tides of his career have shifted drastically over the past two years. The Serra-Longo product has dropped his past three showings inside the Octagon with each of those losses coming by way of the finish.
Yet, Weidman's prior dominance and former title holder status have kept him a major player in the 185-pound collective, which has made him an ideal target for an ambitious Gastelum.
"I feel Chris [Weidman] is in desperation mode and that makes him dangerous," Gastelum says. "Anyone in his situation is going to be even more dangerous than before and I'm expecting the best Weidman there's ever been inside that cage. Not only does he want to win this fight but he has to win this fight because of the situation he's in. I expect him to be at the top of his game and even better than when he was the champion. That's what I expect and that's who I've prepared for."
A victory over Weidman on Saturday night would not only re-ignite Gastelum's run toward a shot at championship gold, but do so in multiple divisions. There has been talk of a welterweight return swirling for the past year and change, and it's a conversation Gastelum makes sure to keep alive and well because dropping back down is a viable option for him in the future.
That said, before a return to welterweight can be discussed Gastelum has big plans for the division he's currently in the midst of terrorizing. Fortunately for the middleweight collective, Gastelum's plans couldn't come at a better time because the weight class has never been as far off course as it is in the here and now.
[instagram url="https://www.instagram.com/p/BWoJaPWjLzm/?taken-by=kgastelum&hl=en" hide_caption="0"]
"The middleweight division is in rough shape and I could absolutely be the one who brings this division back to life," Gastelum says. "Robert Whittaker has done that a bit, and positioned himself as champion, but I know I can beat him as well. I feel I'm the future of the division and not just the 185-pound division either. I believe I can be the future whether it be at middleweight or welterweight.
"I would love to run it back with [Tyron] Woodley. I would love to make it right, make the weight beat his ass. Everyone knows and a lot of people agree he didn't win that fight. I would love to get my hands on him again and beat his ass."
FloCombat's hottest content, delivered to your inbox
Don't miss breaking news, feature stories, event updates, and more. Sign up for the FloCombat mailing list today.