There's never been a show quite like the current press tour for Floyd Mayweather and Conor McGregor and it has the fight game itself locked in a chokehold. In the minds of fight fans, whether boxing or mixed martial arts, the four-city circus is the only thing that matters. And for good reason.

There's been more grandstanding, trash-talking, number dropping, flag waving, roasts and burns handed out in two days than anytime before in either boxing or MMA. Even a collection of tiresome and meaningless speeches handed out by executives have flown by because when the slick suited, heavy-handed Irishman and the undefeated boxing phenom grab the microphone get to doing what they do best the entertainment gets electric. Damn near measurable in quantity.

That said, there's also something very different happening here.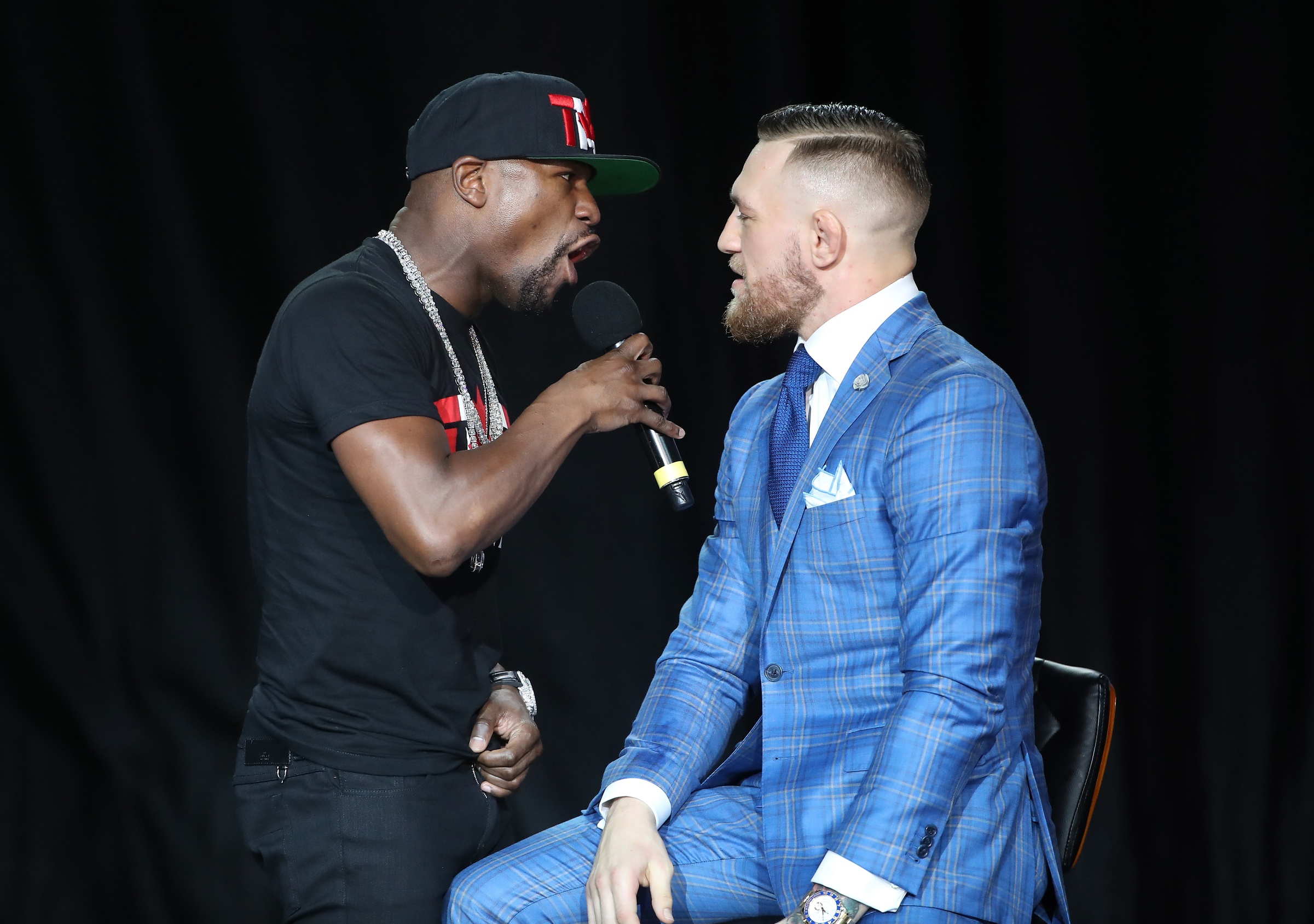 Jul 12, 2017; Toronto, Ontario, Canada; Floyd Mayweather taunts Conor McGregor as he speaks during a world tour press conference to promote the upcoming Mayweather vs McGregor boxing fight at Budweiser Stage. Mandatory Credit: Tom Szczerbowski-USA TODAY Sports

Besides the obvious historical significance of the top draws in the history of either sport and the respective legions of fans they carry in tow, it's the dumptrucks full of cash looming in the near future that matters most. Make no mistake about it: Mayweather vs. McGregor is about the money, it's always been about the money, and that's just fine.

Bless the hearts of two fighters who can walk away from an unforgiving game young and rich, or at least relatively so in Mayweather's case. And it won't be just the two fighters involved who are making "Fook you" money, as made obvious by the chairs filled with men in suits, and one in a revolving collection of tee shirts, who sit and smile throughout each press stop.

And that presents another angle where the build to Mayweather vs. McGregor takes a drastically different and noticeable turn.

Any matchup the Irish superstar has been involved in since arriving to the UFC in 2013 has been filled with friction at a visceral level. Each press conference or face off felt as if it could boil over into fisticuffs or physical chaos at any point and some actually have. Whether the animosity between McGregor and his opponent was real going into the event, it became very much so once the verbal jabs and barbs started to fly. This includes water bottles and coffee cups as well.

There was a genuine disdain built by anyone McGregor lined up against and most who've faced him still hold a grudge to this day. Yeah, there's a mutual respect shared among fighters who exchange blood, sweat and overhand rights inside the cage, but men like Jose Aldo and Nate Diaz won't be well-wishing the Dublin native anytime soon.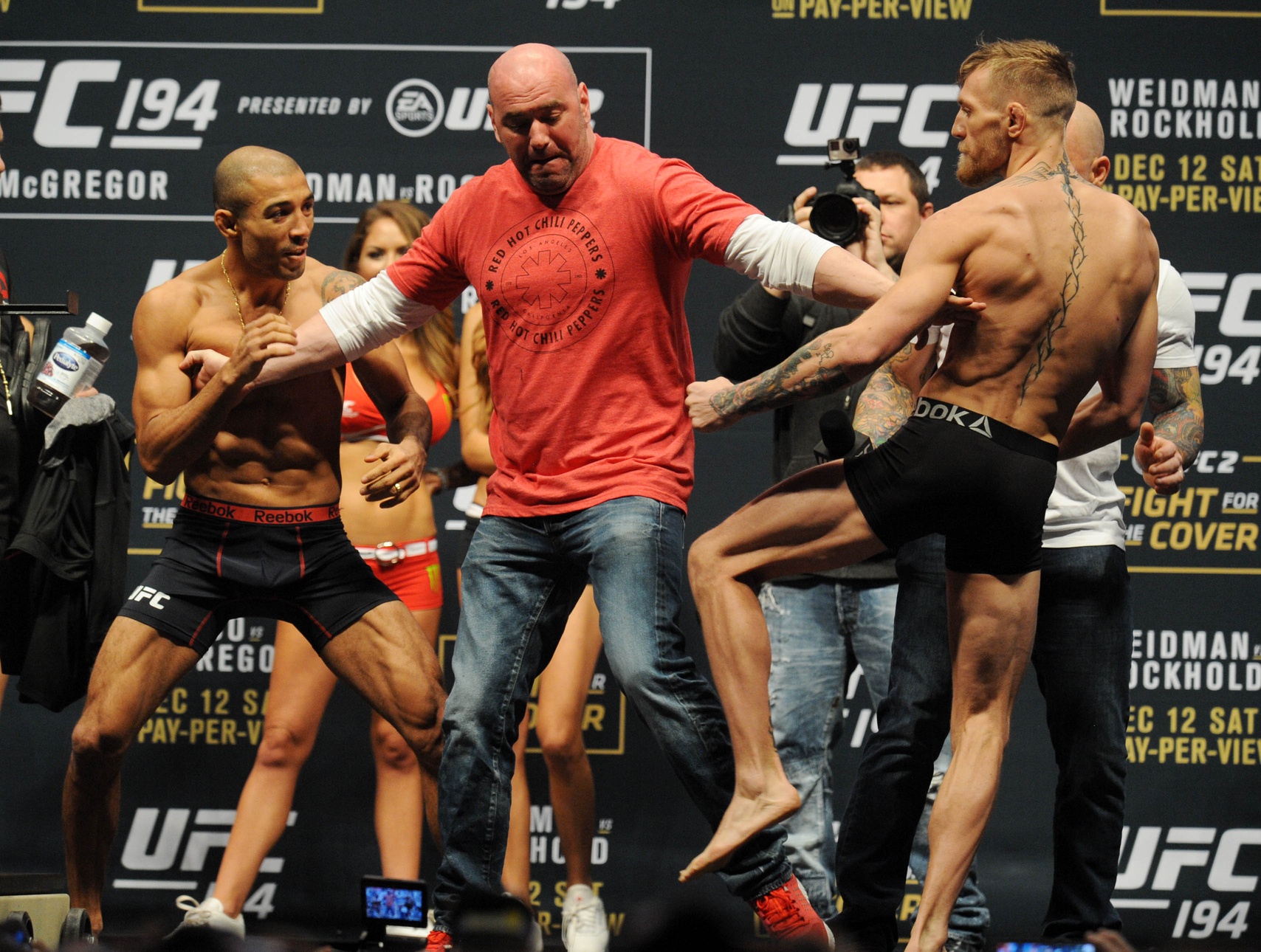 December 11, 2015; Las Vegas, NV, USA; Jose Aldo and Conor McGregor pose are separated by UFC president Dana White during weigh-ins for UFC 194 at MGM Grand Garden Arena. Mandatory Credit: Gary A. Vasquez-USA TODAY Sports

And in this writer's opinion, therein lies the most noticeable tell of the grandiose carnival that is the Mayweather vs. McGregor promotional tour. While veiled in a shower of boasts and expletive-filled rants, the trained eye can tell how much the two fighters like one another. Hell, Mayweather said so himself during Wednesday's stop in Toronto, but did so in a fashion which anyone trying to bend things could write off as mocking. Nevertheless, pushed, pulled or chopped it doesn't change the fact each man finds the other genuinely entertaining.

And millions of us are in the same boat as well so it's fair game all day long.

The proof in the pudding rests with the expressions on the faces of the stakeholders who are up on stage with the two champions when they engage in verbal warfare. UFC President Dana White and Mayweather Promotions front man Leonard Ellerbe both have smiles plastered from ear to ear once their respective mouthpieces get wound up because they truly know the score that is unfolding before them.


We just gonna sit here and not talk about Dana's Zuffa Boxing T shirt? #MayMacWorldTour #UFC #boxing pic.twitter.com/vCpYXT3oQp

— Albert Bernestine (@combatpromo) July 13, 2017
Could you imagine White going full cheese mode while Aldo and "Mystic Mac" circle one another within striking distance? Or Hell...do you think the younger Diaz and McGregor could ever be trusted to get that close to one another during a media event? Granted, fighters are professionals and a pre-fight skirmish would put the entire fight itself at risk, but men like McGregor and Diaz have rarely played by any set of rules they've been faced with.
Nevertheless, Mayweather can walk up close and torch McGregor in Los Angeles while White looks on laughing, just as "Notorious" can stroll up and pummel the pound-for-pound great over his inability to grasp literacy with Ellerbe damn near hysterical in the background. It's difficult to imagine either White or Ellerbe breaking game face in a situation where real emotions or reputations were at stake because there would be hell to pay.
I mean come on. For how bulletproof they seem, both Mayweather and McGregor have incredible egos and for one of them to look and see their people laughing along with the crowd whilst being torched...there would be some serious dissention in the ranks.
But there's not and never will be in this case.
All parties involved are treating the world tour like a comedy roast more than casting the illusion of two rivals who are going to finally settle their longstanding grudge inside the ring on Aug. 26. And I believe we are better entertained because of it. Due to the hype and mega-watt spotlight it becomes easy to forget just how ridiculous of a fight this is from conception, but the respective showmanship of both Mayweather and McGregor during this press tour has gone a long way to making people forget all that nonsense.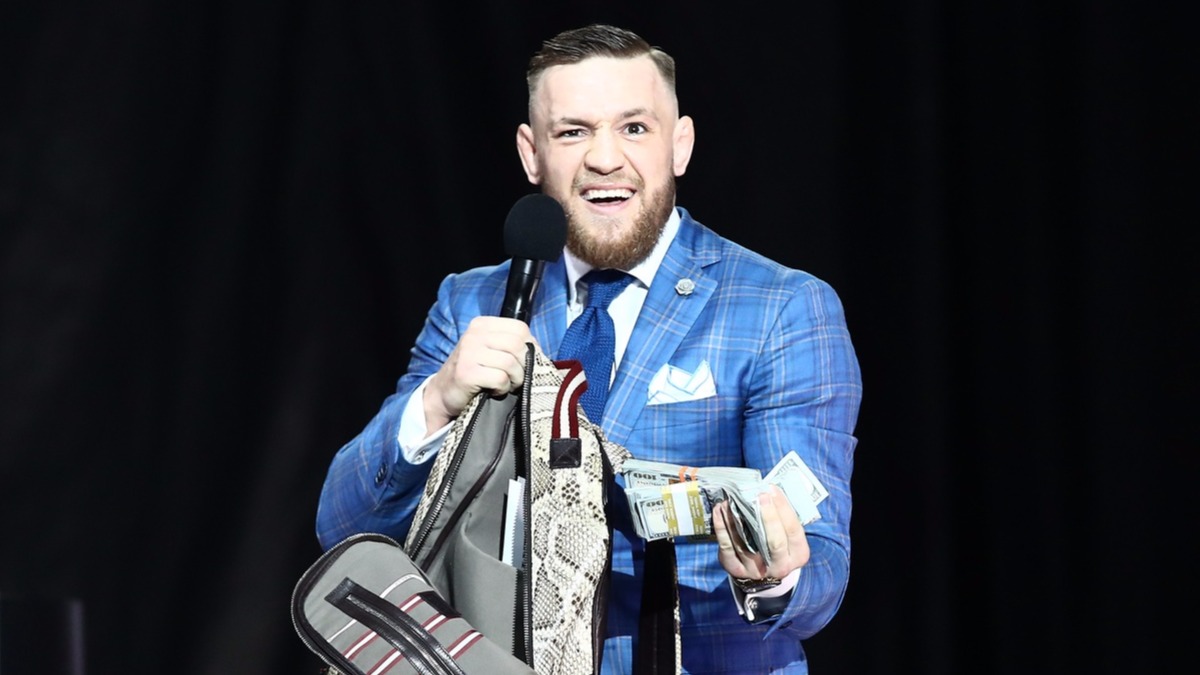 Photo Credit: © Tom Szczerbowski-USA TODAY Sports
While I can only speak for myself here, the quality of efforts provided by both men have me anticipating the next punchline far more than hoping one throws an actual punch up on that stage. That hasn't always been the case when it comes to press events because the thought or illusion of an actual emotional tie in to settle a simmering beef is something easily marked out for.
And no amount of toe-to-toe jawing, verbal backhands or cheers from the crowd is going to flip that switch in this case. Mayweather and McGregor will smile all the way up to fight night and continue to do so for years once the hard work is done at the T-Mobile Arena next month. They'll do so because they got us to buy into the craziest, far-fetched idea in a generation of combat sports, and delivered on their promise to bring something worth us giving our attention.
Once the crowds at the World Tour stops dissipate, I'm sure the fighters and executives attached pop backstage and a share a toast to a glass of Louis XIII or "Turrrteee" (as McGregor would say). All parties involved raising a glass to big business, big money and futures so bright even their grandkid's grandkids will have to wear shades.
They'll do that then pack up their bags and jump on private jets to the next stop because there's more rock n' roll to be played and that's what Mick and Keith do. And while the combo of Mayweather and McGregor are younger, more agile and quantifiably more handsome than Jagger and Richards, the guarantee of entertainment complete with the potential for a backstage boxing match is always on the table.
The show will roll on and oh what a helluva show it's been.