Tonya Evinger Believes She's The Tougher Matchup For 'Cyborg' Justino
Tonya Evinger Believes She's The Tougher Matchup For 'Cyborg' Justino
Invicta champion Tonya Evinger will make her long deserved UFC debut against Cris Justino at UFC 214.
Jul 3, 2017
by FloCombat Staff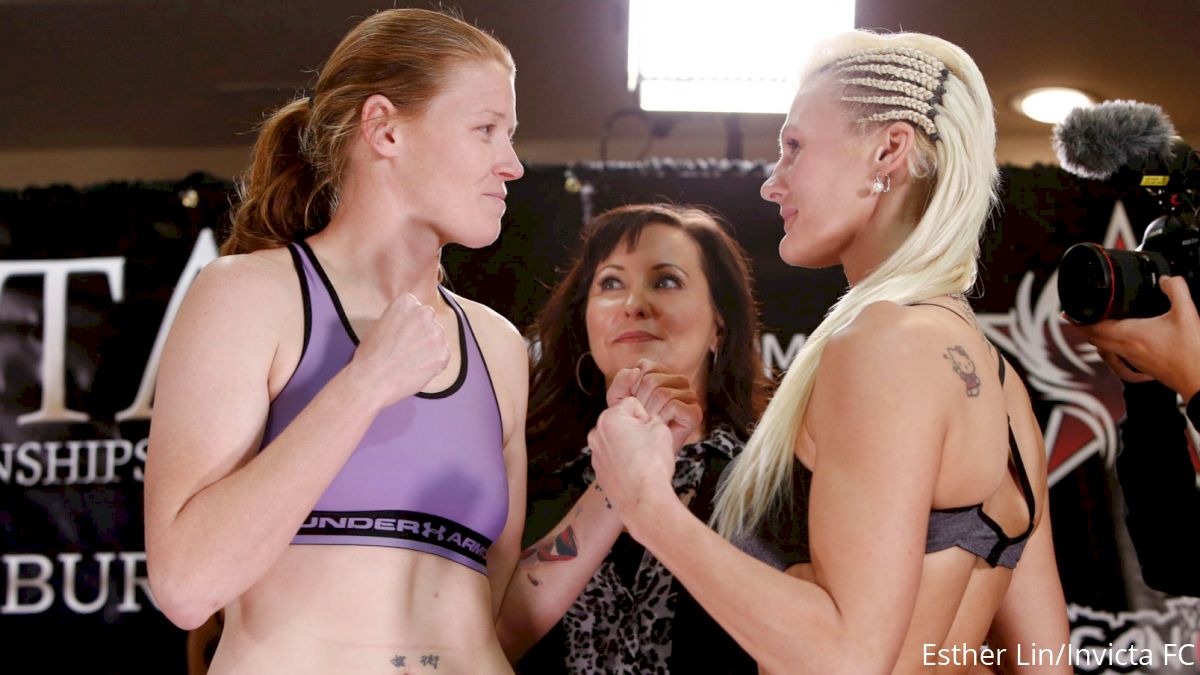 By Damon Martin

It's safe to say Tonya Evinger probably deserved a spot on the UFC roster before now.

Evinger has been undefeated for the past six years while also becoming the Invicta FC women's bantamweight champion, and she's currently riding a 10-fight win streak.

She's been vocal in the past about her displeasure that the UFC never seemed to give her a look, but the call finally came over a week ago when she was offered a fight with Cris "Cyborg" Justino at UFC 214 in Anaheim, CA, on July 29 with the women's featherweight title on the line after her original opponent, Megan Anderson, was forced off the card due to personal issues.

While several fighters have gone out of their way to avoid a fight with Cyborg in the past, Evinger didn't flinch when the UFC offered her the opportunity.

It also didn't surprise Evinger at all that her path to the UFC would have to go through arguably the best pound-for-pound women's fighter in the history of mixed martial arts.

"It's one of them things where I knew I wasn't going to get the easy route. I knew it," Evinger told FloCombat. "I knew they wouldn't give me the easy route or they would have already signed me. The fact that I knew this would be a really tough fight for me against a top competitor. I just knew this was it.

"I just don't see that there's a lot of challenge out there for her at the time and I do feel like I'm one of the best. She hasn't been defeated in 10 years. I haven't been defeated in seven years so we're kind of like on the same run. We're both feeling good and doing great in the sport. I don't see there being a better matchup for this card and a fight against her. I do feel I'm the best competitor out there."



In a way this turn of events was just par for the course when it comes to Evinger's career in mixed martial arts.

She's scratched and clawed her way into the limelight by always facing the toughest competition that's been placed in front of her while never backing down from any challenge at all. That's why Evinger had no problem moving up to 145 pounds and accepting a fight with Cyborg.

"I don't get nothing handed to me," Evinger said. "I definitely have to work for everything I have, and I'm always down to do that. It makes me feel better about it and it pushes me and I have to do things and overcome things that a lot of fighters don't.

"That's why I'm a champion. That's why I succeeded."

Evinger accepted the fight with Cyborg on less than two months' notice, but she was already preparing for another short notice main event that was scheduled for mid-July in Invicta FC.

Ironically, Evinger also replaced Anderson in Invicta FC after she was pulled for the main event to face Cyborg in July.

"I feel like I've been running around picking up the pieces for a toddler," Evinger said about Anderson. "I ran around after [the UFC] pulled her off of Invicta and stepped in. Now I'm running up behind her and picking up the pieces again and stepping up for Cyborg."

Soon after the fight was made official for July 29 in Anaheim, Evinger heard plenty of buzz from fans and media who felt like she would be a tougher matchup for Cyborg than anyone else she's faced in recent years.

Evinger has a wealth of experience under he belt while working her way up the bantamweight ranks over the past few years. Meanwhile, Anderson is still somewhat green by comparison after just transitioning to MMA less than four years ago.

Evinger has nothing against Anderson, but she knows Cyborg is treading much deeper water now than she was previously.

"I definitely am grateful for the opportunity and definitely have respect for Megan and stuff like that, but at the end of the day, she's only been training four years and I think that would shown in this fight," Evinger said. "I think for her it was a payday, and it's the same for me, but I'm out there to fight.

"I'm out there to fight and if I'm a star, I am, if I ain't, I ain't and we've seen that in my career. Invicta put a lot of time and a lot of opportunities in my hand, and I just took them. I think that I've earned this shot."



FloCombat's hottest content, delivered to your inbox

Don't miss breaking news, feature stories, event updates, and more. Sign up for the FloCombat mailing list today.