Tony Ferguson Not Going To Rob Khabib Nurmagomedov Of His 'Ass Whooping'
Tony Ferguson Not Going To Rob Khabib Nurmagomedov Of His 'Ass Whooping'
UFC lightweight contender Tony Ferguson is up to rescheduling a thrice cancelled bout with Khabib Nurmagomedov.
Jul 3, 2017
by FloCombat Staff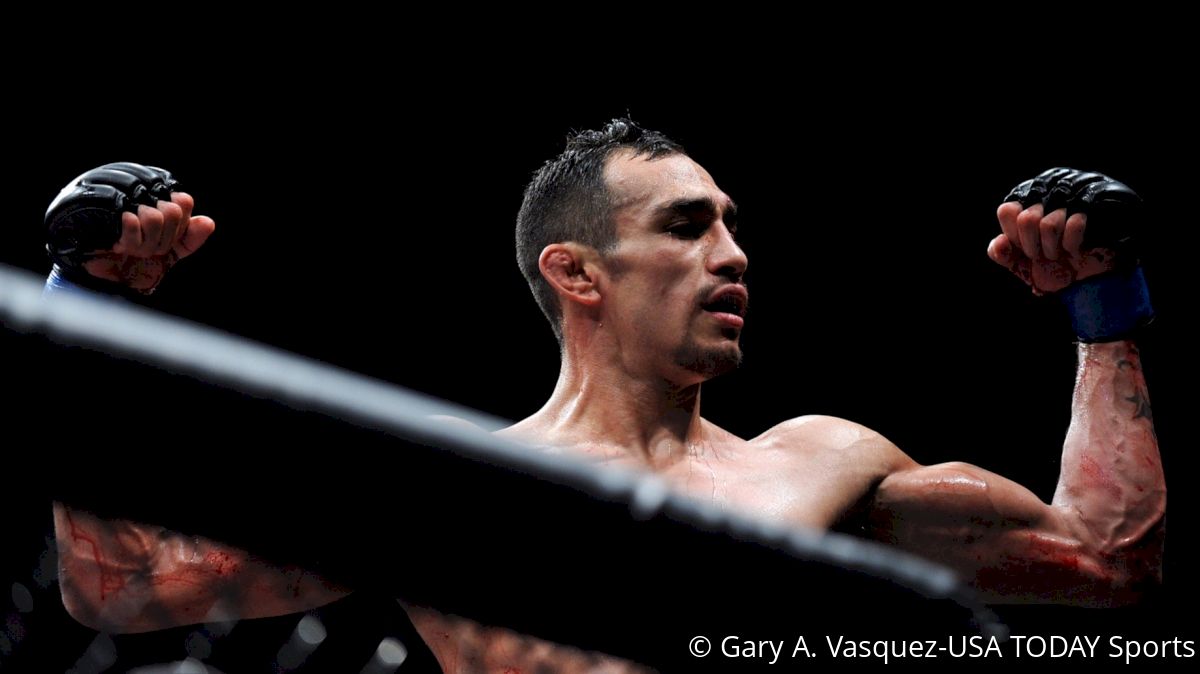 By Damon Martin

The sour taste left in Tony Ferguson's mouth after Khabib Nurmagomedov dropped out of their fight back at UFC 209 has never quite dissolved.

Ferguson was supposed to face Nurmagomedov with the interim lightweight title on the line back in March, but the undefeated Russian was forced off the card with 24 hours to go until the event when a disastrous weight cut put him into the hospital rather than the Octagon.

Months have passed since that matchup was scrapped, and Ferguson still hasn't booked his next bout in the UFC despite his best efforts to goad Nate Diaz into a fight this summer.

Now Ferguson is targeting his return in the late summer or early fall, and he believes there's still unfinished business with Nurmagomedov that needs to be settled.

"I'm not going to rob Khabib of an ass whooping. I will give him that ass whooping," Ferguson said. "Trust me, he does deserve that beat down by my hands. I've made so many more fans by his lame ass attempt to go missing in action. If that dude would have showed up and missed weight, I would have won that belt. That sh*t would have been mine automatically. No reason, no wonder his ass didn't show up.

"Hopefully he has his [expletive] in order now and not the grand opening of his gym the same time around the fight. What I'm trying to say is if he's ready, I'll be ready and we'll be ready in September/October and we'll make that sh*t happen."

UFC president Dana White has already stated that he hopes to make the fight between Ferguson and Nurmagomedov for later this year, although no date or offer has been made to either competitor.

There have now been three separate occasions in which Ferguson and Nurmagomedov have been booked to meet, yet they still haven't ever actually made it to the cage to settle their differences.

Following this latest incident, Ferguson will put some conditions on his participation in a fight with Nurmagomedov because he went through all the motions of his training camp and the weight cut only to get left out in the cold a day before the event was taking place.

"If you want me to fight Khabib, there need to be some assurances cause I have a better chance of waiting for social security than waiting for this dude to show up on weight," Ferguson said. "Straight up. This kid. He's been going through Ramadan. I'm giving him one more day, and I'm going to unleash the beast on this kid because I don't think he has the heart to do it. I don't think he has the will to win.

"Honestly, I don't think he wanted to show up to that fight [at UFC 209] because his pops wasn't there. He needed his daddy in his corner. So I'm not sure."

More than anything, Ferguson finally wants his chance to be crowned UFC champion, which is another opportunity he felt robbed by after Nurmagomedov dropped out of their fight in March.

Lightweight champion Conor McGregor is currently occupied by his upcoming boxing match against Floyd Mayweather, and the UFC hasn't stated whether or not the interim title would be introduced again after the situation unfolded with Ferguson and Nurmagomedov earlier this year.

Either way, Ferguson wants his shot at the gold, and he doesn't seem to care much if it's Nurmagomedov, Diaz, or McGregor standing across the Octagon from him.

"I'm going to get my title shot," Ferguson said. "So if these pansies want to walk around and they want to stay with their tails between their legs and say they are too good to fight or this and that, that's cool, buddy. But I don't have to talk too much sh*t about that. You're just not a real fighter. You're trying to be here for the show. You're trying to teach people that this is all about the money. When I was little, it was about being in that Octagon and in the Kumite like those movies you'd see back in the day. So far, I haven't seen that.

"It's almost like with pro football and college football. It's almost like they've lost the love for the sport. I hate that. You need to bring that passion back to the sport and represent how you say you represent. Because you're representing a [expletive]."




FloCombat's hottest content, delivered to your inbox

Don't miss breaking news, feature stories, event updates, and more. Sign up for the FloCombat mailing list today.