Dustin Poirier To Eddie Alvarez: 'Come Get The Rest Of That Ass Whooping'
Dustin Poirier To Eddie Alvarez: 'Come Get The Rest Of That Ass Whooping'
UFC lightweight Dustin Poirier throws heat at Eddie Alvarez and demands a rematch before the close of 2017.
Jun 29, 2017
by Duane Finley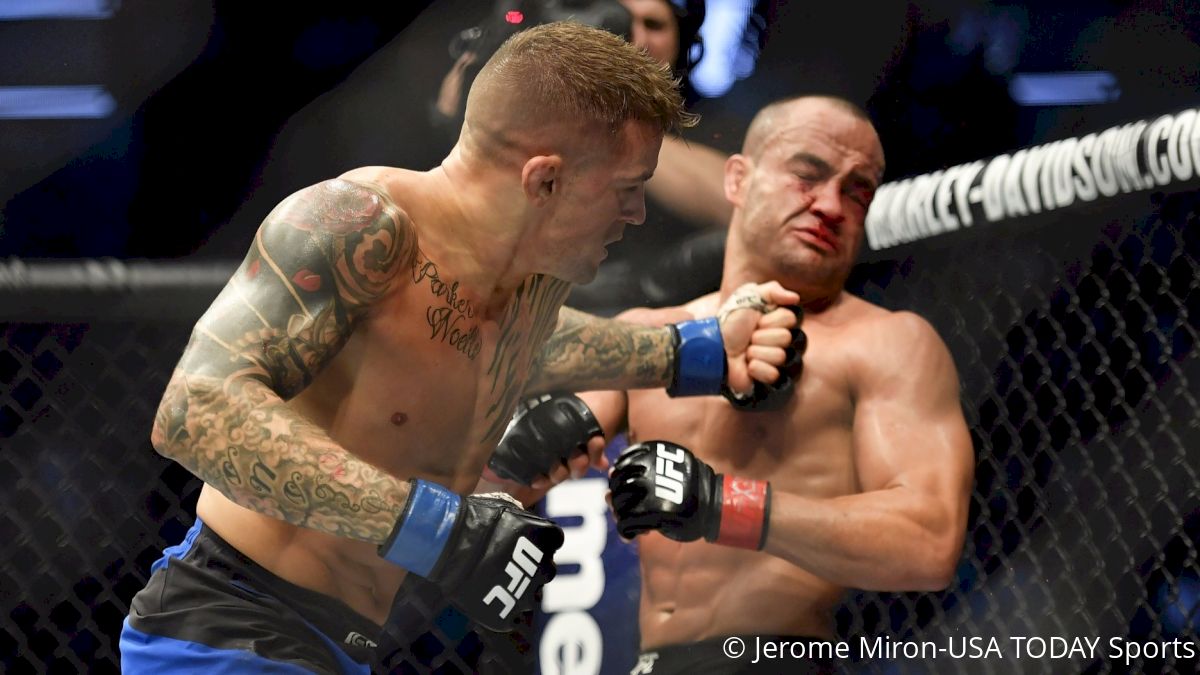 Dustin Poirier has unfinished business with Eddie Alvarez and he's not backing off his push for a rematch in the slightest. And it's a situation that has moved beyond the business of fisticuffs into something much more personal.
The hard-charging Louisiana native came into his scrap with Alvarez at UFC 211 back in May operating with respect and appreciation for the opportunity at hand. The Mark Henry-trained fighter had dropped the lightweight title at the hands of Conor McGregor in his previous outing, and his former championship status and No. 3 divisional ranking made Alvarez and appealing target for Poirier's own ambitions.
Throw in the fact UFC 211 was easily the promotion's biggest card to date, and showcase worth capitalizing upon took shape. And that's the direction Poirier was traveling for the first eight minutes where he battered and drubbed the former Bellator and UFC champion. That said, Alvarez has proven his resilience tenfold over the course of his career and rallied back with a flurry of his own.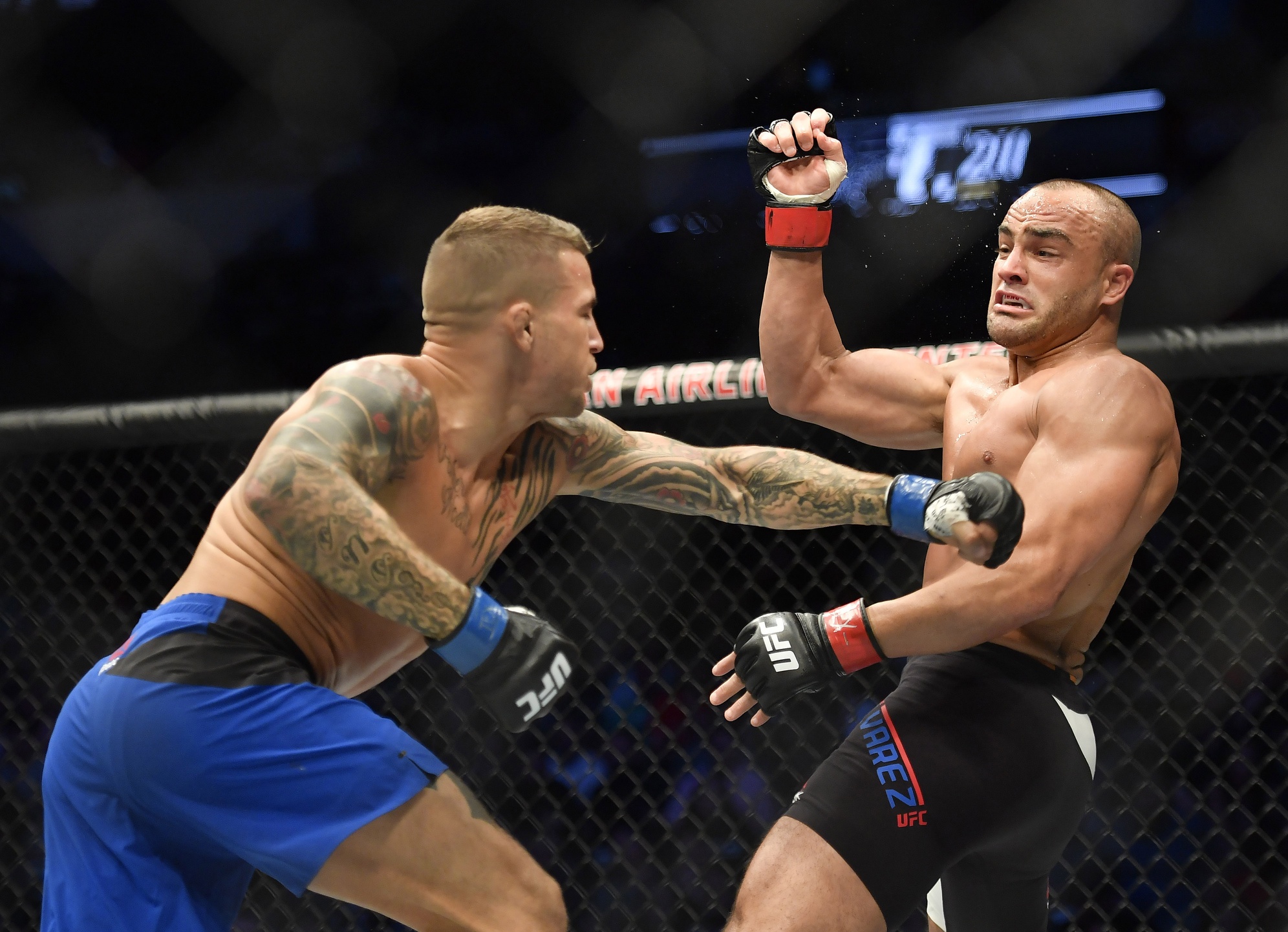 May 13, 2017; Dallas, TX, USA; Eddie Alvarez (red gloves) fights Dustin Poirier (blue gloves) during UFC 211 at American Airlines Center. Mandatory Credit: Jerome Miron-USA TODAY Sports
Yet, in the midst of his barrage, threw and landed a series of illegal knees to Poirier's head while the American Top Team fighter was on the canvas. The end result saw an anti-climatic "No Contest" become the final ruling, and Poirier exited the Octagon feeling robbed of a victory he was confident he'd have taken.
Furthermore, due to the official ruling Poirier only received half his fight night purse, and believes a performance bonus was coming his way as well. And while the past is the past and there's nothing Poirier can do to change what happened in Dallas, that static has only furthered his motivation for the only fight he believes makes any sense.
"I lost half of my money and lost 'Fight of the Night' because we have gotten that for sure," Poirier said. "That's six figures worth of money that's just gone. I also lost my ranking and [Alvarez] comes out of it just fine. He got his full purse because he's on a different type of contract than I am. I get show and win bonus where he's on a flat contract so he got a full pay day. And he's the one who committed the foul. How does that make sense?
"He gets his money, gets to keep his ranking and doesn't have the loss on his record. That's f*cking bullsh*t, man."
Poirier wants a rematch with Alvarez and that's the only fight he's looking for. The two top lightweights have been beefing over social media in recent weeks, with the exchanges getting heated to the point of making headlines around the MMA media sphere.
The 28-year-old knockout artist says he is done with the pointless back and forth over Twitter, and the surging lightweight is ready to get his hands on Alvarez once more.
[tweet url="https://twitter.com/DustinPoirier/status/879805092295319552" hide_media="0" hide_thread="1"]
"I'm not fighting over Twitter," Poirier said. "He's being a total d*ck and showing his true colors. I had respect for the guy for the whole camp and leading up to the fight, and I still respect his ability as a fighter, but I don't respect him as a person anymore. I don't know him good enough to call him Eddie so f*ck that. His name is Edward and that's what we are going to call him.
"I just beat the No. 3 guy so it makes no sense to do anything but to finish up giving him the rest of that ass whooping. The No. 1 and 2 guys are supposed to fight some time, and why would I jump to the back of the line to fight someone down the list? I'm staying right where I'm at and getting this rematch.
"If anything Alvarez should be happy because he's going to get double the money for the same ass whooping," he added. "He's the highest ranked guy available for me and that's the fight I want. If the UFC came to me and said they wanted me to fight so and so and I'd get a title shot after then we can talk about that. Right now the fight is Alvarez."
While Poirier waits for the rematch for the next fight to take shape, he's holding onto confidence Alvarez will sign the contract. The unfinished business between the two makes it an easy choice for the UFC, and the type of action they were delivering before Alvarez landed the illegal strikes was the craziest of crazy night in Dallas.
Poirier is ready for another go and is using the tilted scales of justice in the aftermath of UFC 211 as motivation.
[tweet url="https://twitter.com/DustinPoirier/status/874719264204357632" hide_media="0" hide_thread="1"]
"He was losing the fight and has the audacity to say I wanted out of the fight. He said some dumb sh*t on Twitter about me finally being off my stool like I was playing a game or trying to get out. That's ridiculous. I've had plenty of fights where I've been down and fought back to win. Fights where I've had a shattered face, blood everywhere and couldn't breathe and still won the fight. And I was winning that fight so why would I want out of a fight I was clearly winning?
"He's telling himself what he needs to tell himself to maybe do it again or make himself believe he still has it. But I don't know what's going on with all that sh*t. It's incredible to me."
Although Poirier hasn't found peace of mind from the way things shook out at UFC 211, one big positive has come from his commitment to give back to those in need in his home state. Poirier recently moved back to Southern Louisiana and auctioned off the gear he wore against Alvarez with one hundred percent of the proceeds going to a local food bank.
Even though there was some friction in the auction process, Poirier is happy he's reached a point in his life and career where he can give back to people who need it in the place he's always loved.
[tweet url="https://twitter.com/DustinPoirier/status/879803387679789056" hide_media="0" hide_thread="1"]
"I had two auctions get messed up but it taught me I need to do it differently. Trial and error I guess. I'm going to do it for every fight from here on, but next time I'm going to set it as 'buy now' so I don't get jerked around. One hundred percent of the money made of selling the fight kit went to the food bank. It's going to be providing families in need with meals in Acadiana in South Louisiana where I'm from.
"I'm not sure there was one thing that inspired it but perhaps it was moving back to Louisiana. I always knew I wanted to be a part of helping my community if I could and I thought this was a cool way to do it. I have drawers full of fight kits and fight shorts I don't ever wear that could be putting meals on people's plates or clothes on their backs. That stuff is cool to have, but I would much rather families--especially children--have what they need."