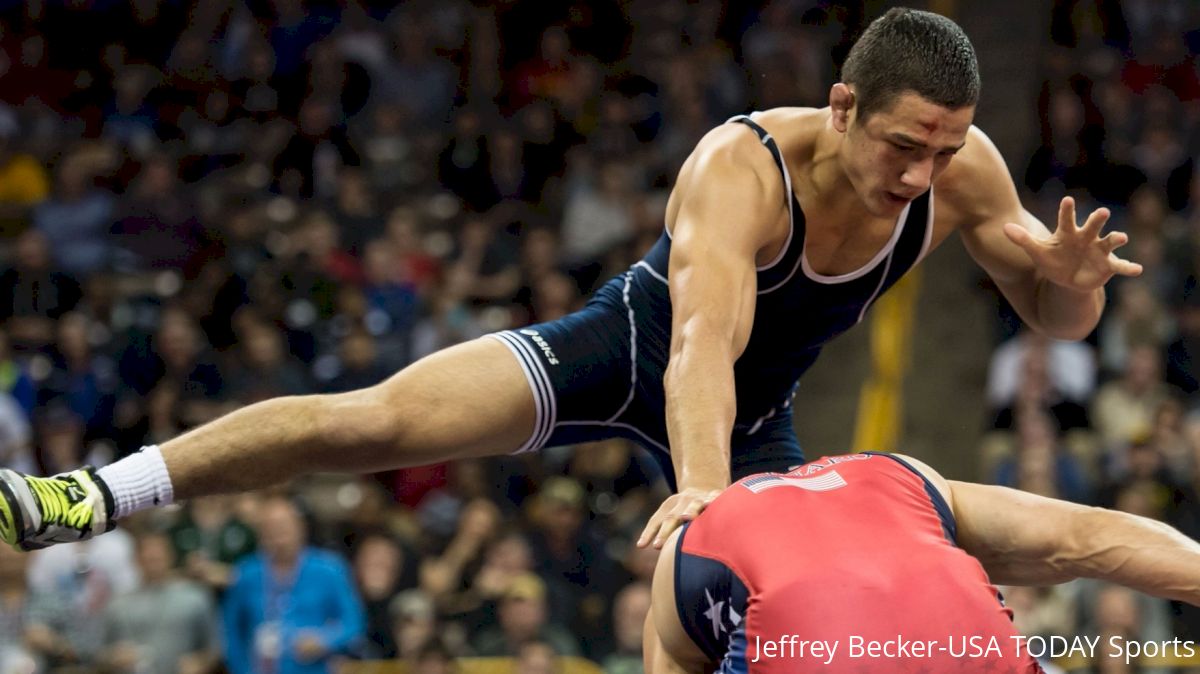 This article originally appeared on FloWrestling.org. As Aaron Pico makes his professional MMA debut Saturday at Bellator NYC, let's take a look at some of the best moments from his athletic career.
Aaron Pico was one of the brightest young talents to to come through the American wrestling ranks in recent memory.
After winning his only California state championship as a high school freshman, Pico switched his focus completely to freestyle, striking gold soon after at the 2013 Cadet (17 and under) World Championship. Pico started competing in senior level tournaments the next year as he began his meteoric rise to the upper echelon of international wrestling.
Pico won his first senior level tournament in 2014, and would pick up two more junior level world championship medals before falling just short of making the 2016 Olympic team at 65kg.
The only age level losses Pico took in his career were at the Junior (20 and under) World Championships and the often over looked Yuri Gusov Tournament. As 17 year old in 2014, Pico lost in the finals to future Olympic Gold Medalist Hassan Yazdani Charati of Iran. His second junior loss was in the semifinals in 2015, when Pico was beaten by Teymur Mammadov of Azerbaijan (more on him in a bit). Pico also lost to future Russian National and Yarygin Champion Zaurbek Sidakov at the 2014 Gusov.
Unfortunately for wrestling fans, Pico decided to take his talents to the MMA world after the 2016 Olympic Team Trials. With his pro debut coming with Bellator this weekend in Madison Square Garden, we decided to take a look back at the greatest victories of Aaron Pico's far too brief wrestling career.
Yuhi Fujinami For Cadet World Gold
Fujinami would go on to win two more junior level world medals. He was Japan's national champ in 2016 but was unable to qualify the weight for his country for the Olympics.
In the cadet finals in Zrenjanin, Serbia, Pico extended his 4-2 lead at the break and then held off a a furious comeback attempt to win 8-6, which you can watch in the video below.
Pico also beat Azerbaijan's Teymur Mammadov at that tournament. Mammadov would win the 2015 junior World Championships, beating Pico in the semifinals, although there are rumors that Mammadov is a few years older than he claims to be.
[tweet url="https://twitter.com/sikom_d/status/633062727263649792" hide_media="0" hide_thread="1"]
Deichi Takatani At 2014 Junior Worlds
Pico took out Fujinami's older countryman at the UWW Junior World Championships the next year. Deichi was also Japan's senior rep at the 2014 World Championships. He also won the 2016 Dmitri Korkin in Yakutsk, Russia over 2017 Russian National runner-up Viktor Rassadin.
2013 World Champion Devid Safaryan
Despite not winning a 2014 junior world title, the 18 year old Pico wasted little time backing up his considerable hype, winning the 2014 Henri Deglane Tournament in Paris, France over the reining world champion, David Safaryan of Armenia.
Pico still had his doubters, as a litany of excuses were offered, such as 2013's championship field being diluted, or Safaryan being out of shape or not taking the tournament Deglane seriously.
You can watch the match below and decide for yourself whether or not the hype was warranted.
Cuban Olympian Alejandro Valdes
In response to the criticism, Pico promptly won his next international senior level tournament, the Granma Cup in Havana, Cuba. Pico beat fellow American Reece Humphrey and two talent Cubans on his way to claiming gold, perhaps most impressively over Valdes, who qualified the island nation for 65kg at Rio.
Valdes finished 7th at the Games, pinning Mustafa Kaya of Turkey in the opening round before falling to eventual gold medalist, Russia's Soslan Ramonov in the round of 16. In the repechage, Valdes lost a hard fought battle to Haslain Garcia of Canada (though incidentally also born in Cuba). Valdes followed up his Olympic tournament with an impressive second place finish at the prestigious Golden Grand Prix in Baku, Azerbaijan.
2016 Junior World Champ Enus Uslu
Rather then try win that elusive junior gold medal in 2016, Pico set his sights on loftier Olympic goals. But in 2015 he was still attempting to climb to the top of the podium. Pico lost to aforementioned fellow *cough* 18 year old *cough* Mammadov, but rallied in the repechage to beat next year's junior level champion, Enus Uslu of Turkey.
You can watch Pico overcome a four point deficit to win bronze in a combative slugfest in the video below.
Frank Molinaro After Six Matches In New York City
Because the 2015 Bill Farrell eschewed international convention and opted for full wrestle-backs, Pico ending up wrestling seven matches in one day in the New York Athletic Club.
Though he lost to Molinaro early in the day in the championship bracket, Pico fought back through the consolations, notching victories over the likes of Kendrick Maple, Nazar Kulchytskyy, and Jason Chamberlain, before getting a second crack at Frank the Tank for third place.
Pico dug deep, wrestling through a broken nose and six matches worth of fatigue, and beat Molinaro 7-4. You can watch that match in the video below.
Two-Time NCAA Champ Kellen Russell
Pico entered the 2016 U.S. Senior Nationals, held in December of 2015 due to the Olympic schedule, and added a few more senior American scalps to his collection, foremost among them being two-time national champ and three-time All-American Kellen Russell, who Pico beat 10-3 in the quarterfinals.
2016 World Champion Logan Stieber would beat Pico in the semifinals. Reece Humphrey would later get revenge for Cuba with 10-0 drubbing in the bronze medal match, but not before Pico beat Frank Molinaro again in the consolations. The 14-5 score in this match was the largest margin of victory for either wrestler in their all-time series, which sits tied at 3-3, where it will likely remain.
Two-Time World Bonze Medalist Mandakhnaran Ganzorig
Pico had his most impressive overseas competition early in 2016 at the prestigious Medved Tournament in Minsk, Belarus. Wrestling up at 70kg, Pico made it to the semifinals before falling to eventual champ Zurabi Iakobashvili of Georgia. Before that, Pico beat Mongolia's Mandakhnaran Ganzorig in the round of 16.
Ganzorig is a highly decorated veteran, placing third in the world twice, but is perhaps more infamous for prematurely celebrating what he thought was a bronze medal victory at Rio. The medal, which would be Mongolia first of any color in Olympic wrestling, slipped from his grasp when his opponent, Ikhtiyor Navruzov of Uzbekistan, was awarded a match winning penalty point in the final seconds.
Ganzorig's coaches stripped nearly nude in protest, as you may have already seen.
Pico also beat David Tlashadze, also of Georgia, in the bronze medal match of the Medved. Tlashadze placed second in the 2016 European Championships.
Jordan Oliver At The Olympic Team Trials
Though he would only wrestle four more freestyle matches in his career, Pico saved some of his best for last, beating Jordan Oliver, one of America's most talented 65kg competitors, in the quarterfinals of the 2016 Olympic Team Trials.
Oliver led on criteria 9-9 with thirty second left in in a wild, back and forth match, until Pico came through in the clutch with a takedown at the edge of the mat.
Pico would beat an injured Humphrey in the semifinals before succumbing to the Molinaro in an epic three match final series.
You can watch Pico's victory over Oliver in the video below.
It's a shame that the only opportunity to watch Pico compete in the future will be in a cage and not on a mat. However, when he was in a singlet, Pico was as gifted and as dedicated as anyone of his contemporaries.
And even if you have little or no interest in MMA, there's no reason not to enjoy the tenacious youngster's battles when he still fought them on a wrestling mat.