Striking Expert Robert Meese Analyzes Floyd Mayweather vs Conor McGregor
Striking Expert Robert Meese Analyzes Floyd Mayweather vs Conor McGregor
Robert Meese, striking coach to UFC champ Cody Garbrandt, analyzes Floyd Mayweather vs. Conor McGregor and predicts the fight.
Jun 16, 2017
by Hunter Homistek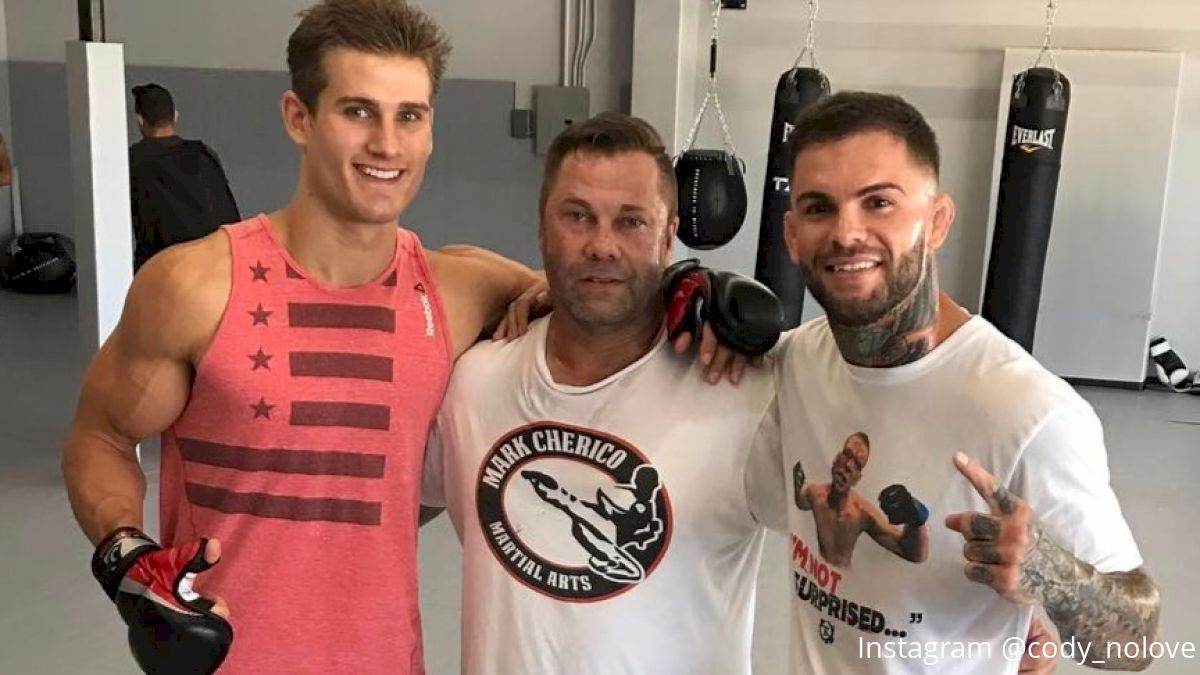 Robert Meese is uniquely qualified to talk about the recently announced superfight between Floyd Mayweather and Conor McGregor.
A standout amateur boxer, Meese also boasts an 18-0 record in unsanctioned professional boxing fights and a blemish-free run on the bareknuckle circuit. What Meese is perhaps best known for, however, is his work with his nephew, UFC bantamweight champion Cody Garbrandt.
Meese has worked with Garbrandt since the champ's childhood, sticking with him all the way through his signing with the UFC and his eventual title victory. Meese's own boxing background formed the foundation for Garbrandt's standout striking game, and he continually adapts his methodologies to stay a step ahead of the competition.
As such, Meese has developed a keen understanding of both traditional boxing and boxing as it applies to MMA.
Catching up with Meese over the phone, we picked his brain on the Mayweather vs. McGregor Mania sweeping the combat sports nation, and his insight didn't disappoint. Following is the full transcript from our chat.
​FloCombat:
​Let's kick it off with the obvious: What was your reaction when the fight was announced? Is this a silly fight or is there merit here?​
​Meese:
​
Whether I like it or not, they're still going to have it because it's a half-a-billion-dollar fight. But my intake on the fight is that ... *laughs* ... I mean … I would pay to see it, you know? Just to know that I got to watch it, I got to be a part of it. I think that's what a lot of people's outlook is.
Mayweather is hard to hit, and he's fought a lot of people who have solid punches, quick punches. They didn't knock him out. He got rocked a few times, but that's the name of the game on anything if you're in it long enough. You're going to take a few bumps and bruises.
I think it's good for the sport. It gets people talking about this and that. 'What if this? What if that?' But I think Mayweather is going to make McGregor look slow.
​FloCombat:
​It's amazing that you mention Conor looking slow against Mayweather being that Floyd is the much older fighter at 40. Is that age a concern? At some point, reflexes have to deteriorate, but is it too early for that?​
​Meese:
​
No, his age isn't an issue yet. Maybe if he'd been out of it four years, five years, not being active. But all his life he's trained himself the way champions train. His training has been one of the best out there. So I'm pretty sure even when he takes time off, he's in the gym. I believe to even bring up his age--it's not a factor.
The factor will be--you know [Mayweather's] shoulder roll? If McGregor can come up over that shoulder roll--McGregor's taller and has a longer reach--if he can come up over the shoulder, press him in the corner, throw some haymakers and bombs and make it an ugly fight, I think that's McGregor's bread and butter there. But if he tries to walk him down and outbox him, he's going to be outclassed. He's going to be outmaneuvered. He's going to get picked apart, and after a while, he's probably going to taste the canvas.
​FloCombat:
​A lot of people have trouble understanding why everyone says 'oh, this is a totally different sport.' Boxing is part of MMA. Why is Conor jumping into the ring such a stretch? What makes pure boxing so different?
​Meese:
It's really different, because with MMA, you have to train more aspects of the sport. You have to defend the takedown, train how to kick, deliver a kick and take a kick.
With boxing, it's more of a skillful art where you have to out-wit and outdo your opponent. So that's how I look at the two. Boxing is calculated punches, looking for a knockout, but in MMA there's so much more to look out for. Boxing is more of a scientific sport where you have to land clean punches and do more with less tools than you have in MMA.
You might get a fighter who is really talented and really athletic, but you get somebody who hits harder and is strong and can take them to the ground or lands a haymaker and knocks them out with the small gloves [in MMA].
​
​FloCombat:
​And I like that you mention the gloves, too. It's been released that they will wear 10-ounce gloves for this fight. Is that anybody's advantage?

​Meese: The 10-ounce gloves will be an advantage for Floyd because he's used to fighting with them. I knew that was going to happen. I bet you in negotiations McGregor tried to get four-ounce or MMA gloves to try to make it fair, but Floyd, on one of his billings, is not going to subject himself to that.

If it was four-ounce gloves and Conor got in there and threw haymakers, I really believe there'd be a difference.


What people don't realize--Floyd might not have a lot of knockouts in his later career, coming up on his retirement, but does Conor really know how to take a precise punch like Floyd throws? Floyd will come up off that back leg and feint then throw a straight right. Would that straight right stun McGregor--three or four of them?

It's like Nate Diaz did to him in his fight. They weren't hard punches, but they kept landing and landing and it rocked him. So that's another factor with the different ounces of gloves. It does make a difference.
​FloCombat:
You're on a roll stealing future questions I had planned, because you just mentioned Nate Diaz, too. Do you think Nate would've been a better option than Conor to fight Floyd from a skills-perspective. Money aside, would Nate do better than Conor?
​Meese:
Now we're in the new ages as you well know. We're in the age where MMA fighters are starting to come up with their standup and their ground game, jiu-jitsu, and these young fighters are coming up and starting everything together. Honestly, Nate Diaz has been around it longer and he kind of grew up with the boxing history and the jiu-jitsu. I would give Nate Diaz a better chance boxing Floyd than McGregor. How could you not? The first fight he picked McGregor apart.
But the thing McGregor did for his second fight with Nate, he hired three of the top boxers in Ireland to prepare him for the second fight. And you watch the second fight, it was a lot easier for McGregor to land that straight left on Diaz.
​​FloCombat:
​ So it's pretty well understood that Conor needs to adapt his game--and fast. Where should he start?
​
Meese:
He needs to learn to throw an effective jab--a quick jab that's coming out of his hips and legs--and he needs to get comfortable with that jab. McGregor, he doesn't have a jab. He's always trying, either in his mind or from his coaches, he's always trying to throw that left hand.
And I don't think McGregor should post his sparring sessions. They don't look good. He's always trying to walk somebody down, he's not setting anybody up with his feet. It looks like he's not fighting out of his feet in those sparring matches. And he's always trying to throw the right where he puts them at an angle where Floyd will catch him at that angle.
Why do people think Floyd has trouble with southpaws? He has 49 fights. He's sparred I don't know how many rounds to prepare for southpaws. Do you think Floyd hasn't seen McGregor's style before? He fought [Marcos] Maidana and all the other awkward styles and beat them.
​FloCombat:
​One of my favorite things Cody [Garbrandt] told me once was that he actually did have more trouble with guys who weren't as technically sound. He grew up training the right way with you, and he always had quality sparring partners, so when he faced someone who didn't do things the traditional 'correct' way, it could throw him off. Is that a worry for Floyd in this fight--that Conor's boxing will be so 'bad' that it works?
​Meese:
I would say that's an advantage that Conor has. I had 37 amateur fights and I fought 18 unsanctioned pro fights … I had seen a lot of styles. But I fought this guy, and he kept doing this crouched style.
I kept hitting him, and he was telling his cornerman every time I would hit him his body would go numb. But he's bent down, and he would reap me to the body. Then he would do this weird half step and come over with the right hand.
I wasn't hitting him as much in the third round as I was in the other rounds because he changed his style and went to a defensive-offensive fight stance. Then my trainer told me what he was doing because he was familiar with it. He was trying to stay out of my power and lower his level to where it's a smaller target to reach at. My trainer adjusted me, and it worked. It was supposed to go six rounds, but he didn't make it out of four. It can have an effect.
For anybody who has a lot of fights, you can come across a weird style of fighting that can throw you off for sure.
​FloCombat:
So as silly as it may or may not be, let's get to it. How does the fight go on August 26 when they step in that ring?
​
Meese:
Well... *laughs* Honestly, it could play out so many different ways. That's why it's so interesting.
That's an interesting question you have presented. A lot of people are saying, 'I wonder how it's going to go down.' That's the selling point of the fight. It could be anything. It could be a DQ in my mind.
McGregor could be wild in my mind and he could get caught by Floyd. Floyd could keep the pressure on him until he knocks McGregor out. Really, that would have to be my answer, but I can tell you one thing that is true and everybody will agree with me--they're getting paid. That's what we're really looking at.
FloCombat's hottest content, delivered to your inbox
Don't miss breaking news, feature stories, event updates, and more. Sign up for the FloCombat mailing list today.