The last name will grab attention straight away, but it's what Colbey Northcutt brings to the cage that will keep your focus.

Younger brother "Super Sage" made the initial family introduction with his positivity and posterboy looks, but there hasn't been a time when the Northcutts weren't a duo, in competition or otherwise. There's a long track record of karate tournaments and kickboxing titles with an over-crowded trophy room somewhere in Katy, Texas, to serve as proof. It's there...you best believe it is.

That said, Colbey has taken the value from her past accomplishments and has steadily applied them toward her future. And after a short break where she paused a rapid-fire life to finish college, the time has come to kick her fighting life into a higher gear.

The 24-year-old forever-Texan turned California transplant will make her professional MMA debut June 23 against Courtney King at LFA 14. Her younger brother's career may have fast tracked and become a whirlwind because of signing with the UFC at such a young age, but things are a bit different on her side of the fence.

The elder Northcutt is just as positive thinking as her sibling, but she also sees no harm in a measured approach toward progress.



"It really wasn't something that hard to decide on," Northcutt told FloCombat. "I actually wanted to go pro before I took a break from amateur and went to college. I just needed a mental break for that but knew as soon as I completed school I would turn pro. I'd turned pro in kickboxing before I took some time off, so doing the same in MMA was an easy decision to make. It wasn't something I really had to think about. I knew I was ready regardless."

While Northcutt will be making her professional debut next Friday night, the possibilities for the road ahead have already started to align. The last name she holds carries expectation and hype on the current landscape of MMA, and it will draw eyes to anything she's competitively attached to.

And even though Northcutt acknowledges the pressure, she's quick to make clear any standard of achievement chased will be what is set in her own mind. In listening to her explain the reasoning behind her mindset, it also becomes clear the accomplished striker turned mixed martial artist is ahead of the all-important mental side of the fight game.

"I believe I definitely have a jump on that," Northcutt said. "I started karate when I was seven and Sage did the same when he was four. We've been doing this what feels like our entire lives and I definitely feel that's given us an advantage in how we prepare. You can see how Karate shaped Sage to get where he's at. Being signed by the UFC at only 19 years old is a pretty amazing thing.

"I know Karate has done the same for me as well. I think it's awesome and I'm very grateful our parents put us in that spot at such a young age because it gives us an advantage."

Although Northcutt is confident in her ability to focus and make her own path through MMA, she's become educated in the trial by fire her younger brother has endured in the UFC. Sage's jump from regional prospect to buzzworthy talent on the sport's biggest stage, to the calls and stamps of a hype train derailed has all fallen within her gaze.

And while she is quick to admit there has been anger and tempers tested over the treatment her younger sibling has received from the MMA community at large, watching her brother navigate those pitfalls has served as an inspiration.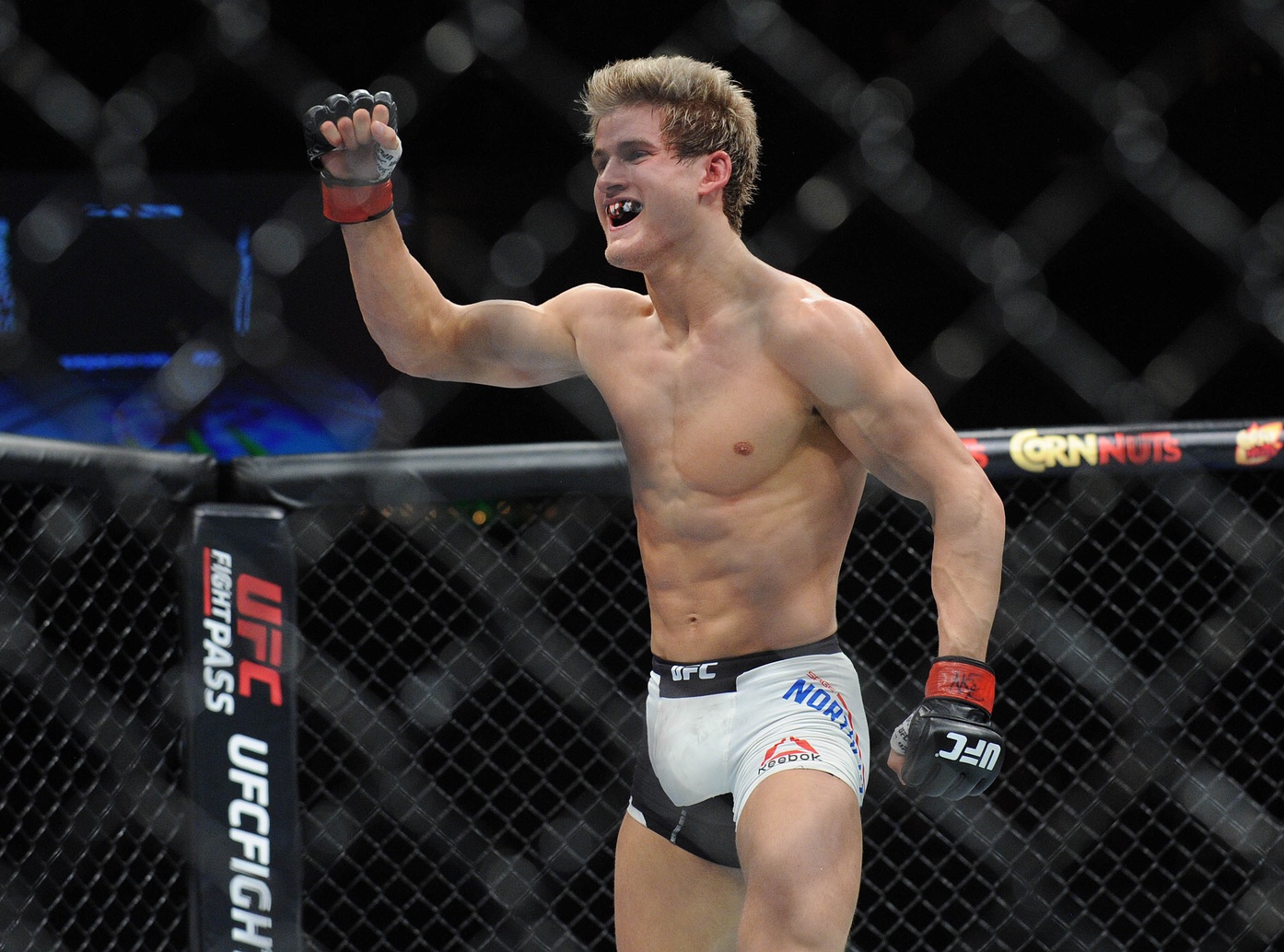 December 10, 2015; Las Vegas, NV, USA; Sage Northcutt celebrates his victory by submission against Cody Pfister during UFC Fight Night at The Chelsea at the Cosmopolitan. Mandatory Credit: Gary A. Vasquez-USA TODAY Sports

"Seeing how quickly he went from his first fight in Legacy to the UFC and how he handled that crazy transition so effortlessly set a really good example for me," Colbey said. "He stayed calm and didn't let the pressure get to him and that's something I can learn from. He's been a great example and will be able to help me when it's time for me to go through that as well.

"It's been great but there are some things that have been difficult as a protective older sister. One thing Sage does so well is ignore the negativity and bad things said about him online. I don't know how it's possible for him to get on Instagram where he has over 500,000 followers, and people are saying bad stuff, and for him to not even read it or care. He just does that so well and never lets anything get to him.

"Even after the first loss and the second, everybody had something to say, but he never let any of that get to him," she added. "I need to learn from him because when that comes to me I need to take a page out of his book and stay positive, ignore the negative and stay focused on myself. That's something Sage does so well and it's awesome."

As the elder Northcutt ventures out into professional waters, she'll do so with a depth--mental and physical--that has her prepared for what will come her way. Granted, the Karate accolades are there for all to see, but an amateur record lined with submission finishes also signals to something more versatile.

And that's a game she's happy to play.

Video Courtesy: University of MMA

"My Karate background is obviously way more extensive than what my jiu-jitsu background is, but it's something I've been working on for quite awhile," Northcutt said. "I started when I was 15 and did it off and on throughout all the Karate tournaments we did in high school, but it's something that has kind of come natural to me.

"I'm no expert or a blackbelt in jiu-jitsu, but it's pretty cool to have a Karate background but all my finishes in my amateur fights are by submission. It throws off my competition to keeps them guessing as to what I'm going to do. I think that's great."

For all intents and purposes Colbey Northcutt has been an achiever for as long as she can remember--a go-getter from the jump in all measurable regards who has carried a self-imposed standard of excellence into everything she's done, be it through brains or through fists and feet.

The longer the conversation, the more her personal drive becomes obvious, and when it reaches the point of mentioning she's as sharp on her feet as she's shown on fight night, she flashes that classic Northcutt positivity.

"I don't think it's a bad thing to want to be the best in everything. Right?" Northcutt laughed.

There will be more media and more attention with each turn, but a background in communications and some time in journalism will keep that rolling strong. Much like her brother, Colbey has the foundation for success wired direct and clearly possesses the skills to navigate any road traveled.

That said, Colbey is also clear whichever path taken will be done on her call and when everything feels in place to move ahead. Landing in the UFC would be a nice jump, she's not denying that, but it's all land to explore beyond the place her sights are currently set.

"It's all a matter of perspective," Northcutt said. "As long as I know I'm doing my best and working as hard as I possibly can, there's no way I'm going to disappoint myself. I mean...yeah...you may want to do better here or there in certain fights, but if you are giving one hundred percent of what you have to give to be the best and do your best, that's all you can really ask of yourself.

"I've had people ask me about going to UFC, and that the road to the UFC as a woman is not as long and tedious as what a man would face, but I'm not focused on any of that. I'm focused on the fight in front of me, and after that it will be the next one and the next one. I'll cross that bridge when it comes and there's no anxiety about whether or not I make it to the UFC in a certain amount of time."



Having spoken to Sage and now his high-achieving older sister it brings to question whether or not bad days truly exist in the Northcutt continuum. Do rain clouds dissipate upon their arrival and the natural gravity of frowns turn upright when positive thought is initialized? All are speculative and absurd questions in their very nature, but Colbey is quick to bring some reality to the concept.

There's no Northcutt mystique where mindset is concerned she believes, just simple self-belief fueled by a lot of hard work. That's what keeps the glass perpetually half full in their family, and hey...California beaches and the big blue skies over Texas keep things from ever getting all too downtrodden in their lives.

"They [bad days] don't come very often," Northcutt laughed. "It's funny because you can look at any situation and see something good that comes out of it. I think Sage does that so well and is the perfect person to follow in that aspect. But yeah...everyone has a bad day here or there, but you can't let that get you down.

"There's always a positive that comes out of it. You just have to look at it the right way."