Valor Fights
FloCombat Top 10 Finishes Of May 2017
FloCombat Top 10 Finishes Of May 2017
The best finishes from the month of may from live events on FloCombat.
Jun 9, 2017
by FloCombat Staff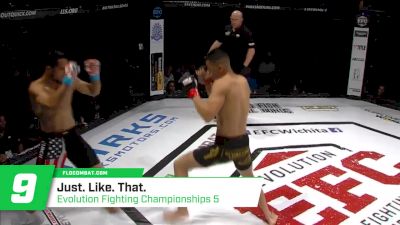 The action hit fast and furious across the globe on FloCombat in the month of May as fighters from around the world stepped in to handle their business inside the cage. Bodies hit the floor at a rapid rate as a mixture of perfectly timed chokes and pin-point shots handed out the violent sleeps both abrupt and gradual.
World class talents like 20-year-old women's atomweight champion Angela Lee and grappling ace Garry Tonon shined at ONE: Dynasty of Heroes while mixture of up-and-coming talent and veterans living out their dreams under the bright lights made for a great month of fights on FloCombat.
If May brought the ruckus in full, then you won't want to miss the action in June as the action will only get bigger and better as we kick off our summer stretch of events.
Don't miss the next crazy knockout or submission. Get your FloPRO subscription today and catch all the action in real time with us. See you there.