Jim Miller Still Loves The Rush Fight Night Brings
Jim Miller Still Loves The Rush Fight Night Brings
UFC lightweight veteran Jim Miller talks finding motivation and Anthony Pettis asking to fight him at UFC 213.
Jun 7, 2017
by Duane Finley
When a fighter has competed as long and as consistently successful as Jim Miller has, motivation can be difficult to find. Throw in the daily training grind, weights and pressures of responsibilities of a family business and a bout with Lyme disease that's seen both wins and losses and it's easy to see a lesser man would topple.
The New Jersey native simply isn't your average bear, and he's proven this fact again and again inside the Octagon and out. What gets the lightweight staple fired up and ready to scrap is finding how he fares against the best of the best fight after fight.
Miller's battled up and down the UFC's 155-pound roster, and giving all he has to give each and every night inside the cage. That's the mentality the Miller Brothers MMA leader will take into his bout with former champion Anthony Pettis at UFC 213 on July 8 in Las Vegas.
For Miller the fun part comes in figuring out who is the better man on fight night, and that's been his motivation since the first day he strapped on the gloves.
"That's why there is a rush on fight night," Miller said. "That's why you get the adrenaline pumping when you finish someone because you didn't know how it was going to play out. You never know, and if you did this thing would be like f*cking knitting. It's the unknown and that's why guys like myself and others who have done it for as long or longer still get butterflies. You still get a little nervous and that's a good thing. It means you're alive and that's the fun part.
"That's what makes it exciting for me to take part in and watch when others fight. You never know what is going to happen and getting in there and figuring it out is a rush that can't be duplicated."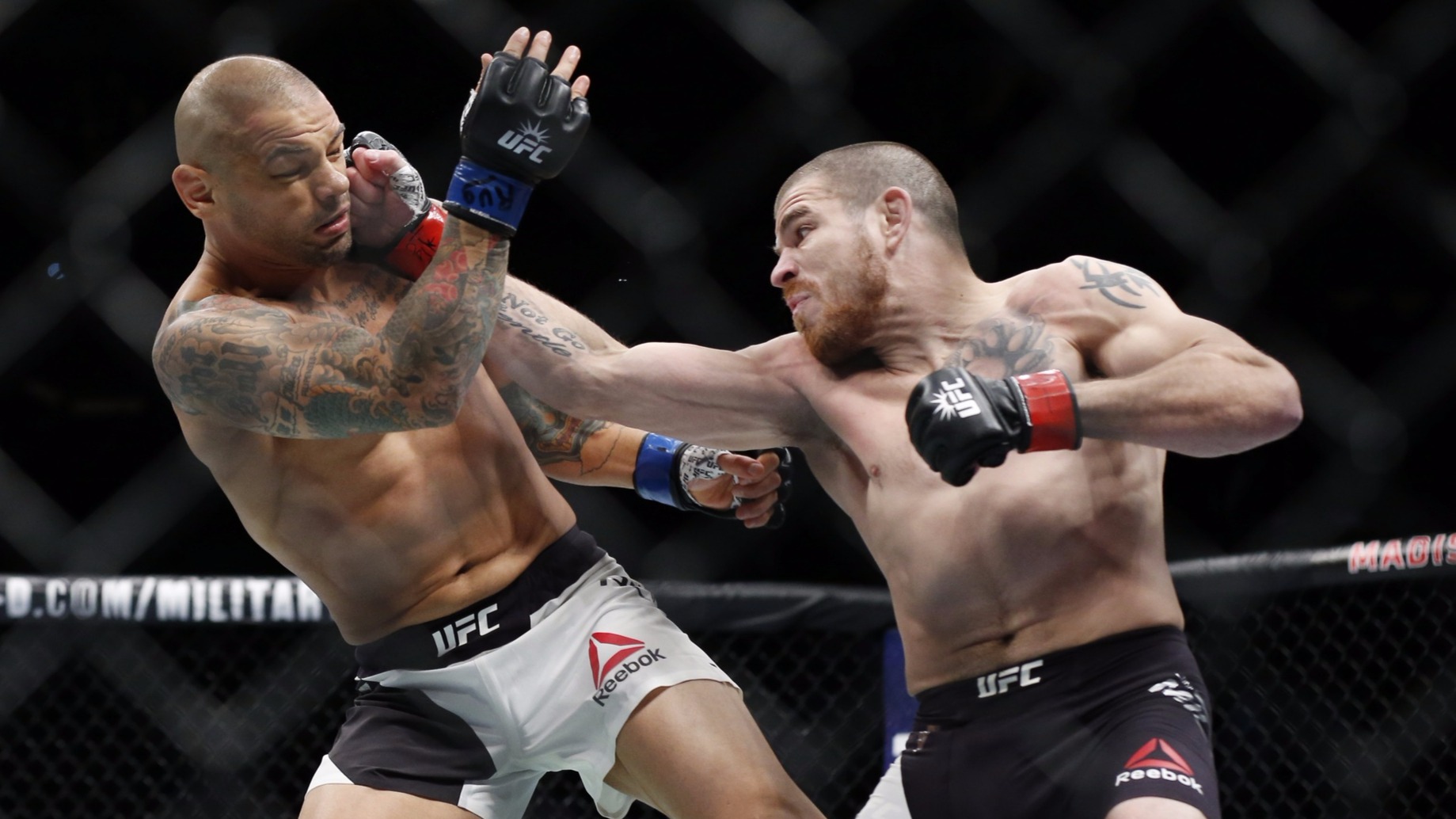 Photo Credit: © Adam Hunger-USA TODAY Sports
While Miller rebounded strong in 2016 after getting a step up on his affliction, a recent loss in a hard fought bout against Dustin Poirier stunted his momentum. That said, his upcoming opponent has faced more turbulence in his career as Pettis has been dealt setbacks in four of his past five showings inside the Octagon.
After losing three consecutive bouts at lightweight "Showtime" made the move down to the 145-pound fold, but a tough weight cut and a recent loss to Max Holloway were enough to send him back to the division he once championed. To mark his return the Milwaukee native specifically asked to fight Miller, and while being called out rubs some fighters the wrong way, it just so happens to be something the avid outdoorsman and thrillseeker digs.
"I love it. That's what I want," Miller said in regard to Pettis asking to fight him. "I want guys to be gunning for me and wanting to fight me. That's why I always wanted the title because fights would be easy to find. In that situation you are at the top and everyone wants to fight you. I'm not afraid of that feeling and being the guy everyone is gunning for. I've earned it.
"[Pettis] asked to fight me. Sean Shelby called me up asking if I wanted to fight him because it's the fight he asked for. I said yes right away like I always do, and things got held up a bit because they were trying to pick a date and all that stuff. Took a little while to get sorted out but we are all set for UFC 213.
"He obviously thinks he can beat me and I know I can beat him. If he kicks me in the head it's not going to be a fun thing, but I'm ready for it. Thiago Alves kicked me in the side of the neck and that sucked but I didn't go down. I can take a shot but I'm not planning on it. He has weapons and he's dangerous. He's a former champion. It's just one of those fights."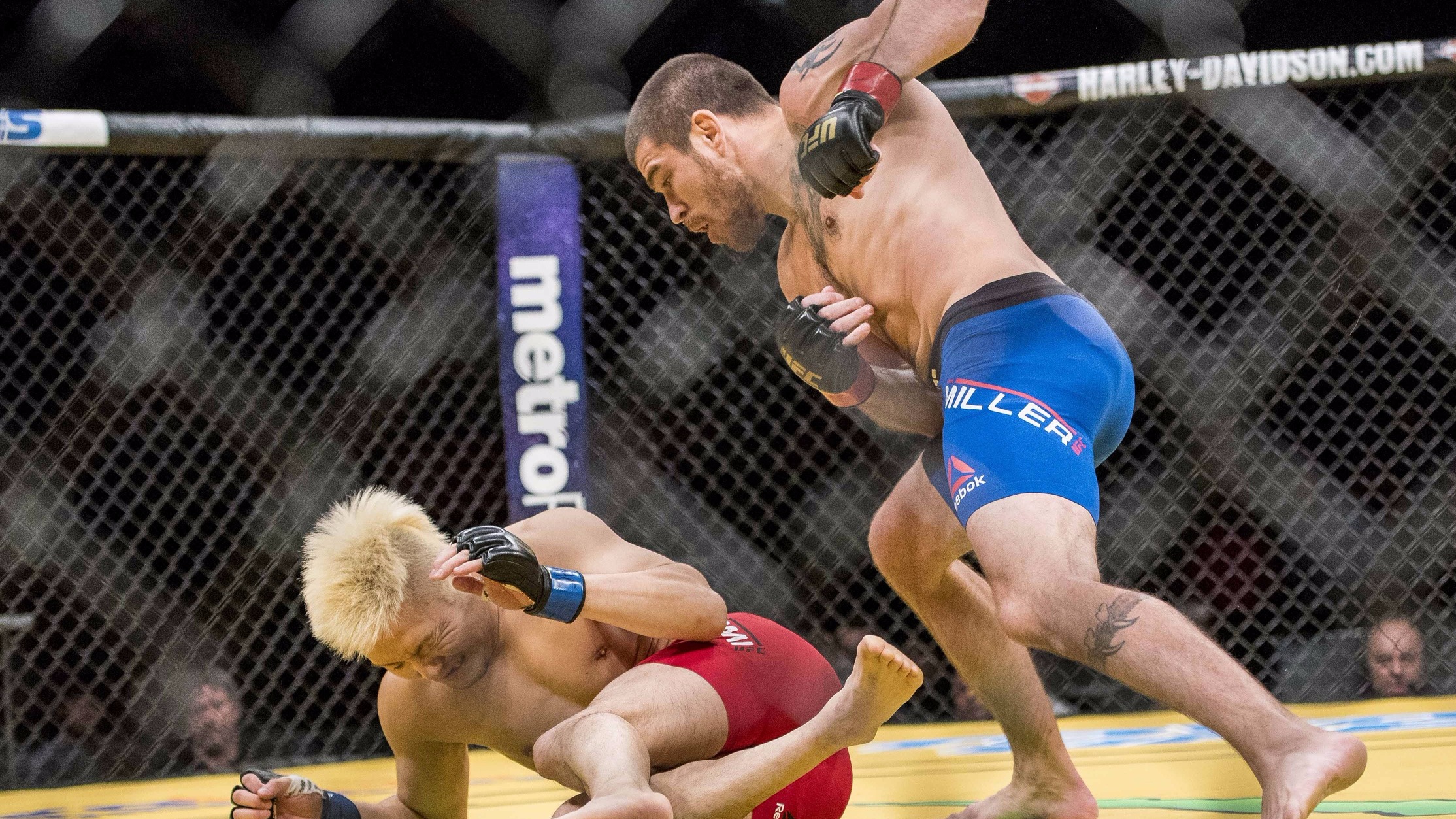 Photo Credit: © Joshua Dahl-USA TODAY Sports
The high-octane attack Pettis has used to reach the top of the sport is certainly dangerous on any given night, but his overall game has shown tremendous holes as well. Pettis has proven to struggle when pressured consistently throughout the fight, and that just so happens to be one of the key weapons Miller brings to the table.
The savvy lightweight veteran is no stranger to the grind, and he'll be looking to close the distance strong once the action gets underway in Las Vegas.
"If I'm there on fight night and fighting my fight and get the momentum he's in for a bad night. This fight is no different than facing any of the other guys I've fought. He has the capabilities to beat me and I have to be on that night. That's what this game is all about. That's what this sport is where it's one opportunity.
"It's fifteen minutes three times a year. You have to be on that night and capitalize on the things you can control and let the rest you can fall away. You have to ride the wave and control what you can and for me that's my output and how hard I'm going to go. I've had fights where I was in sh*tty shape because I took them on very short notice or was battling this illness, but I still pushed as hard as I could push in there.
"Pettis is going to get the best I have to give on fight night," he added. "We are going to step in, throw down and figure out who is the better man that night. I love it and that's why I keep making that walk."
FloCombat's hottest content, delivered to your inbox
Don't miss breaking news, feature stories, event updates, and more. Sign up for the FloCombat mailing list today.