Ricardo Lamas Reflects On Featherweight Title Picture, Says Edgar Gets Next
Ricardo Lamas Reflects On Featherweight Title Picture, Says Edgar Gets Next
UFC featherweight contender Ricardo Lamas examines current featherweight title situation and his next fight.
Jun 7, 2017
by FloCombat Staff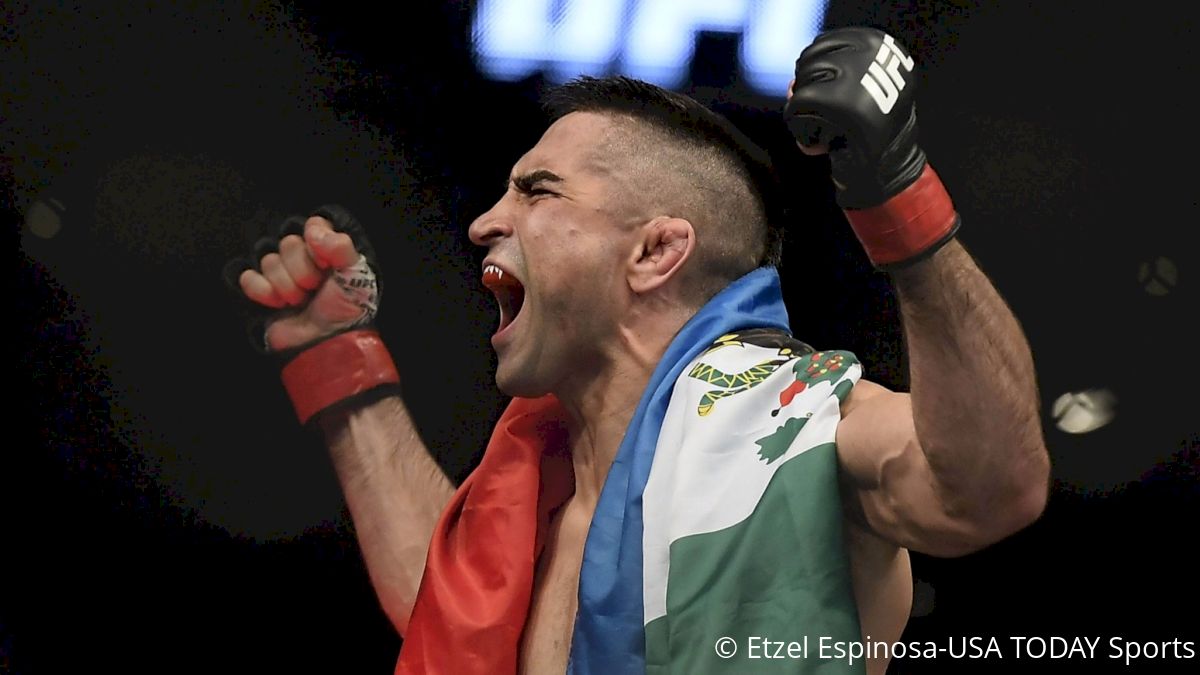 By Elias Cepeda

Former featherweight title challenger Ricardo Lamas is back on the warpath after winning two out of his last three, and finishing younger, larger contender Charles Oliveira in his most recent bout. So, "The Bully" was surely attuned to last weekend's 145-pound championship fight between Jose Aldo and Max Holloway.

Lamas had lost decisions to both men in the past, and likely figured that should he get another crack at gold in his career, he may have to fight at least one of them, again. Still, interested as he was in the match up which Holloway would go onto win by third round TKO, Lamas had no particular rooting interests.

"It didn't really matter to me who won," Lamas tells FloCombat.

"I think I'm at least this next one and another win after that away from a title-shot. "

Lamas is set to next fight July 29 at UFC 214 against the surging Jason Knight. Lamas will allow, however, that seeing Holloway become champion of the world in decisive fashion just a year after he himself went the distance with the Hawaiian was tough, in a sense.

"I didn't care who won that fight, and both guys are great fighters, but seeing Holloway win, man…," Lamas begins, before trailing off for a moment with a shake of his head.

"He beat me in our fight, for sure. But I wasn't dominated. There's ways I could have fought better."

While on the subject, we ask Lamas to compare this feeling with how he dealt with losing to Aldo by decision after five rounds back in 2014. Aldo got the better of Lamas with well-timed strikes for four rounds before the Mexican and Cuban-American turned the heat on and roughed up the featherweight great, ending the round and fight on top, controlling the action.

"The Aldo fight, that one bothered me as well," he admits.

"I fought too cautiously at the beginning of the fight. With a guy like Aldo, who can take advantage of even one mistake you make, that is something that you think about, that can give you pause. So, I fought cautiously, and that can be fine sometimes, but in this case it affected my usual approach to a fight. I didn't fight like myself until it was too late."

Now that Holloway is king at featherweight in lineal champion Conor McGregor's absence, the big question in the division is who will get the first crack at the new champion. Lamas believes that Frankie Edgar is the obvious choice.

"I think Edgar is next," he says.

"Holloway versus Edgar seems like the one that needs to happen, next. That's a great fight. That's a hard fight to pick a winner in."

For his part, Lamas is focused on his own next fight. He's begun his training camp for July 29 near home in the suburbs of Chicago and will soon move it down to Miami, as has been his practice for the past seven years or so.

Lamas was initially set to face fellow former title-challenger Chan Sung Jung, but after the "Korean Zombie" tore ligaments in a knee, the UFC turned to Knight to face Lamas instead. Knight brings with him for Lamas almost all of the risk that a fight against the South Korean may have, but without the potential reward of beating a known and widely popular name.

Lamas admits to having looked forward to fighting Jung, but is much more happy to have an opponent to fight than he is disappointed in the personnel change. "'Korean Zombie' was a big-name fight, but who I fight doesn't affect my motivation," he insists.

"I'm always motivated to fight. He's won four-straight in the UFC, and only lost once, here. This guy is a very good fighter."