Chan Sung Jung, better known to MMA fans as the "Korean Zombie," is injured and out of his July 29 showdown opposite Ricardo Lamas at UFC 214.
News of his injury broke Friday morning via
Robin Black
on Twitter.
[tweet url="https://twitter.com/robinblackmma/status/870596440137117696" hide_media="0" hide_thread="1"]
Jung, a fan favorite, recently returned to the UFC Octagon following a nearly four-year hiatus. After serving mandatory military time in his native South Korea, he came back to the cage to face Dennis Bermudez, picking up right where he left off.
In under three minutes, Jung knocked out Bermudez and reestablished himself as a force in the stacked UFC featherweight division. His knockout also put him in prime position to soon challenge for the title, earning him a No. 5 ranking in the class. Many, then, saw his showdown with Lamas as a No. 1 contender's matchup at 145.
So what now? Lamas, as of Friday morning, is still on the card, so he'll need an opponent -- and it'll need to be a top-ranked foe to make sense for him. Here are three current options.
1. Cub Swanson
Cub Swanson arguably earned a title shot in his most recent outing, battering and outclassing Artem Lobov in the main event of UFC Fight Night 108 in Nashville.
Arguably.
The Palm Springs Punisher has won four straight inside the Octagon, and he's hitting his stride once again as a creative bringer of violence, making him a can't-miss attraction each and every time out. While a title opportunity wouldn't be a stretch right now, nothing's announced, and a win over Lamas would leave no doubt in that conversation.
Unfortunately for Swanson, this same type of situation played out before when he won six straight between January 2012 and June 2014. While he was promised a title shot, it never materialized. Then he was defeated by Frankie Edgar, halting Swanson's momentum and ruining his golden aspirations.
He may be hesitant to step in against Lamas and potentially derail another title chance because of this, but there's no denying he makes a ton of sense and provides an intriguing matchup for "The Bully" at UFC 214.
As an added incentive for "Killer Cub," Lamas defeated him via arm-triangle choke at UFC on Fox 1, setting him up for a shot at both revenge and a UFC title bid.
On the flip, Swanson represents a top-ranked name coming off a main event victory for Lamas. Just as a win over Lamas would likely catapult Swanson toward gold, a win over Swanson would make Lamas a clear-cut No. 1 contender. It's big for both fighters, and that's why it's option the top option.
2. Frankie Edgar
The UFC featherweight division is crazy right now. Essentially, you can substitute Edgar's name for Swanson's in the paragraphs above, and it still checks out.
Just like Swanson, Edgar has already done enough to warrant a title shot on paper, but he hasn't received that opportunity. While it may simply depend on the outcome of June 3's UFC 212 main event between champion Jose Aldo and interim champion Max Holloway, this MMA game is wild, and playing "what-if" or "wait-and-see" is inadvisable.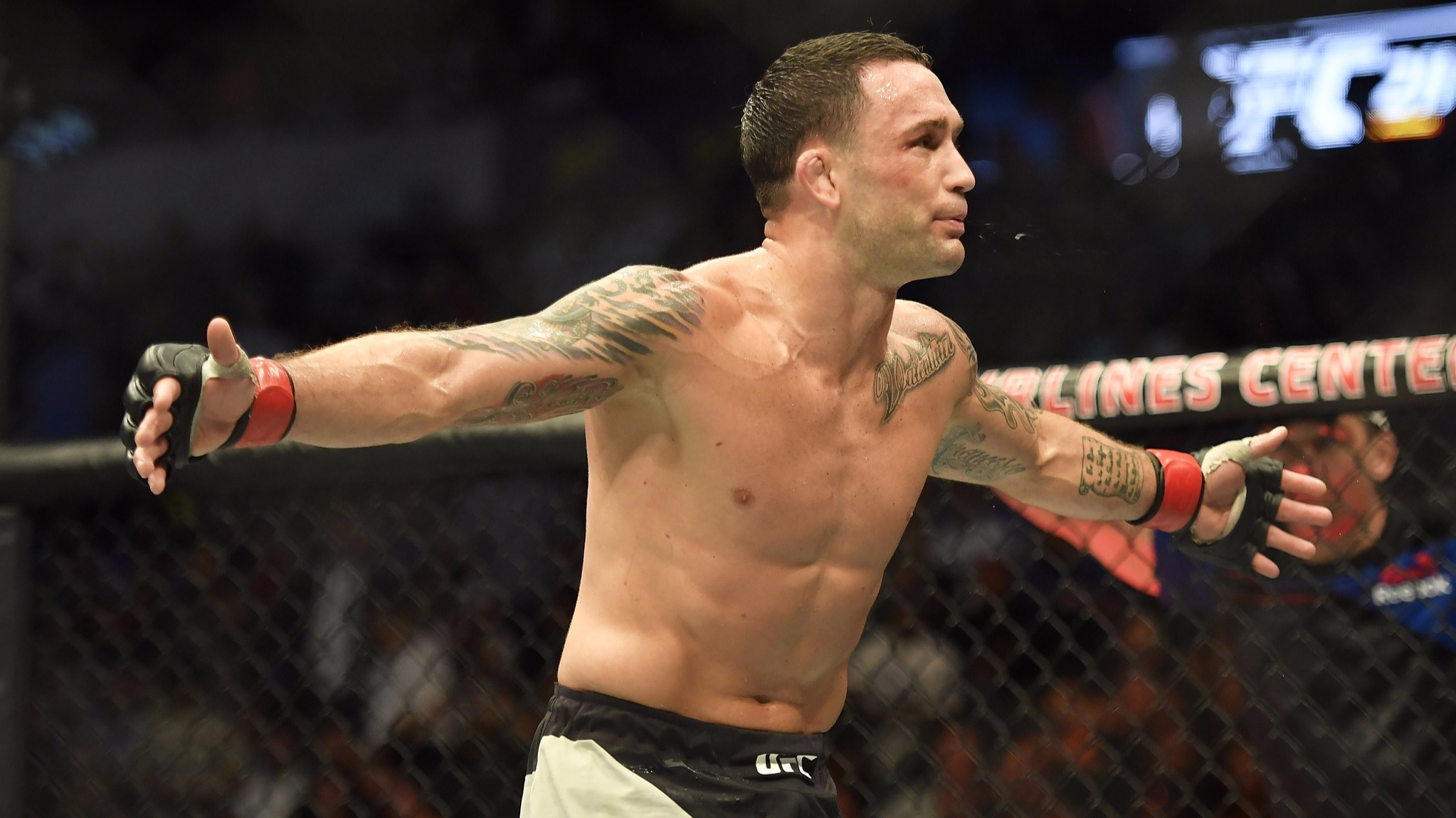 (
(
© Jerome Miron-USA TODAY Sports
)
Edgar might well get his title shot if he just waits, but if he beats Lamas, it'd be some sort of federal offense to hold out on him any longer. He's 7-1 in his last eight, losing only to Aldo, and he's won two straight in impressive fashion, most recently crushing red-hot prospect Yair Rodriguez at UFC 211.
For Lamas, a win over Edgar does the same. "The Answer" is a legend of the sport, and his only losses throughout his career came against championship-level competition. Should Lamas add his name to that list, he'd be the man in the 145-pound ranks.
Adding an extra layer of intrigue to the bout, Edgar and Lamas have never fought, so it's a fresh, marketable matchup that could go either way.
3. Jeremy Stephens
This one's for the "just bleed" fans out there. It's really the only other option that works right now.
Unlike Swanson and Edgar, Stephens is coming off two losses, slipping down the rankings in back-to-back defeats against Renato Moicano and Edgar.
But Stephens never goes easily, and he's always just one punch away from ending things in his favor. He damn-near knocked out Edgar at UFC 205 with a vicious high kick but ultimately couldn't seal the deal. Then, against Moicano, he dropped a close split-decision due to his opponent's elusiveness and pinpoint game plan. Fair play to Moicano, but it wasn't exactly the type of performance that made you think, "Wow, Stephens doesn't have it anymore."
There's little doubt Stephens could beat Lamas, and it'd be a win to put him right back into the upper echelon of the featherweight division. A 25-fight veteran of the eight-walled battle chamber, Stephens always brings it, and if nothing else, this is a fun, exciting fight that'll stir the crowd and set the tone for the rest of the evening.
For Lamas, though, there's little upside. A win is a win, and beating Stephens is no small task, but at No. 3 in the division, taking on a fringe top 10 knockout artist might be a little too risky for this stage in his career.
But this is Lamas we're talking about -- one-half of the all-time-great "let's bang" moment in the closing seconds versus Holloway, so who knows. He might just be crazy enough to take the damn thing, and we would all reap the benefits.
​​Who do you think Lamas should fight at UFC 212? Let us know on Twitter @FloCombat.
FloCombat's hottest content, delivered to your inbox
Don't miss breaking news, feature stories, event updates, and more. Sign up for the FloCombat mailing list today.