UFC welterweight smasher Mike Perry is one of the most polarizing fighters in the sport today.
Fresh off a viciously brutal elbow knockout of former welterweight contender Jake Ellenberger at UFC Nashville, Perry has firmly established himself as one of the next wave of needle movers in the constantly evolving fight game. Although the fight may not have started the way Perry had envisioned, it definitely ended the way he planned.
"The first round may have been a little slow," Perry said. "I was just looking for the timing. He was doing the same thing but I found it better than he did. It worked out for me."
The highlight of Perry's handiwork made national news. It appeared on the most influential and important weekly highlight show in all of sports as a SportsCenter Top-10 highlight on ESPN. Perry was elated to see his hellacious highlight make the big time, but he was a bit disappointed that the full carnage was left on the cutting room floor.
"I was like, 'Yo, I'm on SportsCenter,'" Perry said. "Nobody is doing that. That's tight. They cut the video up, though. When I landed the shot I was facing him and the cameraman zoomed up. They cut the video to where it doesn't show that Ellenberger's limp body was laying there lifeless on the mat."
Perry is no stranger to walk-off knockouts and jaw-dropping one-hitter quitters. The Flint, Michigan native may look like an out-of-control wild man in the moments after any number of his stoppages, but that couldn't be further from the truth. In those brief moments, he is already putting the next steps of his master plan in motion.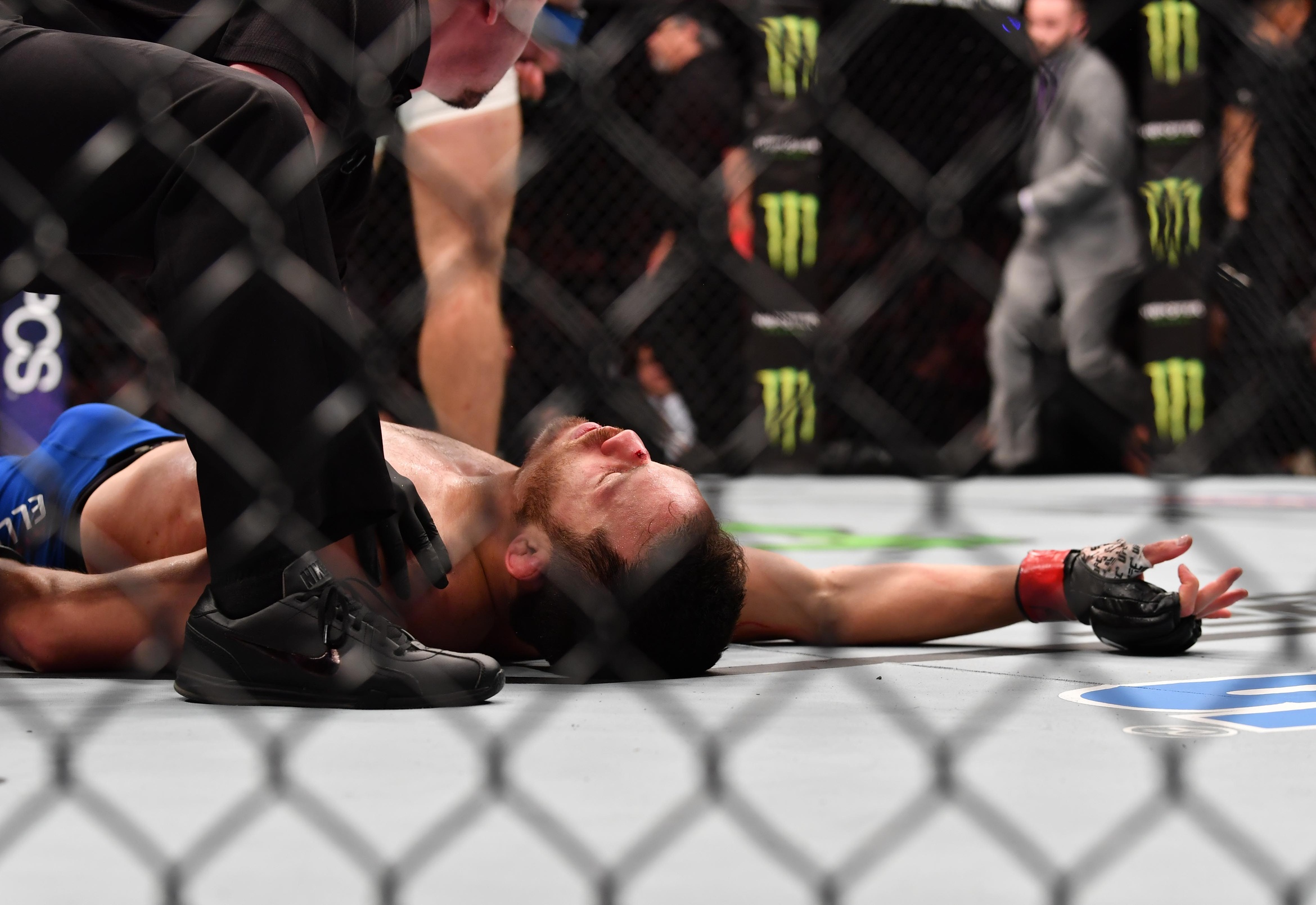 Jake Ellenberger (red gloves) is knocked out by Mike Perry during UFC Fight Night at Bridgestone Arena in Nashville, TN, on April 22. Mandatory Credit: Christopher Hanewinckel-USA TODAY Sports
"I think about things before I get to that moment," Perry said. "I think about what I am going to do and say long before the fight happens. It's important to stay calm to keep control of your mind to remember all those things you wanted to say. You only get so long on that microphone. You get a short amount of time to make a difference. There are a million things going through my head when I get on the mic. I want to change the world in some small way, and I have to think about who's next and makes steps toward my next adventure."
With Perry's exciting style and track record, it's not hard to find a number of interesting potential fights for the up and comer in the welterweight division. With his stock on the rise, only top-ranked fighters will do. As one could imagine, the outspoken scrapper has a small list of fighters he wants to throw down with.
"Anybody that is above me in the rankings," Perry said. "Anybody that makes sense. I was tweeting earlier about Matt Brown being ahead of me. People like that fight. They think that it will be a good fight, but I don't think they know what the hell they are talking about. I would smash that man. He's the immortal. How many lives does he have left? Here kitty, kitty. How many lives you got left? I think he is done. I think he is on his way out. If they want me to beat him, I will take that."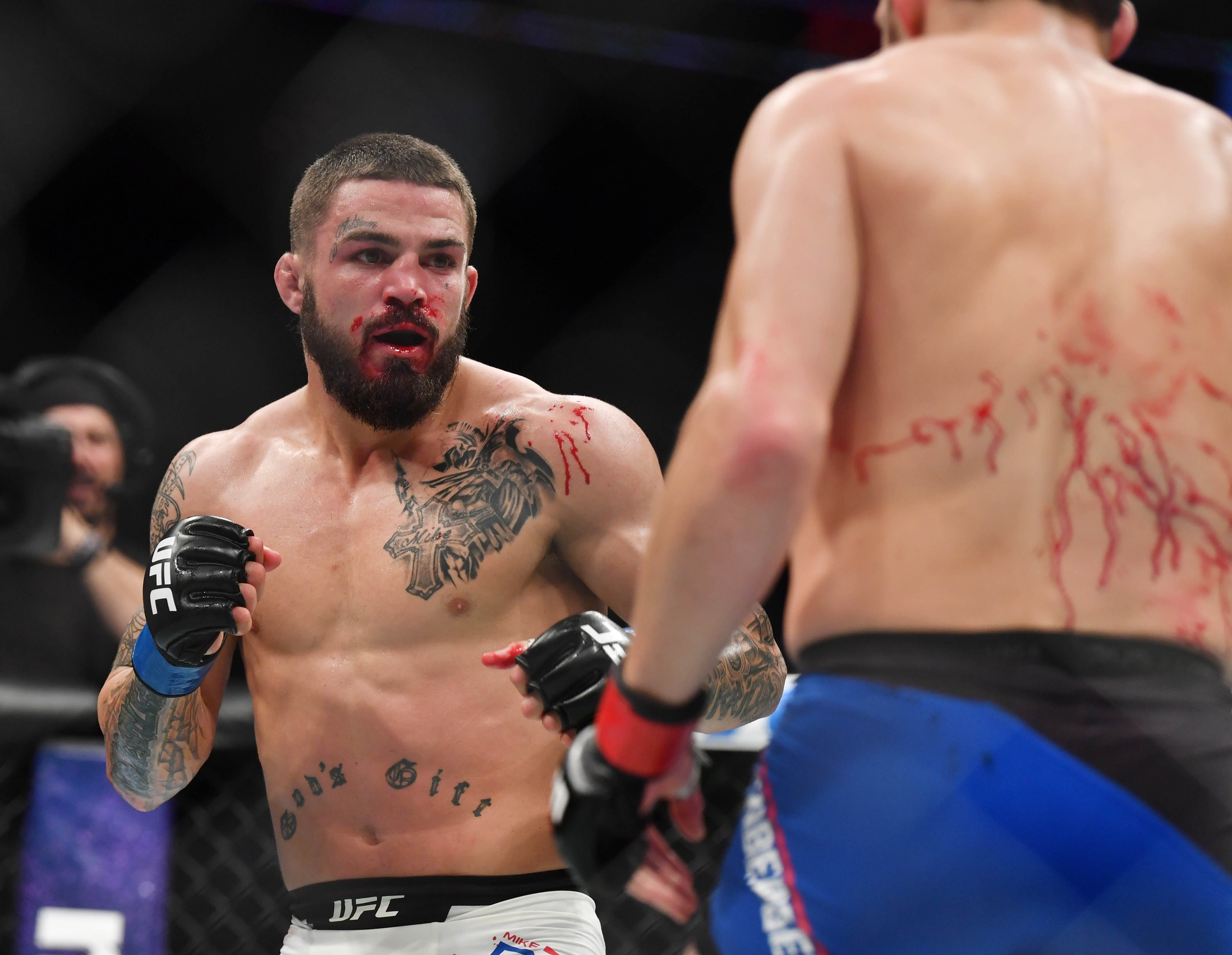 No matter how much the intellectual black belts and moral majority want to fully legalize, legitimize and sanitize the sport in pushing it further into the mainstream, the roots of this fight game lie in the simple idea that you must hurt your opponent to the point that they can no longer continue to fight before they do the same to you. Very few current fighters understand and embrace this level of raw, unadulterated violence more than Mike Perry.
"It's not all about chess and intellect," Perry said. "It gets down to the nitty-gritty. You have to be physically able to fight. You have to be strong, fast and sharp. You can't just be strong in the mind and not have any athletic ability. A lot of people can see fighting and say what they would do but they could never do it. Their body couldn't handle it.
"All I have to do is hit your ass. That's it. I got plans to beat the highlight elbow KO soon and make SportsCenter again."
FloCombat's hottest content, delivered to your inbox
Don't miss breaking news, feature stories, event updates, and more. Sign up for the FloCombat mailing list today.