Garry Tonon is one of the best jiu-jitsu practitioners currently walking the earth, but on a rain-soaked Friday night in the heart of Portland, it's his storytelling talents that shine through.

The 25-year-old grappler has positioned his slender but sturdy frame in the far corner of one of the oldest dives in Rip City, slinging one arm over a jukebox that looks as if it had once been dropped off Burnside Bridge.

A steady stream of flannels, beards and lip-pierced cracker jacks shuffle in single file, seeking refuge from the northern downpour outside on Broadway, but the chaos of the ragtag collective only heightens Tonon's delivery.

A faded poster of a young Marlon Brando in A Streetcar Named Desire is posted directly over his shoulder and the the orange-and-white glow of an Oregon State neon at his 10 o'clock casts a dreamcicle-tinged shadow on Tonon as the tale he's weaving begins to pick up speed.

Loudspeakers positioned in every corner of the establishment erupt into White Zombie's "Thunderkiss '65," and the dingy and musty aura of the place surprisingly transitioned into a calling card of the Pacific Northwest rain, as rain-soaked overcoats and hoodies gave in to the driving groove of the Zombie. Such a drastic volume increase would have curbed a lesser storyteller and put a hold on the yarn at hand until the setting became ideal once more, but the rising jiu-jitsu star doesn't falter in the slightest.

Tonon simply adapts to what is thrown his way then owns the decision and direction in full. A series of heartbeats and double bass kicks later, and his audience is damn near floored with laughter from the conclusion of his story. The punctuation on his anecdote proves so powerful several of the dirty-headed contingents give glance toward the commotion, then turn back to their tables in confusion masked as annoyance.

Tonon accomplished his mission, did so with force, and it was his attention to detail which had made it all possible. The "Danaher Death Squad" representative could have folded or rushed at any moment in such a jagged and gritty environment. Instead, the New Jersey native embraced the grime and pulled out a classic.

It wasn't the brute force he used to push through the obstacles that arose, it was the way he finessed in the details that made the story sit in my head for hours after I'd heard it as I navigated the shiny brick streets of a post-torrential Portland in the early hours of a Sunday in the City of Roses.

Tonon's personal attention to detail was the first noticeable trait I made note of and served to be a solid introduction to the fascinating individual who would reveal his true character bit by bit before the weekend was through.

****

"I'm going to grab coffee and some breakfast if you want to go," read the text on my phone. "I'm down at Pete's right now."

As fate would have it, I was also located at the coffee shop on the corner of Washington and Broadway, which sat less than first-down distance from the hotel entrance we were both staying. A hearty encounter with Gilbert Burns, complete with a bear hug and several high fives had just ended moments prior, setting a positive and optimistic tone for the meeting with Tonon.

The Tom DeBlass protege and I had been circling one another for months on the topic of locking in for a proper story, but the hectic nature of our respective schedules threw one wrench after another in the proverbial works. Furthermore, Tonon's profession as a grappler didn't mesh with the standard mixed martial arts focus I've always chased, but multiple sources sank their hooks in and urged that his was a story that needed to be told.

The long-lingering rumor of Tonon making a transition into MMA certainly steered things toward appealing, but a brief chat and the personality shown during his impromptu story session pushed the chips to the center of the table. All bets were in, and the deep dive had officially begun.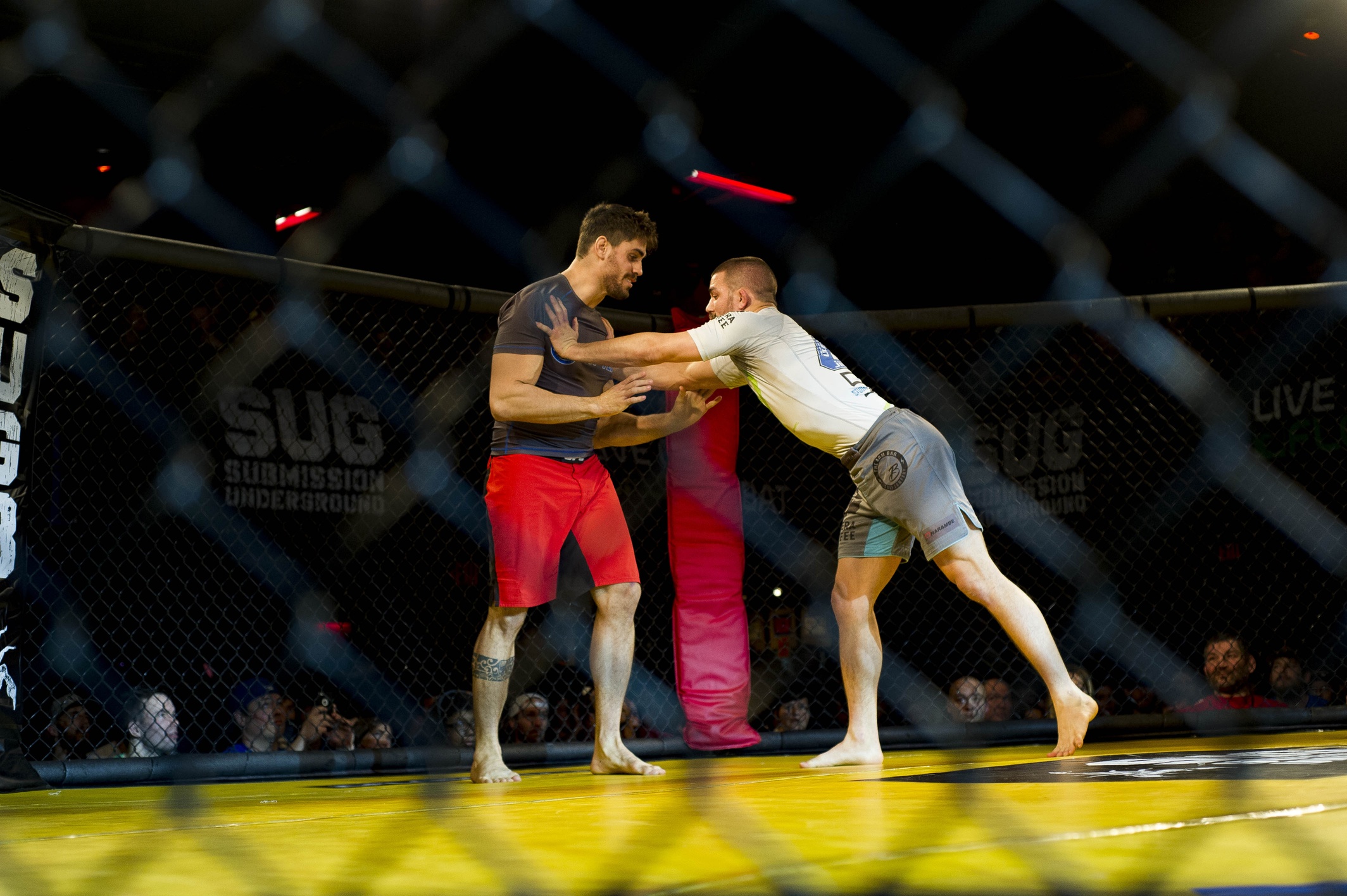 ​Photo Credit: Joseph Weiser-USA TODAY Sports

Tonon pulled up a heavy wooden stool, and it immediately became clear there was so much more to him than his talents on the mat. The same detail he used to deliver a complex story with ease the night before became immediately apparent in every other aspect of his life.

Tonon would eventually get to explaining how his wrestling prowess and knack for full-throttle workouts eventually gave way to the technical mysteries he found appealing in jiu-jitsu, but his background created a larger paradox when examining certain qualities in his overall game.

Anyone who has ever watched Tonon compete immediately identifies the aggression he brings, which would suggest a hard-knock upbringing in the blue collar sea of New Jersey, but that couldn't be further from the truth.

"I didn't grow up with many male role models. My dad wasn't around too long in my younger life. He lived with me until I was about nine, which meant I was basically raised by my mother. She really focused and taught me to embrace the sensitive side of things," Tonon said after taking sip off his coffee. Shortly after returning the cup to the table top, a broad smile crept across his face when he realized the juxtaposition of it all.

Although Tonon wasn't allowed to compete in the type of contact sports that would have allowed him to unleash his aggression and angst of a youth trickled with cracks and divots, strangely enough, family ties eventually opened doors he had never considered.

"I have a lot of cousins who lived in Pennsylvania and they were heavily involved in wrestling," Tonon said. "Pennsylvania is a huge wrestling state, and we would all mess around and get after it anytime we were all together. It was definitely something I needed, that release of aggression, and outside of messing around with my friends and things like that it was absent.

"When my mother said I could wrestle, I was very excited about that. I had wanted to play football because that would be a great way to release my aggression, but she thought it was too dangerous. And thank God she did, because looking back now, I'm thankful I didn't get involved in that and be sitting here with a bunch of concussions."

While wrestling would be his first love and introduction to the avenues of release and achievement, Tonon knew from the early goings there was something missing. The grind and resilience required to compete was there in bulk, but a mind with gears that never stopped turning was left wanting.

Tonon knew he was far from mastering anything in the realm, but the piece of the puzzle that would have turned him into a different motivational animal was also something he recognized would never be located. At least not in wrestling, but Tonon wasn't going to abandon what he found in the foundation he'd built.

[instagram url="https://www.instagram.com/p/BUFduj2jAAa/?taken-by=flograppling" hide_caption="0"]

And when Tonon found himself on a mat under the tutelage of Tom DeBlass, that all changed.

"The turning point where I realized I was on my own and if I wanted things to happen I had to make them happen didn't come until I was around 15 and started doing jiu-jitsu," Tonon said. "When I did wrestling it was primarily for fun. I was excited to work out and do what was needed to get better.

"For me, and the way I need to learn because of having ADHD, I never really felt I had enough time to understand what we were doing. I'd see so many techniques, one after the other, but we never took the time to sit down and really analyze why that technique works. There was a primary focus on technique and additional focus on building mental and physical toughness.

"I loved the push of it all and the work it took, but there was a missing cognitive link," he added. "I'm a very cerebral person, and I think heavily about the things I do, and there was something missing and that started to make me lose interest. There are some great coaches and programs where I'm from, but it felt like improvement plateaued very early for me in wrestling."

Once Tonon found jiu-jitsu, he dove in with the same tenacity he'd brought to wrestling, but now his mind was set ablaze with the intricacies required to develop in the art of grappling. In fact, Tonon's signature aggression was problematic in the early days of his training under the New Jersey-based BJJ legend, and DeBlass' patience and guidance was crucial to Tonon finding his footing in the new realm.

"I was also of the mentality at that age that any sport I did something was going to click and that was going to be my sport I was good at," he said. "What I came to realize, when I started doing jiu-jitsu at 15, was that wasn't going to happen at all.

"You may have a body that's better suited for certain things or sports, but you're not going to become a world beater at anything just because. You aren't going to just walk into a room or get on the mat and be the best in the world simply because you showed up. And why would you want that even if that were possible? If you could, then clearly that skill isn't that difficult to master. I have no interest in that and I knew right away jiu-jitsu was something different.

"I went in with the same approach I took in wrestling to do drills full blast and burn through the reps as fast you could, and Tom was like, 'No, no, no,'" Tonon laughed. "He told me to calm down and just take it easy. Rather than fly through the reps he showed me how to slow down and really focus on the technique. That approach was totally foreign to me but it clicked with me on a deeper level."

And right at that point in his story, the juncture when Tonon was on the brink of breaking into the chapter of his life where something greater ignited in him, a literal hunger in the here and now came to call. Tonon's fast-talking nature hit a brief pause when it was offered, then agreed upon, sustenance was needed.

"There's a marketplace somewhere downtown that has all kinds of different foods I heard was pretty cool," Tonon offered. "Let's head that way if you are up for it."

After a few seconds of loading up writer equipment into a backpack, followed by a phone call or two that needed to be made, I joined the grappling phenom on the suddenly sun-filled sidewalks of downtown Portland.

And while the conversation would skip around to various topics regarding his current profession--the one he's fire branding his name upon--it was easy to detect an overall lack of satisfaction that ran deep.

It wasn't as if Tonon was displeased with the respect he'd generated in the BJJ community or the hype he and teammate Gordon Ryan have been able to create in the world of submission-only grappling, but much like the early part of his story at the coffee shop, there was a missing link somewhere.

I had no idea if that mystery would be solved in the labyrinth of Pike Market, but with our mutual interest in the storytelling dance enough to carry over to another sit down, the effort was going to be put forth.

****

Ten steps inside the door of the marketplace and a BBQ stand hit us flush. There were plenty of other options available in the midst of the chaos, but something about the chance to jump into a cuisine that would be deemed weird for the weird capital of the United States appealed across the board.

After making several suggestions in his direction Tonon laughed, "I have to watch the weight for Singapore." Tonon is set to square off with Japanese legend Shinya Aoki in a special grappling match at ONE: Dynasty of Heroes May 26 on FloCombat. Aoki is a revered talent in the Land of the Rising Sun and Tonon plans to give him his best. That said, "Tobikan Judan" and that long-ass flight are still 12 days and a handful of hours away.

Tonon went bandwagon by following up my slovenly order of a Coca-Cola with the meal. As the man behind the counter swung around to reach into the cooler, Tonon's razor sense of humor fired once more by asking the cashier if said Coke was indeed "free range."

"Cage free as well," the man replied, to which Tonon flashed a touche nod and a laugh.

And therein lies one of the key elements to Tonon's appeal in the grappling world.

For a sport that worships its lineage and tradition as sacred, Tonon's in-your-face, kill-or-be-killed mentality is a different type of flavor. If the Gracie family created rock 'n' roll like Brazilian versions of Chuck Berry and Elvis Presley, then Tonon and Ryan represent the heavy metal descendants somewhere on down the line.

Due to the way Brazilian jiu-jitsu and the Gracies are so intertwined and responsible for the very birth of MMA, the link between the art of submissions and the mixed martial variety is never too far away from one another. Watching Tonon grapple gives the sense an actual fight could break out at any moment, and it's no secret he's teased a debut inside the cage for quite some time.

And while there is yet to be anything set in stone in that regard, Tonon guaranteed that chapter would eventually arrive as he punished a BBQ bowl from Kim Jong Smokehouse.

[instagram url="https://www.instagram.com/p/BUMOaU-jP_T/?taken-by=duanefinley" hide_caption="0"]

"I'm definitely going to be doing MMA," Tonon said. "I've given tentative timelines a few times, but I do have my pro grappling career, and certain matches or events will derail my ambitions to enter mixed martial arts just for the fact grappling is my main thing. I am currently preparing, and have been preparing for the past six months or so, to enter MMA. I'm getting more and more serious as time goes on and upping the amount of work I'm putting into my striking and things of that nature.

"I still do not feel I'm at a point where I should be taking a fight in eight weeks, and I believe I have quite a bit of training to do before I should even consider taking my first fight. Therefore I don't have any type of timeline, but if I had to guess I'd say it wouldn't happen until after ADCC in September. I have a feeling my focus on MMA is going to greatly increase after ADCC, and it will move to a place where it's not as much of a side project like it is right now.

"I'm not leaving grappling," he added. "Whatever promotion decides to pick me up for MMA, my ability to continue grappling will definitely be in the contract. If there is a problem with me grappling, then I can see myself turning it down."

As the clock ticked down and the BBQ pulverized, Tonon began to make way back to the hotel. In just a few hours his friend and teammate Jake Shields would be heading over to warm up for his match against Dillon Danis at Submission Underground 4, and there were a few things Tonon wanted to run through.

There was going to be a lot of pride and other intangibles on the line during the main-event tilt, and the entire reason for Tonon's being in Portland was to corner the former Strikeforce champion. And if there's anything to know about Tonon in the cliff notes version of meeting the man, it's that he's down for the cause where his team is concerned.

And as we dodged railway bus cars and tried to differentiate Portland hipsters from the impoverished, the aforementioned missing piece once again came to call. From the outside, Tonon appears to be a man on the brink of much bigger things, and the hard work invested should by most measures provide some peace of mind in how far he's traveled.

He's a quick-witted and outwardly confident individual--and rightfully so--but there's something else lingering upon further review, and with only a few blocks remaining it was time to take a shot.

As the topics of satisfaction and chasing greatness came to call, Tonon once again gave pause before heading into the crosswalk. And just when it seemed as if he was about to let those subjects carry off down the way, Tonon put a definitive stamp on a series of conversations, revealing a soul well beyond his years in the process.

"There are a lot of possibilities of what could happen or how things could turn and I'm certainly aware of them all," Tonon said. "I'm still a young man with plenty of competition ahead of me, but when you really look at things, the window to do everything, and by everything I mean achieve and earn money for the future, is relatively small. It may not seem that way but it's the absolute truth.

"In that sense, you have to ask where the value is in all of this and what I've found is it comes in knowledge. The things I'm doing now and will do in the future are all experiences that I'll someday be able to share with someone and teach them in their training. I'll be able to instruct them and guide them because I know what it's like to be in a certain position or have this or that happen because I've been there. I'll be able to share what I've learned with someone who will need it because I lived it.

"There are a lot of things that may appear valuable in all of this, but when you strip everything away, it's the knowledge that will continue on. That's something I see as my responsibility and that's what is going to remain long after my time in this sport or the next is done. And making sure the knowledge is passed on is something I can truly be proud of."

And just like that his story, at least for the time being, was told. And in classic Garry Tonon fashion, the details brought it all to life.