UFC 211: Stipe Miocic vs. Junior dos Santos II
Dustin Poirier: 'I Have Faith UFC Will Make This Right'
Dustin Poirier: 'I Have Faith UFC Will Make This Right'
Surging UFC lightweight Dustin Poirier discuss controversial ending at UFC 211 and the pay he feels is earned.
May 15, 2017
by Duane Finley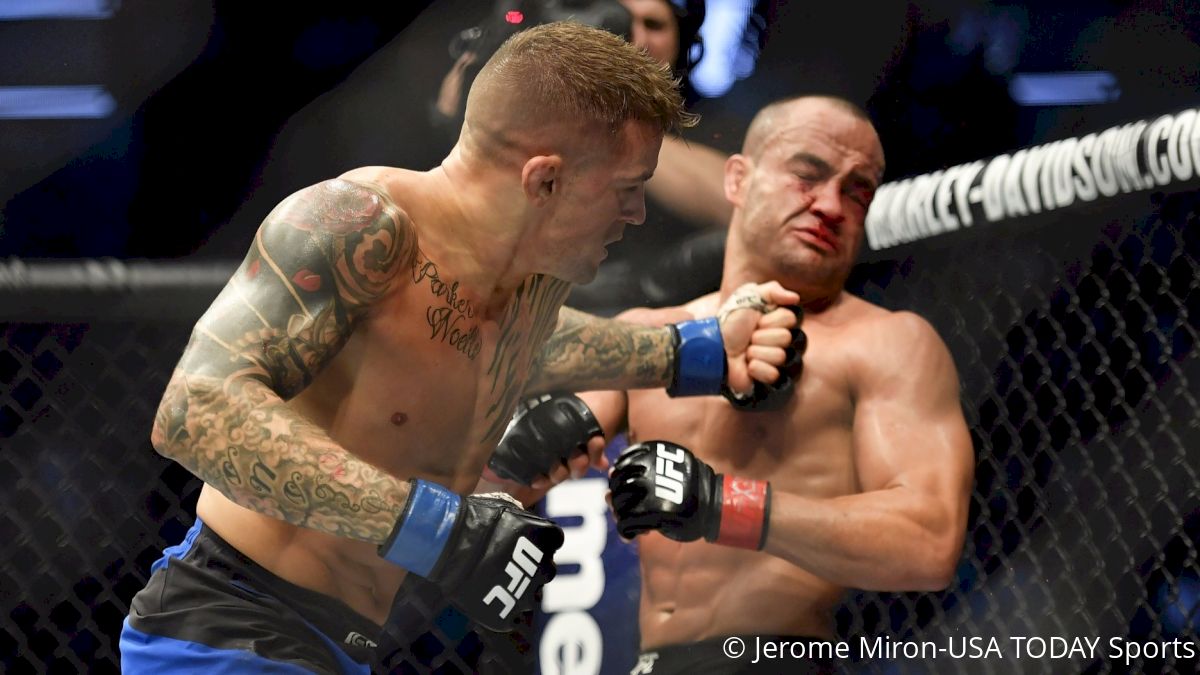 Dustin Poirier had a vision of what UFC 211 was supposed to become, and he was very well on his way to bringing it to a violent fruition.
The fiery Louisiana native set his sights on walking into the Octagon last Saturday in Dallas and leveling former champion Eddie Alvarez. Poirier wanted to not only prove his growth since his last outing but solidify once and for all his place in hierarchy of the lightweight divisional elite.
And for the better part of two rounds, Poirier was making it happen.
"I was doing exactly what I said I was going to do leading up to the fight," Poirier told FloCombat in an exclusive interview. "I saw him get hurt with a well-timed jab. I have his number and I'm just a bad matchup for him. I'm entering the prime of my career physically and mentally. This is my 36th fight and I've been doing this a long time. I've been improving in every aspect and I think that showed in movement, angles and performance on Saturday.
"I went a little bit overboard trying to finish him, but that being said, I took minimal damage in those exchanges when he was eyes closed and trying to take me out with every shot."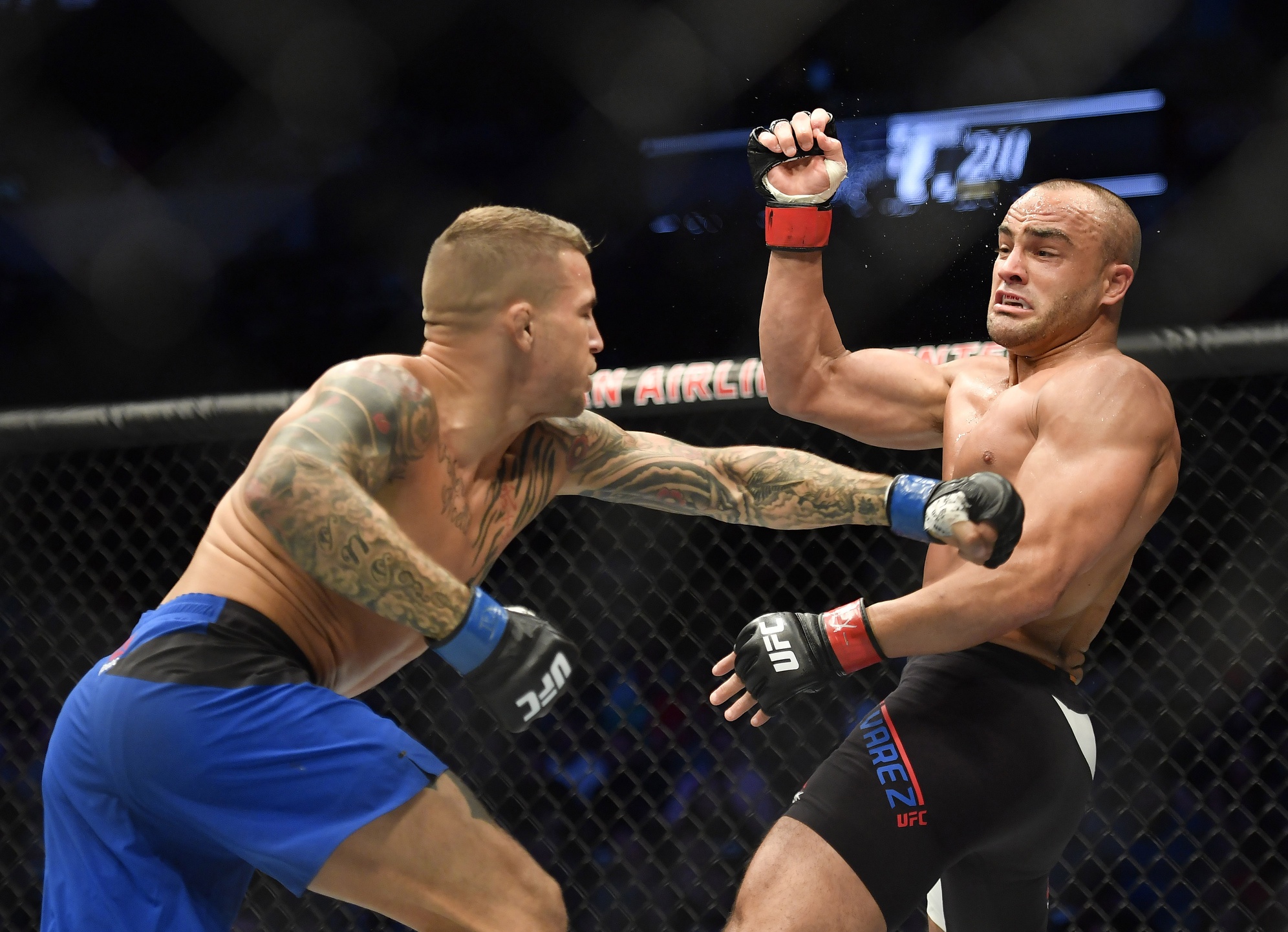 May 13, 2017; Dallas, TX, USA; Eddie Alvarez (red gloves) fights Dustin Poirier (blue gloves) during UFC 211 at American Airlines Center. Mandatory Credit: Jerome Miron-USA TODAY Sports
The American Top Team representative's speed and power proved to be a huge problem for Alvarez, as the Philadelphia native was hurt on several turns, but continued to press on the way he's done his entire career. In signature Poirier style as well, the 28-year-old lightweight moved in for the finish, and that's where things would take an unfortunate turn.
Alvarez was able to secure a takedown against the fence where he unleashed a series of knees to a downed Poirier. And while the final two knees were illegal due to Poirier's positioning, referee Herb Dean's determination of the strikes being accidental caused the fight to end in a no-contest.
The bout came to an abrupt end, and confusion reigned supreme across the MMA landscape.
"I haven't watched the fight yet and would have to watch it all unfold in full because the only thing I've seen is replays," Poirier said. "I know the first knee busted me up pretty good. I think instinctually I didn't know I was cut and was just trying to protect myself.
"Another knee kind of glanced my arm and skimmed me and I went all the way down to protect myself still when another knee spiked behind my ear in a spot that really knocks your balance off. It flashed me good, man. When I pushed up from the ground I couldn't see at all out of my left eye.
"My coaches told me right away those knees were illegal. Mike Brown, who is pretty much my main coach, told me even if I'd tried to argue to go on or protested to keep going they wouldn't have allowed it. They would have wanted me to stop because they saw the shots land firsthand from the corner."
As of Monday, Poirier is still wearing the effects of Alvarez's knee.
"The third shot he hit me with, I still have a f*cking huge lump on the back of my head right now," Poirier added. "The CT scan picked up the hematoma from the outside. My brain is fine, no swelling or broken blood vessels on the inside, but the knee did damage to the outside of my head as well."
May 13, 2017; Dallas, TX, USA; Dustin Poirier (blue gloves) sits on the ground after fighting Eddie Alvarez (red gloves) during UFC 211 at American Airlines Center. Mandatory Credit: Jerome Miron-USA TODAY Sports
The rule surrounding knees to a grounded opponent have been under fire as of late as fighters have struggled to adjust to what is fair play or foul. That said, when it comes to the subject of playing the game of hand placement that other fighters have been accused of recently, Poirier dismissed that idea vehemently. He's there to fight and fight only, and will never have any interest in curbing a rulebook to his advantage.
"This is an entirely different thing," Poirier said. "I wasn't playing any game. I was fighting. This was my 20th fight in the big leagues and I think people who have seen me fight know what I'm about in there. I'm not a guy who plays those games. I'm a kill-or-be-killed fighter. I go out there to put it all on the line, and I'm not f*cking trying to touch the ground to not get kneed.
"I'm not touching the ground with my fingertips to play some positional game. I'm trying to get up so I can beat his ass because I knew he was still hurt. That's what I was trying to do."
The sequence of strikes landed by Alvarez brought an anticlimactic end to what was shaping up to be an incredible fight and performance on Poirier's end. Yet, the result isn't the only thing stinging Poirier in the aftermath.
He doesn't care about some mark on paper or notch in this column or that--the paper he's focused on is green. Poirier believes he did his part to earn a full payday from UFC 211, and wants what he believes is deserved.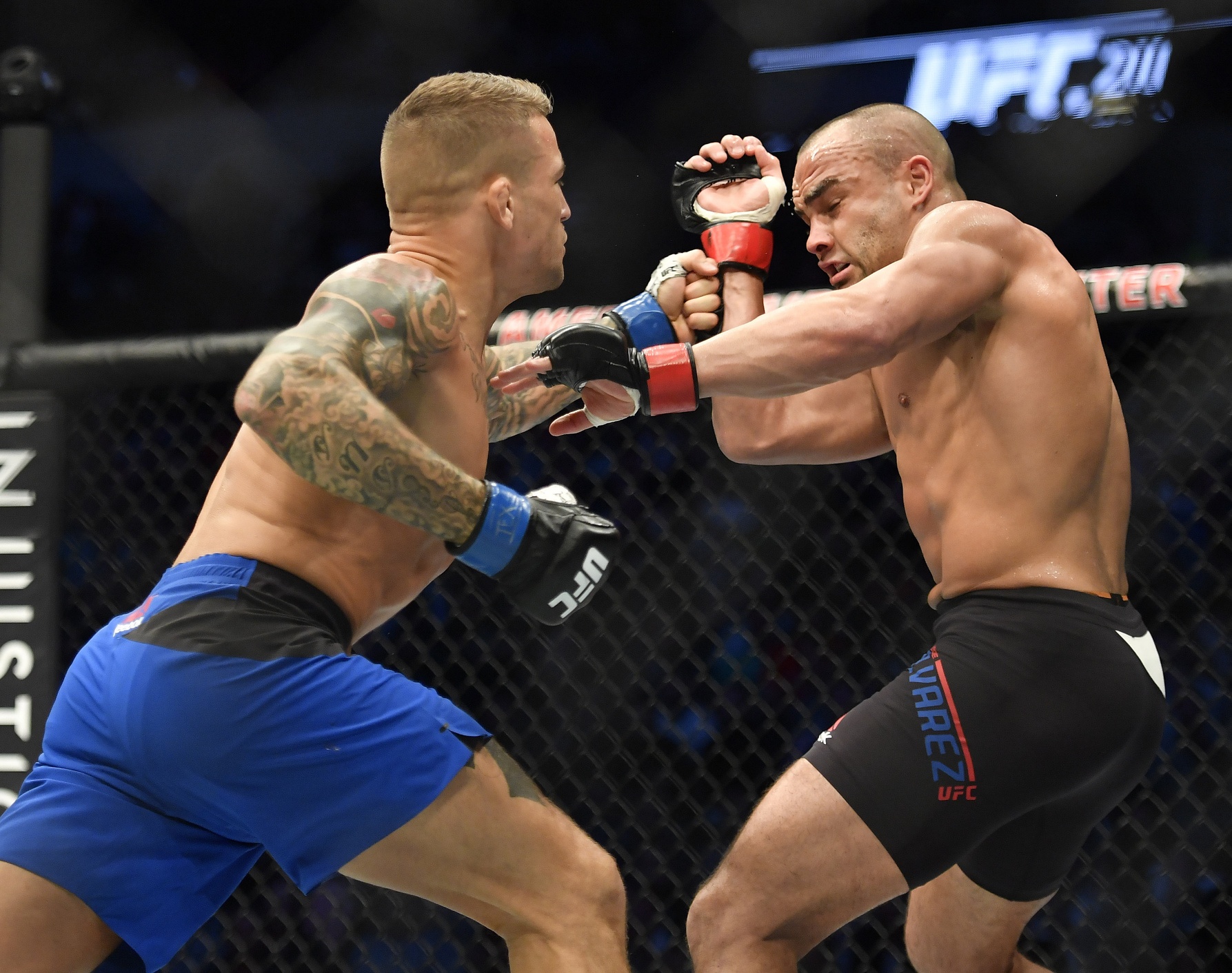 May 13, 2017; Dallas, TX, USA; Eddie Alvarez (red gloves) fights Dustin Poirier (blue gloves) during UFC 211 at American Airlines Center. Mandatory Credit: Jerome Miron-USA TODAY Sports
"I'm not in this for what happens next with getting it overturned and all that," Poirier said. "Of course I'm with it because I've seen the replays and how messed up it was, but my manager is pursuing all that. What I'm pursuing is my fight money. I could not care less if I have another notch in the win column or Eddie has a loss on his record; that's not even it.
"What I care about is me being compensated for my eight-week camp and the great performance I was putting on. I was on my way to winning that fight and a third party shouldn't be able to step in and make a call that takes it out of my hands. It's one thing for me to win a fight or lose a fight on my own, but having someone step in and take that away from me and my family is crazy.
"I earned that money and I want it," he added. "I was going to beat Eddie's ass so I want my check, and I want to reschedule the fight because I want to beat his ass again."
While Poirier is far from satisfied with the scenario he's facing coming out of UFC 211, the father, fighter and husband believes the situation will ultimately be made right. Poirier has confidence the UFC will pay him the money he believes he earned in Dallas, and book an immediate rematch between he and Alvarez.
And although it won't dull the pain of a goal unfulfilled in the here and now, doing those things would go a long way toward making a difficult situation easier to handle moving forward.
[instagram url="https://www.instagram.com/p/BUC1FtllIui/?taken-by=dustinpoirier&hl=en" hide_caption="0"]
"I truly believe the UFC is going to make this right," Poirier said. "To me, both as a fan and as a fighter, they have a great track record of righting wrongs whenever stuff like that happens. They know the type of fighter I am and I always show up to give them my best and give the fans what they came to see. That's just who I am and they know that. I have faith the UFC will make this right and give me the money I earned.
"I showed the world where I'm at against a fighter who just held the world title. And to be honest, if Eddie agrees to do the rematch, this situation kind of tarnishes it a bit. Before last Saturday he was coming off a fight where he was the world champion and I was punishing him and was about to beat him handily. I was showing I was on a different level and beating the No. 3 fighter in my division.
"I was beating the former world champ and showing my potential," he added. "This performance was important to me because it's what I've been wanting to do my entire career and show everyone the type of fighter I am. And I think I was doing it."
In the coming days and weeks Poirier will be forced to come to grips with what transpired at UFC 211 and trudge forward. He's long been his own toughest critic in the fight game, and that same inner fire is what has helped me earned massive respect for his skills and touch the doorstep of title contention in one of the UFC's deepest divisions.
His ultimate goal is to become a world champion and prove to the world he's capable of what many believed he could never be, but that giant leap forward will now be forced to happen further down the road. This is a reality that doesn't sit well with Poirier, and will provide a different type of motivation for progress.
"From my end it's going to be made right because I'm going to bust my ass and continue to get better and do everything I can to win every fight I'm in. That being said, this situation just f*cked up my entire summer and my plans. I wanted to beat Eddie's ass, become a contender and get a nice hammock where I could take the rest of the summer off. That was my plan and that's gone now.
"I didn't the closure for myself and that eats me up. Some people may be saying, 'Dustin looked great and showed some improvements,' but I didn't get the finish and what I set out to do. I didn't get my hand raised and get to walk around knowing I finished Eddie or achieved a dominant end result.
"That's what I wanted and I don't have that, but at least give me my check and let's get this rescheduled."
FloCombat's hottest content, delivered to your inbox
Don't miss breaking news, feature stories, event updates, and more. Sign up for the FloCombat mailing list today.