For FloCombat via AG. Fight

Demian Maia's fights look pretty much the same since he moved down to welterweight.

Accurate takedowns, guard passes and back control - one of the Brazilian's specialties - are frequently on display inside the UFC Octagon. Although the transitions may look the same, the techniques are always in constant evolution. And recently, the jiu-jitsu ace received an unexpected hand from one of his students.

According to Maia, the idea of evolving in jiu-jitsu consists of adjusting each position to perfection. That's why the Brazilian's last bouts against Gunnar Nelson, Matt Brown and Carlos Condit were all finished in different, but similar ways. Of course, these adjustments are kept in secret.

"During this camp I discovered a new transition to the back control," Maia told AG. Fight for FloCombat. "Besides the transition I made against Condit, I learned a new one that allows my submission to be more efficient. A student and friend gave me a tip, I made some adjustments of my own and mixed it with something Rilion [Gracie] once told me. I'm constantly learning.

"It changes a lot. Especially the back control. What I was doing a year ago is totally different form what I do now. It looks the same, but the details regarding the position of your body, arm control, angle and pressure are constantly being evolved. The difference between my submissions against Brown and Condit are clear. I put a lot of work there. After I fought Brown, I started to study the reason I had lost positions. I always do this kind of stuff and I was much more efficient against Condit."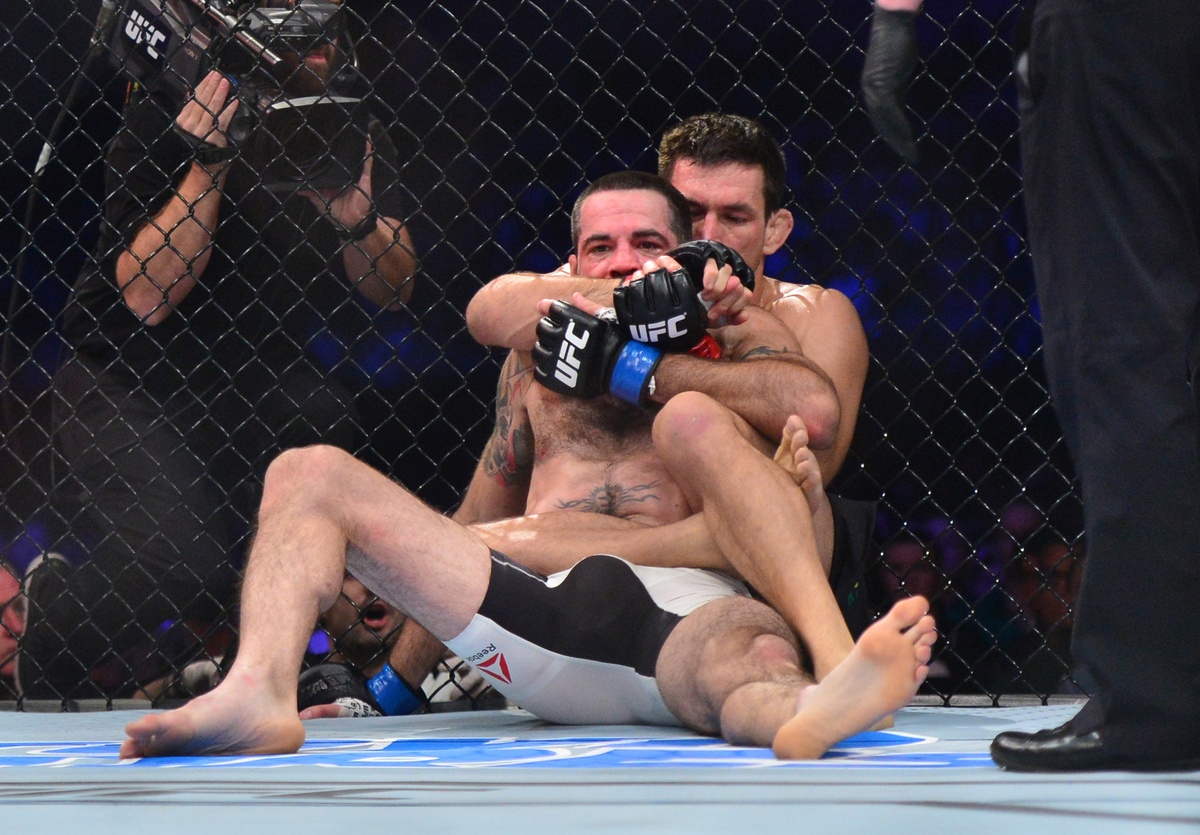 May 14, 2016; Curitiba, Brazil; Matt Brown (blue) is put in a choke hole by Demian Maia (red) during UFC Fight Night at Arena Atletico Paranaense. Mandatory Credit: Jason Silva-USA TODAY Sports

A jiu-jitsu specialist with many titles in his grappling career, Maia's strongest weapon is unquestionably his ground game. Jorge Masvidal brings a completely opposite approach.

Younger, quick and agile, the American is a born striker, something Maia acknowledges. However, the Brazilian seems relatively unconcerned with his opponent's strengths.

"Size is a funny thing--you only know when you see it with your own eyes," Maia said. "But he's done a good job at 170 and I don't think that is a dominant factor. His game is based on his boxing, with a good takedown defense and 'ok' jiu-jitsu skills. Basically, he fights like a boxer. Hypothetically, yes [I like this match]. But, of course, fighting you can't predict."

Maia currently holds third place in the welterweight rankings and has been hovering around title contention for the past several years. Maia has 18 victories in the UFC--a record among Brazilian athletes --and has won his six last bouts. These impressive numbers may give the impression Maia is the next in line for a title shot, but recent events have made the jiu-jitsu ace cautious on this matter.

Last August, after beating Condit, Maia was officially deemed the next contender by UFC President Dana White. Yet, after waiting for some months, the Brazilian was informed by White the scenario had changed, and he should go back fighting if he still wanted to dream with a title shot.

"I have no guarantee I'm going to fight for the title if I win [against] Masvidal," Maia said. "They [the UFC] never commit themselves. They did not make me any promises, but Dana talked to my manager and left it between the lines. But that does not make any difference now because first I have to win this fight.

"Actually, I never got myself deceived in this business world. Decisions that I don't think are fair are made in this business world. And I knew that when I started in this game."





FloCombat's hottest content, delivered to your inbox
Don't miss breaking news, feature stories, event updates, and more. Sign up for the FloCombat mailing list today.