FloCombat Road Trip: Postcards From Sioux Falls
FloCombat Road Trip: Postcards From Sioux Falls
FloCombat Senior Editor Duane Finley and Hunter Homistek recall their epic adventure into Sioux Falls for SFFN 1.
May 9, 2017
by Duane Finley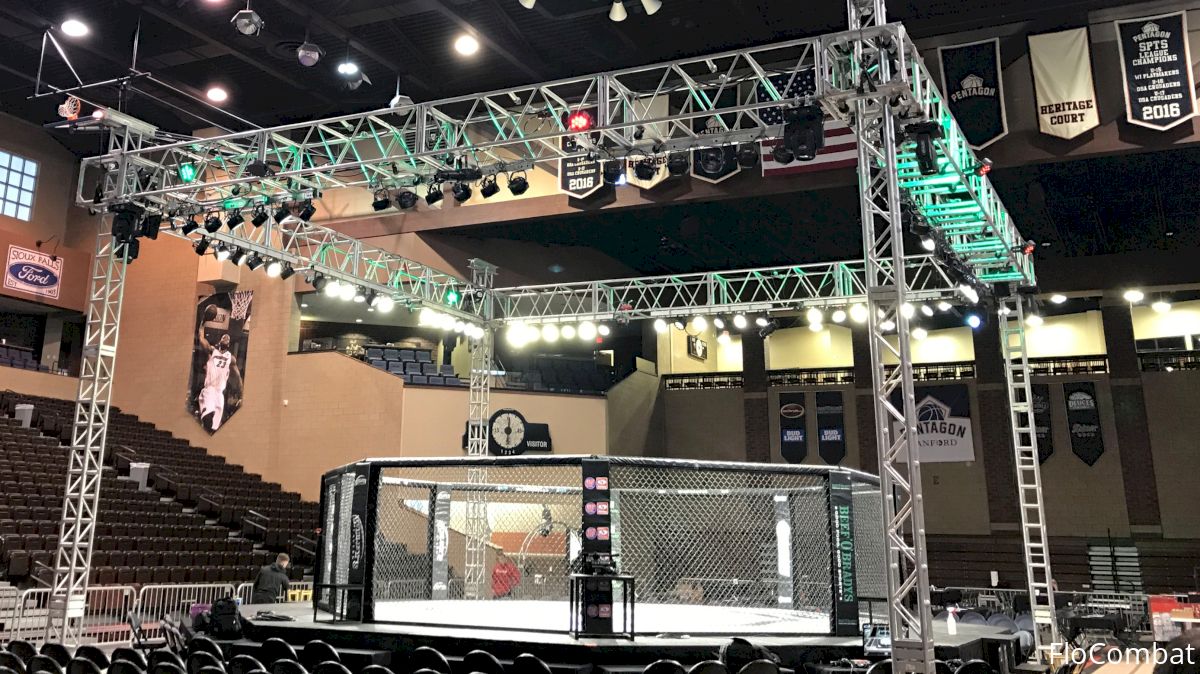 The first thing you notice is the wind.
With the mid-afternoon sun tucked behind a rippled wall of gray imperfection, the invisible force whips and swirls off the wide open prairie and comes cutting in with a vengeance. The initial impact is assertive enough to stagger the feet and tuck the chin, but soon, the lion which came charging down 8th and Main slows to a stride.
And while there is undoubtedly more to come, the sound of the wind cutting through the stark Sioux Falls business district midday leaves a lasting impression. The brown brick facades pass the gale on down the line, and while the absence of the hustle and bustle creates a vacancy, there's no sense of desolation in the moment.
The scene laid out before me evokes the epic opening sequence of the 1971 classic
​The Last Picture Show
as the sound of the wind plays as the sole soundtrack as the camera scans through a line of all but abandoned storefronts. The movie's director Peter Bogdanovich brilliantly set the stage and the viewer immediately feels as if they are getting an intimate look at a town one or two heartbeats away from the death rattle.
It's never explained exactly what brought the fictional outpost of Anarene to the brink of extinction, but the Academy-Award-nominated film's focus falls on the three teenagers who serve as the town's lifeblood. And in that regard...the connection between Sioux Falls and "Picture Show" is rock-solid.
Credit: Sony/Columbia Pictures
There are plenty of things happening at 2 p.m. on a Thursday afternoon in South Dakota's largest city. They are just happening somewhere else. And things will continue this way until the moment it doesn't.
At first glance, the downtown district of the East River metropolis appears in step with every other small big city scattered throughout America's Heartland, where businesses that have been and gone mingle in with those that still have a pulse. Empty display windows seem to belong just as much as those with local offerings prominently featured, and so common is this condition that you stop to take in the scene out of fear there may be nothing else to see for the rest of the block.
Yet, there's nothing in the window that grabs your focus more than the wandering curiosity of how the middle-aged woman inside passes her time in the day. You can't stand too long or the questions will continue to stack up, so you continue down the empty sidewalk until the next display case hits.
Each individual city has differences in their respective layouts, but the major elements are always the same. The post office and the local barber shop get traffic both mechanical and personal, and the sounds of lingering conversations of locals on the move stretch out and carry in the void.
A tavern anchors a street corner a few blocks away, and a franchised chain of a national insurance company sits two doors down on the left. The town diner sits catty corner across the way with a short order cook who works both the grill and the register, all the while chatting with the handful of old timers who are discussing planting seed in a dry year.
[instagram url="https://www.instagram.com/p/BTolA5IDJ0x/?taken-by=duanefinley" hide_caption="0"]
If you listen long enough you'll discover the aforementioned landmarks of the downtown scene are actually a circuit of sorts, and while only one man at table of farmers has a fresh cut from the barber shop, the entire collective will soon be down the way at the local tavern at some point before the sun goes down.
This scene plays out all over Nebraska, Kansas, Western Iowa and Southern Illinois, but Sioux Falls is an entirely different beast.
The streets are all but empty and the sidewalks are entirely without foot traffic during the day, but the shop windows are full and vibrant from one brown brick facade to the next.
Businesses more likely to be found in larger cities also exist here. Coffee shops and boutiques are sprinkled into the standard elements of Midwestern structure, and a cluster of local breweries and BBQ joints work with sniper efficiency in the way they hit scores of their target under-25 demo.
While they don't emerge from the gray until late afternoon, the youth is what sets Sioux Falls apart from its peers. "The Falls" also has juggernaut Sanford Medical serving as the city's anchor, and the relationship between corporation and community is visible on damn near every block from border to border.
By the time the card for Sioux Falls Fight Night 1 concluded on Saturday night, the full scope of just how much Sanford and mixed martial arts means to The Badlands contingent is made crystal.
That said, there were plenty of hurdles, reverie and downright insanity to clear long before the first punch was thrown on FloCombat. The 17-hour drive for The Big Glow and I merely served as a setup for the war of attrition that was brought, along with the a fresh copy of the Argus Leader, directly to our doorstep.
****
"Hey everyone! It's Luke Rockhold!"
The voice that emerged from a crowded hotel bar at 10:30 a.m. was every bit as loud as it was Italian--and absolutely undeniable. Before I even look over, I can picture the massive, overly excited frame of Gian Villante heading my way.
"Oh my God, can this be?" he continued. "It's just like Rockhold but a foot shorter!"
[instagram url="https://www.instagram.com/p/BTamJ3_AhOD/?taken-by=duanefinley" hide_caption="0"]
The crowd of fighters and coaches the UFC light heavyweight was sitting with offered up the laughs that serve as fuel for the Long Island native. By the time Villante reaches me I can already project the size of the purple and green hued bruise that will certainly follow Villante's squeeze.
"Come on, dude," I returned, attempting to kill two birds with one half-assed response. "I don't look anything like Luke. Please tell me you've been drinking already."
"I swear to God," Villante shouted again. "It's like you're his doppleganger or something. You better get ready to sign some autographs this week."
Much to my surprise, Villante went with the light squeeze and a few quick turns later I was next to the bar with an entire squadron of heavy-hitters in the sport, business or otherwise. The man I'm aiming to talk to now is Dave Martin, but his cell phone has been attached to the side of his face ever since Glow and I first arrived in Sioux Falls late Wednesday night.
Martin wears a plethora of hats, but this particular weekend he's playing ring leader to the event set to take place Saturday night. Through his partnership with LFA, the lawyer/agent oversees the creation of several cards a year. SFFN 1 is the first of a multi-event deal to stream live on FloCombat, therefore the FC crew made the journey to South Dakota to ensure all runs smoothly.
A few minutes of banter are exchanged between Villante and American wrestling legend Greg Jones just as Bellator lightweight champion Michael Chandler walks in and immediately jumps into the fray with Villante.
"Iron Mike" points to what appears to be the early stages of a dad bod mound growing from the Serra-Longo product's abdominal region, and the wave of laughter coming from the collective crashes onto Villante's shoulders so hard he verbally taps out and Chandler picks up another championship to go with his 155-pound Bellator strap.
The two fighters appear poised to go for another round when I notice Martin has finally put his cellphone away. As I slide through a few bodies en route to speak with Dave, I unknowingly bump into something so solid it pings my ribcage on the right side. I initially thought I caught the top of a high-back chair, but once I moved back a step I was able to see things in full.
And when I realized who, not what, I bumped into, the fear of facing violent death in the flesh hit me flush.
[instagram url="https://www.instagram.com/p/BTfPaPoFx-m/?taken-by=flocombat" hide_caption="0"]
"Hey Robbie," I stammered a bit as "Ruthless" Robbie Lawler returned with ice-cold tenacity. "Sorry about that."
"Oh, it's cool," Lawler replied in a cordial and friendly voice that completely offset the flashes of destruction looping through my head in those moments. "What are you doing up here?"
"I'm the Senior Editor at FloCombat and we are streaming this event live."
Lawler nodded his head slowly and that's when I realized he hadn't blinked since he looked up from his phone upon initial contact. In reality, the nod lasted just a second or two, but in my mind it was this long, drawn-out exchange where his unblinking eyes were piercing my very soul. I could feel the sweat breaking through the skin of my back.
"FloCombat," Lawler repeated. "That's cool. You like Sioux Falls?"
"So far, so good," I replied as the power of his eye contact broke me and I looked away. Nevertheless, I could still feel his gaze gunning me down.
Right about then, the human animation that is Villante, who was mid-story about how he challenged a crew of eight year olds to a foot race and "destroyed" them, happened to turn around abruptly and bump two or three more people standing around him.
"That dude is like a big dog running around and wrecking sh*t," I joked as Lawler looked on.
"He's like a big Golden Retriever chasing a ball," Lawler cracked.
"Like a big dog nobody likes," Chandler chimed in with a smile as he stretched his record to three straight convo knockouts on the morning.
I laughed. Lawler laughed. Then, in one perfectly timed play, Lawler saw me laughing and stopped laughing. The sweats returned as terror had gripped me once again.
[instagram url="https://www.instagram.com/p/BTcHiq8AivF/?taken-by=duanefinley" hide_caption="0"]
Although it took a second or two to regain my composure after staring death in the face, I turned to Martin to get the rundown on the day's events. The look on his face was half ice-water veins, half want to run screaming into the hills, but a career spent working high-profile cases groomed him to handle pressure.
After listing off the full roster of UFC and Bellator fighters under his care for the weekend, Martin explained his team was all hands on deck for a large group appearance for American Ethanol, which was not only one of Martin Advisory Group's biggest sponsors, but a staple of South Dakota's thriving economy as well.
As Martin's squad prepared to head out, several fighters from the SFFN card trickled in from the official weigh ins that were taking place in a side room just down the hall. Blue-chip prospect Logan Storley strolled in and wasted no time engaging with the motley crew gathered around Villante.
In simple terms: Everything about Storley is impressive.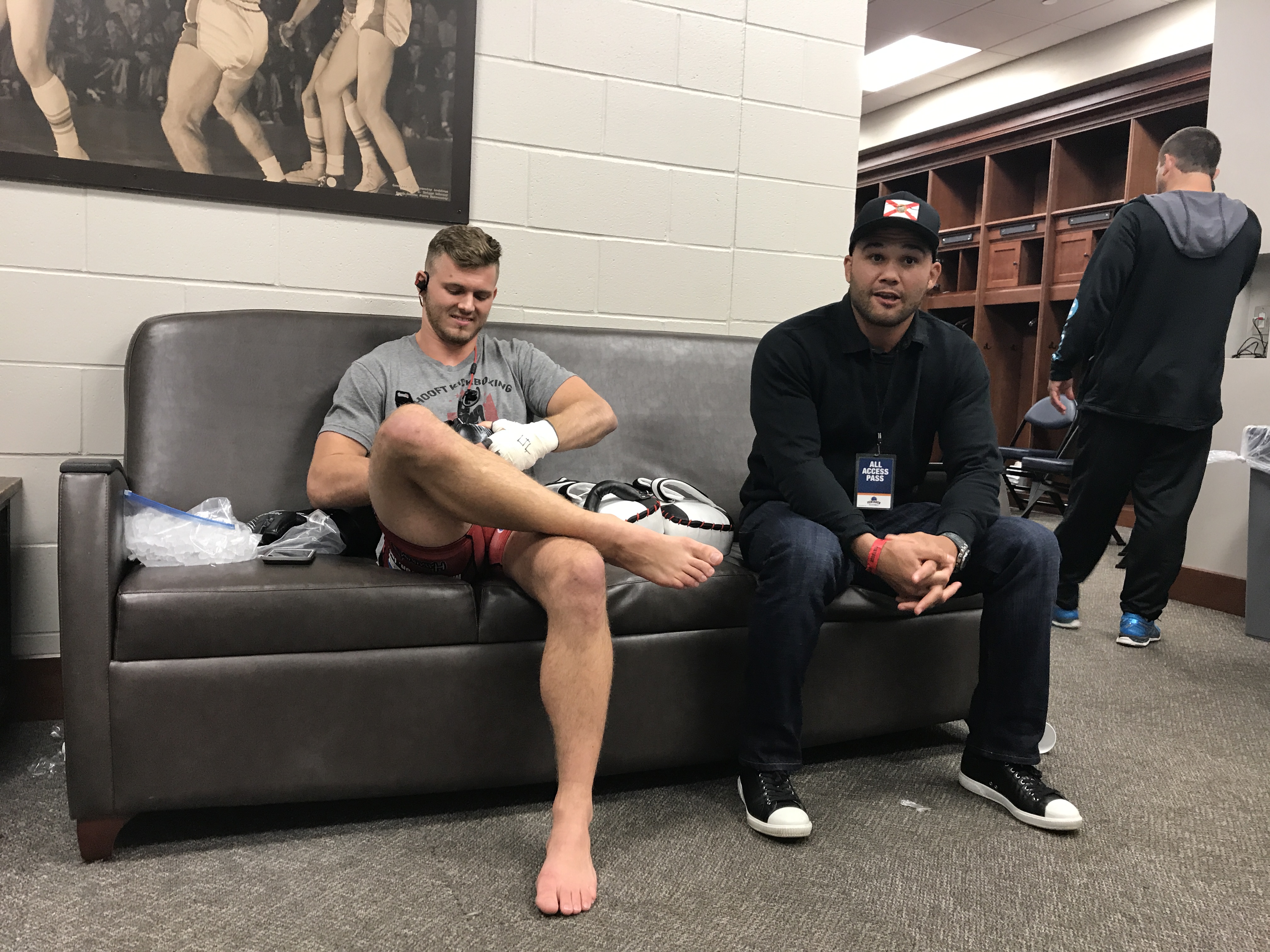 The 24-year-old fighter became a local legend at a young age, as he won six straight state wrestling titles. A quick bit of math would make such a feat seem impossible, but South Dakota is a state where capable 7th and 8th graders can wrestle up in high school, and that's precisely what Storley did in Junior High.
Furthermore, while Storley was wrecking shop on wrestling mats across the state of Minnesota, he was also training MMA alongside a larger-than-life figure in Brock Lesnar. The WWE superstar and former UFC heavyweight king opened the notoriously guarded doors of his training camp to allow Storley to cut his teeth.
One Webster farm boy/stud wrestler helping another Webster farm boy/stud wrestler is how sh*t gets done in the East River region of South Dakota.
Much like everything else in his life, Storley's progression in mixed martial arts has been a rapid--and wildly successful--one.
The Combat Club representative made an impressive professional debut back in August of 2015 when he scored a TKO victory over Bill Mees at RFA 29. Storley made quick work of his opponent that night in Sioux Falls, and finishing fights in brutal fashion was apparently habit forming, as "The Storm" notched three more drubbings in an eight-month period.
Storley's fight at SFFN 1 would mark the end of a self-imposed year-long layoff, but the highly touted prospect was adamant the time away would not affect his performance when it was time to rock 'n' roll.
"I'm ready to go right now," Storley assured, direct and composed. "I've put the hard work in during camp and tomorrow night I get to go out there and handle business. I'm looking forward to it."
Shortly after Storley rounded the corner and disappeared into an endless row of tables set up to peddle history-themed books focused on the life, times and art of Laura Ingalls-Wilder.
[instagram url="https://www.instagram.com/p/BT21KLwDDeg/?taken-by=duanefinley" hide_caption="0"]
While proof has yet to surface of any of the fighters at SFFN 1 actually purchasing one of the various Ingalls-Wilder tomes, the city was abuzz with talk of copies of Little House on the Prairie being distributed by street toughs in the parking garage of the Holiday Inn. Every city in America harbors its own dark secret.
Glow adjourned to the hotel room for a bit to finish prepping links for other FloCombat fights on the weekend, but once all was clear on the marketing front, we made our way out into the late afternoon gray of Sioux Falls.
Two hours and change hung on the clock before the start of the ceremonial weigh-ins a few blocks away at Wiley's Tavern, and there was a perfect window available to get a true feel for the city's connection to fighting. Throughout our extensive road trips covering the sport, my rangy sidekick and I'd made a habit of putting in the legwork to truly experience whatever place we were visiting.
The reality of the MMA grind is one where those who make a living in this chaotic thing must remain plugged in at all times. For the movie buffs out there, the concept is shown in The Matrix where Neo (Keanu Reeves) is hooked into the world computers and robots have generated to keep mankind appeased.
The machines are harvesting human energy (think human windmills in a Nine Inch Nails video) as humans are incubated. Neo breaks loose to become "The One" and start the #StayWoke movement in the same turn.
Author's Note: I would typically avoid going into such great depth in regard to a movie plot, but knowing Hunter Homistek has not viewed anything but The Godfather and Step Brothers, larger steps need to be taken from time to time.
Due to the smaller scale of Sioux Falls, getting off the downtown tract was simple to do. We locked in on a hole-in-the-wall eatery and went from there as we explored elements and topics that were uniquely South Dakotan.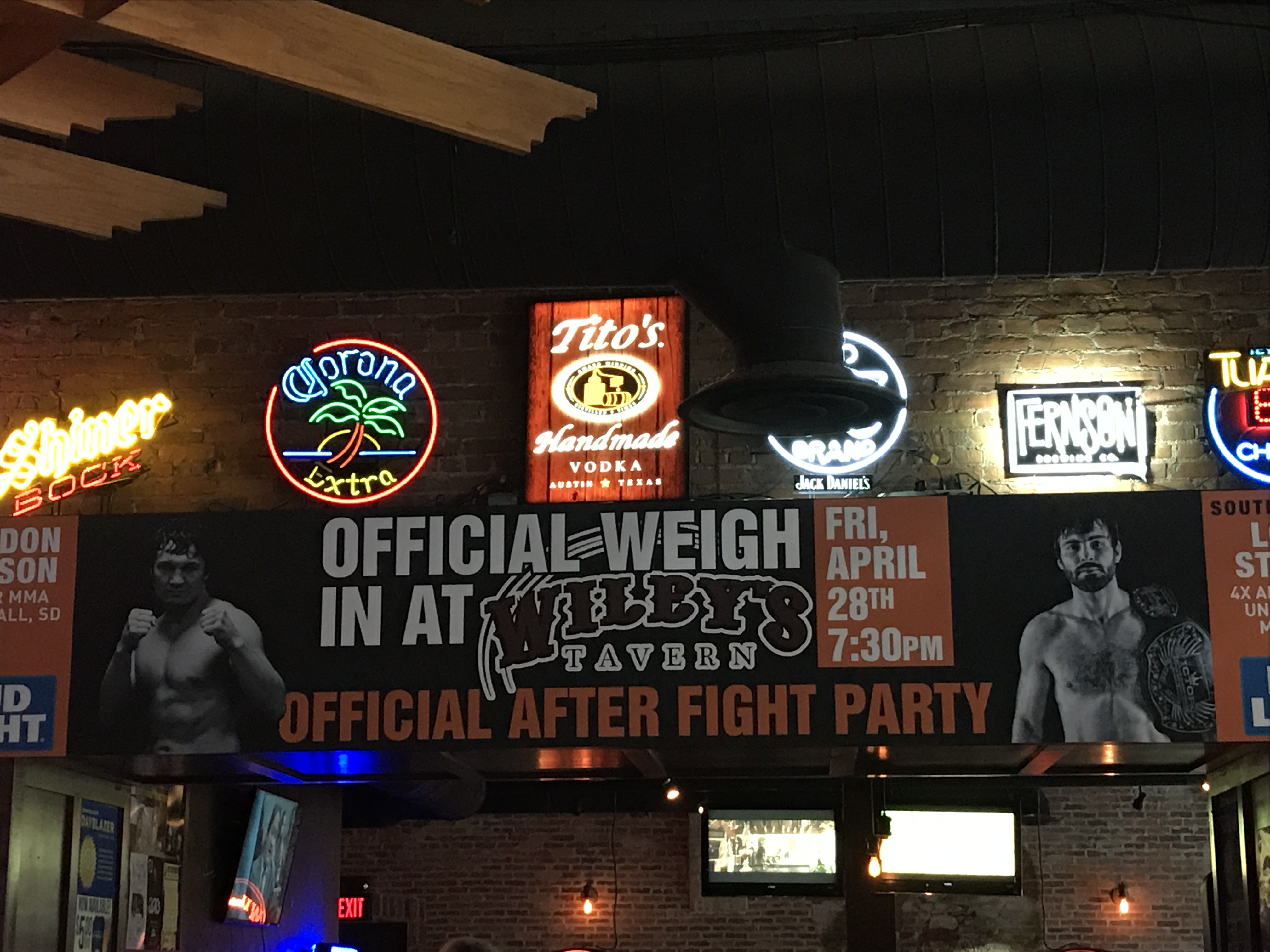 Glow dove headlong into a bison burger with all the fixings while I attempted to figure out why people who live North of Omaha and west of the Twin Cities put pickles in their beer. This experiment would also open the door to the "Red Beer/Orange Beer" phenomenon, but that's a story for a different day.
Once fed and pickled, we set about finding out what type of connection, if any, Sioux Falls had to MMA. And thanks to the two women sitting at the table behind us, we were able to make some ground on this hunt.
Kim and Terry are radiologists at a regional hospital in Rapid City Regional and had come to Sioux Falls for a convention. Neither gal had seen a hand tattoo the likes of what Glow recently acquired, and I used that opening to get the social experiment underway.
[instagram url="https://www.instagram.com/p/BTFmXzgFMdd/?taken-by=hunterahomistek" hide_caption="0"]
Granted, neither woman was native to "The Falls," but South Dakota is such a vast expanse filled with scattered outposts any sample-sized audience will do. Playing the hand you're dealt then adapting on the fly is how winning is done. I believe Rocky Balboa said something similar.
While Kim and never heard of the UFC, Bellator or FloCombat, Terry was a bit more familiar with the fight game. Her house was the "fight house" any time a big event came around, and she thanked her husband and three teenage sons with equal parts pride and sarcasm.
"I know who the Irish guy is but I forget his name," Terry answered when put on the spot and asked to list her favorites or familiars. "I think he talks too much and deserves to get punched. The boys all like the other guy [Nate Diaz] but I don't know anything about him either. Sorry.
"Oh hold on!" she added with the excitement of someone matching lottery numbers. "I really like Miesha Tate and that Holly Holms [sic]. Holly beat Ronda Rousey and that really surprised me. Everybody at our house that night was stunned. That was pretty cool."
[instagram url="https://www.instagram.com/p/BTc5jXSjAAc/?taken-by=duanefinley" hide_caption="0"]
As the conversation continued and the first (and last) red beer was sampled, we dug further into whether or not South Dakota is a state where MMA is embraced. To evoke the spirit of local pride, we informed the ladies Pine Ridge's own David Michaud was going to compete in the main event of the card.
Although neither Kim nor Terry knew of Michaud, the mention of Pine Ridge Reservation certainly registered to both in strong fashion.
"If [Michaud] is from Pine Ridge, then he has my support," Kim stated. "West River supports West River and I'm sure he is going to win his fight."
"That's a pretty bold thing to say," I laughed in response, playing Devil's advocate. "I haven't even told you if A) He was any good and B) The man who he's about to fight could be a monster."
Red beers deep and unwavered, Kim held steadfast.
"I'm not sure how much you know about South Dakota but West River vs. East River is just a part of life here. Those of us who live West of the Mississippi River take pride in the slower, rural lifestyle we have. We love it. Everything East of the river is a little more….how should I say...modern compared to the rest of the state.
"And that's all fine and well, but a few more flashier things doesn't make it better."
While conversational topics had kept Kim's opinion's at bay during talk of Conor McGregor and Ronda Rousey, there was nothing holding her back as she flexed on South Dakota's longest standing rivalry. The more she talked about it, the more the need to back and support Michaud became a priority.
Five minutes earlier she'd never heard of David Michaud or
The Ultimate Fighter
, but after some a few minutes of excited conversation the banner had been raised.
"It sounds like you are now a David Michaud fan," I said. "Better be careful or next thing you know you'll be buying tickets and going to the fights on Saturday night."
"I'm not going to buy tickets to see something I have no clue what it is, but I'd be lying if I said I wasn't a little interested in it now," Kim added. "The conference we are attending ends Sunday so we are still in town while that is going on."
"You know anyone who has some free tickets to these fights?" Terry laughed. "I'm kidding of course...unless you really do have some."
"We may just know a guy," Glow added with his tried and true Pittsburgh smooth. "We'll definitely see what we can do."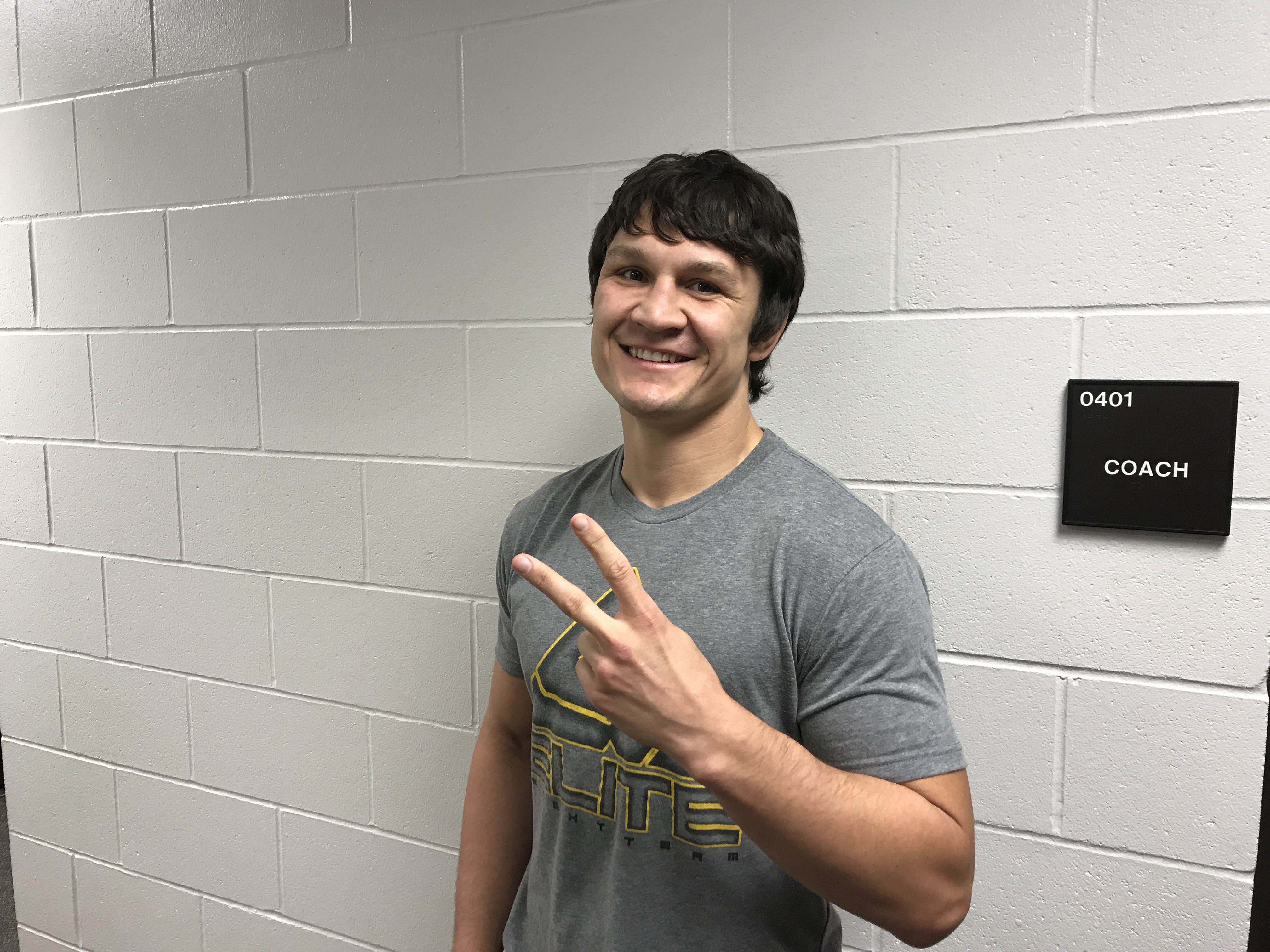 After settling up the bill and bidding our two new radiologist friends farewell we headed out in the direction of Wiley's Tavern for the weigh ins. On the way we stopped and spoke to anyone who would take the time to listen, and as it would turn out, nearly everyone we approached took said time.
Midwestern hospitality is a real thing, yet, so is South Dakota boredom.
A large percentage of people we spoke to were either aware or informed a mixed martial arts event was taking place in their city Saturday night. Some knew names like Logan Storley, Jordon Larson and Michaud, while a small group proved diehard status by citing Brazilian powerhouse Daniel Sarafian and red-hot prospect Sid Bice.
The few who had no clue SFFN 1 was set to go down at the Sanford Pentagon weren't entirely sure what MMA was at all but were both polite and curious enough to have the conversation.
The series of exchanges between burgers and weigh-in face offs gave me flashbacks to the time we spent in New York City in the lead up to UFC 205. Normally the stories come easy to me, but my struggle that fight week was fierce, as I simply couldn't bring the concept in my head to the page.
After a bit of cause-and-effect investigating, Glow and I came to the conclusion the brash nature of New Yorkers and the city's refusal to ever shut up and go to sleep prevented me from finding the connection to the vibe that plays a crucial role in my personal writing process.
It took a Rain Man moment staring into an alley and counting windows for
the magic to happen
, but the finish line was able to be crossed. On the flip side, there was no shortage of connections found in South Dakota.
Sioux Falls had connections everywhere we turned, and it took less than 24 hours of being within the city limits for locals to start waving whilst we passed them by on the sidewalk. Being from North Central Illinois, waving and nodding to complete strangers is part of my genetic makeup, and it was comforting to see politeness and decency on full display.
****
South Dakota exists in a strange time zone wrinkle where the nights stretch out long and dark and the mornings come early and vicious. Then again, such is life on the road and so it goes.
The early stages of fight day were a mad scramble of nerves on the fifth floor of the Holiday Inn due to my agreement to tackle play-by-play duties on the card--a task I'd never stood at the helm of. As a natural talker with a thirst for adventure, the initial thought on the matter was as passable and fleeting as anything else, but sitting in the hotel room scouring the net for info on fighters who stepped in on short notice kicked up the anxiety to an official state of tension.
Suddenly everything on the schedule became accelerated because of my duties on the night, and the normal gradual build of fight day turned to an all-out, teeth-gnashing rat race to the finish. I simply couldn't keep up with the clock, and each text message that came firing across the digital airwaves required a checkpoint of one sort or another.
Such is show business, I suppose.
[instagram url="https://www.instagram.com/p/BTer7OljOL8/?taken-by=duanefinley" hide_caption="0"]
Glow and I hopped in the trusty Flomobile and made our way to the Sanford Pentagon, which we'd heard so many great things about. Having covered fights in the most storied arenas from Las Vegas to New York City, there wasn't a high level of expectation set on what this outpost on the fringes of Sioux Falls had to offer, but just like everything else in the sneaky beautiful, good-time city, a pleasant surprise awaited.
Walking into the venue, one is immediately caught up by the historic feel of the place even though it is by all measures a new facility. Built to house The Force, the city's NBA Developmental League team, the venue calls back to the Indiana-based classic
Hoosiers
. The scoreboard is adorned with an analog clock with minimal digital qualities, while the hardwood floor echoes the historic Boston Garden.
All in all, it's an extremely cool facility that would be filled to the brim with rowdy fight fans in a matter of hours.
Having been behind the media rope for the better part of a decade, there wasn't too much known about the world of production, but I would be a man educated in full by the time the final bout concluded. Between the producer rolling out sponsor information and the constant banter with my partner on the mic, former Strikeforce champ Josh Thomson, there wasn't much time to breathe let alone think about messing up.
[instagram url="https://www.instagram.com/p/BTfv9i8jDnZ/?taken-by=duanefinley" hide_caption="0"]
And trickled in between came a string of fantastic performances inside the cage.
The card for Sioux Falls Fight Night 1 was loaded with prospects in various stages of development, and every single one of them produced.
Former hockey player turned mixed martial artist Tyler Ray had a spectacular debut showing as he earned a brutal submission finish in the first round. Former wrestling standout Deron Winn notched his second victory (his second fight as well) in less than two months as he starched another unfortunate soul inside the cage.
Arguably the biggest showing of the night, however, came from Storley, as he steamrolled his opposition to pick up his fifth victory and keep his unblemished record intact. Furthermore, the local hero put on the type of performance--fast, efficient and dominant--that will make a call from a larger organization like the UFC that much more realistic.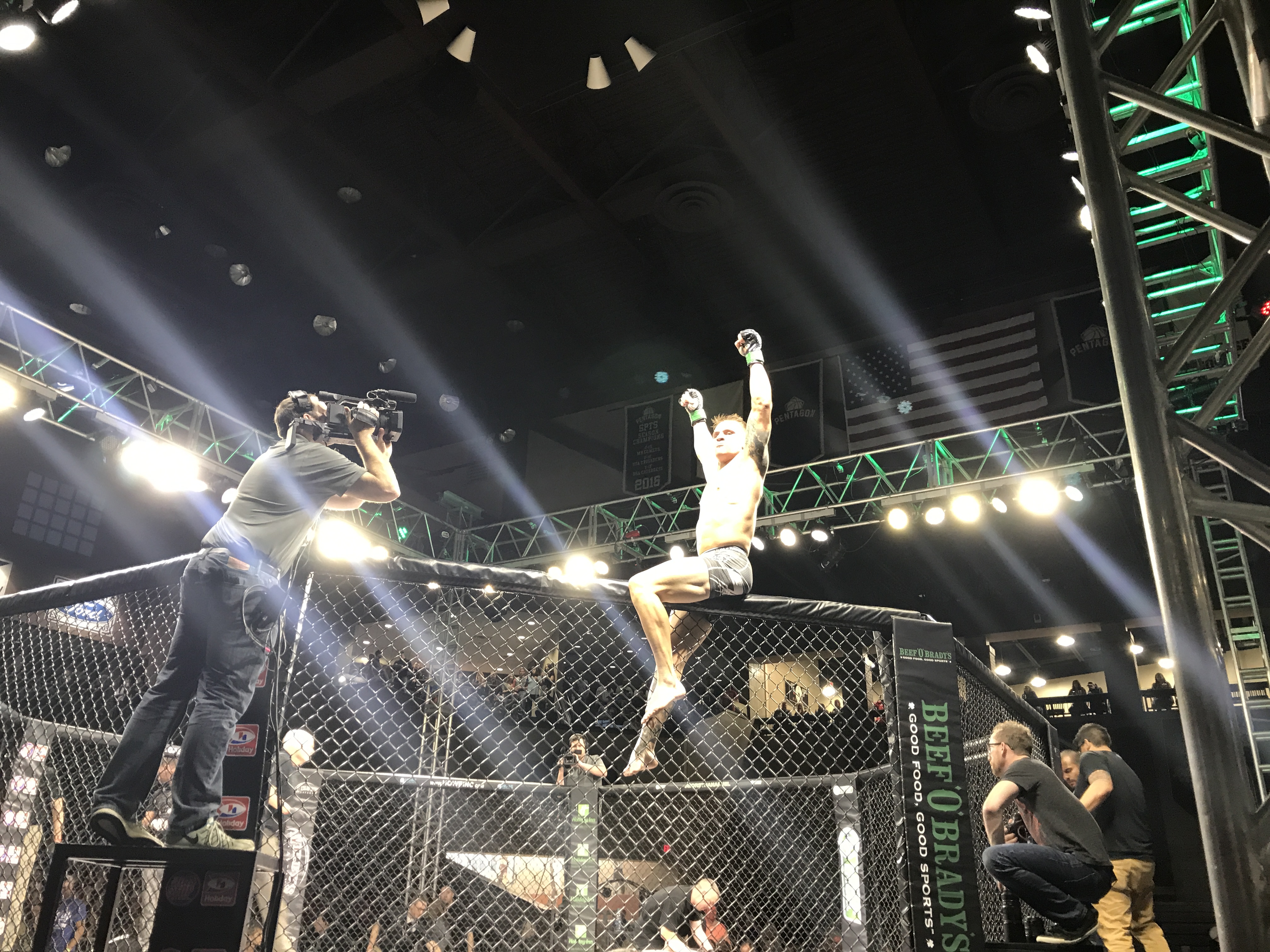 And while the up-and-comers shined on the night, a former UFC fighter determined to make his way back to the big show also notched one of the best clips of his career as well.
The Ultimate Fighter
veteran and Pine Ridge native David Michaud looked to be an entirely different animal when he stepped in against Jake Lindsey in the main event of SFFN 1. Anyone who has watched Michaud compete knows he's rusty nail tough and just as jagged in short range, but the longer range striking has been problematic for the South Dakota native.
Although Michaud wasn't dazzling Lindsey or the audience in attendance with wheel kicks or five-punch combinations, he certainly showed improvement and added weapons in the fight. Michaud hit two beautiful elbows, one spinning and one coming off the break, that gave Lindsey the notorious Cookie Monster eyes for a good bit.
The bout would end on a low note as a tweak to Lindsey's knee brought a sudden and anti-climactic end to the bout, but Michaud emerged from the ruckus with his hand and head raised high. In a move to fully capitalize on the momentum of the moment, Michaud addressed the FloCombat cameras to let his old boss Dana White know he was ready for that call back to the Octagon.
A strong move for a fighter who has made visible improvements to an already solid skill base.
Once the action wrapped inside the cage, fans began to clear out the venue, which was a process aided by Michael Chandler. The Bellator lightweight champion couldn't bring himself to pass up a live microphone left sitting cageside and the kind soul he is decided to provide clear and prompt instruction for those making their way out.
"Please move toward the exits," Chandler offered in various vocal pitches. "You must leave immediately. You have to leave now. Thank you."
[instagram url="https://www.instagram.com/p/BTftYl9jdJA/?taken-by=duanefinley" hide_caption="0"]
Chandler repeated this process multiple times to the delight of the LFA crew breaking down the cage directly in front of us, and I would be lying if I didn't admit the resurgent champion's antics provided some excellent comic relief at the end of an action-packed night.
While the rest of the scallywags and ne'er-do-wells congregated at Wiley's Tavern for one more plunge into the void of a South Dakota night, the road was calling for Glow and I as we manned the Flomobile for our trek back across the Badlands.
The drive out was as daunting as anything we'd ever encountered together behind the wheel, and we made no illusions about making it all too far on our first leg back. We were two weary souls setting out into the oblivion that is Southwestern Minnesota, and the first hour on the pavement would tell the tale.
After reassuring me he had the juice to make two strong hours at the helm, fatigue and delirium began to set in on my trusty companion.
"I've never seen a road so straight and narrow," Glow bellowed. "It's like it just rolls on like this forever. No hills or turns. Just flat road. I've never seen this before. Are you seeing this?"
Indeed I was, and I suddenly expected him to start barking like a dog or profess some turn into a little-known religion. Too many hours in the great wide open can do the strangest things to a man's mind, and this is a phenomenon proven true time and time again.
Fortunately, all was not lost and my sidekick would be saved when we agreed to stop off for the night before hitting the following day full throttle.
[instagram url="https://www.instagram.com/p/BTiqKvAjlhe/?taken-by=duanefinley" hide_caption="0"]
It would take us two stops in two different towns to find a hotel that didn't have MURDER written all over it, but we ultimately settled for a David Lynch film rather than Stephen King. We filled out the paperwork as Mike the night attendant swore it was his final night on the job due to having to deal with "too many weirdos" who walk through the door.
He seemed to be excluding the present company of course, but one can never be too sure. Glow and I wear our weird badges proudly, and at least one of us was still wearing a suit from commentating duties. Therefore we took the keys gladly, and when we saw a one-eyed cleaning lady roaming the halls just before the three o'clock hour, I knew we'd found a place just strange enough to house us.
Lesser men have broken on the road, but this tandem of wayward writers calls it home. There is something revitalizing about rolling into strange towns and awkward hours of the night when everything is opening up at obtuse angles.
That's when you see things for how they really are, and such things become chicken soup for the strange soul at times when both heart and mind have worn thin. There will always be more miles to travel, more stories to tell and they are out there waiting for.
And so it goes they say. And so it glows as well.
More From Sioux Falls
Sioux Falls Fight Night 1 Full Event Replay
Ol Bo Goes Home:
FloCombat's hottest content, delivered to your inbox
Don't miss breaking news, feature stories, event updates, and more. Sign up for the FloCombat mailing list today.