UFC 211: Stipe Miocic vs. Junior dos Santos II
Stipe Miocic Determined To Remain King At UFC 211
Stipe Miocic Determined To Remain King At UFC 211
UFC heavyweight champion Stipe Miocic is looking to prove his doubters wrong in rematch with Junior dos Santos at UFC 211.
May 1, 2017
by Duane Finley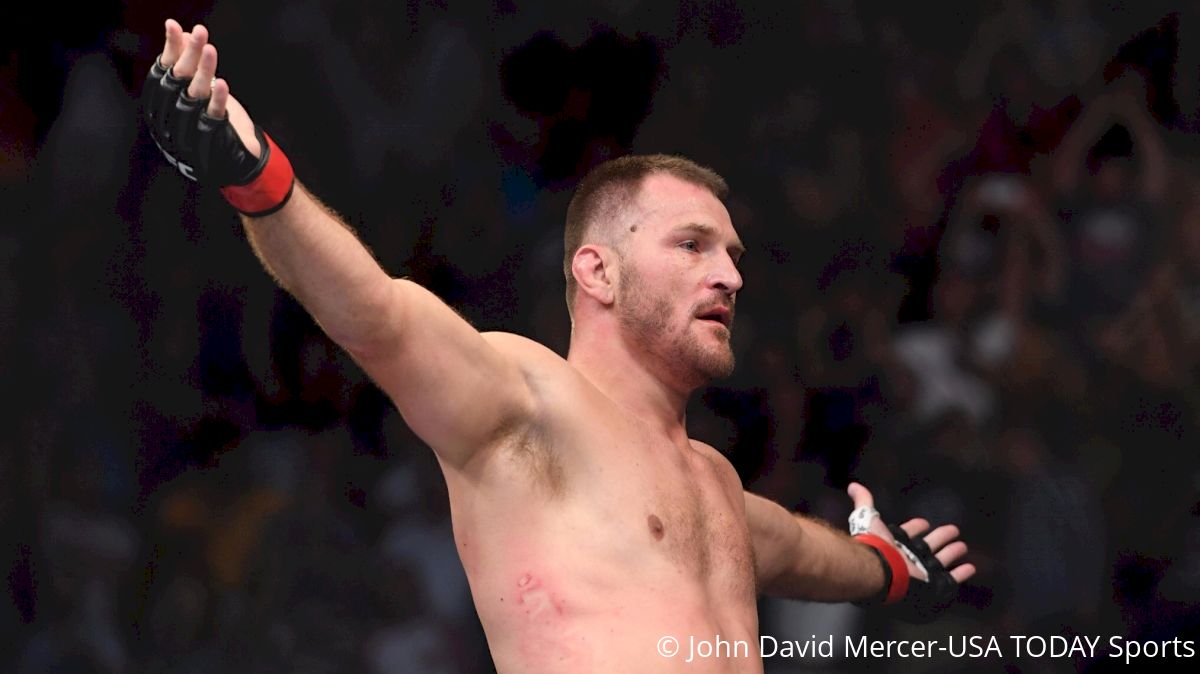 Championship gold is supposed to satisfy a lot of things.
The dreams of validation and recognition that once hovered between the ether and headspace are supposed to materialize in an instant once the world title belt is strapped around a fighter's waist. Respect both long overdue and newly earned becomes paid in full as the journey from touted prospect to potential maximized comes full circle.
An elevated profile, larger paydays and the coveted tagline of being dubbed "the baddest man on the planet" all become the additional perks of a job well done. In many cases those elements are enough to fulfill the purpose or, at the very least, to pacify the drive that set the entire thing in motion.
In this dynamic Stipe Miocic is a glaring exception to the rules of achievement. His hunger to succeed has only grown during his reign as the UFC heavyweight champion, which is a mantle he's put his heart and soul behind.
"There's a lot that goes into being a champion, but nothing is going to change me," Miocic told FloCombat. "I'm the champ for a reason. I love this and I bask in it. I have a champion's mindset and I've always pursued that in everything I've ever done. I've been a champion at other things, but this is what I love, and I'm the best in the world at what I do.
"Everything is going good and life is great. We just bought a beautiful house with some acreage and I love what we have. I'm not going to give that up. I have an amazing family, my wife's family is amazing and all my coaches especially. I'm not going to let them down because they have sacrificed so much for me."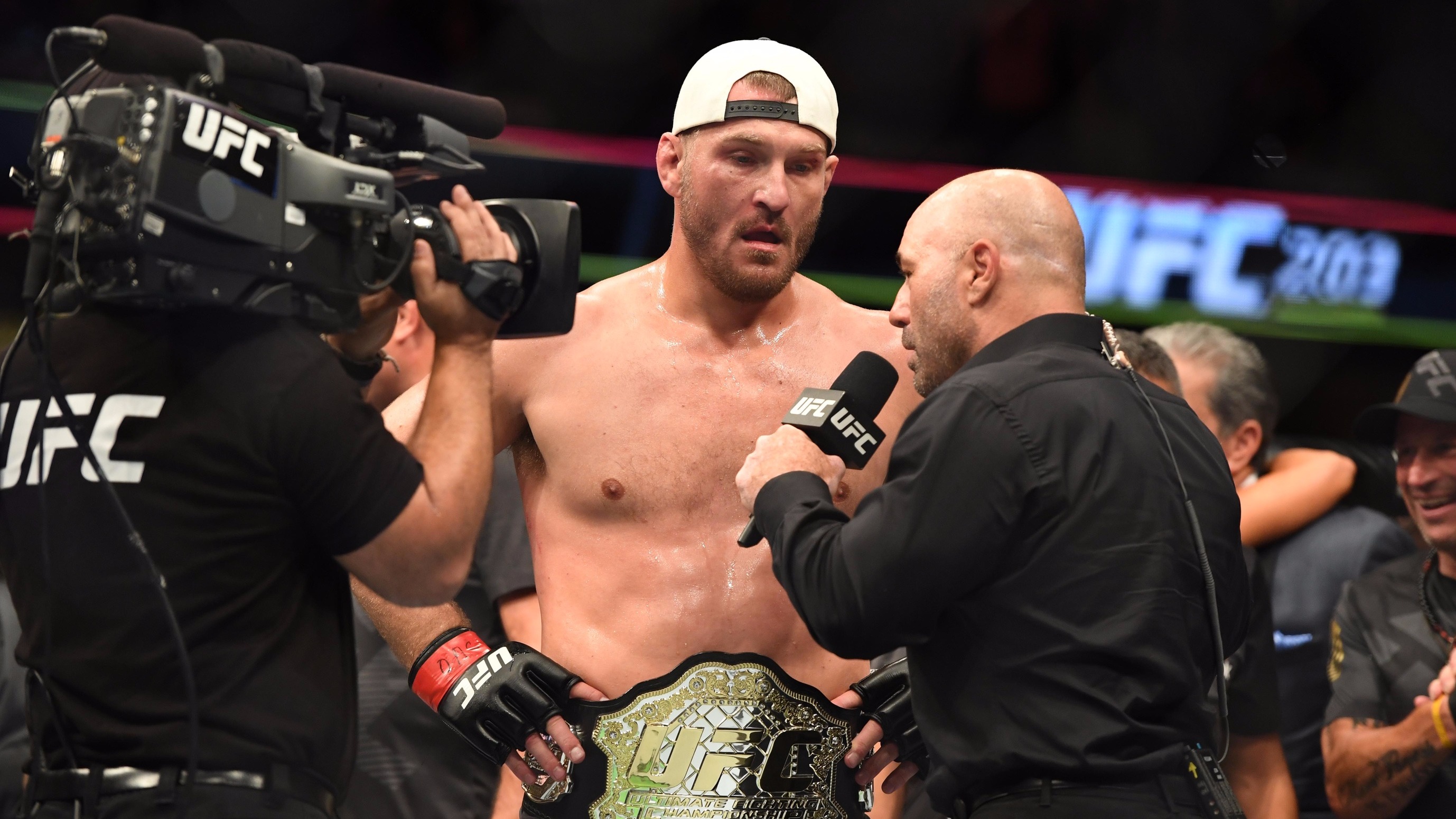 Sep 10, 2016; Cleveland, OH, USA; Stipe Miocic (red gloves) defeats Alistair Overeem (blue gloves) during UFC 203 at Quicken Loans Arena. Mandatory Credit: John David Mercer-USA TODAY Sports
The Ohio native's blue-collar grit keeps him working for more, and when matched with the chip he carries on his shoulder, it becomes abundantly clear satisfaction isn't the thing he's looking for at all, because there's nothing realistic about that scenario.
Miocic's objective is continued domination through constant progression and proving the naysayers wrong is the return on his investment. The heavyweight champion's next opportunity to do so will come in a rematch with Junior dos Santos May 13 in the main event at UFC 211.
The 34-year-old Strong Style representative lost a razor-thin decision in his first go with the former champion, and he believes his personal evolution will make all the difference when they collide once more in Dallas.
"A lot has changed for me, and I think that's clear if you've watched me fight that I'm a completely different" Miocic said. "I think I've gotten better with each fight, tremendously better in fact, and I truly believe everyone sees that. Whether they choose to acknowledge that is a different story, but I know the progress I've made.
"My confidence in my skills has never been higher. I've busted my ass for years and people still don't give me credit. Good...keep that up. I've been the underdog for most of my career and that's motivating to me. People think I'm going to lose this fight to JDS and I love it. I'm good with that because you doubt me and I'm going to shut you up."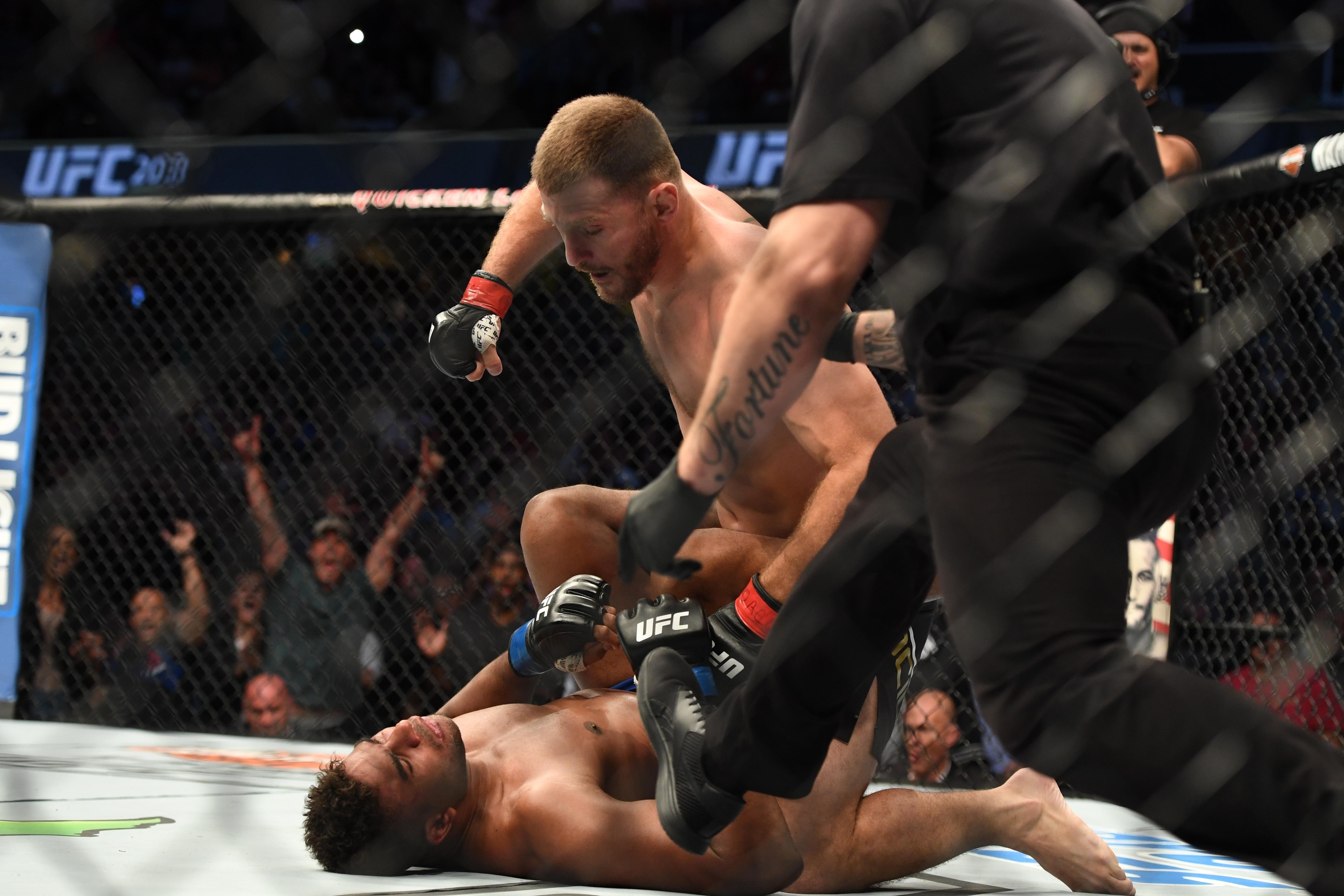 Sep 10, 2016; Cleveland, OH, USA; Stipe Miocic (red gloves) defeats Alistair Overeem (blue gloves) during UFC 203 at Quicken Loans Arena. Mandatory Credit: John David Mercer-USA TODAY Sports
While "Cigano" has only fought twice since defeating Miocic back in late 2014—and split those showings inside the cage—it was his recent victory over Ben Rothwell that earned him another shot at championship gold.
Where Alistair Overeem was able to put away dos Santos in the second round, the American Top Team fighter seemed reinvigorated against "Big Ben" at UFC Fight Night 86 last April. Not only did dos Santos' signature boxing appear to be on point that night, but the movement he so desperately lacked against "The Reem" was on full display in Zagreb, Croatia.
Coming off an impressive performance, many believe dos Santos will return to championship form against Miocic, but that's a scenario the reigning heavyweight king isn't all too concerned with.
"We're going to find out, but I don't really care," Mioicic added in regard to the Brazilian's apparent return to form. "I'm way better than last time and he knows he's in for a huge fight."
Although the primary storyline heading into the main-event showdown at UFC 211 is the possible redemption waiting for both men, which only one will achieve, a victory would put Miocic on the doorstep of heavyweight history
In the UFC's 24 years of existence, no heavyweight fighter has ever successfully defended the strap more than twice. Miocic defeated Overeem in his first defense at UFC 203 last September, and a victory over dos Santos would put him neck-and-neck with former champions Randy Couture, Tim Sylvia and Brock Lesnar.
Yet, while building out a legacy in the sport would be a rewarding turn, Miocic's only focus beyond the cage is creating a life where his family can thrive.
"I take it one fight at a time," Miocic said. "I definitely want my family, one day if we have kids, I want them to be taken care of. I want them to be financially set. Having a legacy is awesome, but taking care of my family is what matters to me. I also want them to be proud of me because I'm not a quitter and be able to push forward. I want them to have the same mentality my mom gave me."