Aljamain Sterling: Increasing The Funk
Aljamain Sterling: Increasing The Funk
UFC bantamweight Aljamain Sterling opens up about his financial pursuits to keep UFC dream alive.
Apr 27, 2017
by FloCombat Staff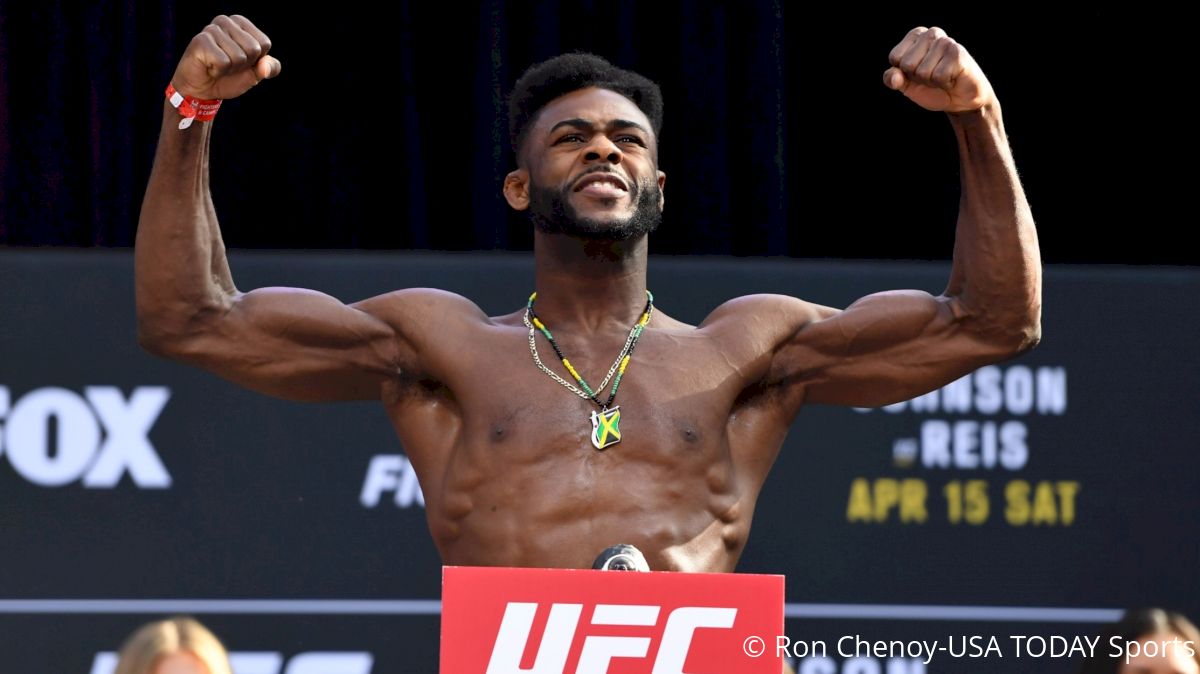 By Elias Cepeda
For his entire professional MMA career, top-10 bantamweight contender Aljamain Sterling had not lost. Then, he lost two straight -- close, split-decisions to fellow elite contenders Raphael Assuncao and Bryan Caraway.
The Serra-Longo fight team member walked into the cage April 15 in Kansas City attempting to avoid a three-fight losing streak but tells FloCombat that he was never psychologically shaken by the stakes. "It didn't really rattle me," he says.
"I keep things in perspective. If I were to have gone out there and lost decisively and it was a bad loss, then yeah. But it was one of those things where I lost, but they weren't really losses. I wasn't really beat up about it. I couldn't really point to one particular things and say, 'this is what I needed to do,' or, 'this is what I need to not do.'
"It was more so about doing what I'm doing and just pick up the pace a little bit with what I do in training and just go from there.
"I'm very hard to get down on myself. I've been through tough some times. I understand what it takes. There can be a lot of dark days but there's always going to be a light at the end of the tunnel."
Sterling earned that bit of light with a unanimous decision over Augusto Mendes, who'd previously only lost to now champion Cody Garbrandt. All things considered, getting his hand raised once more was still much needed and appreciated.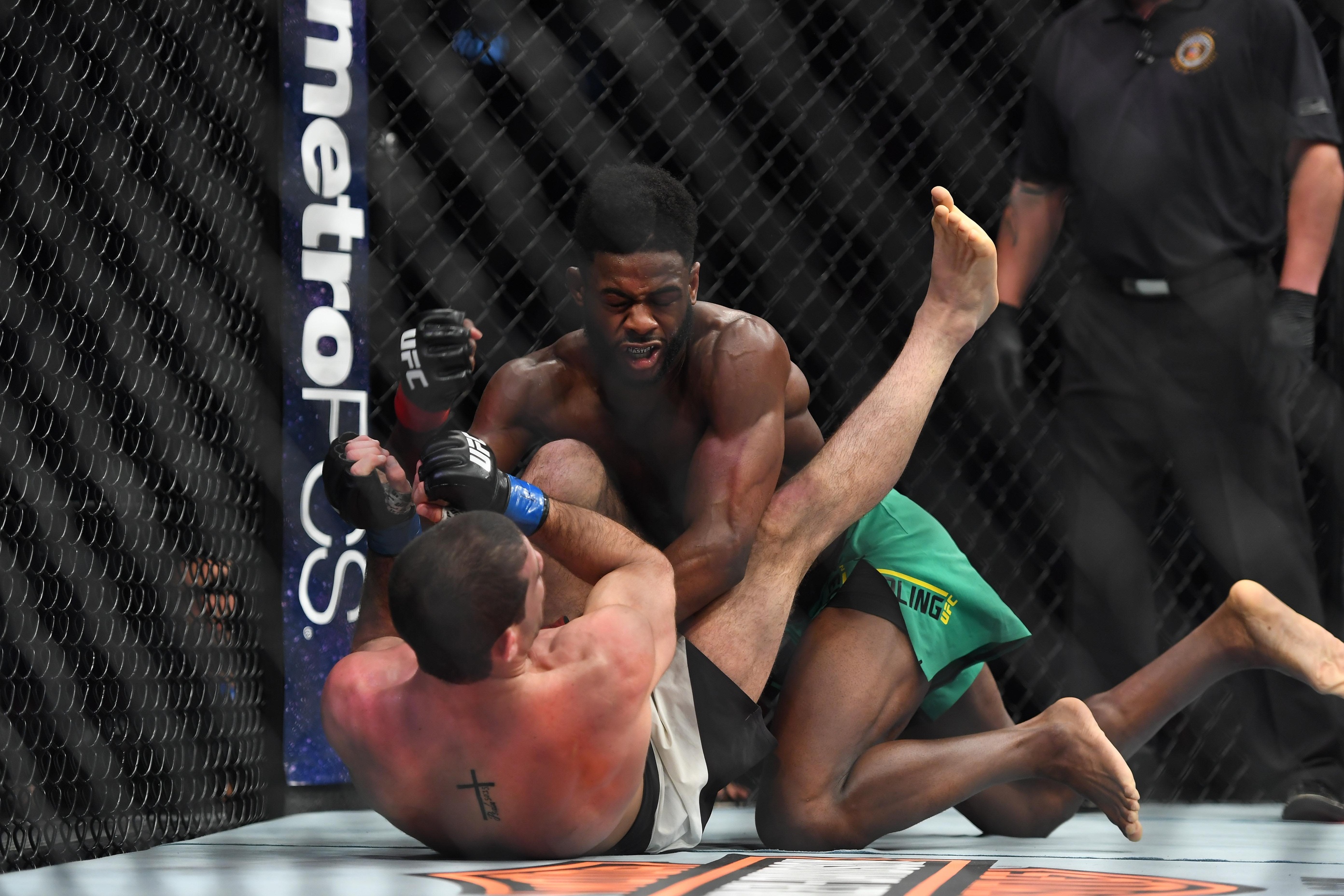 Apr 15, 2017; Kansas City, MO, USA; Aljamain Sterling (red) and Augusto Mendes (blue) fight during UFC Fight Night at the Sprint Center. Mandatory Credit: Ron Chenoy-USA TODAY Sports
"It was a big relief, man," he continues.
"I was talking about it in another interview and I was just saying after the Johny Eduardo fight I wanted to represent my roots, where my parents are from and where their parents are from, which is Jamaica. I changed my country representation for those last two fights that I lost (laughs) and I was like, 'Third time's a charm, man!' and I got it done so I was pretty emotional to get that win for my country and just for myself. To prove to myself that I definitely still do belong at the top of the pecking order in this bantamweight division. It's getting tougher and tougher each month that goes by.
"There's the young up and coming prospect making his way up the ranks and I was that guy once before. I want to stay here, you know? I want to be one of those guys who will be around for a long time."
Sterling was in Nashville to corner teammate Al Iaquinta the very next week. The surging lightweight "Ragin'" Al made a triumphant return to the Octagon after two years away due to injuries.
As was the case with Sterling, Iaquinta told media members after his Nashville win how happy he was to have gotten back in the cage and won, again. His victory was Iaquinta's fifth-straight.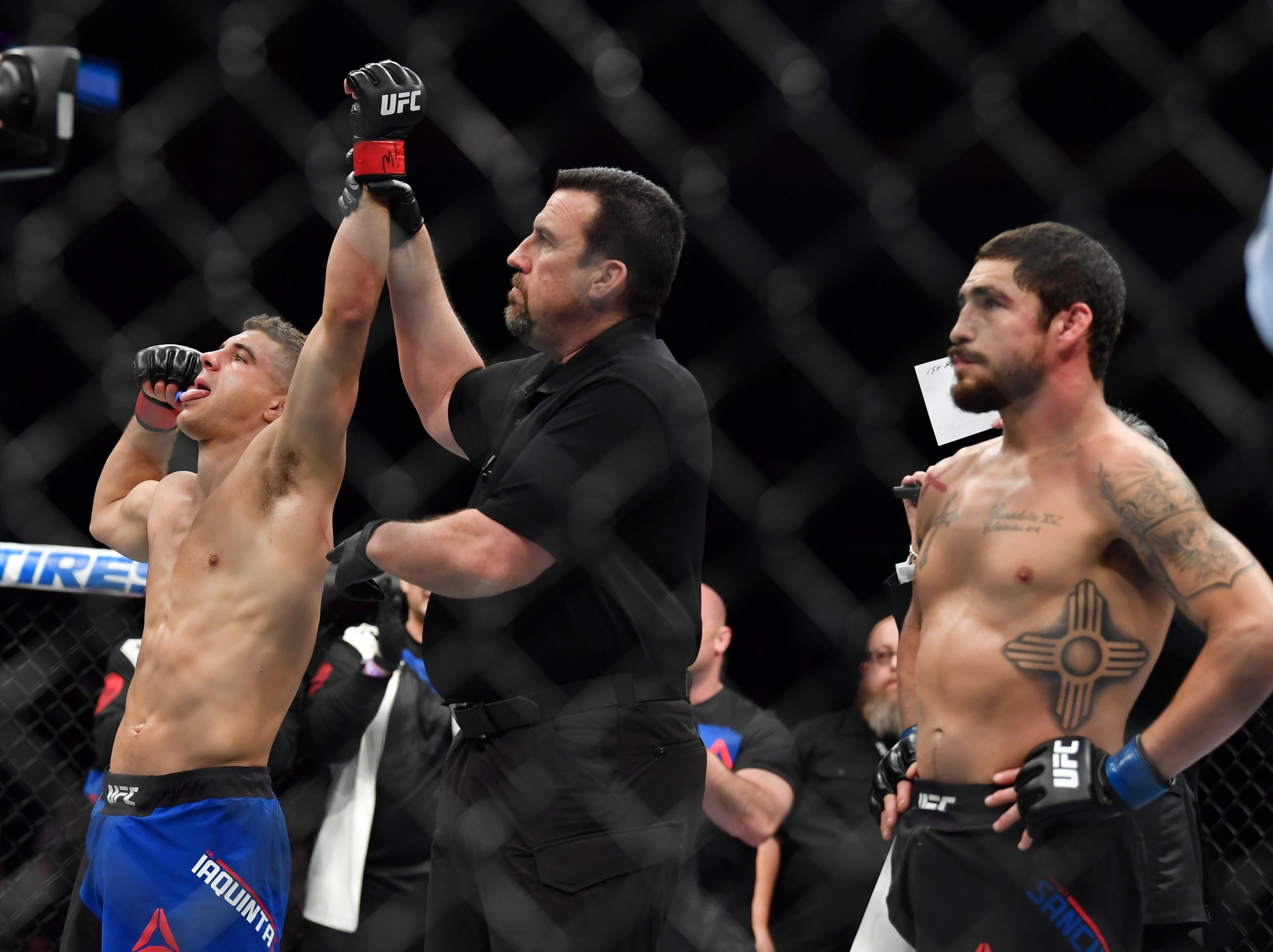 Apr 22, 2017; Nashville, TN, USA; Al Iaquinta (red gloves) defeats Diego Sanchez (blue gloves) during UFC Fight Night at Bridgestone Arena. Mandatory Credit: Christopher Hanewinckel-USA TODAY Sports
He's won eight out of his last nine, overall, and became the first man to knock former title challenger Diego Sanchez out, cold. Still, as thrilled as Iaquinta was to have gotten back to what he loves doing, he immediately shone a bright light on the UFC's pay, benefits, unilateral and opaque disciplinary proceedings and the lack of collective bargaining for UFC athletes to negotiate royalty rates, among other things.
A top-10 lightweight, Iaquinta said he was contractually guaranteed just $26,000 for his nationally-televised co-main event fight with Sanchez. Because he won, he said he earned another $26,000, but was apparently still not eligible for performance of the night bonuses which could have nearly doubled his pay, because of an old unilateral decree by the UFC that he was being punished.
Iaquinta, without a fighter's union or association, had no clear means of appealing the decision and he was still clearly furious over the situation. Of course, Iaquinta has done more than complain about not being able to make ends meet simply from being an elite UFC fighter -- he's also started a second career, as a real estate agent.
As much as Iaquinta said he loved fighting, again, he admitted that he had some thinking to do before deciding whether or not he could afford to continue fighting in the UFC or if he should instead focus on real estate. As Iaquinta detailed all this to assembled media members in Nasvhille last Saturday, Sterling told FloCombat that he too had begun a second career alongside his teammate.
In our follow-up conversation "The Funkmaster" expressed concern that the UFC was putting itself in a position where they could lose top contenders not to free-agency and competing promotions, but to the demands of bills and desired security offered in other fields.
"Yeah, it really is [frustrating]," he admits.
"[Iaquinta] touched on a lot of key points, man. Most athletes in any other major league sport, where they're [competing at] the pinnacle of the sport, they get paid for use of their name and likenesses and things like that. We don't get that.
"If we had things like that it would make things a lot easier because we'd be having some passive income coming in even during those tough times where we get injured, or we can't fight, or there's a back-up in the division and you have to stay on hold and stand-by, and those kinds of things."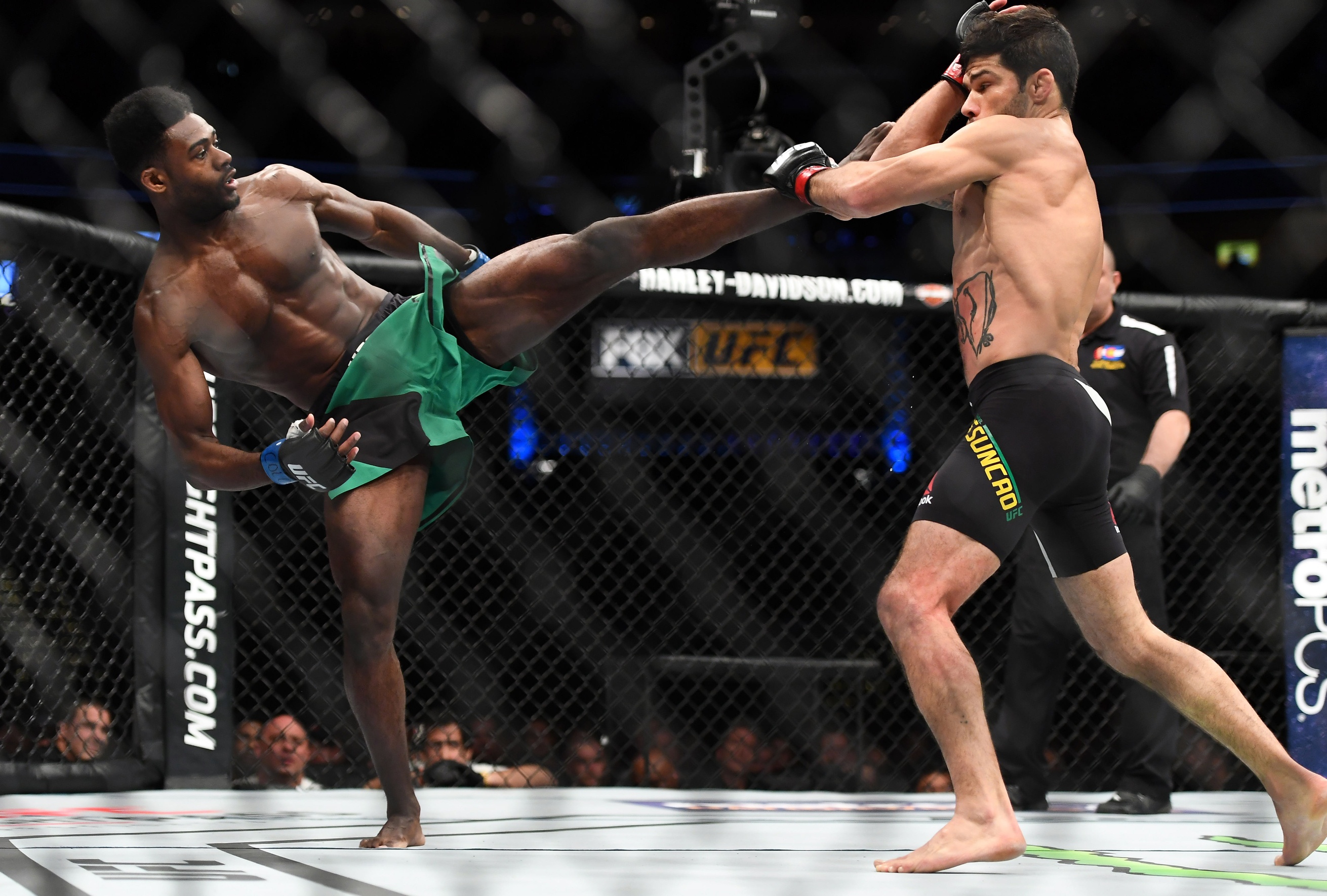 Jan 28, 2017; Denver, CO, USA; Raphael Assuncao (red gloves) competes against Aljamain Sterling (blue gloves) during UFC Fight Night at the Pepsi Center. Mandatory Credit: Ron Chenoy-USA TODAY Sports
For years, UFC president Dana White lauded the development of exclusive licensing deals signed by the promotion with action figure, apparel and video game companies, among others, promising that fighters would now receive passive income in return to the name and likeness rights that UFC contracts typically ask its athletes to sign away in perpetuity. Contrary to those promises and assurances from the promotion's president, Iaquinta claimed in Nashville that he has never received a single royalty check in nearly five years of fighting for the UFC.
Sterling has fought in the UFC for over three years and tells us that he also has never received a single royalty check. "Unless it's decoded and written in a different language, I've never received a royalty check," he chuckles.
"And I'm pretty sure I've sold some stuff. I'm not saying they're being dishonest or anything like that. Maybe it just wasn't enough that it made sense to send the check? I don't know. Maybe they folded it into one of the Reebok [checks]? I don't know. It's really hard to tell. To my knowledge I haven't received any royalty checks. I know Al for sure hasn't received any royalty checks."
Sterling clearly doesn't want to cast aspersions on the UFC, but he is simply wondering if structural changes could be made to bring more clarity and equity into UFC athletes' situations. the fact is that he and other fighters do not know what their royalty pay structure is, and there is no formal, open auditing mechanisms whereby they and their management teams can dig in to check on how much, exactly, they should be expecting in the form of what Sterling and Iaquinta say are non-existent royalty checks.
Iaquinta lashed out at the UFC and Dana White on Twitter and in later comments after his win over Sanchez about his not getting a performance bonus which, considering he says he only made $52,000 for the KO, could be life-changing money. Clearly, fighters like Iaquinta and Sterling have larger, more structural criticisms of the UFC's pay and benefit structure than these discretionary bonuses handed down from above after events with no clear criteria.
[instagram url="https://www.instagram.com/p/BTO4_JMlFDz/?taken-by=funkmaster_ufc&hl=en" hide_caption="0"]
Still, Sterling understands his teammate's anger over not receiving one for his great performance. "The whole thing with the bonus -- I agree with him. I just don't understand what he has to do," Sterling asked.
"We were in the back room and he was like, 'I'm not going to get my hopes up.' He remembered the thing where someone else said he was ineligible for three fights and that was like two years ago. I was like, 'Man, I highly doubt that they are holding that against you and over your head.' And he goes out there and knocks out Diego Sanchez the way he does, and he's never been knocked out before, just the whole drama behind the whole lead up to the fight. Co-main event, Al goes out there on the biggest stage in the world and performs like that -- he's never looked better, you know?"
Sterling acknowledged that Nashville bonus recipients Mike Perry and Brandon Moreno had phenomenal, deserving performances. Sterling just seems to struggle with the fact that there is no clarity, consistency or real, explicit, driving philosophy or criteria behind these very impactful bonuses and how, when and to who they are handed out to.
Speaking admiringly of why the UFC may have chosen Moreno's impressive submission win over Dustin Ortiz last week, Sterling still comes out a bit confounded at what the UFC is looking for in paying athletes. Iaquinta has said creating that atmosphere of uncertainty and dependency on the UFC is by design.
"I do understand that you've got to give some love to the submission, but if that's the case, where was my bonus when I submitted Mizugaki from the bottom with an arm-triangle?" Sterling asks, remembering his 2015 submission win over the former title-challenger, using a White Whale-level rare finishing hold.
"It wasn't the most entertaining fight but I did what I had to do to win and capitalized on a position and got a submission which had never been done since Dana White and the Fertitta brothers had taken over the company. I do my homework, I know my stuff, so it was like, 'damn, what else do I have to do to get a submission bonus?' or a bonus in general. So, I definitely feel his frustrations on that."
[instagram url="https://www.instagram.com/p/BTCAHMhF5xr/?taken-by=funkmaster_ufc&hl=en" hide_caption="0"]
Sterling, like Iaquinta, is doing more than bringing up thoughtful and salient criticisms of UFC pay and benefits. The 27-year-old is also working to make up the income gap with a second and, hopefully soon, a third career.
Sterling says he and Iaquinta both began work in real estate last summer, and that he's preparing for coming New York Fire Department entrance exams.
"It kind of sucks, man. But, Al and I both got into real estate at the same time. We took the same course. One of our teammates, man, he's a killer in this field right now. He gave us the opportunity to come out and he took care of us in terms of the financial cost that most people pay to get through the real estate courses to learn the system of how everything works," he details.
"That was a huge blessing in disguise for both of us. And, it opened up our eyes to all these other things. Had we had been playing any other professional sport and making that kind of money, these things that we're doing now with the money we're getting, would have been a lot easier in terms of acquisition prices, gap funding, joint venture partners. Just that extra money that you need to put in to the deal to make these returns.
"We're just doing what we can right now but it's definitely frustrating."
Educated, industrious, and driven, Sterling is using his entrepreneurial skills to help fund his chasing his MMA dream. So far it has all been worth it, but Sterling says he'll only fight as long as he needs to.
"I'm doing a whole bunch of things. I'm doing the real estate, flipping houses. I've got my first house on the market. I've got another house that I'm investing in where I'm not the developer in. That one's in Texas. And I'm looking for my third property tomorrow, actually, this home in Long Island," he says.
"I'm at the point where I needed to fight. It's not like I was going for broke but I needed to fight, and I needed to win. One, to make money, and two, to hopefully put myself back in the position where I could challenge for the title where I could actually make life-changing money."
Sterling is at a bit of a loss when he sees fan criticism of fighters like Iaquinta who say they may need to stop fighting and turn to more profitable, less damaging businesses.
[instagram url="https://www.instagram.com/p/BTRV7VBF2uR/?taken-by=funkmaster_ufc&hl=en" hide_caption="0"]
"I see some silly stuff where some fans, I think they're just really uneducated, say, 'Good luck to Iaquinta finding another job that's going to pay him $150,000 a year.' I'm just like, 'I don't know where they get those numbers from," he wonders.
"He hadn't fought for two years and he was on his Ultimate Fighter contract before the Masvidal fight and for this fight he made $26,000, and $26,000 and he openly said it. So, I don't know where they got those numbers, $150,000 for the year. I wouldn't really complain [about getting paid $150,000] but can we get paid a little bit more than that? I think so."
Sterling, who not too long ago tested free-agency before resigning with the UFC, also used himself as an example. "So, I made $60,000 for the last fight but by the time it's all said and done, I pay my taxes, my corners, my coaches I'm looking at, roughly, $40,000. That's almost 20 grand out the window, just like that, in the blink of an eye," he recounts.
Sterling goes on to explain all the other expenses that fighters like himself have to go out of pocket to cover, just to be prepared and make it to a UFC fight. "Some fighters fly in training partners and put them up and cover their travel, their meals, their rental cars," he says.
Sterling goes on to say that it isn't uncommon for fighters to spend thousands upon thousands of dollars to get through a training camp, even if they don't themselves have to travel for training or bring in training partners or coaches from out of town, because of food, supplement, and other expenses. "Michael McDonald was in a situation where he didn't know if he could afford to take a fight and I definitely understand what that feels like," he continues.
After a fighter does get through a training camp with all its rigors and expenses and tolls on the body, if they want to actually have a full squad of coaches with them during fight week, Sterling points out that UFC athletes typically have to go out of pocket to fly them out and lodge them.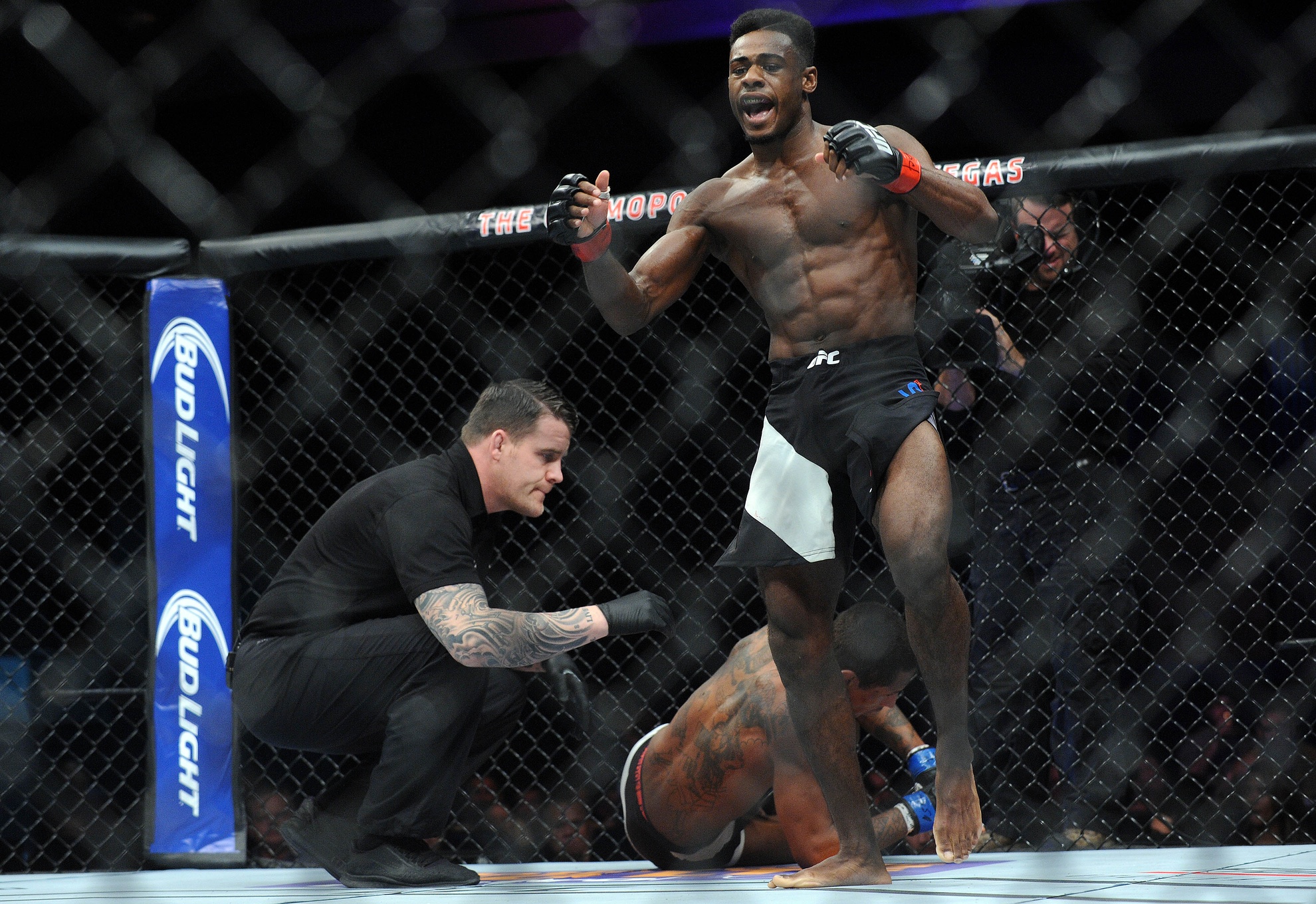 December 10, 2015; Las Vegas, NV, USA; Aljamain Sterling against Johnny Eduardo during UFC Fight Night at The Chelsea at the Cosmopolitan. Mandatory Credit: Gary A. Vasquez-USA TODAY Sports
"The UFC only pays for one fighter and one corner," he says.
"So then I have to pay for the other two."
If a fighter doesn't want to cram himself, his family and all those coaches into the single hotel room paid for by the UFC, then, Sterling says, the athlete has to again go out of pocket to secure other rooms.
"So for me, my coaches get two separate rooms. I have my room that the UFC pays for that my brother or whoever is cornering me, like if it's Al, they stay with me."
Those expenses are before state taxes, of course, manager fees, and coaches fees for Sterling. Sterling's message seems simple -- he loves fighting, it just doesn't pay well. So, elite MMA, fought in the UFC on national television and pay-per-view, is a pet passion project for a guy like Sterling, it seems.
"For what we do, which is probably the hardest and most grueling sport on the body, I think we definitely deserve [more], especially being the fastest growing sport. I know for a fact a lot of fans, even casual ones, watch the fights on television. I don't know how things are structured, like pieces of the pie when they signed a deal with TV networks, like should [a percentage] have been allocated to the fighters but I would think that would be a logical thing to do because at the end of the day we are the talent.
"Are we replaceable? Yeah. And that's the main concern of everybody. These guys say stuff to us, like when I was going through free-agency, guys would say stuff and then all of the sudden it would kind of just disappear. It's kind of an every man for himself kind of thing, which kind of sucks to see that. What can you do?"
[instagram url="https://www.instagram.com/p/BSz0yTRFrjz/?taken-by=funkmaster_ufc&hl=en" hide_caption="0"]
Sterling got into MMA after his amateur wrestling career because he wanted to see if he could become world champion. He's already made it to the top of the sport and he certainly has the talent to vie for the world title.
The same could be said for his streaking teammate Iaquinta. Sadly, because of its pay and benefits, the UFC and MMA may soon lose guys like he and Sterling to other jobs where they have more security.
"I know for myself, if I don't need to fight, I'm not going to," Sterling said, bluntly.
"That's why I've been looking into FDNY. I take my exam in September. If fights are going to make sense where I can make decent money and it's a good match up and things like that, then I'll take the fight. I told Sean Shelby and I told Dana White I don't mind being the short-notice guy because I'm always in shape. I don't take off a ton of time to just sit around and drink and smoke pot all day and stuff like that. I don't have that luxury. I'm constantly training, I'm constantly trying to evolve and improve my life one fight at a time. So if I have to do something else to make extra money, that's what I'm going to do.
"It's a lot easier on the body to make money doing the other stuff I do. I chose fighting. I chose this route. I chose to chase a dream. I chose to meet great people -- I've met a ton of great people through this sport. That's probably the only thing I can't place a price-tag on -- the amount of connections and the people I met along the journey."
Sterling says he was just diagnosed with a broken foot, which he believes he's had since his Bryan Caraway bout, three fights ago. "I throw kicks in training and it gets swollen the very next day," he explains.
"I push through it but there's a lot of easier ways to make money.
"I think when you're a wide-eyed young kid coming up, the UFC is the best thing in the world. And they are a great company. But when you realize, when you get to the top, that all the sunshine and rainbows that you thought were going to be there aren't necessarily there in the timely fashion you thought they were going to be there, it kind of makes you wonder 'is this really worth it?'"
[instagram url="https://www.instagram.com/p/BStk1UIF7Ev/?taken-by=funkmaster_ufc&hl=en" hide_caption="0"]
For now, Sterling says it is. Still, he's moving full-steam ahead with his second and third careers, hoping they provide pay and security that being a professional UFC title-contender does not.
"I'm young. I told [UFC vice-president and match maker] Sean [Shelby], sign me up for these short-notice fights. I'll bang them out," he promises.
"I'll put myself back in the position where I can make some money and I'll just do stuff on the side whenever I'm not training.
"You're probably going to see a lot of guys making sure that they do other things to supplement their income."
As Sterling recovers from his last training camp and fight, he looks to get back into training while he works on new real estate deals and prepares for New York Fire Department exams in the fall. "I'm waiting until July for our exact exam dates, then I'll take tutoring classes because I need to get 100. The physical test shouldn't be a problem but the written exam will be a challenge because it's been awhile since I've been in school," he says.
"I've got to tune up the brain a bit to get a perfect score," he laughs.
Sterling isn't kidding about needing a perfect score on the written fire department exam, since some applicants will likely start out with scores above 100 because of different groups they are a part of. Like professional fighting, being a firefighter in a major city like New York is a competitive process.
Sterling sees it as a worthwhile process, however, because unlike his UFC career, firefighting is one where he can actually earn healthcare, a pension, and help people.
"It's a great job," he enthuses.
"The schedule could still give me flexibility to do outside training and not really run my body into the ground to the point where I can't train and take a fight.
"I'm just trying to set myself up for the future. At the end of the day I've got my long term goals. I want to have three houses -- one in Cali, one in Florida, one in Long Island so I can live on the beach year-round (laughs)."
[instagram url="https://www.instagram.com/p/BNQmxCbgyZv/?taken-by=funkmaster_ufc&hl=en" hide_caption="0"]
As he works hard to supplement his dream-chasing fight career with outside income, Sterling clearly still wishes the UFC operated in a way that allowed athletes at least some minor ways to bring in more money.
For most of the promotion's history it effectively told fighters and their managements that, though they didn't always pay very much in fight purses, the company had worked hard to get the fights out to the mainstream, back on pay-per-view, back on cable, broadcasting on network television all across the world, and so at least fighters could leverage that given exposure to score sponsors who would pay them for giving them branding exposure on fight weeks.
In recent years the UFC became more restrictive with those options for fighters as the promotion sought out exclusive licensing, branding, and sponsorship deals for the promotion itself. Most recently, the UFC's exclusive apparel deal with outfitter Reebok, which athletes had no structured, collective representation in the negotiations of, explicitly banned fighters or their corners (including those the UFC won't cover the costs of flights to events for) wearing anything other than Reebok clothing and logos during public fight week and fight night events.
Fighters lost the chance to go out and negotiate sponsorship deals for themselves based on fight week brand exposure for companies, and in return had placed upon them a rigid Reebok royalty payment system based on a changing mélange of factors that the fighters and their representatives themselves had no collective say in negotiating.
[instagram url="https://www.instagram.com/p/BP1M0QLATK3/?taken-by=funkmaster_ufc&hl=en" hide_caption="0"]
Pensions, year-round, comprehensive healthcare, collective bargaining, basic fight week travel costs for coaches, and even the right to be considered an employee as opposed to the independent contractors UFC athletes currently are classified as by the UFC aside, Sterling says even just allowing the branded presence of one additional company per fighter per fight week as a sponsor could go a long way to helping elite athletes like him cover costs of living out their dreams.
"If the UFC allowed us to have just one sponsor per fighter, per fight, I think that would be cool," he concludes.
"I think that would be a step in the right direction with helping us supplement our fight purses."
It's a modest suggestion from a hardworking fighter. Though Sterling is fine with motivating fans about the full realities of being a UFC fighter, he's ultimately not complaining a whole lot at all.
At the least, he's working much more than he is criticizing. Things don't always go the way we want in life, after all.
"Sometimes I look at it like, you've got to do what you've got to do," he ends.
"You're not always going to like the hand you're dealt in life but you play your poker face and try to get through."
UPDATE:
"After original publication of this feature on Thursday Aljamain Sterling contacted FloCombat to report that, to what he characterized as his surprise, after speaking with us he received his first ever royalty check for the ufc's licensing of his name and likeness. Sterling told us that he was told it was for usage of his name and likeness for EA sports video games."