Kamaru Usman: Building The Beast (Feat. Jon Jones, Rashad Evans, Mom & Dad)
Kamaru Usman: Building The Beast (Feat. Jon Jones, Rashad Evans, Mom & Dad)
UFC welterweight Kamaru Usman has achieved incredible success inside the Octagon--and he's just warming up.
Apr 21, 2017
by Hunter Homistek
Kamaru Usman is 10-1 as a professional mixed martial artist. He's 5-0 on the sport's biggest stage--the UFC. He won Season 21 of The Ultimate Fighter with relative ease. He's never had an amateur fight, mostly because when you're a multi-time All-American and national champion wrestler, you don't really need to fight for free.
He's 28 years old, he's still green to the sport of MMA, and yet, he's accomplished more than most fighters ever will.
That's because Kamaru Usman is not like us.
His calm intensity invades conversation. Every word is thoughtful. Every line speaks to something greater, yet the delivery is soft and inviting. He's measured and intelligent, boasting the type of confidence that comes when you just know you've got something others don't.
For Usman, that something is no accident. Raised in Nigeria before coming to the United States "around seven [years old]" by his count, Usman's wiring is rooted in respect and in a knack for the hustle. It's this foundation that led him to his current position among the welterweight elite.
"No disrespect to kids here or anything like that, but immigrant kids from other countries, other cultures, they're brought up with different values," Usman said. "Here, it's the land of opportunity. Here, you can literally almost do anything.
"Respect is a big one. That's a huge one. Growing up, I don't think I ever knew the first names of my mom and dad's friends...I didn't even know their first name because we never called them by their first name. That's 'aunt.' That's 'uncle.' That's just how we referred to everyone. Even in school, our teachers, we didn't call our teachers by their name. We called our teachers 'Auntie' and 'Uncle.' That's what we called them. It's a different level of respect when you grow up like that."
Respect alone doesn't help a person hammer humans to the canvas with a master carpenter's precision, though. Growing up in America, Usman feels other kids were "just as strong, just as fast, just as capable" as he was. But they weren't just as driven. They weren't raised like he was, and they weren't as willing to get down to the grind.
"I started wrestling my sophomore year in high school. I didn't know anything about the sport at all," Usman said. "By my senior year, I was picked to win the state tournament going into that year. I ended up placing third, but I closed ground on kids who had been wrestling since six years old, seven years old, that knew everything about wrestling, all the little moves, all the intricacies.
"I closed that gap simply because nobody had to tell me, 'Hey, you need to run at night to get your conditioning up.' Nobody had to be there with me. I did that myself. I knew if I had to weigh in in a couple days and my weight's a little high, I'm just going to go run right now. My mom would say, 'Why don't you come get some food?' 'No, mom. I need to run. I need to make weight.' I put all that work in myself just to get to the point where I am right now."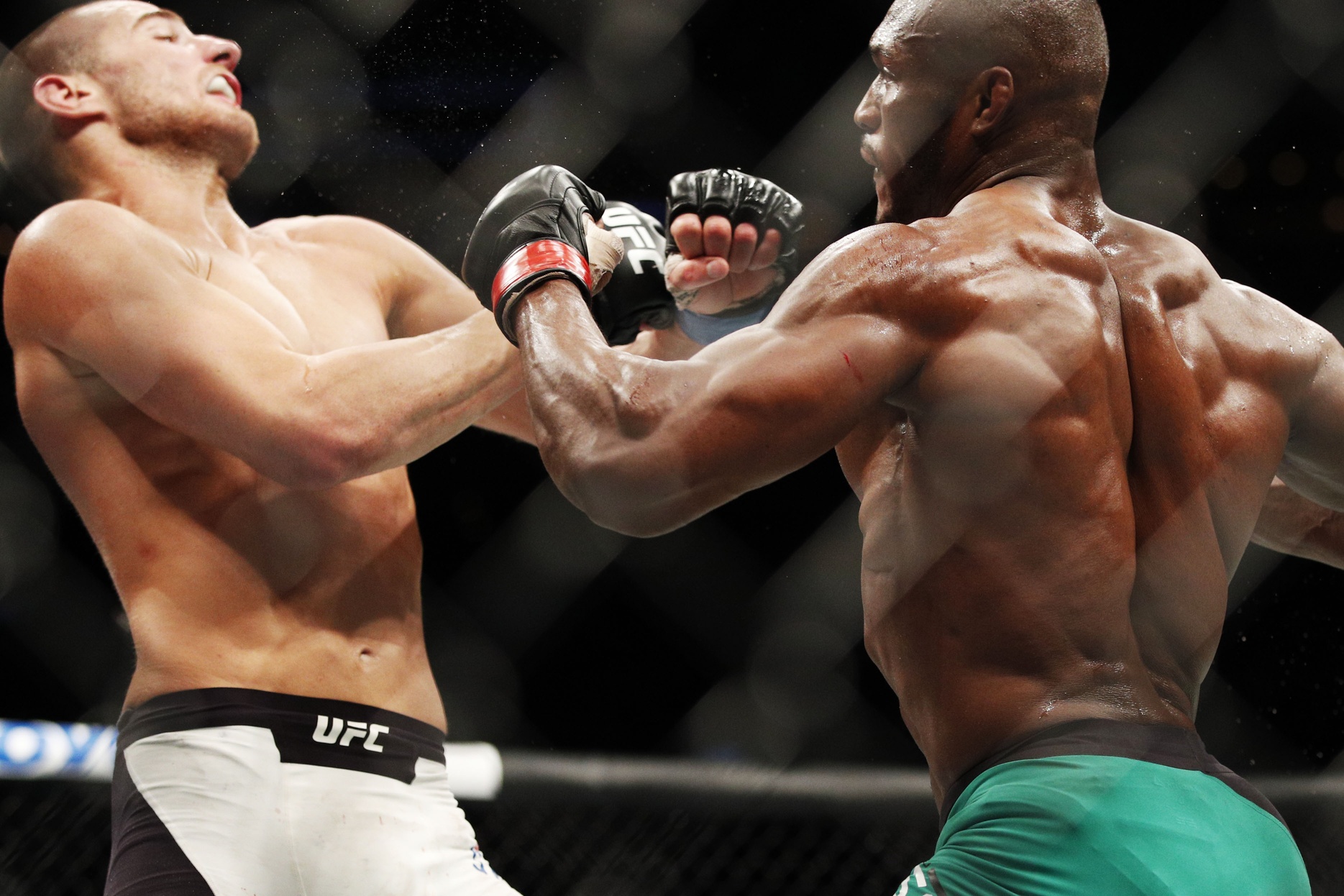 (Apr 8, 2017; Buffalo, NY, USA; Kamaru Usman (red gloves) competes against Sean Strickland (blue gloves) during UFC 210 at KeyBank Center. Mandatory Credit: Kevin Hoffman-USA TODAY Sports)
While Usman came up short of his goal to become a high-school state champion wrestler, there were plenty of positives to take away from his time on the mats. Besides the skills learned and the routines created, Usman leveraged his wrestling prowess into a successful college career. He also met a few key figures along the way.
Enter former UFC light heavyweight champion and pound-for-pound fighting legend Jon Jones.
Like Usman, Jones was a standout high-school wrestler, and the two met at the senior national tournament before leaving for college. As fate would have it, both were headed to the state of Iowa--Jones to Iowa Central Community College and Usman to William Penn University.
During his fall break, Usman decided to make the three-hour drive to visit Jones. There, the seed of MMA was planted.
"We got invited to some guy's house to watch the fights," Usman said. "I can't remember what fight it was. It was probably Chuck Liddell or maybe Randy Couture and Tim Sylvia. So we get to this guy's house, and this guy was a Golden Gloves boxer. He invites us to the house, and we watch the fights, and he's kind of telling us, 'Hey, you guys should start doing this.'
"I remember how me and Jon looked at each other. We were like, 'We're not going to do that.' Two years later, Jon's in the UFC doing it and I ended up doing it years later."
While Jones made an early jump to the cage, Usman wasn't as sold. He continued wrestling, earning Division-II All-American honors all three years he attended the University of Nebraska at Kearney and notching a national title in his senior season.
After college, Usman stuck to the mats, moving to the Olympic Training Center in Colorado Springs in hopes of becoming the next great American wrestler. There, that pesky seed of MMA began to sprout.
"I started helping fighters train and win fights, then I would go and wrestle tournaments," Usman said. "I would train so hard for it, and if you won the tournament, you'd get maybe $1,500. Maybe $2,000. These fighters, I would train with them, and they would go and win a fight and make $50, 60, 70,000. So I was like, 'Something's not right here.'
"I know how hard I'm training for these fights and these matches. And this is what I'm making? I can't even support myself, and these guys have a family, have a house, have everything? That right there started to pull me toward the MMA side."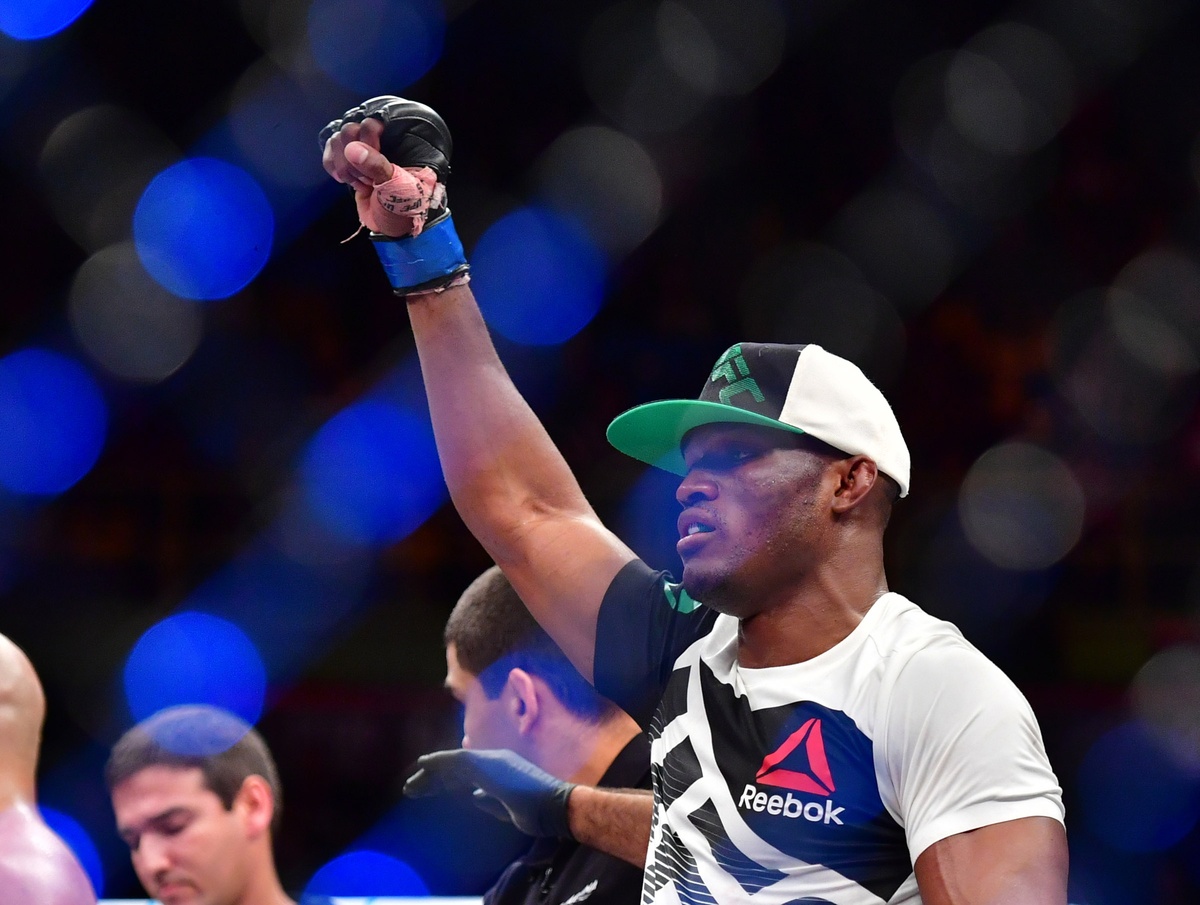 (Nov 19, 2016; Sao Paulo, Brazil; Kamaru Usman (blue gloves) defeats Warlley Alves (red gloves) during UFC Fight Night at Ibirapuera Gymnasium. Mandatory Credit: Jason Silva-USA TODAY Sports)
The pull was quickly intensified. Enter another former UFC light heavyweight champion: Rashad Evans.
Usman's friend and mentor Muhammed "King Mo" Lawal shot him a text one evening to see if he could meet in Denver to help "a friend" prepare for a fight. Ever the gamer, Usman said "Yeah, of course," and his trajectory was forever altered because of it.
"I don't think I ever told Rashad this, but it was the first time I was ever starstruck," Usman said. "So we're in the locker room changing and all of a sudden Mo and Rashad walk in. And I'm like, 'Oh shit! That's Rashad Evans.' I played it cool, but I was starstruck. I was like, 'Yo, I see this guy on TV everywhere. He's like the biggest celebrity out as a fighter.' At the time, he was one of the hottest fighters out. I was like, 'Oh my god. I can't believe this guy's in here.'
"So we go out. We train and we work out. To this day, Rashad will lie and say he took me down during that practice, but he never did. We wrestled all through the practice. After the practice we just sat down and talked. I couldn't believe how cool and how down-to-earth Rashad Evans was. He was amazing. He talked to me like we were friends forever. And there was just something about that moment for me where I was flabbergasted by how cool he was."
Then the pestering began.
"All of a sudden [Evans] came to this point where he started poking me a little bit and teasing me about MMA," Usman said. "So he had another fight and he flew me out to help him out during his camp. And he said, 'You know you should be doing this.'
"So when it was time and I decided I was done with wrestling, he called me and said, 'Hey, I want you to come to Florida. I think you'll love it. We're building something really nice here.' So I had a couple different offers to go to different gyms and train, but he said, 'You know what? You can come here. You can live with me.' He basically just welcomed me with open arms. I just made the decision. I said, 'He's probably the nicest guy I've met throughout this whole experience, so let's do it.' The rest is history."
With Usman, that "history" is being written every day. Submerged in MMA for less than five years, Usman feels his best is yet to come inside the UFC Octagon. A record of 5-0 on the sport's biggest stage is good--but he envisions so much more.
"I want the belt for a couple of reasons," Usman said. "One, it shows that I am the best in the division at that time. It's something that I've put everything into. I do this because of the competition, so I want to be the best at it. Two, that belt opens doors that you wouldn't get without having it. This is just a vehicle to get to what I'm going to be doing for the rest of my life. That belt opens doors.
"Essentially, [UFC welterweight king] Tyron Woodley is doing what I want to do. He's got the belt, which I want. He's an analyst on Fox and a commentator, which I've already started laying the groundwork for. He's doing movies, which I want to do. He's doing shows and things like that. He's essentially doing everything right now that I want. He has the life I'm working toward. Much respect to him. Those are the doors that having that title opens up for you."
Coming off an impressive victory against Sean Strickland April 8 at UFC 210, Usman looks forward and upward. He's honed in, and he believes his next target is acquired.
"I think Neil Magny is the fight that makes sense," Usman said. "For me, I'm a realist. I'm not going to just call out everybody and call out fights that don't make sense just to call somebody out and seem like I want to fight everybody. Of course I want to fight everybody that's ranked above me.
"But I also want a call-out that makes sense. I don't want to say stuff just to say it. I think Neil Magny makes sense because he's above me, he's coming off a win in his last fight, and just sitting here, I think that's the fight that makes sense, stylistically as well as just moving up."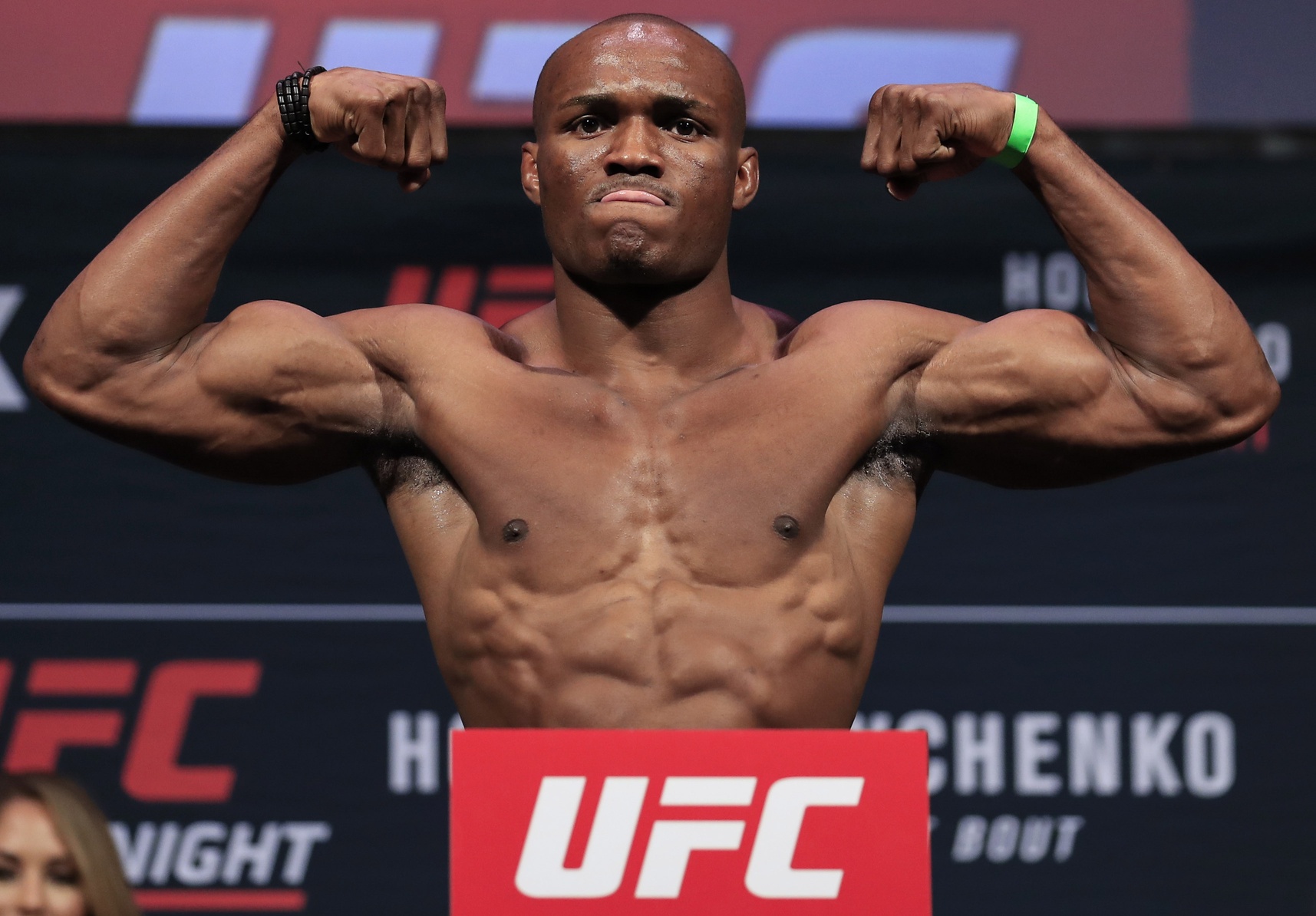 (Jul 22, 2016; Chicago, IL, USA; Kamaru Usman during weigh ins for UFC Fight Night at United Center. Mandatory Credit: Kamil Krzaczynski-USA TODAY Sports)
Whether this bout materializes, Usman already sees plenty to celebrate. From Nigeria to Texas to the UFC and beyond, Usman's consistently maximized everything put in front of him. Thanks to similarly brave and driven parents and a rock-solid familial infrastructure, Usman is able to sit back and recognize what he has.
"I've traveled a lot in the past few years and I've been to a lot of countries, and I really see how special this country is," Usman said. "I see it, and I appreciate it. So when you're in a country like that [Nigeria] and you're raised in a country like that, you always look at [the U.S.] like a foreign land. Everything is so clean and so nice. You can do anything you want here."
Right now, Usman wants the UFC title. Step by step, fight by fight, he's getting there.
Tough fights--maybe two, maybe more--stand in his way, but if he's shown anything throughout his combat sports career and beyond, it's that he doesn't see obstacles, only opportunities, and he has no fear when tackling even the most daunting of tasks.
"You hear the term 'hard work pays off' but there are a lot of people in the world who work hard," Usman said. "Sometimes they never achieve what they set out to achieve, which could quite possibly happen to me. But I know when you put everything together physically, mentally, and spiritually and everything's aligned, that hard work does get you there."