Urijah Faber has had a lot of descriptors attached to his name over the past 13 years.

He's been a champion, challenger, Coach, mentor, poster boy and pioneer to name a few, but the legend of legacy will be forever carved in stone when his storied career officially came to a close at the end of 2016.

"The California Kid" gave his hometown fans in Sacramento one last curtain call as he defeated British slugger Brad Pickett via unanimous decision at UFC on Fox 22 back in December. It was a fitting turn for a fighter who was single handedly responsible for keeping the lower weight fighters on the map throughout the post-TUF boom of the mid 2000's.

In fact, because of Faber's role in drawing eyes to the WEC, and the spotlight arriving to future champions like Jose Aldo and Dominick Cruz, the promotion wasted zero time announcing Faber as the next member of the UFC Hall of Fame.

And while that announcement during the broadcast for UFC 210 in April was met with tremendous support from the MMA community at large, the always game competitor and Team Alpha Male leader was admittedly a bit shocked.

"It really meant a lot," Faber told FloCombat. "It's kind of crazy because you don't really sit around and think about what you've accomplished. To have this happen so fast after I officially retired and started to move onto the other stage of things and have this feather in my cap is cool. I wasn't necessarily expecting it. Maybe someday I figured, but not so fast.

"To have them give me that recognition right so quickly means a lot."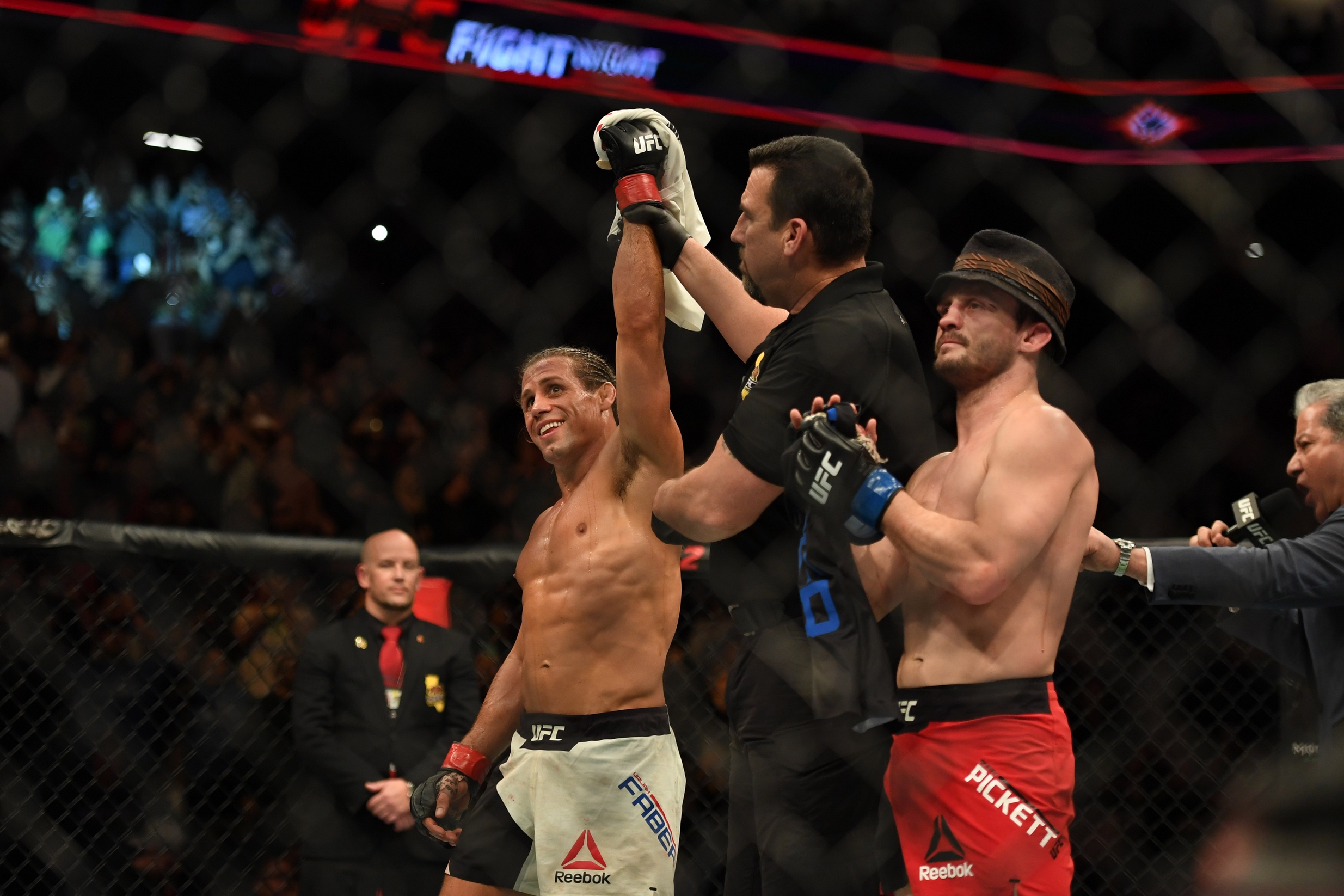 December 17, 2016; Sacramento, CA, USA; Urijah Faber (red gloves) fights Brad Pickett (blue gloves) during UFC Fight Night at Golden 1 Center. Mandatory Credit: Kyle Terada-USA TODAY Sports

Where Faber's skills inside the cage set him apart from the pack, it was his ability to self-brand which truly raised his stock to unprecedented heights. Prior to Faber's ascension it was unheard of for a fighter under the 155-pound mark to get shine on par with the larger athletes, but the Californian's explosive style and mega-watt personality made him a fighter who could not be ignored.

Yet and still, the game of mixed martial arts is always evolving and shifting in all aspects, and Faber believes the fighters of today and the future will have to keep pressing on all fronts to afford themselves lucrative careers after their days of slinging leather are done.

"It all depends on the individual to be honest," Faber said. "Some guys could use some help, but I think a lot of guys get that you have to work both inside and outside the Octagon to extend your career beyond fighting.

"I'm doing a ton of things, man. I'm so damn busy on the business side, which is great for the next stage of what I'm about to do, but I'm still in the gym and doing a lot of things on that side as well. I train in there, roll with the guys, fulfill my coaching duties and mentoring the guys. At the same time I'm still being who I am and having fun."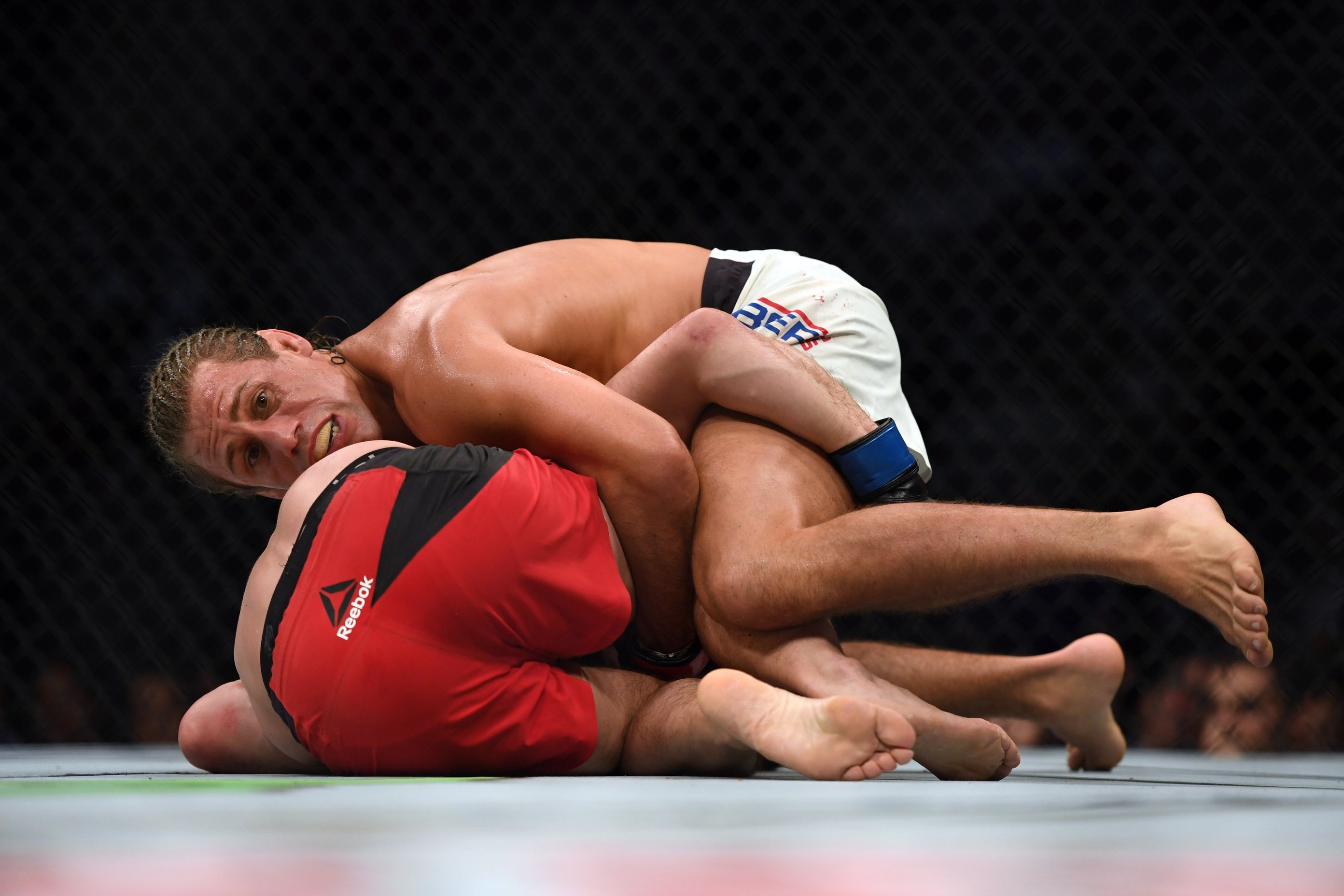 December 17, 2016; Sacramento, CA, USA; Urijah Faber (red gloves) fights Brad Pickett (blue gloves) during UFC Fight Night at Golden 1 Center. Mandatory Credit: Kyle Terada-USA TODAY Sports

Although Faber's days of throwing hands and smashing elbows into skulls may have come to an end, his days of competition are far from over.

The scramble king will lock up with Brazilian jiu-jitsu ace Paulo Miyao on the main card of Chael Sonnen's Submission Underground 4 on FloGrappling. The submission only jiu-jitsu match will take place on May 14 in Portland, Ore., and Faber assures he will be ready to go when it's time to make that walk.

Faber revealed his life has been full throttle in the business world since his days as a fighter came to an end, and he's going to have to turn things up full force to get Miyao out of there on the night of the event. Then again, Faber is a stay ready type of athlete, and he expects that tenacity to bring plenty to the table against a world-class grappler like Miyao.

"I've been grappling for a lot of years," Faber said. "I've honestly been so busy, but Chael asked, and I've been training in the gym every day I'm home so it's all good.

"I'm always down to compete. I think [Miyao] is like a five-time World Champion and he's one of the most relevant guys in grappling right now. I figure I'll just hop in there, compete with one of the best, go for the 'W' and get the big win.

"It's definitely going to be different that's for sure. I need to study up a bit more on this guy because I've seen some of his matches, but I'm going to be working hard with all the talented guys I have in the room at the gym. I've also been getting in training while I'm out of town because it's always easy to jump into a jiu-jitsu gym and get some rolls in. It's not my main focus obviously because I have a lot of things going on, but it's something I love and I'm passionate about. I really feel I'm one of the best in the world and I'm going to get to test that."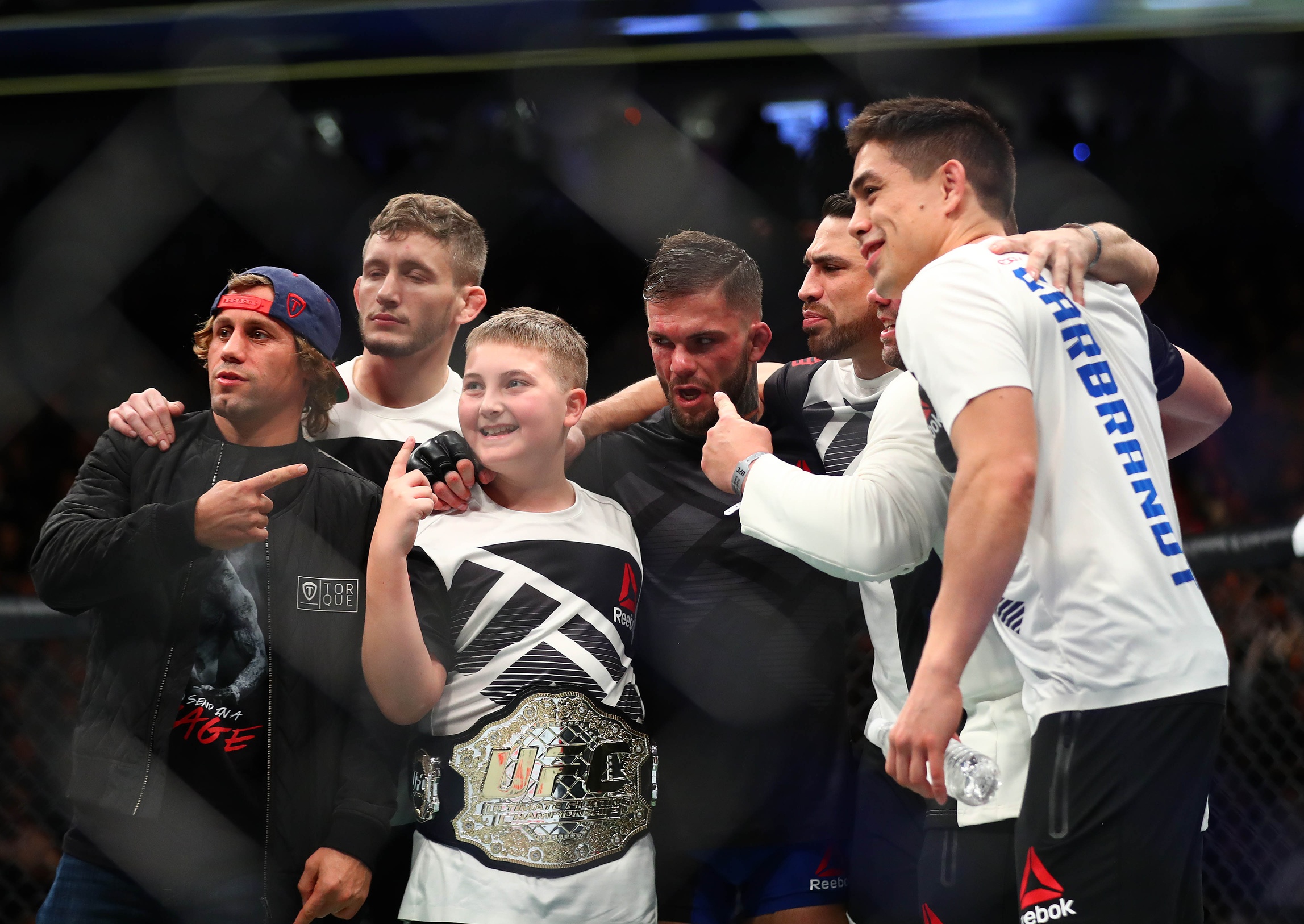 December 30, 2016; Las Vegas, NV, USA; Cody Garbrandt poses for photos with young fan Maddux Maple and fellow fighter Urijah Faber following his victory against Dominick Cruz during UFC 207 at T-Mobile Arena. Mandatory Credit: Mark J. Rebilas-USA TODAY Sports

Faber's time spent waging battles inside the cage and the highlights he produced throughout his career will carry on for decades to come. And while those memories are ones the 37-year-old former champion shares with a passionate fanbase, perhaps the biggest addition Faber has brought to MMA has been the fighters his team has produced.

Team Alpha Male has been a staple of the lighter weight classes for the past several years, and with current bantamweight champion Cody Garbrandt holding the flag strong, the future of the squad's success appears extremely bright. Faber believes the sky's the limit for the heavy-handed Ohio native and his upcoming bout against former friend, teammate and once prodigy T.J. Dillashaw at UFC 213 in Las Vegas on July 8.

And while the bad blood has runneth over for quite some time now, the premier episode of TUF 25: Redemption put Faber's anger gauge in the red. The TAM leader has never been much of the type to take private details of a conflict public, but the things Dillashaw said on Wednesday night's episode got under his skin and he's determined to set the record straight.

"I actually posted something on my Instagram yesterday because I couldn't believe T.J. went on the show and just boldly lied through his teeth," Faber stated. "Dude, if you want to leave the team that's fine. That was never the issue. The issue is when he starts playing the victim.

"Conor [McGregor] put him on blast with that whole thing during The Ultimate Fighter where he called him a snake, and before we knew he was leaving the team he kind of predicted it. So T.J. got this massive backlash for leaving the team, and that's not even the issue. The issue is him acting like he was kicked off the team when that is a blatant lie.

"He wants to leave the team that's okay...leave the team, but don't turn around and feel sorry for yourself and say, 'I was kicked out of the gym' and this and that. You want to quit the team? Fine. Move on, but don't turn around and try to act like a victim. He wants people to feel sorry for him.

"You go do your thing and we'll do ours," Faber added. "That's all fine and good, but then he gets on national television and blatantly lies through his teeth. He tells a lie that only I know is a complete lie which basically makes it my word against his and saying something that isn't true. But luckily he's done so many interviews telling the truth that I just put one out.

"I remember the first interview he did about the situation and that shows what his mindset was, and now, three years later he's changing his whole story to make me look bad? That's shady and I had to call him out. It is what it is."