By Shawn Smith

It's hard to fathom any fighter entering the sport of mixed martial arts without having known about the Ultimate Fighting Championship (UFC), especially after The Ultimate Fighter blew up and made the sport well known amongst mainstream sports fans throughout the mid-2000s.

UFC middleweight Smile'n Sam Alvey swears that was the case for him.

"My first memory is that I had no idea about the sport; I didn't know it was a sport, I hadn't heard of the UFC," Alvey said. "I just thought I was tough. Somebody said there was a fight, they told me to put gloves on and go out there. I said it sounded great. I lost that first fight, but I loved it."

Now 37 professional fights into his career, Alvey is still in love with the sport and his recent performances prove it. The unheralded middleweight has put together four straight victories and will be looking to secure his spot in the division's top 10 with a win against former title challenger Thales Leites at UFC Fight Night 108 on April 22.

He's referring to the bout as a legacy fight, his first major opportunity to cement his name in the UFC's history books. The fight will mark six bouts in less than a year for the Wisconsin native. He's hoping to add one more before June 18, which would make seven in 365 days.

"I've been calling this my legacy fight; If I can get one more fight before June 18, that's a record no one will ever touch," Alvey said. "The eventual goal is that I'm going to get that belt. Enough people on Twitter and Facebook will say they'd like to see me win the belt and I'll say "Yeah, I'll do that now."

The 30-year-old Alvey is known as much for his outgoing personality as his in the cage fighting ability. His over the top smile is his most recognizable feature and has endeared him to fans across social media.

He gets the smile from his parents, who still argue today over who gave it to him.

"They are pretty happy people," Alvey said. "They love life and always have. There's no reason out there not to smile and if there is, it's a temporary pain."

While it seems almost hypocritical being the smiling guy who punches people in the face for a living, Alvey said it's not all that complicated.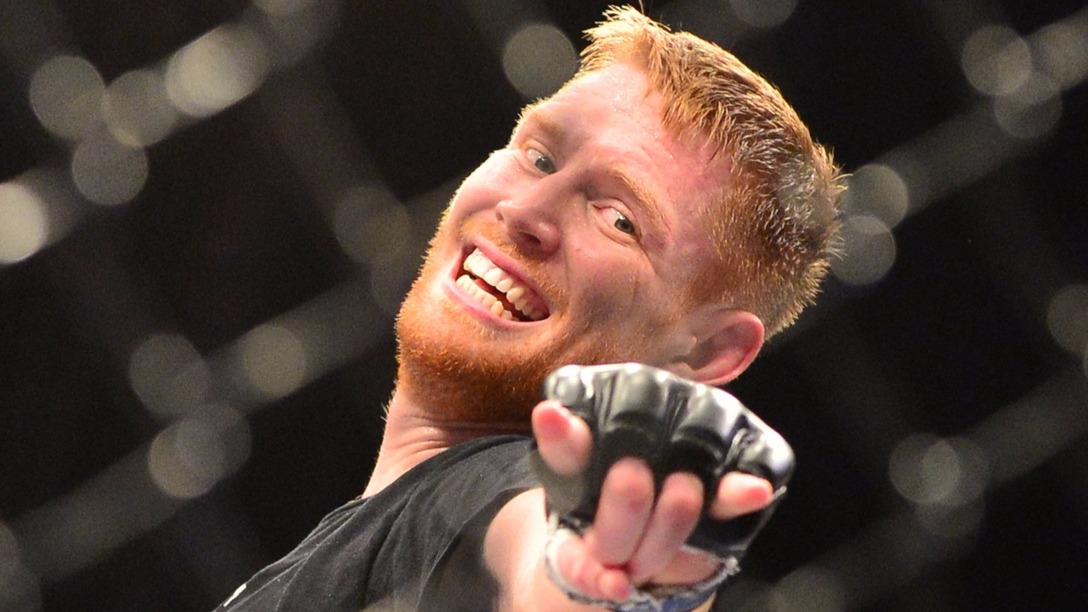 Photo Credit: Jason da Silva-USA TODAY Sports

"I never get why people get so mean-faced with this MMA," Alvey said. "Somebody else pays for me and my family to fly around the world and do something I would do for free, they pay me a bunch of money to do it. I can't think of a bigger reason to smile or be happy."

Unlike many fighters, Alvey doesn't need to hate his opponent to get into a fight. After all, this is a guy who had a slew of cage fights before he had even heard of the UFC and was taking Pankration fights throughout Wisconsin without ever having heard of jiu-jitsu. He is just a dude who thought he was tough and enjoyed fighting.

"I've always got a kick out of the Mike Perry's of the world who always look so pissed off all the time," Alvey said. "I don't get what happened in their life to make them so upset. Get over it."

Now training out of Team Quest, the dulcet tones of one Dan Henderson can be heard in the corner of Alvey between rounds. He's going to need all that advice and more to overcome what is unquestionably the toughest opponent of his career.

But Alvey said training for Leites has gone well, adding that he compares well with Nate Marqaurdt, who Alvey defeated in his last fight.

"The funny thing about Leites is that he's incredibly similar to Nate Marquardt," Alvey said. "They both are strong, willing to stand and have an incredible resume in jiu-jitsu. It's nice coming off of camp against Marquardt to fight someone that is so similar."

Ranked 13th in the world according to the UFC rankings, a win over 11th ranked Leites would launch Alvey's career. Instead of being just another middleweight, he could become one to watch as higher ranked fighters like Vitor Belfort and Anderson Silva move towards retirement.

Always confident, Alvey is aware that Leites has never been knocked out in his career. He's not concerned.

"He's never been TKO'd, maybe I'll have to submit him," Alvey said, laughing.

If Alvey wins, fans can expect to see the biggest smile yet.