Cub Swanson Plans To Teach 'Poser' Artem Lobov About Respect
Cub Swanson Plans To Teach 'Poser' Artem Lobov About Respect
UFC featherweight contender Cub Swanson weighs in on Artem Lobov fight and becoming a father for the first time later this year.
Apr 6, 2017
by Duane Finley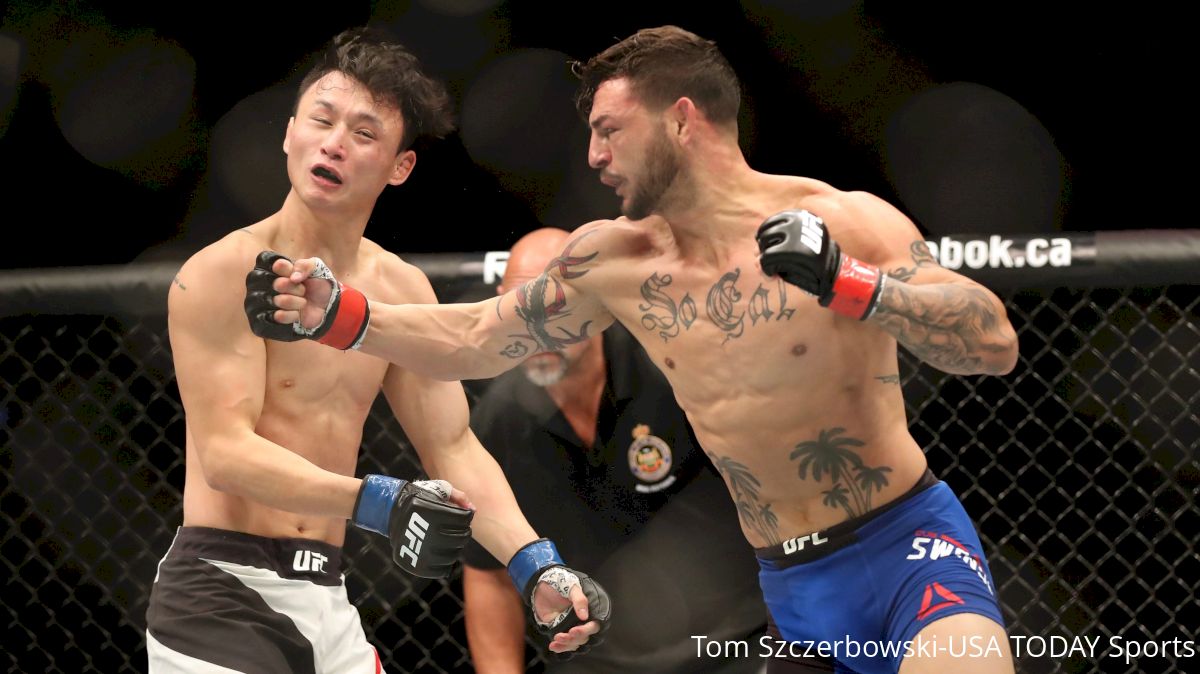 Cub Swanson is a walking study in contrasts.
Beyond the bright lights and cage the Palm Springs native as fan-friendly as can be found in the fight game. Swanson is quick to a smile despite his natural tendency to lean on the shy side of things, but his willingness to engage with the passionate masses who follow mixed martial arts has cemented him as a fan-favorite.
When the Octagon closes and the switch is flipped, that is where the other side of Swanson comes front and center. "Killer Cub" is the label that mode has come to be called, and for a writer who has spent a tremendous amount of time around the perennial featherweight contender; the transition is nothing short of fascinating.
While his elite-level striking and a slick jiu-jitsu game are highly regarded, Swanson's will to win and endure until his opponent breaks is what has been making the difference as of late. The Jackson/Winkeljohn affiliate is currently riding a three-fight winning streak that has put him back in the hunt for the 145-pound title.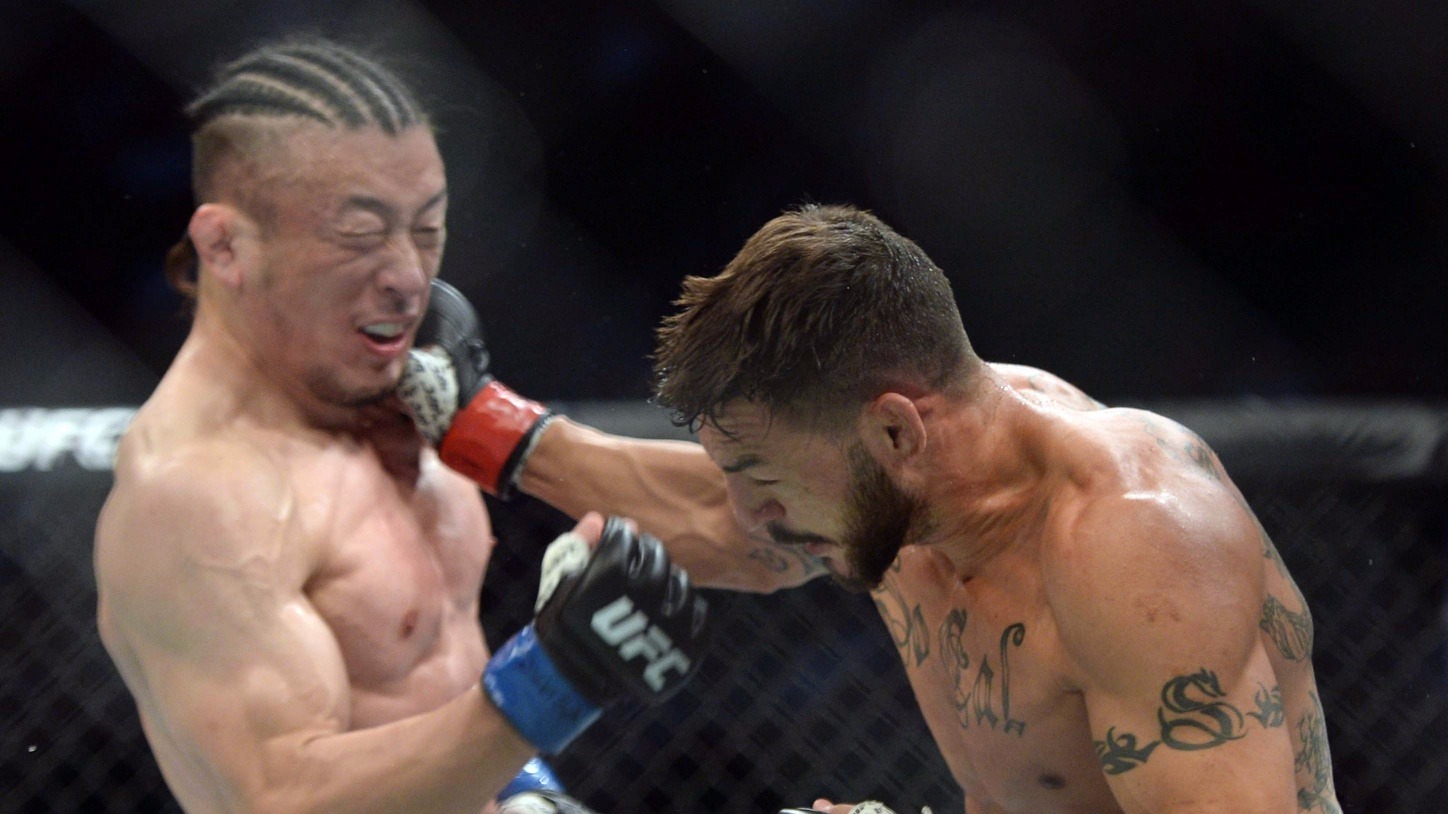 Aug 6, 2016; Salt Lake City, UT, USA; Cub Swanson (red gloves) and Tatsuya Kawajiri (blue gloves) fight during UFC Fight Night at Vivint Smart Home Arena. Swanson won via unanimous decision. Mandatory Credit: Joe Camporeale-USA TODAY Sports
As for the aforementioned resilience, his "Fight of the Year" winning performance against Doo Ho Choi at UFC 206 back in December is all the proof necessary. Where falsely promised title shots and setbacks pushed Swanson to the brink and made him question his very future as a fighter, the ice-cold reserve of a man on fire is who the world sees now.
For Swanson the crucial factor is finding that balance to the driving forces in his life, and his ability to do so has him performing at his highest levels and happier than ever.
"I feel I'm better than ever," Swanson told FloCombat in an exclusive interview. "This sport teaches you some painful lessons but if you really pay attention every loss or injury is a chance to learn and get better and I've done that. What motivates me the most is my own criticism and expectations. Not anyone else's."
And when it comes to the topic of education served up inside of a cage, Swanson is fixing to put on his teaching cap for his next showing. The hard-charging striker will square off against Conor McGregor teammate Artem Lobov in the main event at UFC Fight Night 108 in Nashville, Tenn. on April 22.
The SoCal representative and the Irish star were once engaged in a highly publicized Twitter beef when McGregor was still in the featherweight ranks, but the tension between the two appears to have dissipated over the years. Nevertheless, Lobov picked up the mantle and went looking for a fight following Swanson's victory over Choi in Toronto.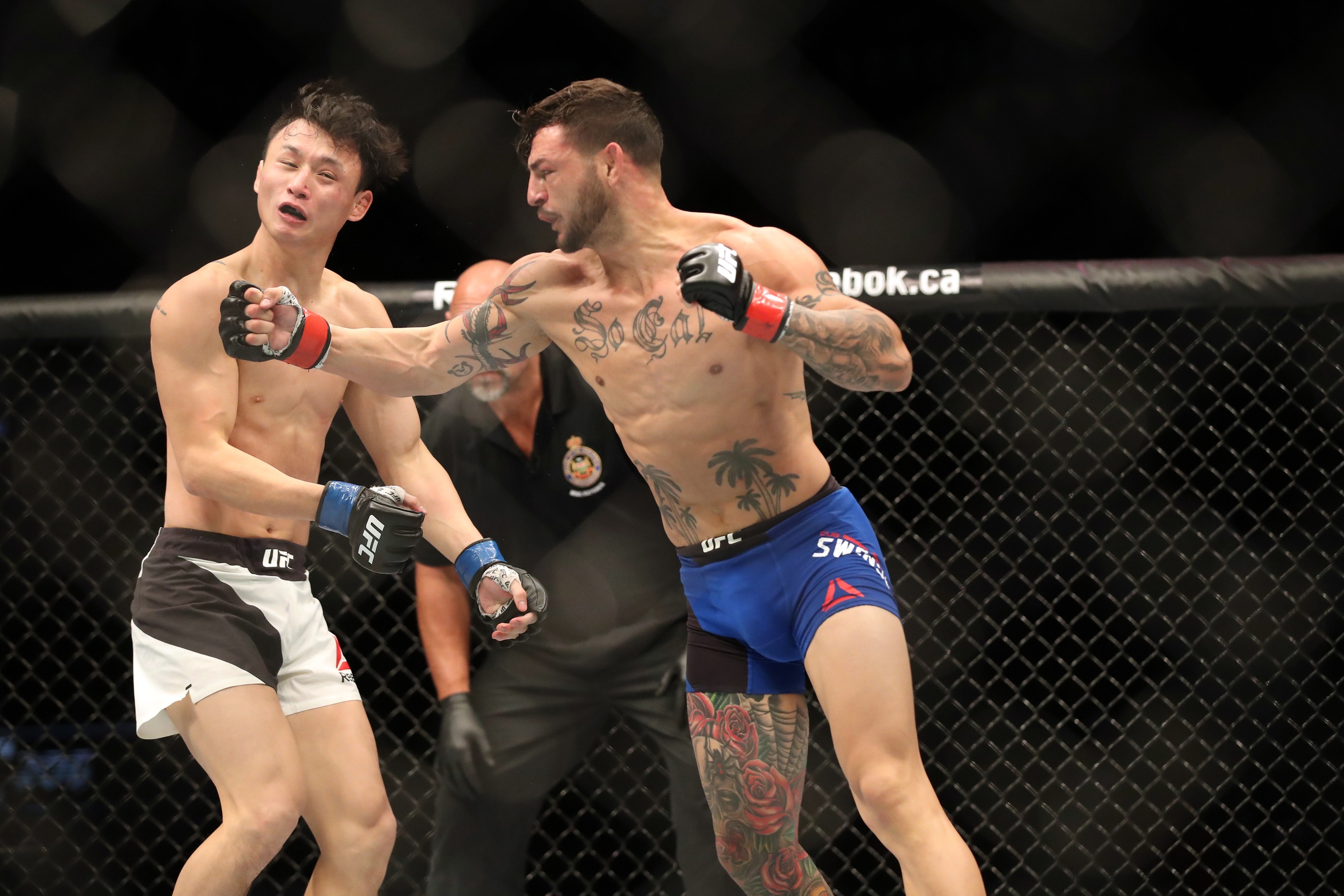 Dec 10, 2016; Toronto, ON, CAN; Cub Swanson (red gloves) fights Dooho Choi (blue gloves) during UFC 206 at Air Canada Centre. Mandatory Credit: Tom Szczerbowski-USA TODAY Sports
Once the matchup was made official Lobov set about launching trash-talk mortars in Swanson's direction, but the static has only served to motivate him. Swanson has clear intentions for showing up to Fight Night 108 and he plans on delivering his message in the worst way.
"I can respect Artem asking to fight me," Swanson said. "Real fighters want to test themselves. What I don't respect is him being extremely disrespectful in the process. He thinks he can call me names and it's going to intimidate me or throw me off my game. All it's doing is motivating me to be a monster. I'm gonna teach this disrespectful poser that I'm on another level and to learn some damn respect."
With his recent work inside the cage as proof of Swanson's game reaching new heights, a similar elevation is happening in his personal life as well. Swanson and longtime girlfriend and UFC fixture Kenda Perez recently announced they were having their first child in 2017, and the thought of building a future for his family has ignited a different type of drive in man who is never off his hustle.
Swanson has been known to create beautiful violence inside the cage, and his goal is to create serenity and security for his family beyond it.
"I've been putting off having kids for a long time," Swanson said. "I always wanted to wait until I matured as a person and I was more financially stable. This sport has made me become a man and given me that stability. I've never been so ready to take on this beautiful new challenge. I'm very excited to be a father. It's making me focus like never before."