Kelvin Gastelum: Underdog On The Brink Of Stardom
Kelvin Gastelum: Underdog On The Brink Of Stardom
Rising UFC middleweight contender Kelvin Gastelum reflects on all things ahead of his bout with Anderson Silva at UFC 212.
Apr 4, 2017
by Duane Finley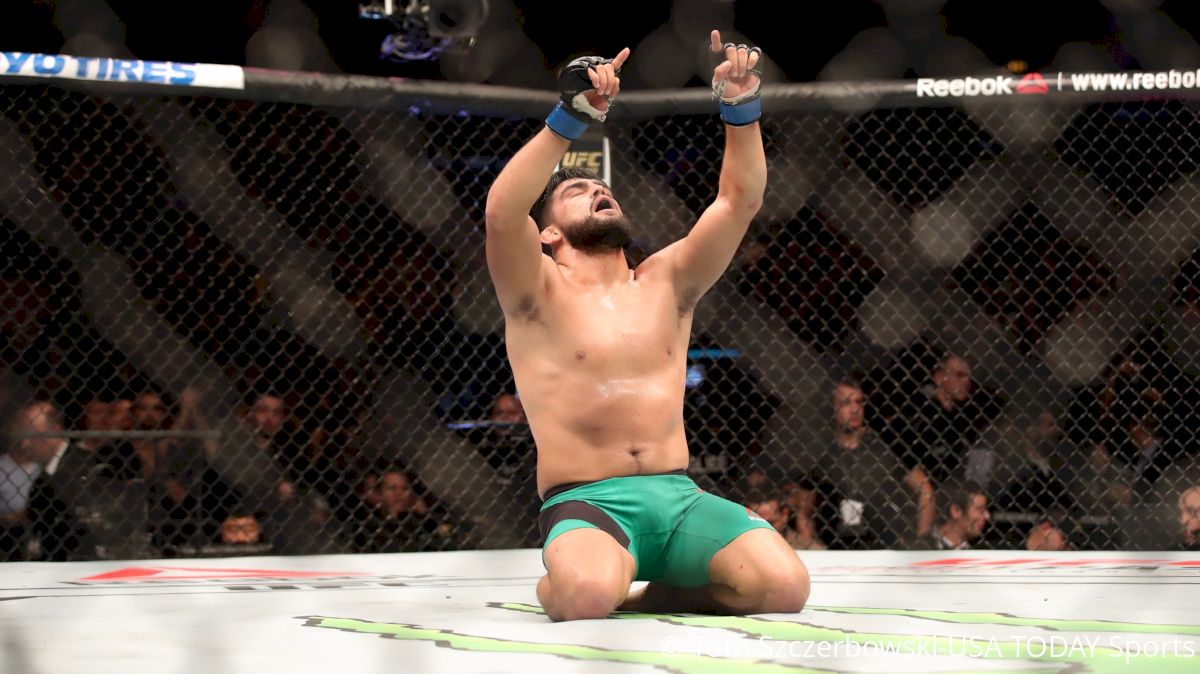 A fighter is only as good as his last fight, but bad nights tend to linger a lot longer. Victory dictates options just as misfortune lessens them, and there's perhaps no fighter on the UFC roster who knows this paradox better than Kelvin Gastelum.
The California native has ridden waves long and short and experienced both highs and lows that come from a life in the fight game. He's been the underdog who made good against all odds. He's been the highly touted prospect toppling names many never gave him a shot at beating, and his performances in those fights garnered enough acclaim for Gastelum to be transformed into major player status for years to come.
Yet, those are the highs, and when waves crest, they are guaranteed to come crashing down.
Woven in between his best nights inside the cage, there were low points in the fight before the fight. Gastelum suffered injuries and experienced hiccups in his pursuit to make the contracted weight limits, and all of a sudden he wasn't the guy to focus on anymore.
This certainly seemed to be the case when he failed to hit the mark for his bout against Tyron Woodley at UFC 183, and it definitely dictated the narrative after Gastelum was forced to withdraw from his scheduled bout with Donald Cerrone at UFC 205 in New York City.
Gastelum appeared to be damaged goods by all measures, and suddenly the "too small for middleweight" former winner of
The Ultimate Fighter
was going to be forced to slug it out with larger foes in the 185-pound ranks.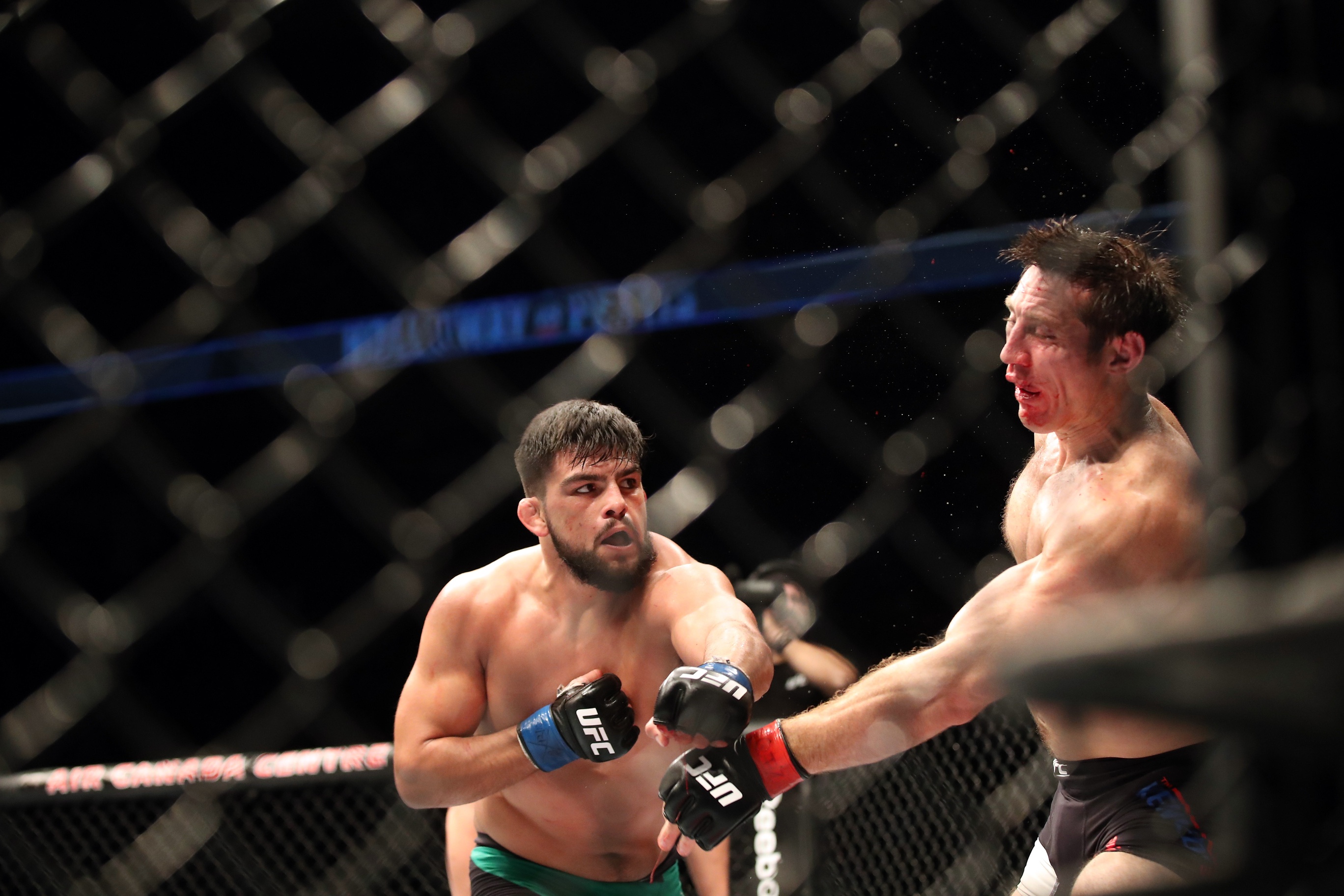 Dec 10, 2016; Toronto, ON, CAN; Tim Kennedy (red gloves) fights Kelvin Gastelum (blue gloves) during UFC 206 at Air Canada Centre. Mandatory Credit: Tom Szczerbowski-USA TODAY Sports
And while that turned out to be the case, the one thing no one in the MMA sphere seemed to take into account was the 25-year-old fighter's belief that all things that come his way are part of a larger learning experience.
Anyone who has spent time around Gastelum and has witnessed his youthful exuberance firsthand quickly understands his knack to move forward despite the pressure he encounters. Much like his fighting style, Gastelum respects the adversity he faces but is unrelenting in his pursuit to topple all obstacles until he gets where he's intended to go.
"Since the beginning of my career, they have written me off," Gastelum told FloCombat in an exclusive interview. "That's been the story of my career in mixed martial arts, but I keep proving them wrong time and time again. And that's what I'm going to keep doing.
"I've learned from some great people around me how to take tips and advice from people. I've been very blessed to always be surrounded by great people, and that's such a key factor. You surround yourself with good people and amazing things can happen. That's what is happening with me right now. We are doing the right things and the success I'm experiencing is the result."
Middleweight staples Tim Kennedy and Vitor Belfort recently learned such lessons in brutal fashion. Gastelum smashed the Jackson/Winkeljohn product at UFC 206 on Canadian soil then made a trip to the Southern Hemisphere to dismantle "The Phenom" in front of his countrymen and women in the main event at UFC Fight Night 106.
In what was arguably the biggest fight of his career, Gastelum entered the Octagon with supreme confidence and earned a first-round stoppage over the MMA legend.
Mar 11, 2017; Fortazela, Brazil, USA; Kelvin Gastelum (blue gloves) fights Vitor Belfort (red gloves) during UFC Fight Night at Centro de Formacao Olimpica de Fortaleza. Mandatory Credit: Jason Silva-USA TODAY Sports
"This is what we expected, to be honest. I went in there against Vitor very, very confident if anybody saw," Gastelum laughed. "I went in there extremely confident in my abilities and my preparation to the point where I knew I was going to come out with the win. What I felt getting my hand raised was satisfaction.
"Getting the victory in a fight proves every time why I do what I do. What we do is so hard, and I'm sure I'm not alone and a lot of fighters question why we put ourselves through what we do. Once you get your hand raised, it's the best feeling in the world because it reminds us why we go through what we do every single day, the grind and the hustle--whatever you want to call it--is very real.
"I think MMA fighters are the most hard-working and underpaid fighters in the world."
With the victory over Belfort still processing, Gastelum has set his sights on former middleweight king Anderson Silva at UFC 212 in Brazil.
While Gastelum light heartedly called his date with "The Spider" the next stop on his "Legend's Ass Whipping Tour," the reality of the situation is a bout with Silva represents one more thing Gastelum was never figured to reach.
Even those who saw promise in him several years back never figured he'd be standing across the cage from the fighter who is arguably the greatest mixed martial artist of all time, and sure enough those doubters will remain up until the moment there is a touch of gloves in Rio de Janeiro on June 3.
But that's the push with Gastelum.
While fans and media alike have spurned him for past missteps, Gastelum wasn't bothered in the slightest. He took responsibility in full, put himself through his personal process, but was already looking forward to a time when he could show and prove everyone to be wrong.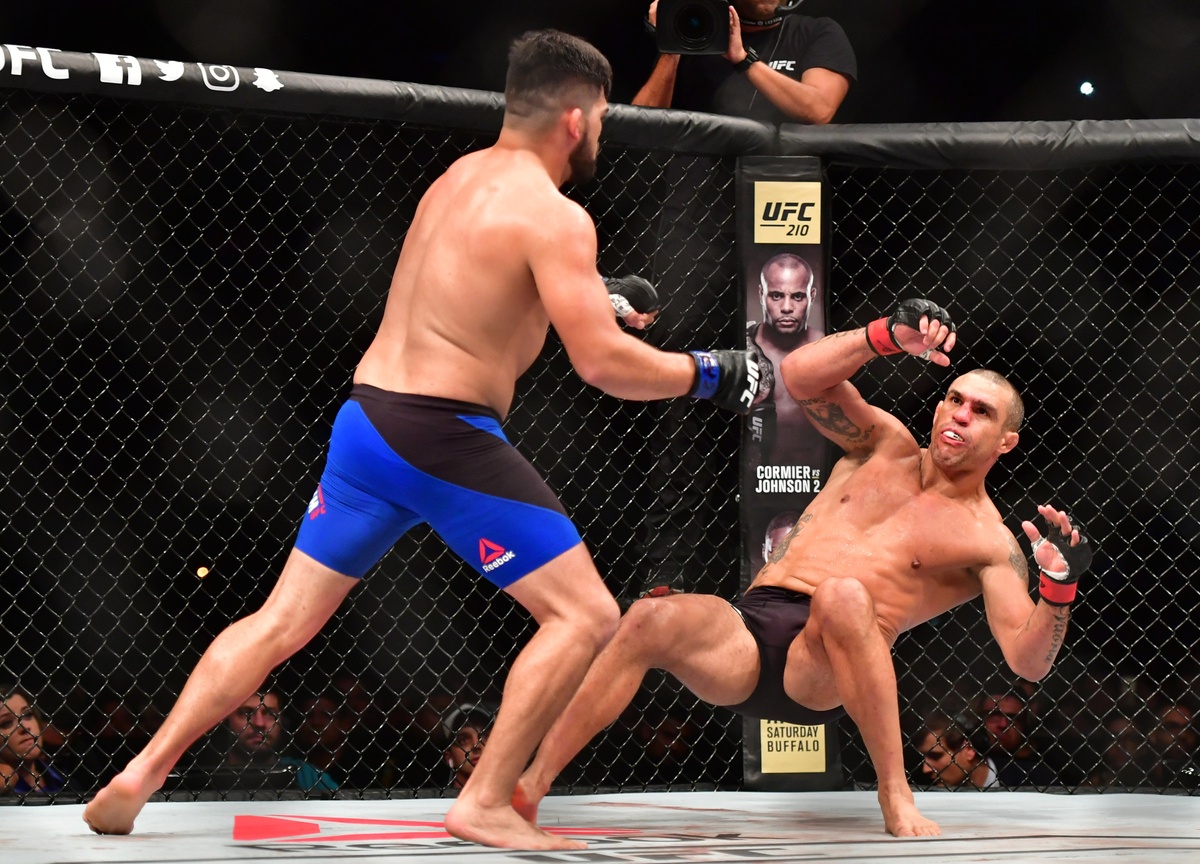 Mar 11, 2017; Fortazela, Brazil, USA; Kelvin Gastelum (blue gloves) fights Vitor Belfort (red gloves) during UFC Fight Night at Centro de Formacao Olimpica de Fortaleza. Mandatory Credit: Jason Silva-USA TODAY Sports
"I haven't stopped training since my last fight and that's just something that comes with the lifestyle," Gastelum said. "You have to get up and get in the gym to train to get better and get ready. That said, there are days where you have to find the motivation, and today was one of those days for me. I'm fighting Anderson Silva and I couldn't be more motivated for this fight. That's enough to get you in that gym on those days.
"This feels like the right thing," he added. "We expected something big after defeating Vitor and I feel like this is the right move. It's the right time and I'm ready for what's coming. Something big is coming my way and I'm only getting started. I know I'm ready for whatever is coming and I'm ready for Anderson Silva. I'm ready to win the title and I'm ready to be champion."
And while the fight with Silva may be a couple months off on the horizon, the experience of learning of the bout and breaking the news on live television in Brazil was a signal to the prospect-turned-contender he'd entered an entirely new realm of visibility in his young career.
"I was on my way to do an interview when I got a call from my manager, Ali," Gastelum recalled. 'He asked if I wanted the good news or the bad news first and I chose to get the bad. He said, 'Well, the bad news is you have to get back to training.' Then he told me I had the fight and I was like, 'No way.' My roommate in the back was smacking me all excited and it was crazy. That wasn't good news--that was great news.
"We were like five minutes from the building where I was going to do the interview and my manager told me not to say anything about the fight with Anderson. We agreed I wouldn't say anything about it and I would just do a regular interview about my fight with Vitor. We get there and I get a call from the UFC Brazil office and they tell me they want me to break the news there live during the interview.
"I wasn't sure what to do, so I had to call my manager and he said he would call Dana to figure out what I should do. Mind you, all of this is happening in the five minutes I'm waiting to go on live television and do this interview. I got the call to break the news, and I did, but it all just happened so quickly. All of that was in a matter of 10 to 15 minutes and it was one of the craziest things I've ever experienced.
"It was just cool and I'd never done anything like that," he added. "There was a rush there that was certainly different from anything I've felt in my career and it definitely feels like I've reached another level. I've said it before when talking about how big the Vitor fight felt, but this is something else entirely. Things have hit another level and I can feel it."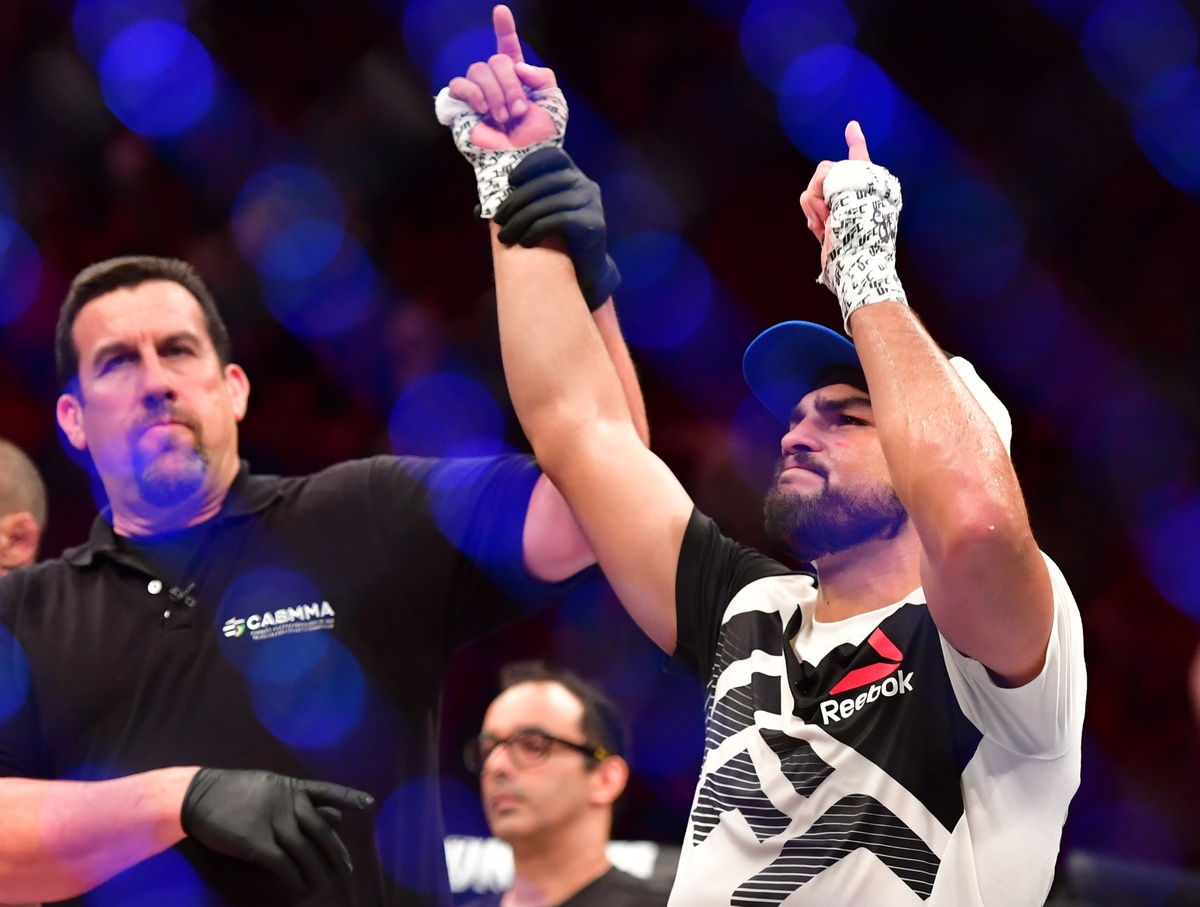 Mar 11, 2017; Fortazela, Brazil, USA; Kelvin Gastelum (blue gloves) defeats Vitor Belfort (red gloves) during UFC Fight Night at Centro de Formacao Olimpica de Fortaleza. Mandatory Credit: Jason Silva-USA TODAY Sports
With the victory over Belfort, there was talk of a two-divisional run where Gastelum would be allowed to return to the land of welterweights he was once cast out of. Should the hard-charging Kings MMA rep pull off a similar performance against the Spider GOAT on his native soil, that conversation will reach a fever pitch.
And while Gastelum is certainly aware of how many options he'll have and all the doors that will open, the South California surf that stretches out in his adopted backyard reminds him to keep things in focus.
"We have many things we still have left to do in this sport, and winning that welterweight title is one of them," Gastelum said. "That is still there on the checklist. All of these people are saying all these things about what I could do in my future, it wasn't long ago they were telling me I may never fight in the UFC again.
"They said I was this and that, and how I was undisciplined and whatever. Now they are writing all these things and it's just a testament of me overcoming a lot of hurdles. It's a testament of me growing as a person and always learning from every experience. Whatever comes my way I deal with it by the horns."
Everything Gastelum intends to make happen will sure enough happen in due time, but he has to be open and accepting of the challenges that will show themselves along the way. At the current time the biggest obstacle is the one and only Anderson Silva, and there's nothing beyond that in "K.G's" world.
That said, the drive and will to succeed he possesses are traits ingrained in him from the woman who showed him what was possible in the world. Gastelum's been an underdog his entire life in one way or another, and with every successful step he takes he does so with the intention to make those who have never stopped believing in him proud.
"I get my drive from where I come from but definitely from my mother," Gastelum said. "She had to really work hard to raise my sister and I. She was a single mother who raised us on her own, and I think that work ethic just transferred over. I learned it from her and I wouldn't be anywhere without my mother."