James Gallagher Honored To Fight Machida, Looking To Smash Legendary Name
James Gallagher Honored To Fight Machida, Looking To Smash Legendary Name
Rising Bellator featherweight James Gallagher has respect for Chinzo Machida but that won't stop him from smashing in New York City.
Apr 3, 2017
by Duane Finley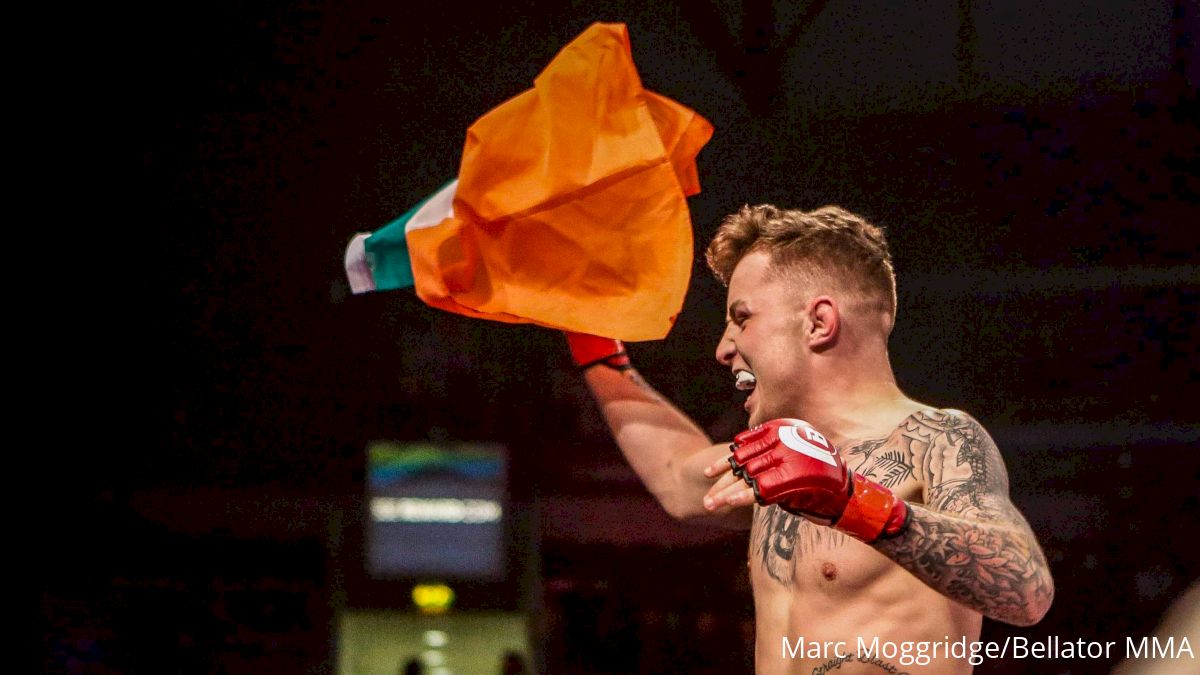 Bellator has been on a massive surge in 2017, and featherweight upstart James Gallagher has been a major part of that push.

The 20-year-old Irishman is undefeated as a professional, with three of those bouts coming under the Bellator banner. Gallagher has made lopsided work out of each man he's faced inside the cage, and his performances have only served to back up the buzz surrounding his arrival in the Summer of 2016.

In less than a year, Gallagher has carved out his place as one of the promotion's most touted prospects and he has no plans to slow down. "The Strabanimal" will bring his talents to New York City's historic Madison Square Garden to face Chinzo Machida June 24 at Bellator 180.

And while Gallagher carries nothing but the utmost respect for the world-renowned Karate family, make no mistake, he's coming to wreck shop in the "Big Apple."

"Getting that phone call to compete at Madison Square Garden against one of the legendary Machida brothers is like a dream come true," Gallagher told FloCombat. "This is exactly the type of fight I've been calling for as well. I've been calling for big fights ever since I signed with Bellator, and with Machida I got what I wanted. I'm going to go out there and put on a performance on June 24.

"I'm very honored to face a guy like this, but I'm coming there to beat him. I'm coming there to put him away. I'm not here to be friends with him. I respect him, but I'm going in there and take him down, bust him up and put him away. I'll shake his hand afterward and show him respect, but that's the way it's going to go.

"When I first started MMA, I came from a karate background so Lyoto Machida was one of my heroes growing up," he added. "Through following him I learned about his brothers, his father and the rest of his family, and they are legends of karate. I've looked up to them for a long time and to be a legend you must beat a legend. That's exactly what I'm going to do June 24."

Much like his "Notorious" teammate at SBG Ireland, Conor McGregor, Gallagher expects to get a warm welcome when he arrives in New York City. Furthermore, the rising featherweight talent knows he'll be bringing plenty of firepower with him from his home country for support at Bellator 180.

"I feel I'm going to get a lot of support in that city and that general part of America," Gallagher said. "I'll also be bringing a lot of people with me from my home city of Strabane to watch me. It's going to be great and it gives me that nice warm feeling to have that support. I really appreciate that support and it truly means everything to me.

"I look forward to going out there and getting the win for all the people who support me and who have backed me all the way."

Gallagher has received a strong push from Bellator during a time when the promotion is breaking larger ground on the MMA landscape. Although the Los Angeles-based organization was long considered second tier to the UFC, President Scott Coker has turned things around in a huge way for the thriving operation.

The John Kavanagh-trained fighter is not only happy to be a part of the boom, but he believes everything has fallen into line as it should.

"It's brilliant and It's benefiting everyone," Gallagher said in regard to the big year his promotion is having. "Bellator is a very fair promotion to be a part of. What you see is what you get with them. There's no bullshit, no nothing with them. It's straight black and white, and that's what I like. I'm the same kind of guy as well. I'm a straight-up guy, they are a straight-up promotion and there is never any bullshit. I think that's the way things should be."