The Violent Calm Of Gegard Mousasi
The Violent Calm Of Gegard Mousasi
UFC middleweight contender Gegard Mousasi sounds off on all things UFC 210 and the current divisional title debacle.
Apr 2, 2017
by Duane Finley
Gegard Mousasi is gunning for the top of the middleweight division and he's not going to stop until championship gold is around his waist.
The Dutch-Armenian striker has dominated stages around the globe and collected titles in several other prominent promotions. The only open spot on his list of accomplishments is a UFC title, and Mousasi is more than willing to travel various routes to bring that dream to reality.
Mousasi has faced all comers during his time under the UFC banner, and while there have been setbacks along the way, he's stayed the course and made the improvements necessary. In fact, the changes made to his game have put Mousasi in a different type of groove in his current form.
In simple terms Mousasi feels unbeatable, and he is ready to make his stamp on the upper tier of the middleweight division, starting with former champion Chris Weidman April 8 at UFC 210.
"I feel unstoppable right now," Mousasi told FloCombat. "I will beat Chris Weidman and get onto the next one.
"I think my record speaks for itself, and this win over Chris Weidman will solidify that I'm in the top five or top four. It's funny because time changes things. Two years ago I didn't feel I belonged in the top five, and now I know I can easily beat anyone in the top five. I get this win and hopefully they give me a shot at the title because it's not just this win. I have a whole history of winning titles in different organizations.
"Now I need to get that UFC belt," he added. "I'm very confident going into this fight. Weidman is going to be in for a big surprise."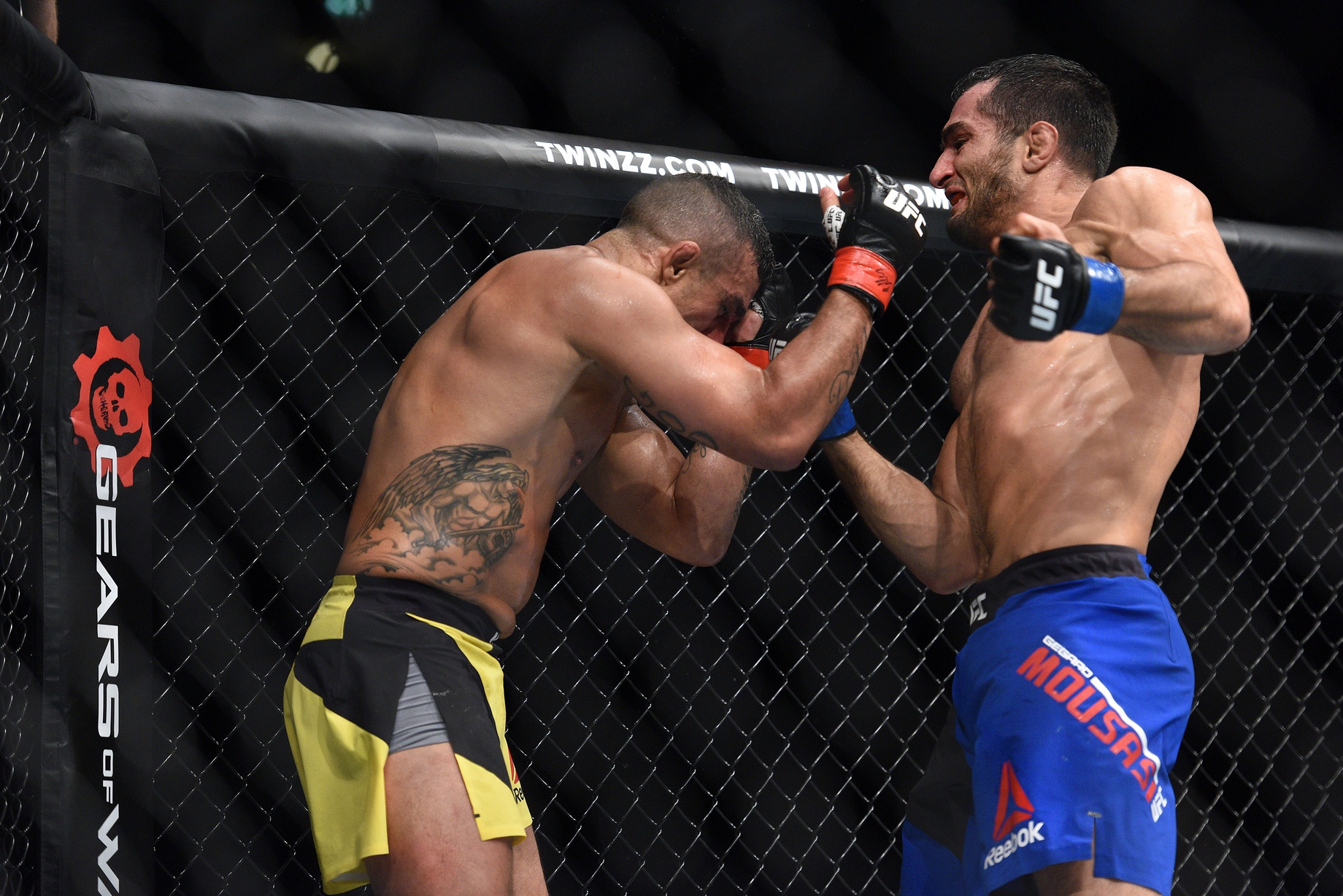 Oct 8, 2016; Manchester, UK; Vitor Belfort (red gloves) fights against Gegard Mousasi (blue gloves) during UFC 204 at Manchester Arena. Mandatory Credit: Per Haljestam-USA TODAY Sports
Mousasi is determined to destroy every opponent set in his path and his current trajectory is a tear up the 185-pound ranks. Mousasi has vocalized his intentions to claim the middleweight crown, and his next fight against Weidman is proof of his larger intentions.
Just two years back, Weidman sat atop the middleweight division as an undefeated champion, but back-to-back losses and time on the shelf due to injury have served to tarnish his shine a touch. Nevertheless, the Long Island native is determined to reclaim that spot he once held and his upcoming bout with Mousasi is a crucial piece of that particular puzzle.
Unfortunately for Weidman, the man he will face Saturday night in Buffalo is gunning for the same position, and Mousasi is confident it's his hand that will be raised at the end of the tilt.
"I think I have the better striking 100 percent," Mousasi said. "I've been working every day on my takedown defense, and no one has been able to take me down. I know Weidman is a good wrestler but I think he underestimates me. He's coming in with a poor game plan and thinks he can pressure me. He's sadly mistaken if he thinks he can come forward. I don't take steps backward.
"He's going to need a different game plan if he hopes to get the takedown or grind it out as wrestlers often do. I'm just too technical for him."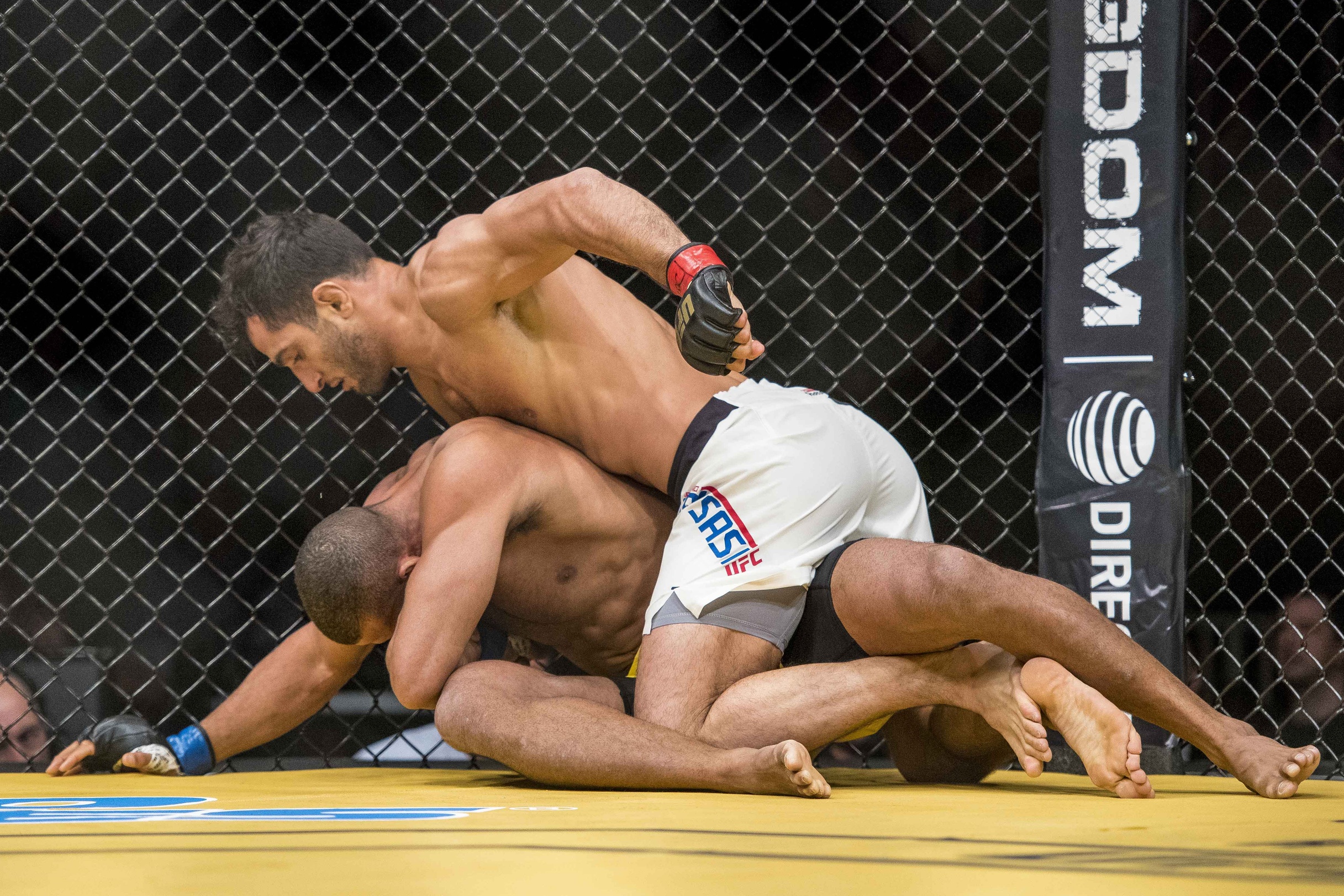 Jul 9, 2016; Las Vegas, NV, USA; Thiago Santos (blue gloves) is punched by Gegard Mousasi (red gloves) during UFC 200 Credit: Joshua Dahl-USA TODAY Sports
Mousasi is confident he'll have the physical advantage at UFC 210, but he's also positive he'll have the mental edge as well. Mousasi knows what it's like to have a tough night inside the cage, and he believes the effects of Weidman's recent rough patch are far from exorcised.
"After a loss it is very difficult to get motivated to train the right way," Mousasi said. "He can say he's motivated all he wants but that's not true. Back when he was winning he wanted to fight Jon Jones because he thought he was unbeatable, now that's changed a bit and he knows defeat is right around the corner. That affects his mindset.
"I think he's going to come out aggressive and try to push forward. I think he's studied tape of my losses and this has given him courage. I can guarantee he's stepping in against a different fighter and a fight is exactly what I'm going to give him."
Mousasi will come into UFC 210 riding a four-fight winning streak, having won all but one of his past seven showings inside the Octagon. His only defeat during this current stretch came at the hands of Uriah Hall, and Mousasi avenged that loss in punishing fashion in his most recent showing at UFC Fight Night 99 last November in Belfast.
And while a victory over Weidman should make a strong case for a title opportunity, the current state of the division he calls home is anything but stable. Certified contenders the likes of Yoel Romero and Ronaldo "Jacare" Souza have been put into title limbo while champion Michael Bisping waits for former welterweight king Georges St-Pierre to make their upcoming bout official.
Mousasi doesn't like anything he sees happening in the title realm and believes it all to be unnecessary obstacles for a route that should be smooth sailing.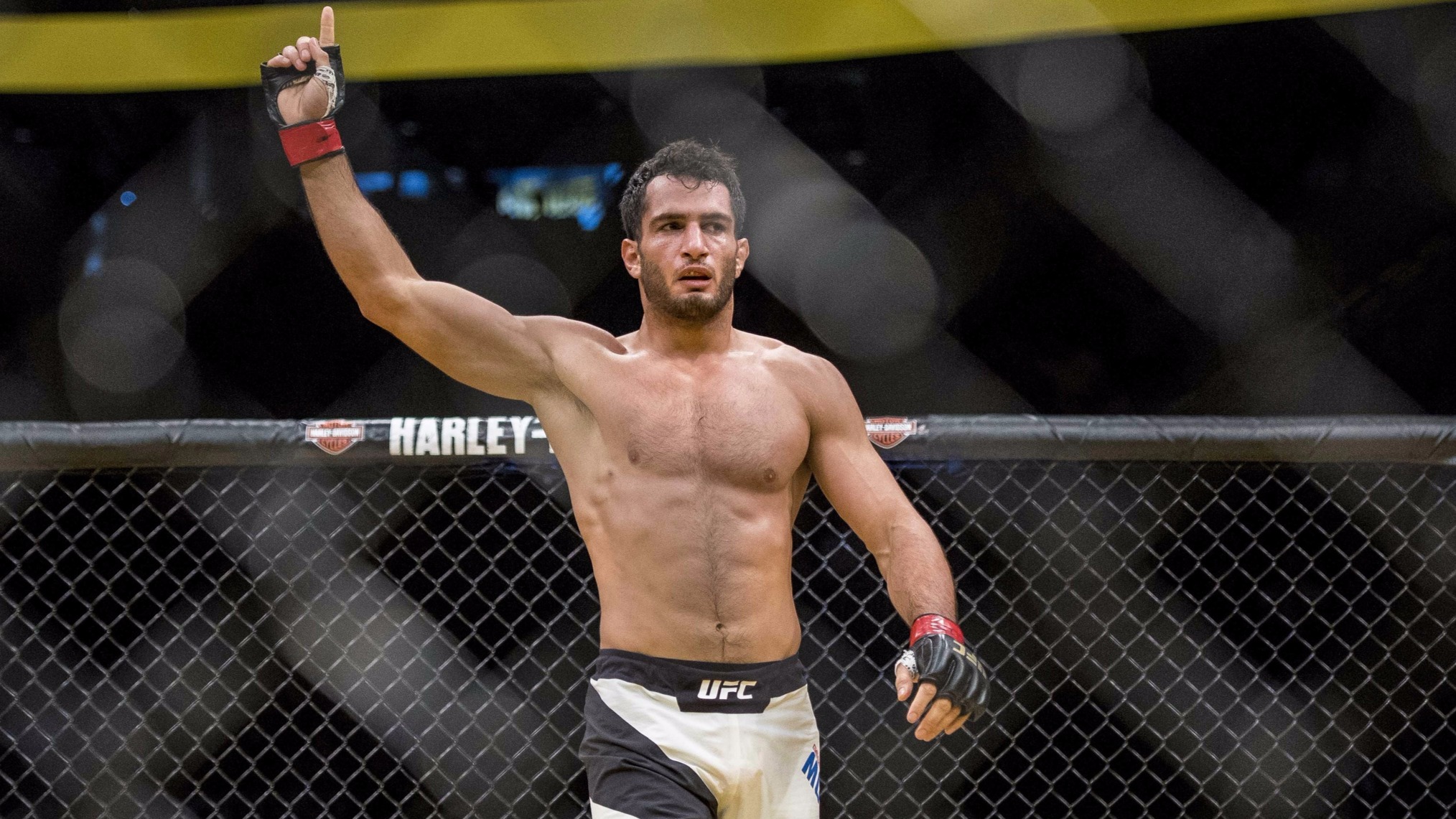 Jul 9, 2016; Las Vegas, NV, USA; Gegard Mousasi (red gloves) reacts after defeating Thiago Santos (blue gloves) during UFC 200 at T-Mobile Arena. Mandatory Credit: Joshua Dahl-USA TODAY Sports
"If they hadn't made the Dan Henderson and GSP fights then both Yoel Romero and Jacare would have fought for the title already and I would have been next right after this fight. Instead they make these silly fights," Mousasi said. "I have to win this next fight, and I truly believe I will, but now I have to go put everything on the line again to maybe get a title shot. They're fu*king up my chances, and that's a problem.
"Michael Bisping hasn't fought in six months and there is yet to be a date set for his next one. They are holding up the entire division. GSP could have easily come back and fought Anderson Silva or even Conor McGregor. They could have easily given him someone who wasn't champion. For me, I don't think it's that attractive as a fight. I'd rather see me versus Chris Weidman to be honest.
"What can you do? I just need to get this win first and see how things play out because as we've seen things change a lot in a short time."
One element of Mousasi's game that has certainly elevated his ability to shred his opposition on the microphone and on the interview circuit. Fighters like Vitor Belfort and Irish superstar Conor McGregor have felt his wrath, but the beauty of Mousasi's trash-talk game comes in precision rather than volume.
Mousasi remains adamant he starts out respecting everyone in the fight game, but if a fighter earns his scorn then he's going to give it with both barrels.
"It all depends on the opponent," Mousasi laughed. "I'm usually respectful, but sometimes you have to speak your mind and people either like it or they don't. Whatever you do, there are going to be who criticize. Even before I ever said anything and was the nice guy people had something to say about it. Who cares? I'm just being me."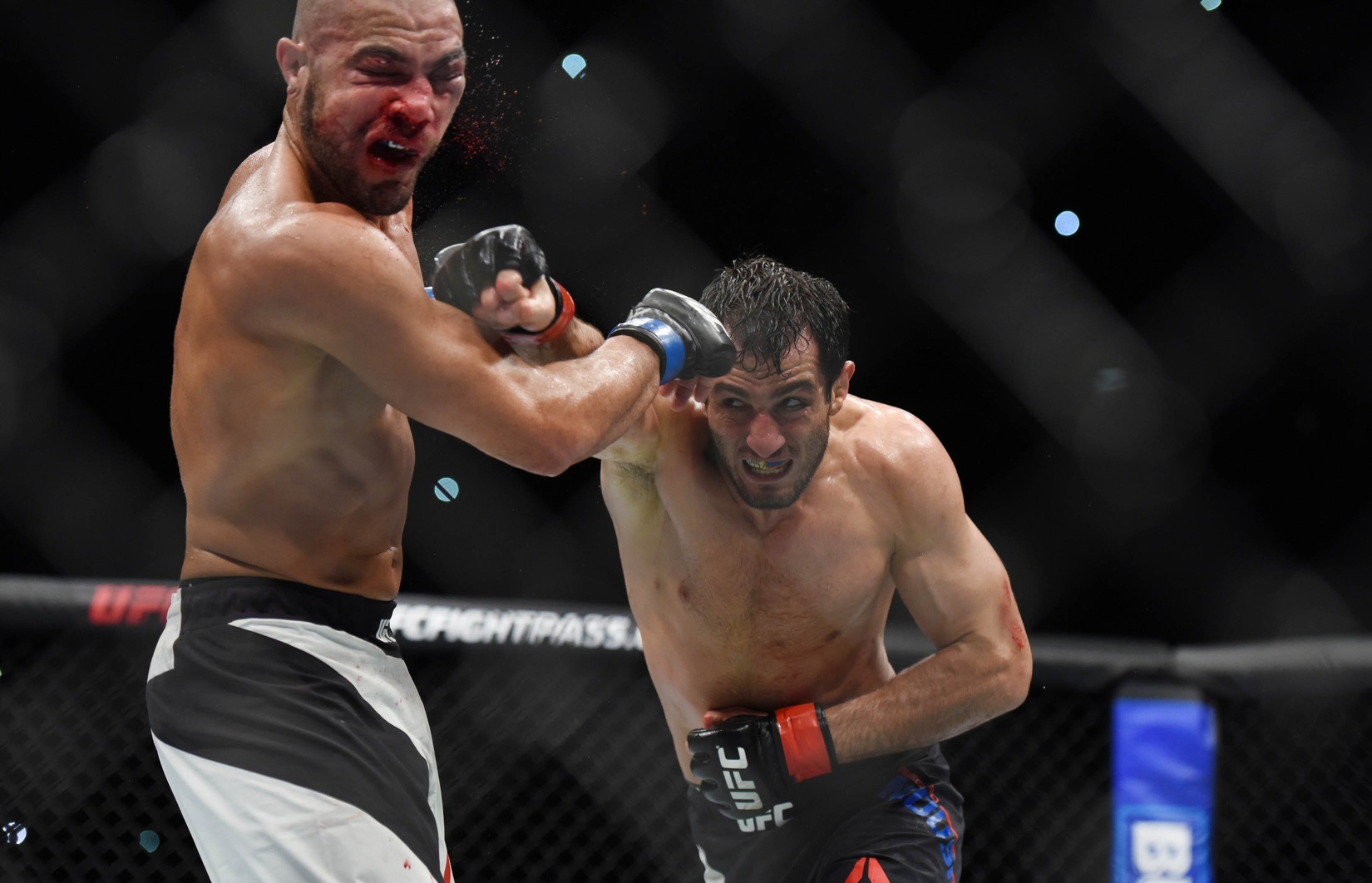 Feb 27, 2016; London, United Kingdom; Gegard Mousasi (red gloves) competes against Thales Leites (blue gloves) during UFC Fight Night at O2 Arena. Mandatory Credit: Per Haljestam-USA TODAY Sports
While Mousasi is focused on defeating Weidman this Saturday night and hopes to garner a title opportunity with a victory, he's keeping his options open in regard to a shot at UFC gold. He's jumped weight classes multiple times throughout his career and says he'd certainly move up in weight for the right opportunity in the UFC.
The perennial contender has offered up his services on two occasions when turmoil hit the light heavyweight ranks, but neither bout came to fruition. Nevertheless, Mousasi has kept the door to the 205-pound division open and is letting the big dogs in that division know he's up for anything as long as the price is right and the gold is on the table.
"I'm not against moving up to light heavyweight if a title is on the line," Mousasi said. "I tried to step up into fights with Daniel Cormier and Anthony Johnson when their opponents fell out because I'm a guy who will always step up. I'm not afraid. As long as it makes sense I will do it.
"Anthony Johnson is a dangerous fighter. I believe I have the better standup but he would be a very difficult fight for me. I like Anthony Johnson, he's a good guy, but I like my chances in that fight. I'm not going to take a fight I don't believe I can win, and that fight would have been for the interim title so they should have paid me a lot more. If they would have paid me and Anthony would have accepted the fight I would have been there in Canada."