Max Holloway On UFC 212 Scrap With Jose Aldo: 'We Just Want Him To Show Up'
Max Holloway On UFC 212 Scrap With Jose Aldo: 'We Just Want Him To Show Up'
Interim UFC featherweight champion Max Holloway sends a message loud and clear to fellow champion Jose Aldo.
Mar 27, 2017
by Duane Finley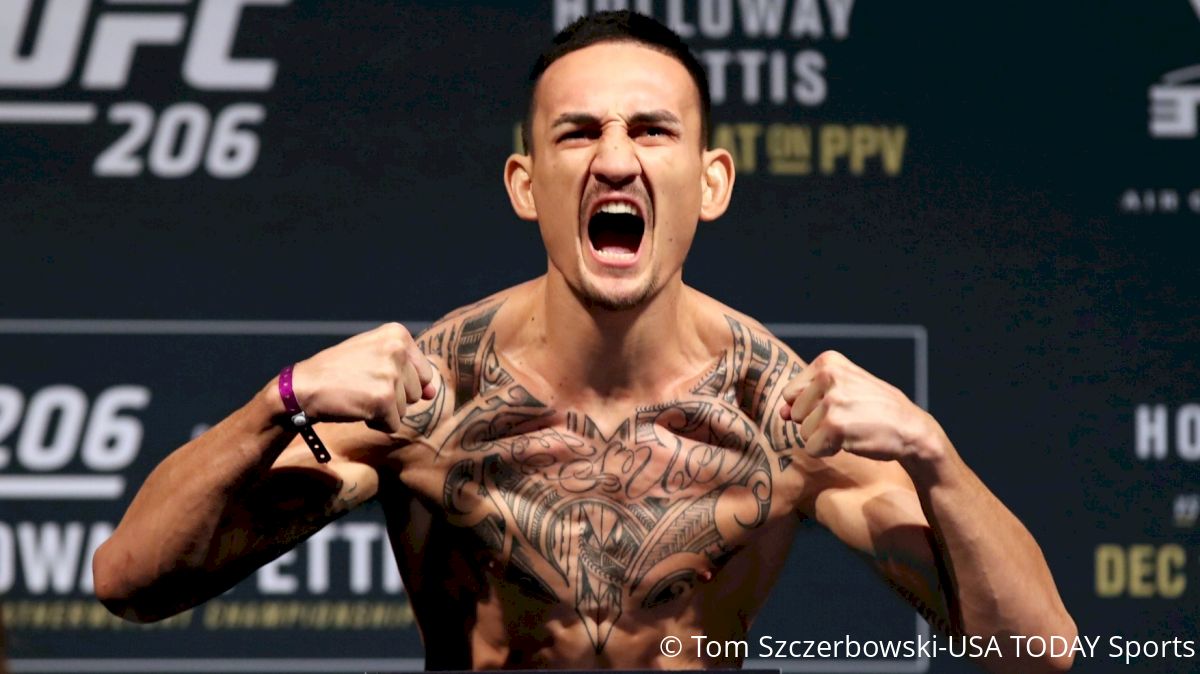 There comes a reckoning for all things in mixed martial arts.
Tides rise and break, divisional kings ascend and fall, and the new guard will eventually overcome the old watch. Max Holloway respects the tenure Jose Aldo has put in at the very top of the featherweight heap, but make no mistake about it: The Hawaiian is confident the Brazilian's empire will crumble June 3 at UFC 212.
So much so "Blessed" is willing to travel into Aldo's backyard to get the job done once and for all.
"This means everything to me," Holloway told FloCombat in an exclusive interview. "I said it and it went viral but business is business and business is booming right now. I speak life into these things and kings do king stuff. I get the opportunity to go into his kingdom and take it over. That's what I have to do. This guy is over here taking it personal, but it is what it is. He can take it whatever way he wants to, but at the end of the day he has to see me in there.
"I have confidence, and I'm oozing it right now. It flows through me and it's everywhere in my life. I'm in a great place and you're only as good as your last fight in this business, so I'm going make this next one at UFC 212 the greatest fight of my life so far."
The two pound-for-pound giants are set to collide in Rio de Janeiro, and Holloway believes the run he's put seven years and 17 victories into building will come to an undisputed conclusion at UFC 212. Furthermore, the showdown with Aldo is a moment Holloway always knew would come to fruition, and he can't wait to prove it's time for a new king to reign over the 145-pound fold.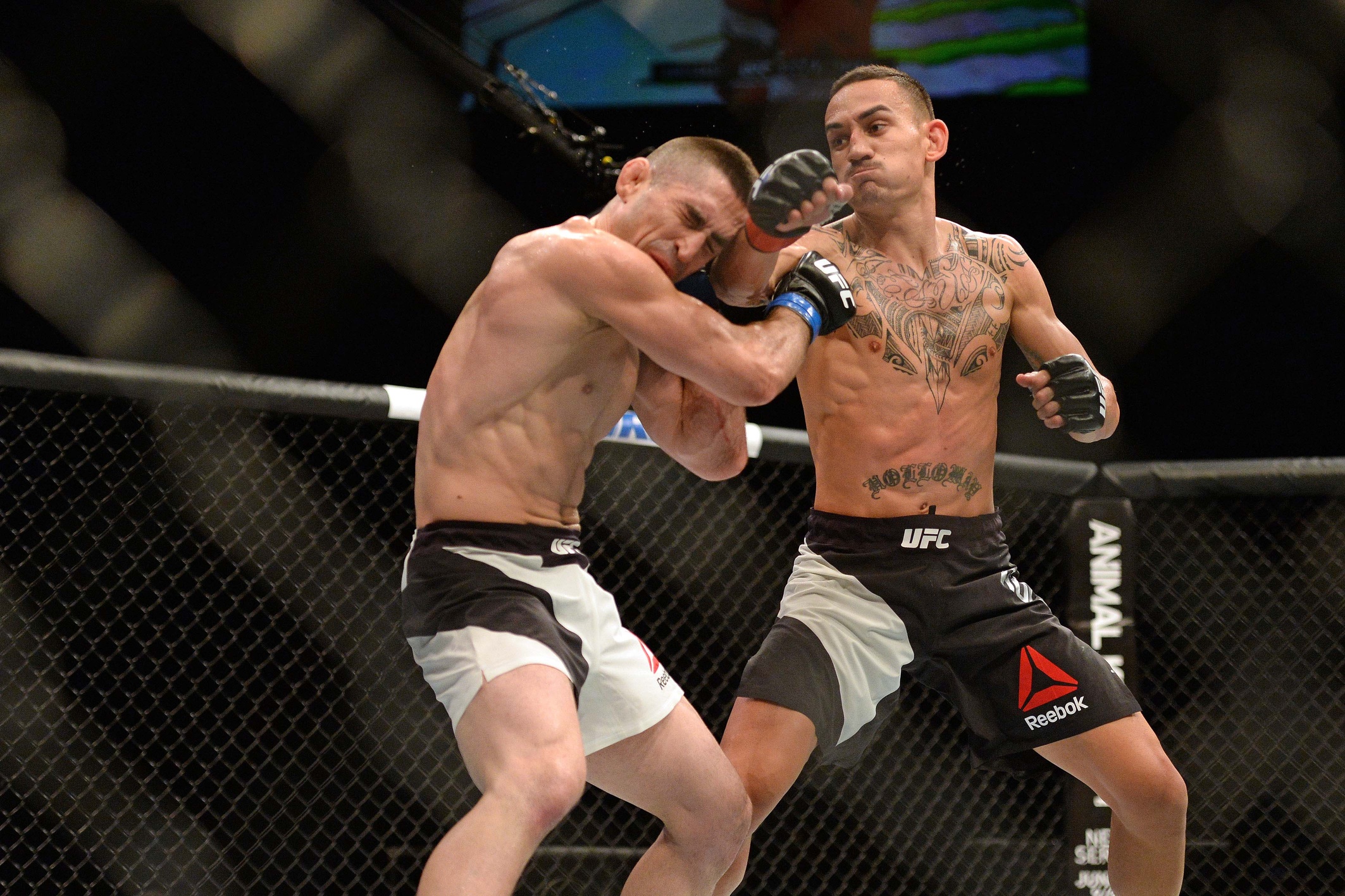 Jun 4, 2016; Los Angeles, CA, USA; Ricardo Lamas (blue) fights Max Holloway (red) during UFC 199 at The Forum. Mandatory Credit: Jake Roth-USA TODAY Sports
"I've been training for this moment since I was 18 years old and first decided I wanted to fight MMA," Holloway said. "It's finally here and it's coming against someone I've been watching since I first started. Like I've told everybody, it's in the nickname, man, because I'm 'Blessed.' I told everybody at UFC 206 a star was going to be born and that's what has happened. That star is only going to shine brighter at UFC 212, and it's not going to be something to miss.
"You guys all know me. I'm a fighter and to be the best you have to beat the best. I tell these fighters all the time, 'If you want to fight the best, come fight Blessed.' This guy has been running our division for a while now, and it's time to change that. He had that bad fight a few fights back, but he's back on top now. I look forward to the challenge and he's a guy I've always wanted to fight.
"I did an interview with MMA Hawaii Magazine and talked about how I've always wanted to fight guys like Anthony Pettis and Jose Aldo," he added. "I got one knocked off the chopping block, and now it's time for the other."
While several weeks of training camp sit between Holloway and Aldo meeting in Rio, the crossfire between the two camps has been underway for quite some time. Holloway began hunting the Brazilian champion down long before he became the interim featherweight champion, and Aldo has pushed back with sideways talk in several interviews before the bout became official for June 3.
Nevertheless, Holloway has no care for anything Aldo has said or will have to say. The Hawaiian champion simply wants Aldo to show up for the fight.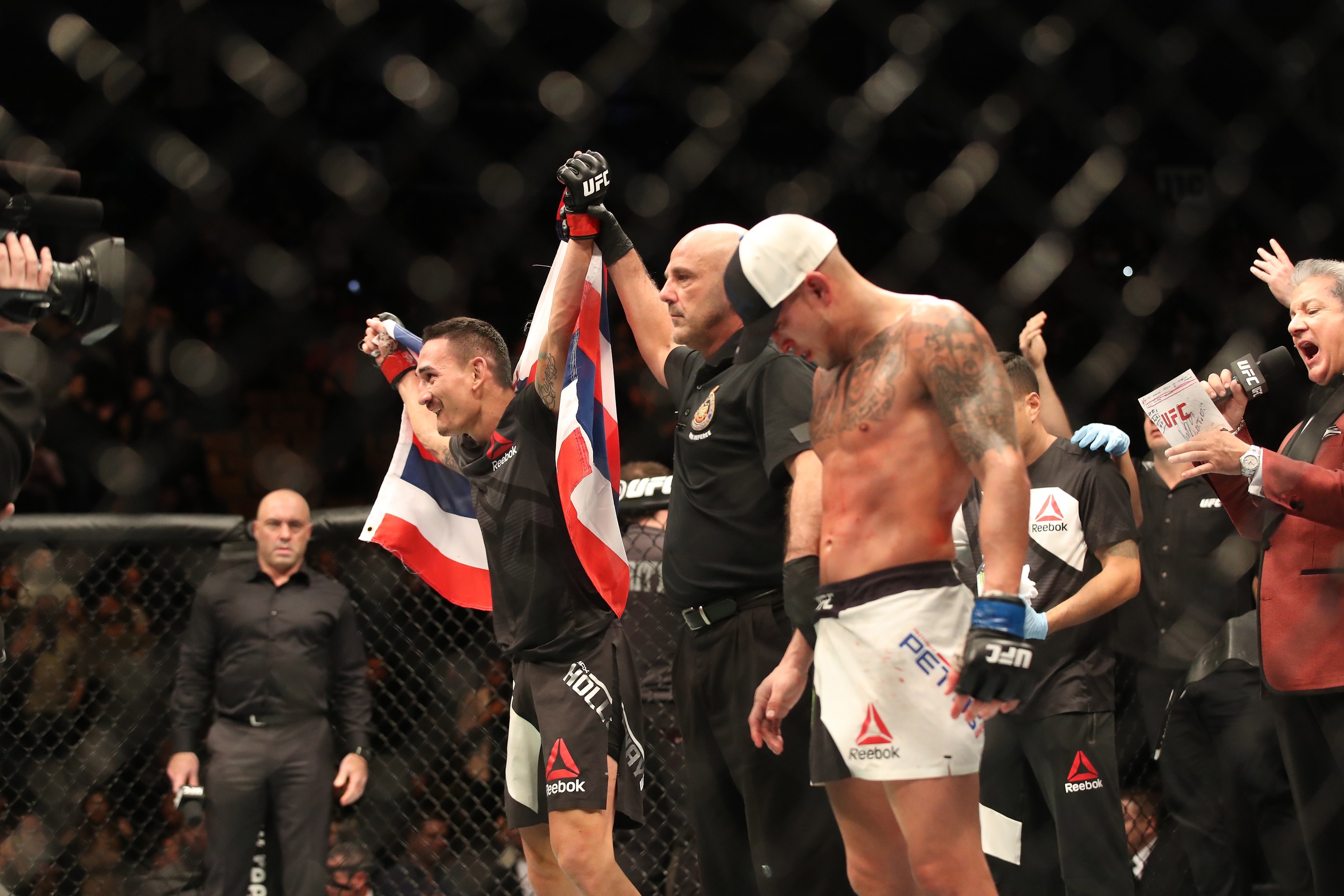 Dec 10, 2016; Toronto, ON, CAN; Max Holloway (red gloves) reacts to fight with Anthony Pettis (blue gloves) during UFC 206 at Air Canada Centre. Mandatory Credit: Tom Szczerbowski-USA TODAY Sports
"I have no concern at all with anything he may or may not do," Holloway said. "All these things he's been saying, I welcome it all. Come on and let's do it. When it comes to the fight he's been doing the same thing for years, but when it comes down to it you have to stop him. He's going to have to stop me too. When I see these things from him it's a sign his head isn't in the right place. He's too worried. He's asking people to go find out things instead of focusing on what he needs to do, because believe you me I'm coming for him at UFC 212.
"We have no concerns at all. We just want him to show up on June 3, because I'm going to be standing right there. He just needs to show up on that damn date, and let's do this thing."
And while Holloway wants the current champion to show up on fight night, Aldo has a long track record of doing just the opposite. The Nova Uniao product has only competed in seven bouts since coming to the UFC in 2011, withdrawing from five title fights during that time due to
various injuries
.
Holloway made it absolutely clear those matters aren't of any concern to him. The only thing he can control is his own preparation, and if Aldo fails to show up on June 3, it won't be of any disappointment to him, because the Holloway camp keeps the focus in the positive realm.
"I can't worry about what he's going to do or not do," Holloway said. "Jose could very well do Jose things and not show up, but I can't worry about that. If he doesn't show up then it's onto the next one. We don't cry about spilled milk over here. We keep it moving. People ask me why it took so long for me to get a title shot, and I've said time and time again that I am willing to beat every single guy at the top until there are no questions or doubts remaining. That's what I've done, and I have zero complaints.
"I'm a fighter, and all I want to do is fight. The big money and the spotlight all comes after getting the job done, and that's what I'm going to do at UFC 212. I'm going to prove to the world once and for all I'm the best featherweight on the planet."